Raspberry Buttermilk Slab Pie Recipe
Looking for a delicious recipe to use those fresh summer raspberries? This raspberry buttermilk slab pie recipe is divine and the perfect way to highlight those berries!


I just love that you get a raspberry in every bite of this delicious dessert! It is big enough to serve a crowd too. Bring it to your next potluck or grilling get-together. It's sure to be a hit!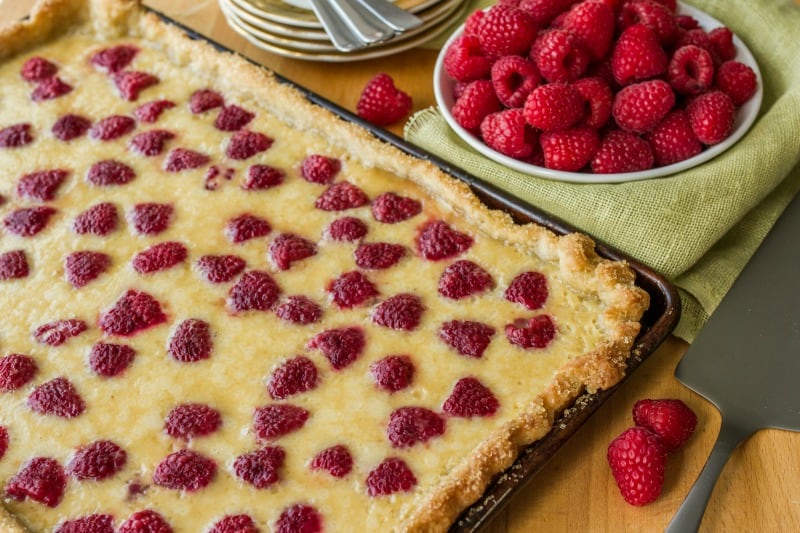 Print off the recipe for this Raspberry Buttermilk Slab Pie below! Be sure to share this on Facebook and pin it for later so you can easily find it!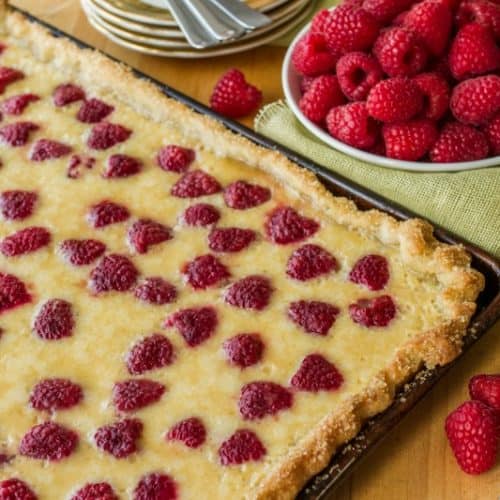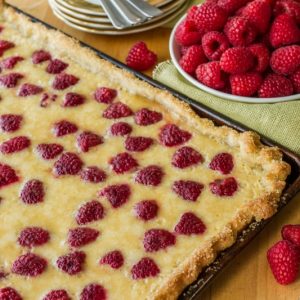 Raspberry Buttermilk Slab Pie Recipe
Delicious summer dessert that offers up a raspberry in every bite! Great use for summer raspberries.
Ingredients
Pie Crust:
2 1/2

cups

all-purpose flour

2

tablespoons

Sugar In The Raw®

1

teaspoon

sea salt

1

cup

cold butter

2 sticks, cut into cubes

1/2

cup

ice water

1

egg white whisked with 2 teaspoons cool water
Filling:
1 3/4

cups

buttermilk

3

eggs

1/4

cup

butter

melted

1

tablespoon

lemon juice

1 1/2

teaspoons

pure vanilla extract

1

cup

Sugar In The Raw® plus 2 tablespoons

divided

2

teaspoons

cornstarch

1/2

teaspoon

sea salt

3

cups

fresh raspberries
Instructions
To the bowl of a food processor or a large mixing bowl, add flour, sugar, and salt. Pulse a few times or whisk to combine. Add butter and pulse until dough is crumbly and butter is in pea-sized pieces; or use a pastry blender or two knives to cut butter into the flour. Add half the ice water and pulse or stir to combine. Add the rest of the water a little at a time until the dough just comes together in a shaggy ball. Remove dough to a work surface and knead very lightly just until dough forms a smooth ball. Flatten dough into a rectangle, wrap in plastic wrap, and chill at least 1 hour or overnight.

Lightly grease a 13 x 9½ x 1 baking sheet or jelly roll pan. Preheat oven to 375˚F. Lightly flour work surface and place chilled dough on it. Roll out dough, applying even pressure with a rolling pin, into a rectangle 2 inches larger than the baking sheet on all sides. If dough cracks, let it warm up for a few minutes before continuing. Patch any holes or large cracks with excess dough. Loosely roll dough around rolling pin and transfer to baking sheet. Trim edges of dough to have a ¾" overhang, and crimp the edges. Poke dough all over with a fork, and chill 30 minutes. Line dough with parchment and fill to the brim with pie weights or dried beans. Blind bake crust until the edges are brown and set, about 20 minutes. Carefully remove pie weights and parchment, brush with egg white, and return to oven 5 minutes more to set bottom of crust.

In a large mixing bowl, whisk together buttermilk, eggs, butter, lemon juice, and vanilla. In a medium mixing bowl, whisk together sugar, cornstarch, and salt. Whisk sugar mixture into buttermilk mixture to combine. Sprinkle raspberries over pie crust and pour custard over them. Brush crust edges with more egg wash and sprinkle with remaining 2 tablespoons sugar.

Reduce oven temperature to 350˚F and bake 35-40 minutes or until edges are set and the center of the custard jiggles slightly, like gelatin. Remove to a cooling rack and cool completely before cutting. Refrigerate any leftovers.