Instant Pot BBQ Pulled Pork Recipe
This Instant Pot BBQ Pulled Pork recipe is the juiciest pork I have ever eaten and it's loaded with amazing flavor! This pressure cooker pulled pork does not disappoint. Make the perfect pulled pork in your instant pot or pressure cooker by following these easy steps!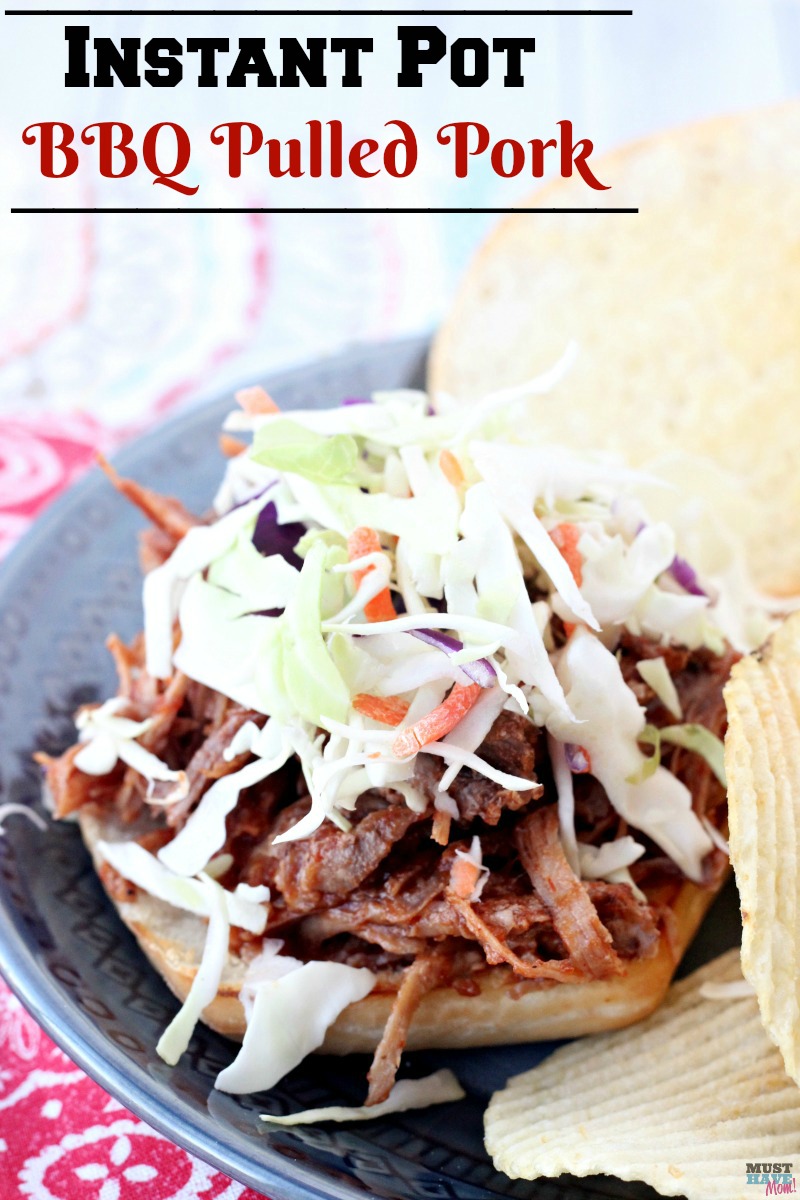 Pressure Cooker Pulled Pork
I have to admit that I am a die hard Instant Pot lover, but I was nervous to do a roast in one. My slow cooker has been my stand-by for every roast I've ever made. I've read stories of people cooking a pork roast in their Instant Pot only to pull it out and have a dry hunk of meat, or worse yet, a raw pork roast! After tasting how moist and juicy my Instant Pot BBQ pork chops came out, I knew I had to give BBQ pulled pork a try. With much hesitation I decided to dive into crafting an Instant Pot BBQ pulled pork recipe in an effort to craft an easy Instant Pot pork roast recipe that delivered moist, juicy, flavorful meat every time. I've done it folks and this is hands down the best BBQ pulled pork I've ever eaten, even in comparison to a traditional charcoal smoker. You can make it too, it's easy and I'll show you exactly how to make this pressure cooker pulled pork!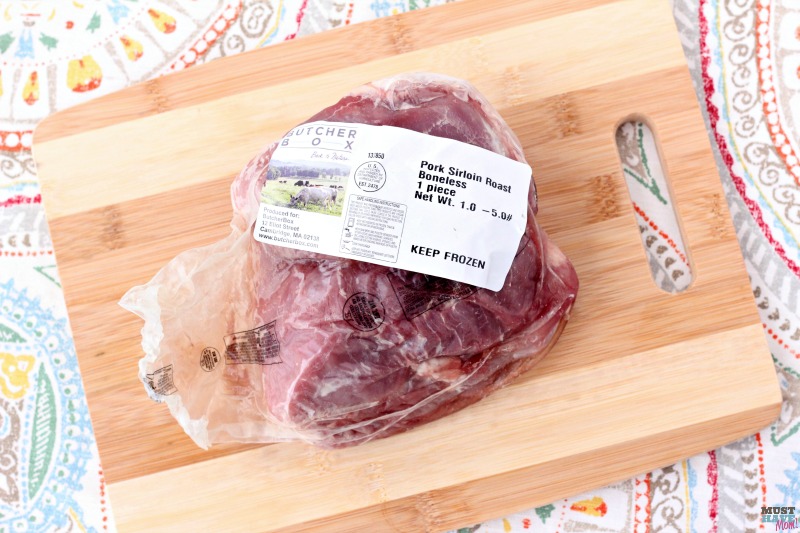 I started out with a boneless pork sirloin roast that was about 2-3 pounds. This pork roast is from my monthly ButcherBox delivery. I have to tell you that I truly believe the pork from ButcherBox is more flavorful than the pork I buy at the grocery store. If you aren't familiar with ButcherBox they offer grass-fed beef, organic chicken and heritage breed pork. Since these products are generally difficult to find at your local grocer, they deliver them to your door monthly. I'm loving having this delivered to my doorstep without the grocery shopping. ButcherBox has champion genetic lines in their pork and since they don't use growth hormones to speed up growth like traditional pork does, it retains flavor as it grows and develops naturally. Much of the pork you find at the grocery store has had the flavor bred out of it through these speed-growing methods. I have to say that after trying their pork I'm a believer. I've never had such flavorful pork before! If you want to give it a try I've negotiated a deal with them so my readers get $10 off their order and FREE non-GMO BACON! Grab your free bacon here.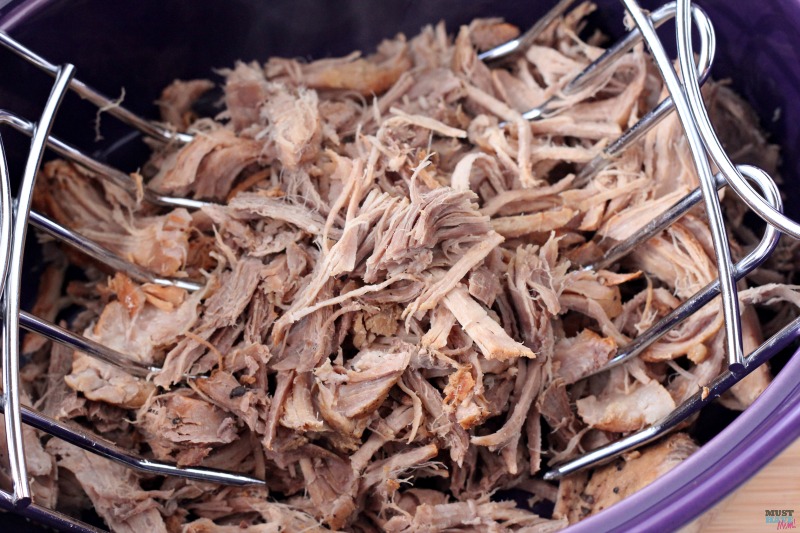 Instant Pot BBQ Pulled Pork Directions:
Begin by adding 1 cup chicken or beef broth to your Instant Pot along with 1/2 cup of Annie's Sweet & Spicy organic BBQ sauce. Season your pork roast with fresh cracked pepper and salt (I used pink Himalayan salt but regular table salt works too!). Add your roast to the pot and seal the lid. Turn on Manual for 75 minutes. Make sure your valve is set to sealing. Once it finishes allow it to naturally release all of the pressure. Doing a quick release will dry out your meat so resist the urge to quick release!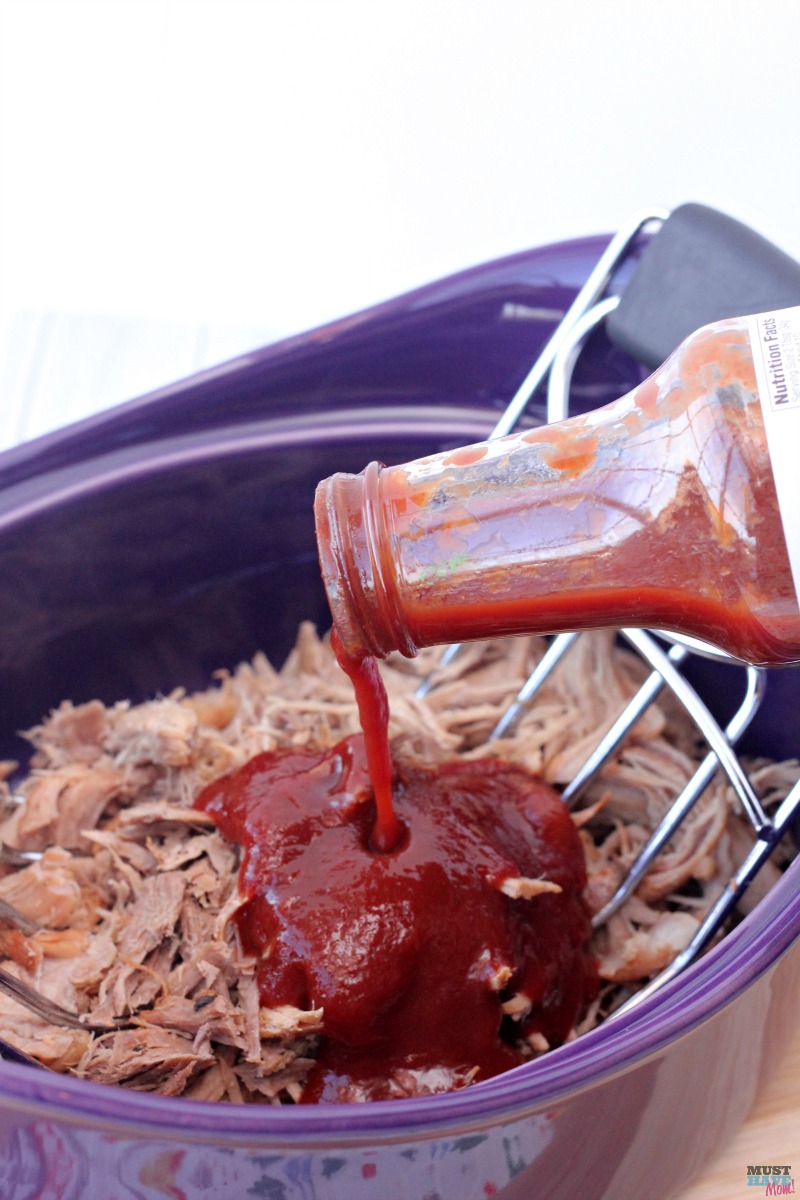 Once all of the pressure has released, remove the pork roast to a casserole dish and use meat claws to easily shred the juicy meat! When I opened the cover on my Instant Pot after my pork roast finished cooking I saw that my pork roast had actually split into two pieces because it was so tender and falling apart! Add 1 cup Annie's Sweet & Spicy organic BBQ sauce and mix together. I also served my pressure cooker pulled pork with extra BBQ sauce for those that like theirs extra saucy!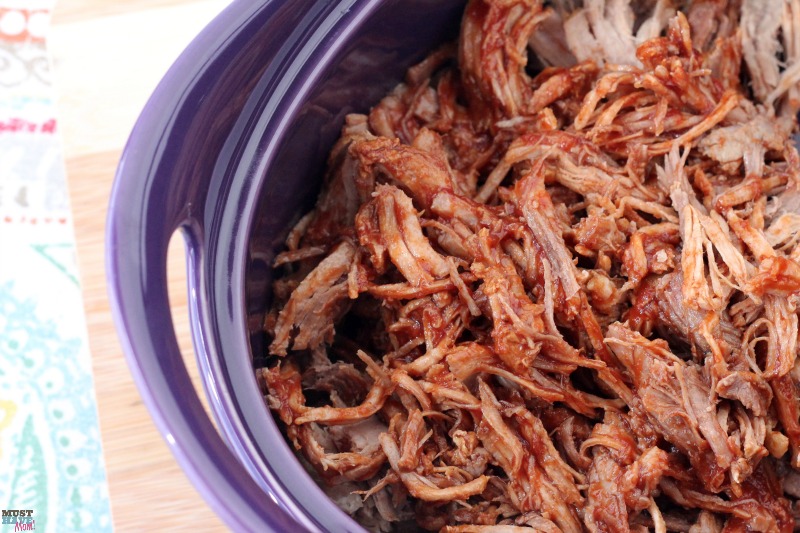 You can serve this Instant Pot BBQ pulled pork on a bun or with rice and vegetables for a healthy dinner. This recipe serves 4-6 people.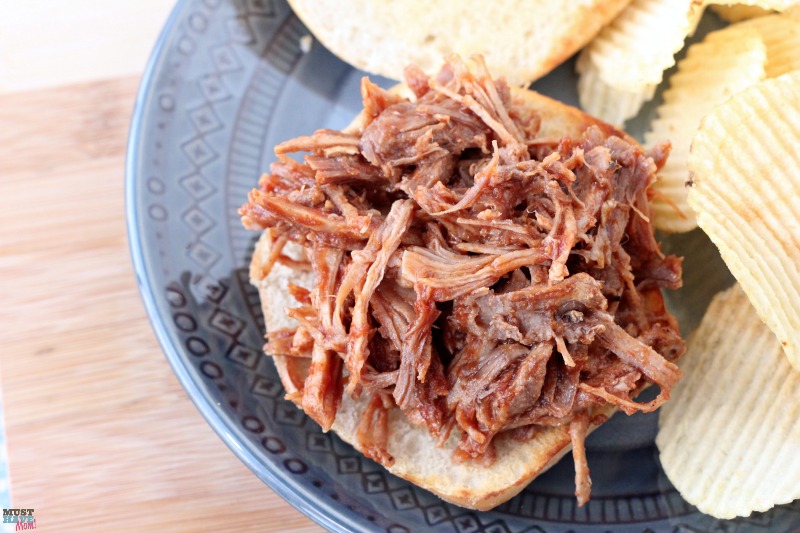 We decided to have a classic BBQ meal and serve our BBQ pulled pork on a toasted bun along with some chips! It was SO delicious. I could literally just eat this pulled pork straight with a fork and forget everything else. The flavor is out of the park.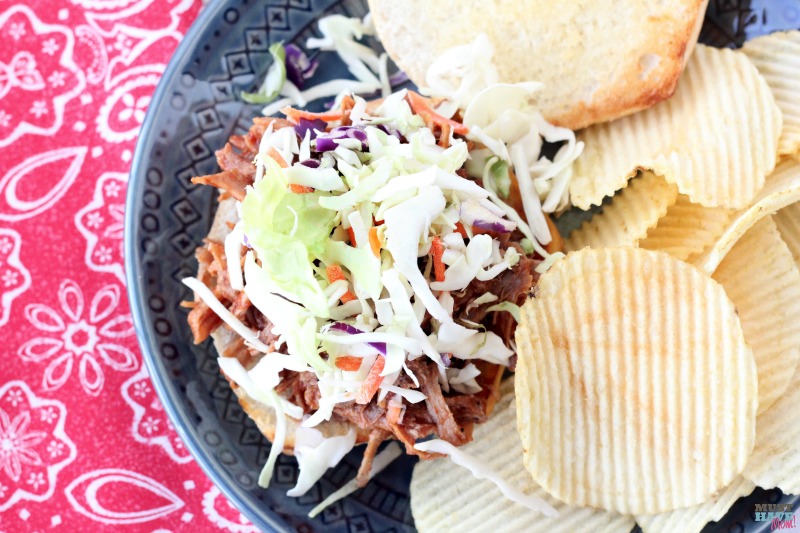 We figured we would really go all out and add coleslaw to the top! I personally don't care for coleslaw but love the raw coleslaw mix (minus the sauce). You can serve this pressure cooker pulled pork with just the coleslaw veggies or as a mixed coleslaw with the sauce. It's completely personal preference!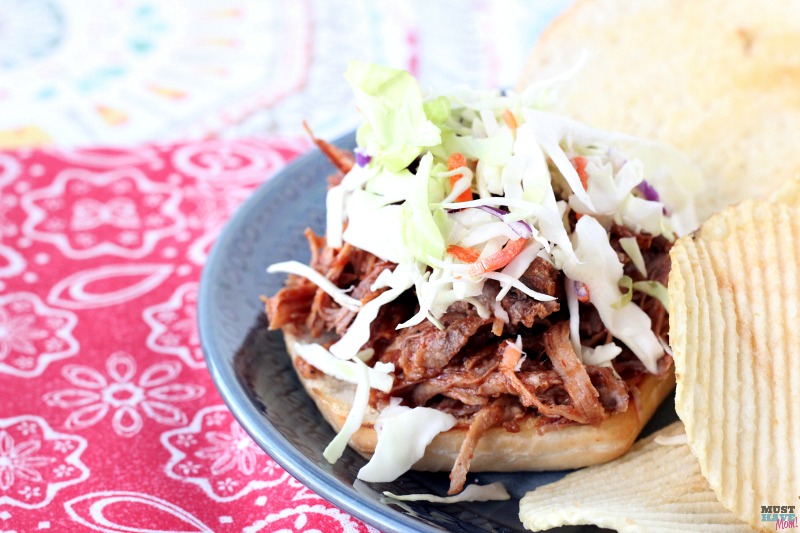 Serve with chips, raw veggies and homemade ranch dressing or this old fashioned potato salad!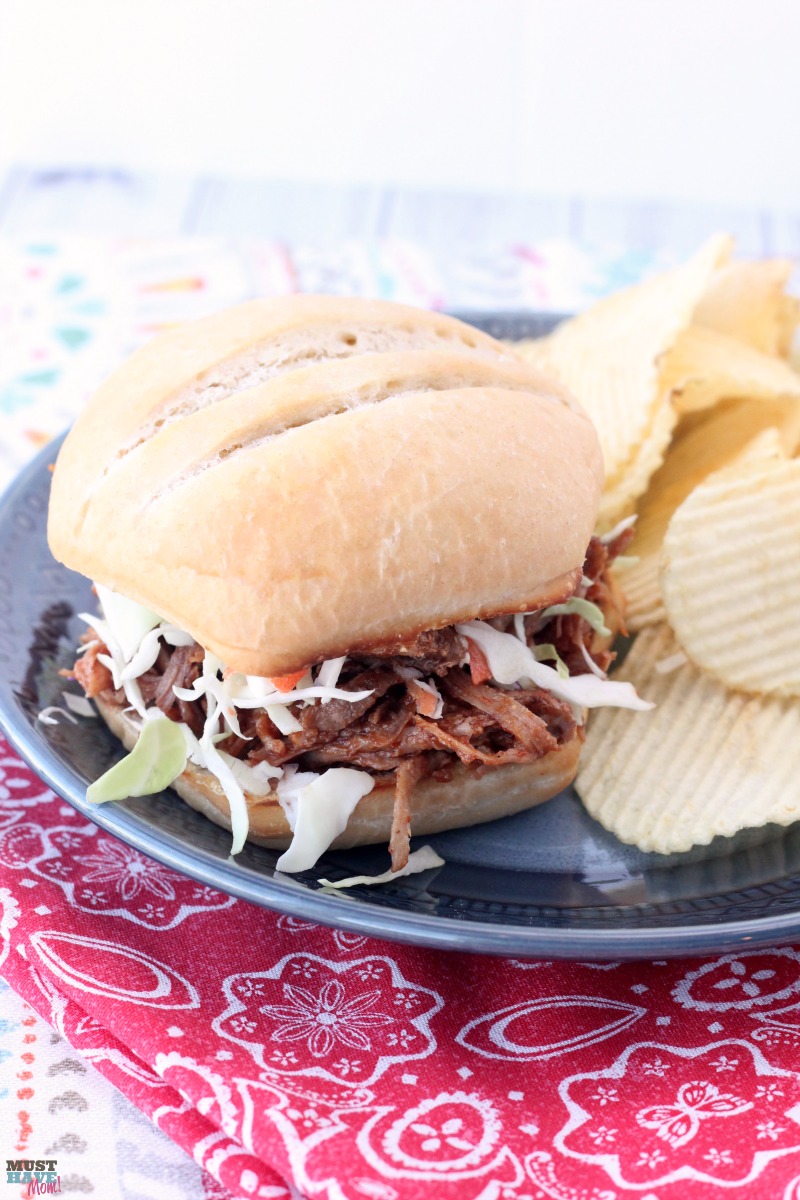 Print off the Pressure Cooker Pulled Pork Recipe below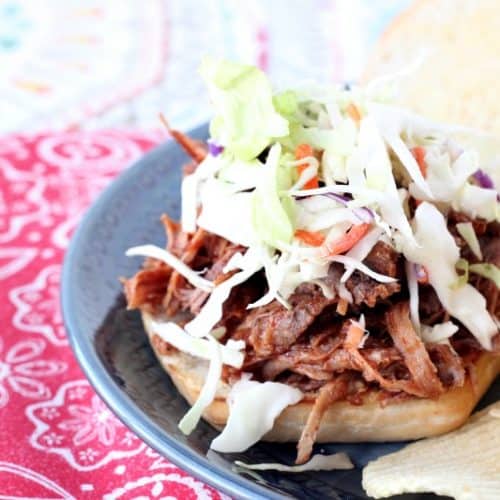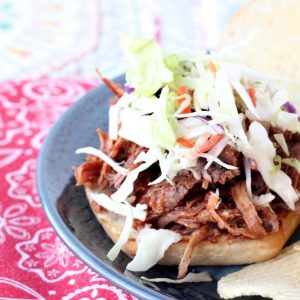 Instant Pot BBQ Pulled Pork Recipe
Moist, juicy, flavorful BBQ pulled pork recipe that is perfect for pulled pork sandwiches or with veggies for a healthy dinner!
Ingredients
1

cup

organic chicken broth

2

cup

Annie's Sweet & Spicy organic BBQ sauce

divided

2-3

lb

boneless pork roast

I get mine from Butcherbox for best flavor

Salt

I used pink Himalayan salt

Fresh cracked pepper

*Optional - Buns and fresh coleslaw
Instructions
Add 1 cup broth and 1 cup Annie's BBQ sauce to Instant Pot. Season pork roast with salt and pepper and add to Instant Pot. Seal the lid and ensure your valve is turned to sealing.

Cook on Manual high for 75 minutes. Once finished allow pressure to release naturally. Do not quick release or your meat will be dry.

Once pressure has released, remove pork to a serving dish or cutting board and shred using meat claws. Add 1 cup Annie's BBQ sauce and stir to combine. Serve with additional BBQ sauce on the side for those that like lots of sauce!

Serve on toasted buns and top with fresh coleslaw or serve with rice and veggies for a healthy dinner option.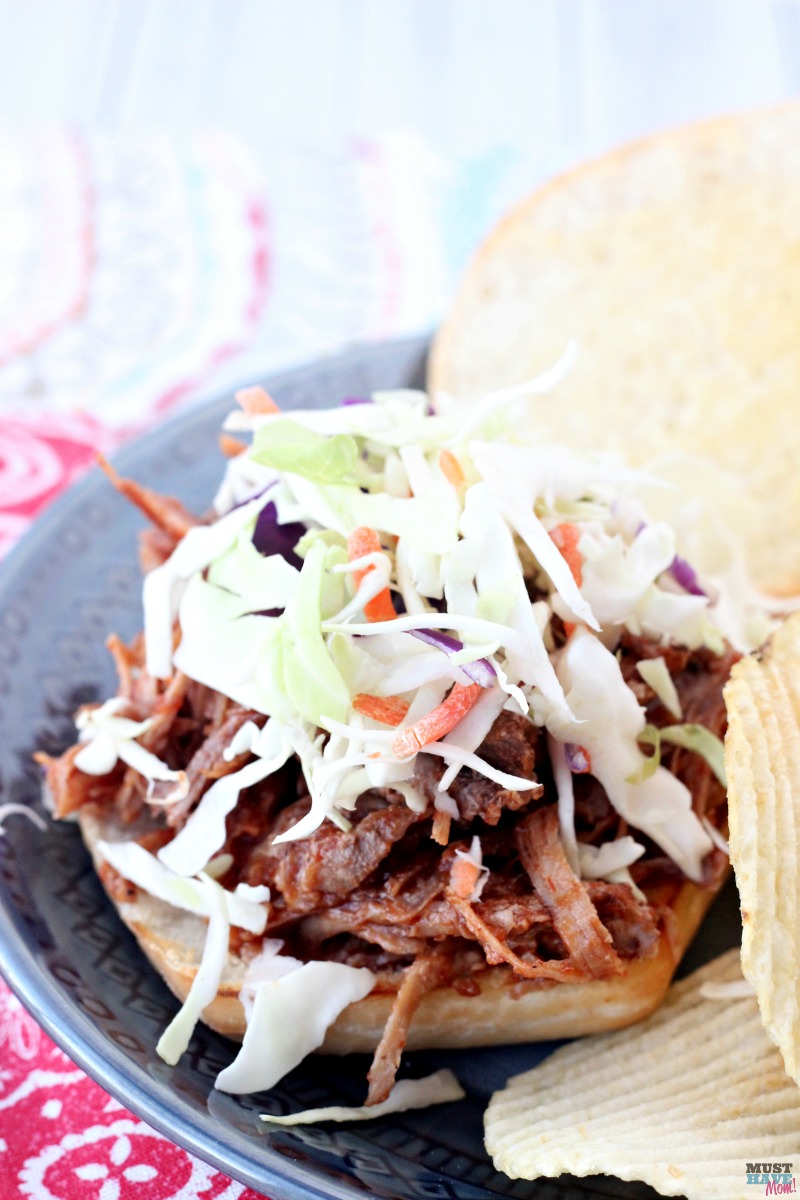 We love when you pin our recipes on Pinterest and share them on Facebook using the share buttons on this post!