My Maytag Kitchen Makeover! The Maytag Kitchen Appliances Have Arrived!
If you follow me on Facebook then you have already gotten a sneak peak at my new Maytag kitchen appliances. I've been just giddy ever since receiving them last month. For the past month I've been getting to know my appliances. The vast array of special features is amazing and I still discover new things about each appliance on a regular basis. I'm excited to reveal my kitchen transformation and all of my before and after photos!
We bought this house a little over a year ago and it is our dream house. It's set up perfectly for our family, has two levels of living and it's situated on a ten acre lot in the beautiful countryside just ten minutes from town. We love the location, the house and the layout. One thing I didn't love was my white appliances. After coming from two previous homes that we bought, flipped and sold, with beautiful kitchens I wasn't excited to downgrade to low end appliances. My last kitchen was gutted and everything in it was chosen by me. I chose each appliance, the cabinets, hardware and layout of the kitchen so moving into our new house I was sad to leave my custom built kitchen that I loved.
With much experience in remodeling kitchens I knew that eventually I would transform the kitchen into something more my style and more fitting with our dream home. The white, base model appliances had to go. Next on my list will be the flooring. The white appliances didn't even fit in the spaces that were cut out for them. They looked dwarfed in the spaces with excess empty space on all sides of them. They certainly didn't look like they were made for the kitchen, but rather that they were plopped in to fill a need for an appliance. The white appliances stood starkly against the warmth of the kitchen cabinets. If you look at the fridge space you can see that on both sides and the top there is empty, unused space. Simply put they didn't match nor did they look like they belonged in this kitchen.
Without further ado, here is the "before" photo of my kitchen…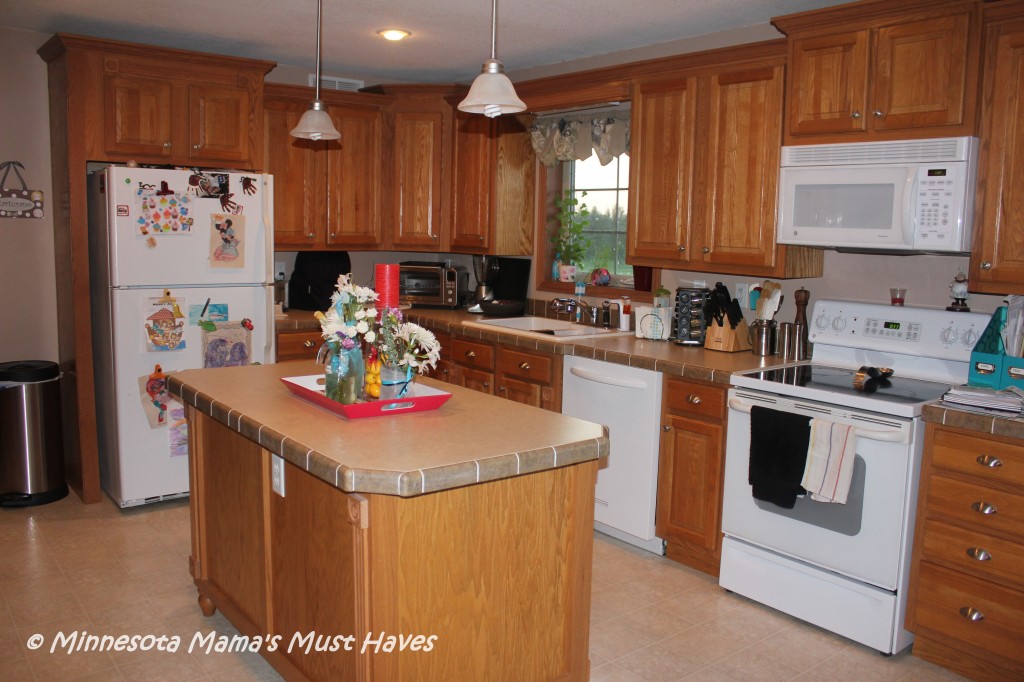 And here is the gorgeous "after" photo!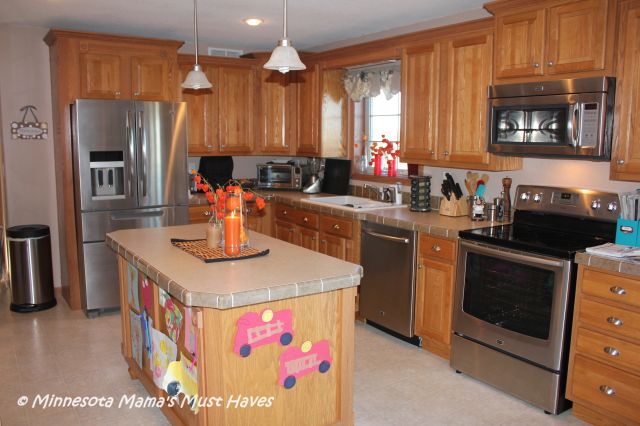 The upgrade to the Maytag stainless steel appliances made a dramatic transformation. It made my stainless hardware on my cabinets pop. My stainless small electrics on the counter tops now pop and coordinate as well. It takes the whole kitchen to a new level. The appliances fill the spaces like they were made for them! They fit like a glove and I think the appliances took my kitchen from looking mismatched and low end to looking put together and much higher end. I had a hard time visualizing what stainless steel appliances would look like in my kitchen but now that I see them I can't believe how perfect they look in the space. I love them!
Check out how much nicer my new Maytag Ice20 French Door Refrigerator looks compared to my old white fridge!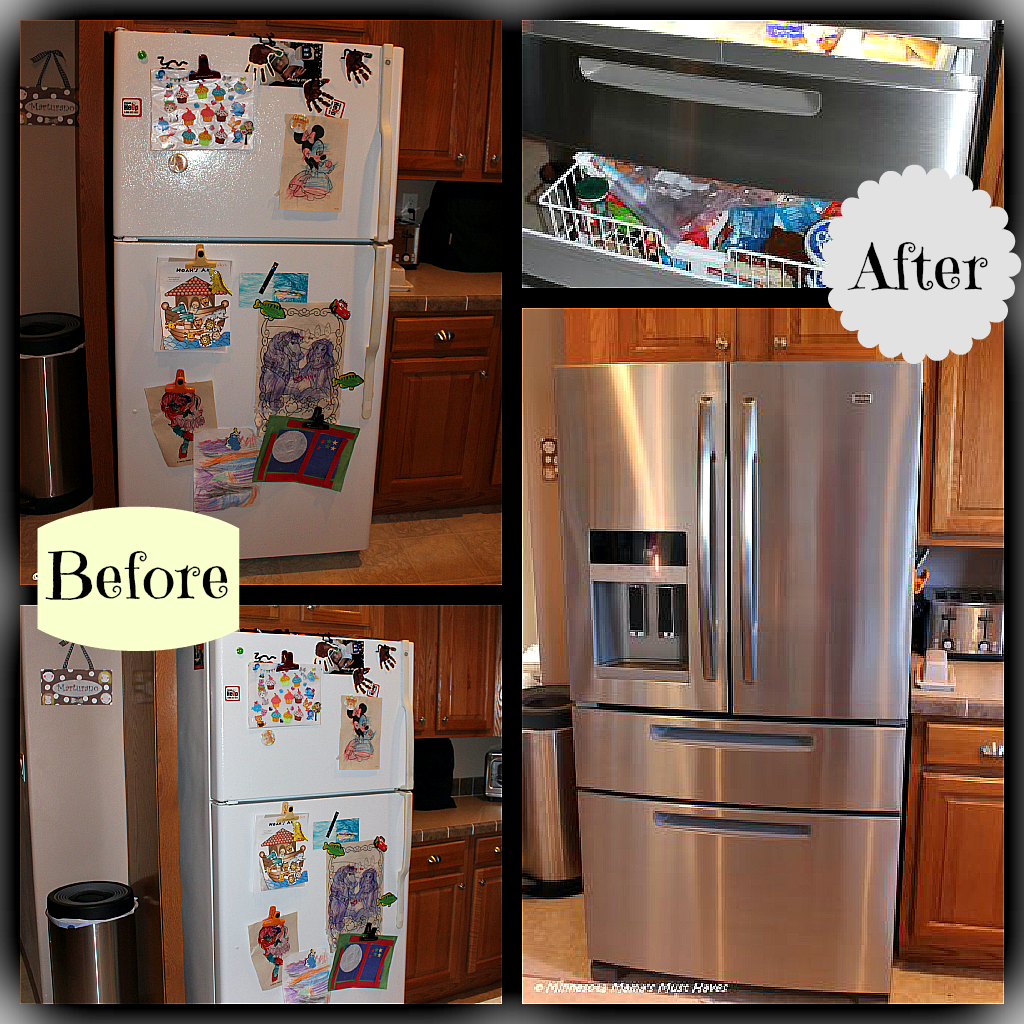 My old fridge had your run of the mill freezer above the fridge. Things got lost in there all the time. It was a big jumble and I never really knew what was in it. It was always frosted over because when the fridge door would close it would pop the freezer open and if you didn't notice it then the door would sit cracked open for hours while our food frosted over. The Maytag Ice20 Fridge has a freezer below the fridge and I LOVE the pull out drawer. Everything is easy to see and keep organized. With a pull out basket on top I can easily separate my foods and know exactly what is in the freezer. Since it is below the fridge it is also easy to access and pull out what you need. All of our guests have commented on how nice the wire pull out is in the freezer drawer.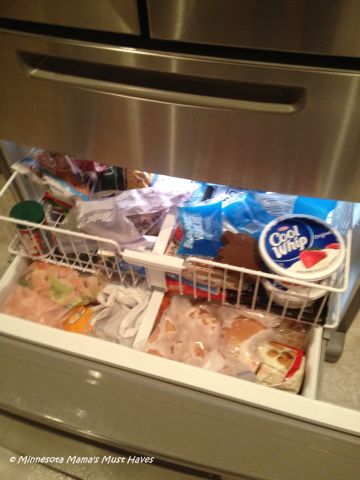 The easy access refrigerator drawer is definitely a family favorite. As you can see tomorrow is grocery shopping day as we are just about out of produce and snacks! This drawer is perfect for storing after school snacks for the kids. It keeps them within easy reach and you will no longer have your kids standing with the entire fridge wide open contemplating what to snack on. Keep the fridge cool by eliminating the need to open the main doors. It stores up to five bags of groceries! It keeps them neat and organized and is such a cool feature.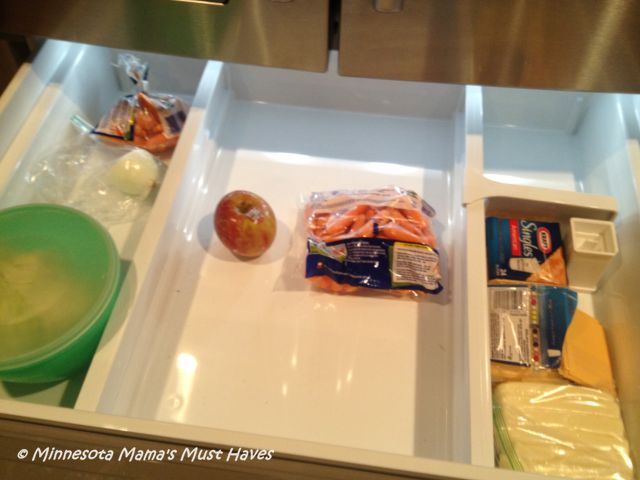 I can tell you that my favorite feature out of everything (and there are a lot to choose from!) is the ice and water in the door feature. I had it in my last house and I missed it so much when we moved to this house! I am a big water drinker. It's definitely my drink of choice and it's what I drink throughout the entire day. Having ice and water easily accessible in the door makes it that much easier to drink water all day long. I also LOVE that the ice cubes are a smaller than normal size so they fit perfectly into the kids sippy cups, our water bottles and they grind up faster in smoothies. It's such an ingenious feature!
The control panel on the fridge looks a little like it came from outer space. It seems so high tech for a fridge! One of my favorite features is the measured fill option. You can place your cup under the water dispenser and select the number of ounces you would like and hit fill. It will fill your cup without the need to stand there and push the dispenser. Another favorite feature of mine is the speed cool option. We had our power go out for an entire night and when it came on in the morning not only did the fridge panel notify me of the outage, but I was able to hit the speed cool button and cool the fridge quickly so our food wouldn't spoil. This is also a great feature for when you are entertaining and will be in and out of the fridge frequently or when you are putting several bags of warm groceries in and want to cool them quickly.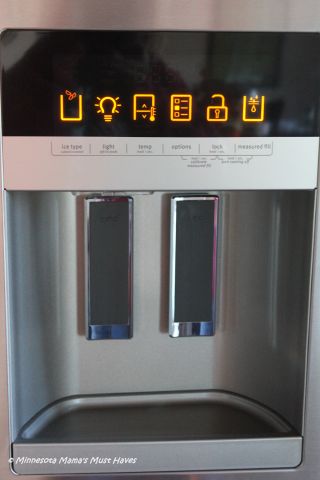 The Maytag 6.2 cu. ft. capacity electric range with Triple-Choice and Speed Heat elements blows my old stove out of the water. One thing I was missing on my old stove was large burners. I couldn't even make more than once grilled cheese at a time because the burner wasn't big enough and nothing on the edge of my pans would cook. The Maytag electric range has two beautiful, large burners! One burner is a triple burner in one. You select how big you'd like it to be depending on what you are using it for. It is awesome! The other large burner has speed heat and will boil a large pot of water in no time. I haven't ceased to be amazed at how fast it boils water. It's perfect for all those times I am entertaining and need things to go quickly and smoothly. I know I can depend on these burners to cook all of my food evenly and quickly boil my water. There are three small burners in the back, the center being a warming element.
The oven window is HUGE and is so nice! I can finally check my food without opening the oven door and actually see whether it is done cooking or not. The clear window makes it easy to see all of the food in the oven. The interior of the oven is also very large with three racks so you can cook everything at once. I'm intrigued by the AquaLift self clean technology but of course my oven isn't dirty enough yet to get a chance to try it out so I will update you on that!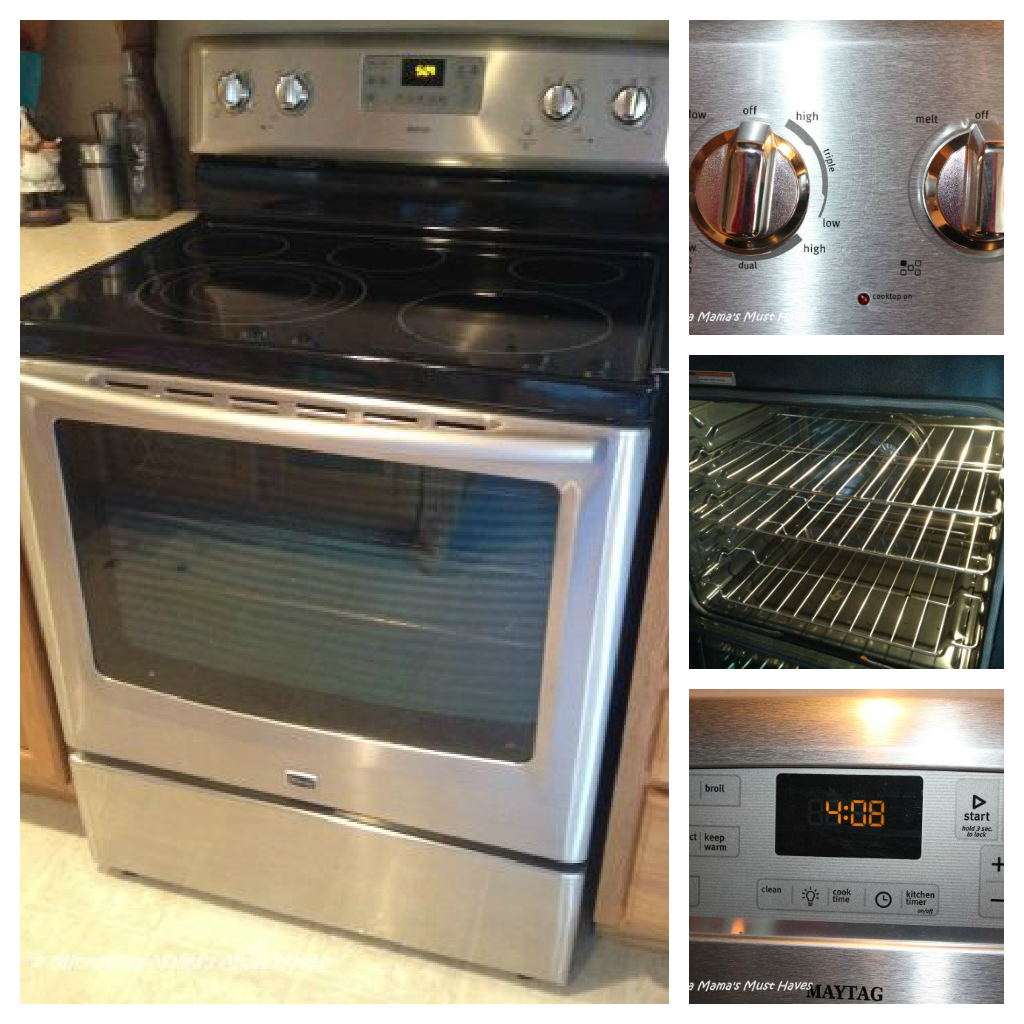 I love the sleek look of the Maytag Jetclean Plus Dishwasher. The hidden controls not only look sleek, but they also are tucked away so the kids can't play with them and inadvertently start the dishwasher. The Jetclean plus Steam cycle is my favorite. I can put the dishes in without even rinsing and they've come out clean every time. It has a four blade stainless steel chopper eliminating the need to prerinse and preventing your lines from getting clogged.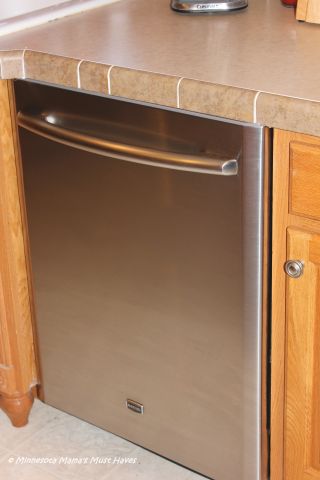 You can see the hidden controls in this picture. The dishes fit great in the racks and I love the adjustable upper rack. There are many different cycle options so you can select the option that's right for your load. It's energy star qualified too so you know you aren't wasting energy on it.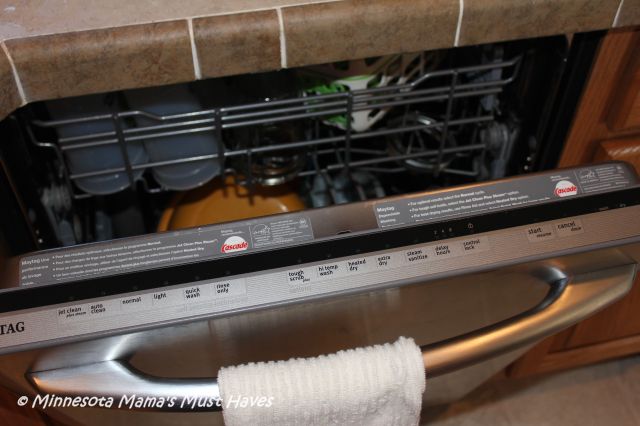 The first thing that caught my eye about the Maytag Over the Range Microwave was the double level cooking option. There is a removable rack so you can cook more than one thing at a time. The WideGlide tray doesn't go around and around like your typical microwave, but instead moves back and forth inside the microwave to achieve uniform cooking results. You can fit a 10″ x 15″ pan inside of this microwave! The stainless steel interior makes spills easy to wipe off and keep clean.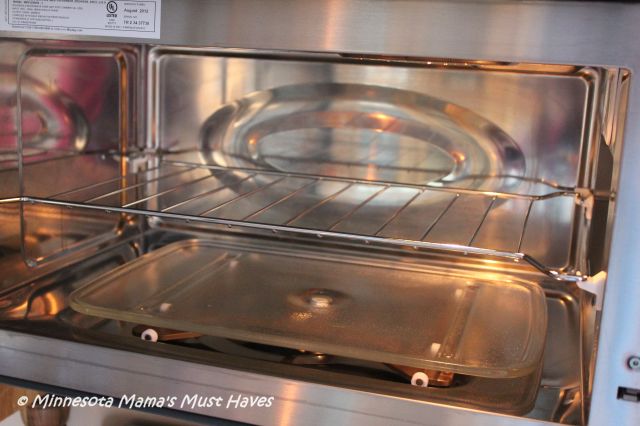 What do you think of my kitchen transformation? Do any of the features these appliances offer sound new or surprising to you? I am so happy with my kitchen and I keep discovering new features that I love about these appliances. I will continue to update you on my appliances as I use them. I am proud to say that these appliances are made in the USA! Support the USA and choose appliances that were engineered and made here. I know that in the upcoming months of entertaining they won't let me down. With Aiden's Birthday party just a few weeks away and Christmas entertaining nearly upon us, I am excited to use my new appliances to serve my guests the very best!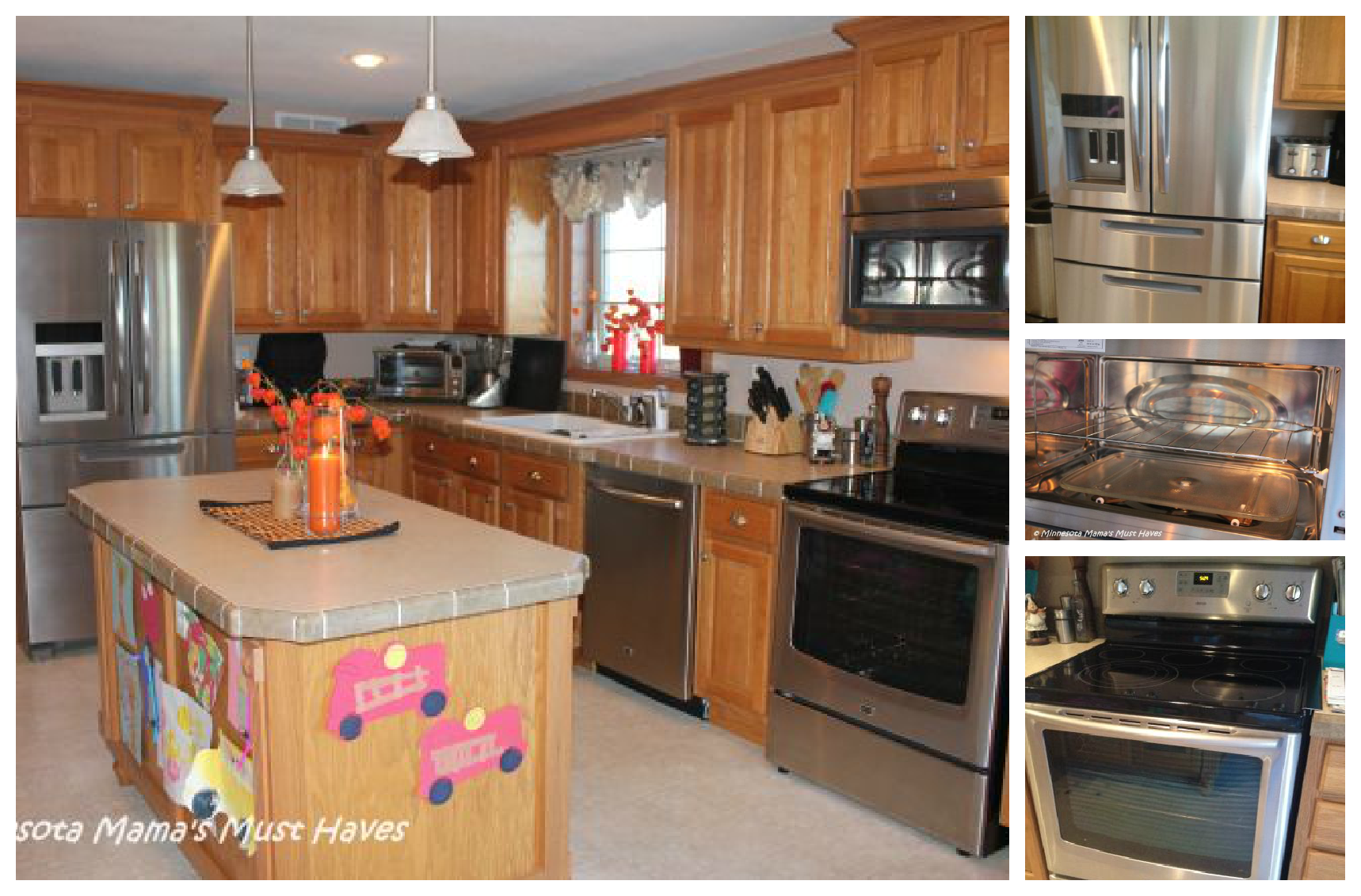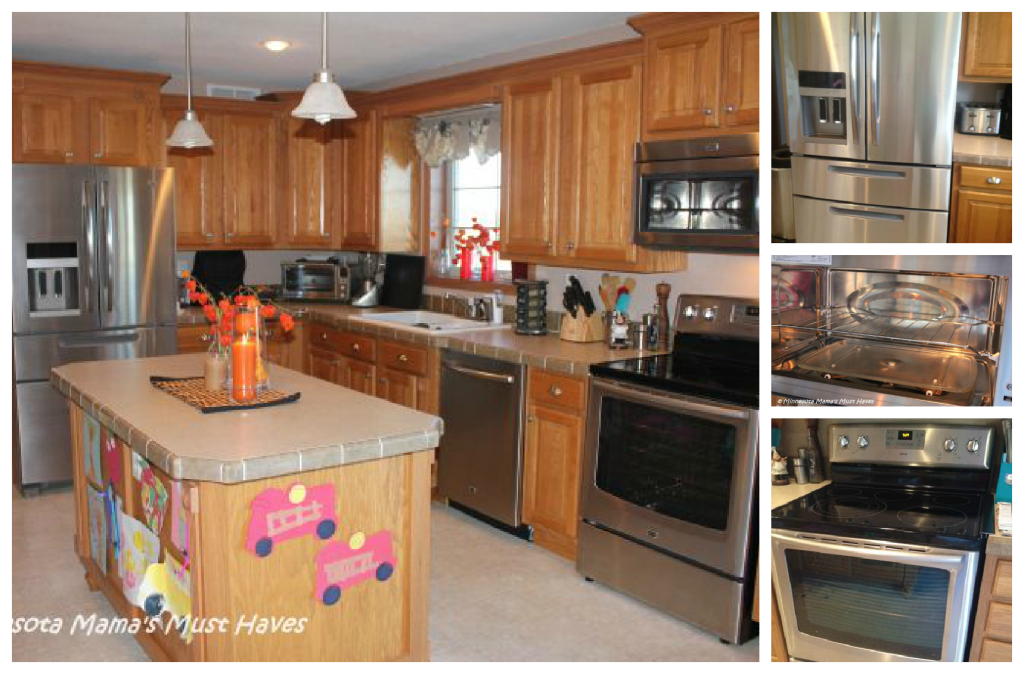 Check out what the other Maytag Moms have to say about their kitchen appliances! You can also follow Maytag on Facebook and Twitter to keep up with all of the latest news!
*I wrote this post participating in an Maytag Moms Dependable Kitchen Ambassador program by Mom Central Consulting on behalf of Maytag. I was provided with a Maytag kitchen appliances set, including a refrigerator, microwave, dishwasher, and range to facilitate my post.