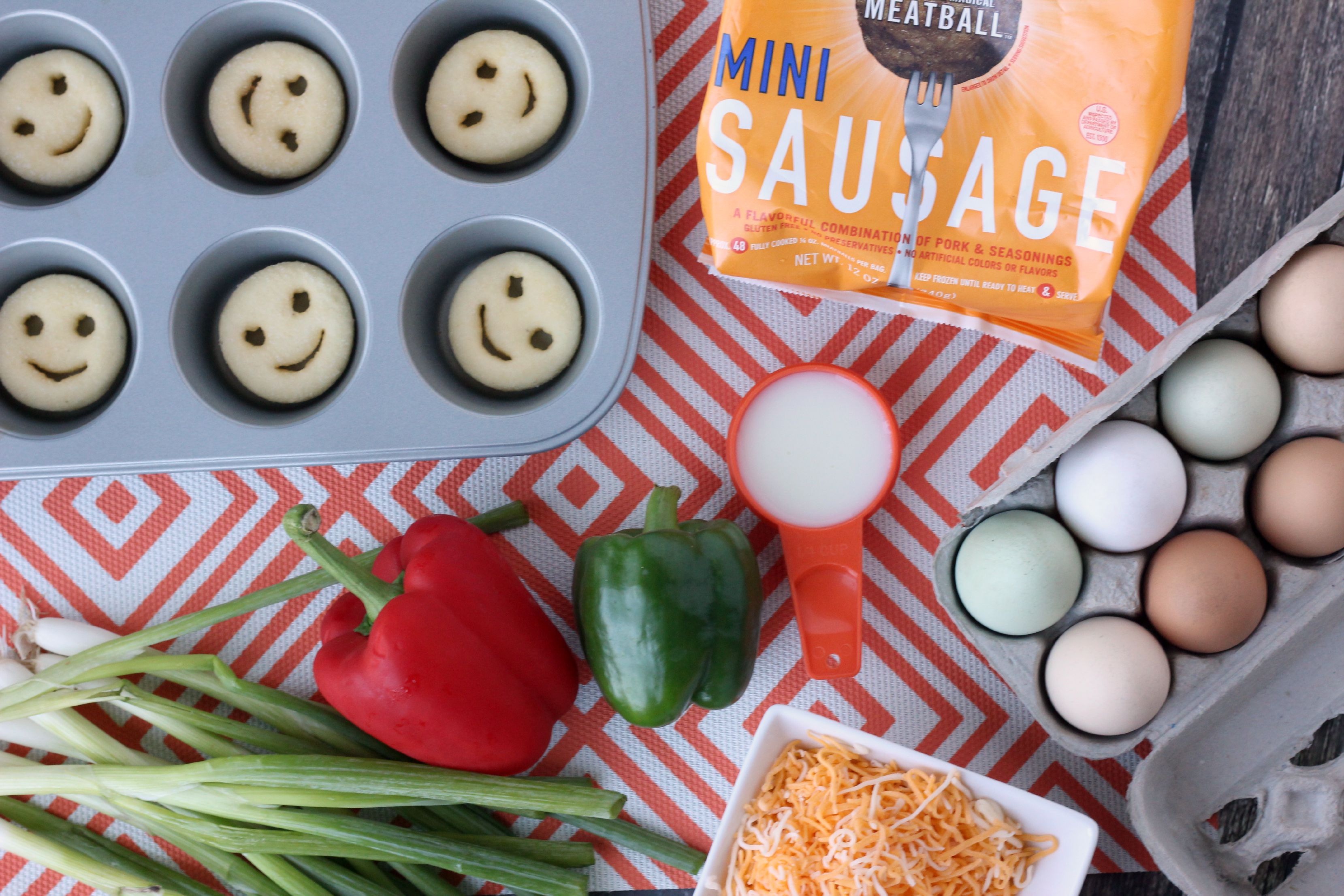 School has begun again and that means I can no longer lolly gag around the kitchen in the morning, taking my dear sweet time preparing breakfast. Now I need easy on the go breakfast options that will fill my kids up and be ready in a snap. I'm a huge proponent of making amazing freezer meals so freezer meal breakfast ideas were top of my list this season. This mini omelette recipe is a winner weather you freeze it for later or gobble them all up right when you make them. They're amazing. Plus you can customize them to each and every person's taste so no one will be left out of eating this amazing breakfast.
Begin by placing 12 potato smiles, 1 each, in the bottom of each muffin tin. Be sure to GREASE YOUR PAN. What the heck is a potato smile? They are those smile shaped potato fries you see at the store. They fit perfectly into the bottom of the muffin tin. Can't find them? Use some hashbrowns or tater tots instead and smash them into a circle. Pop those in the oven at 400 degrees for ten minutes.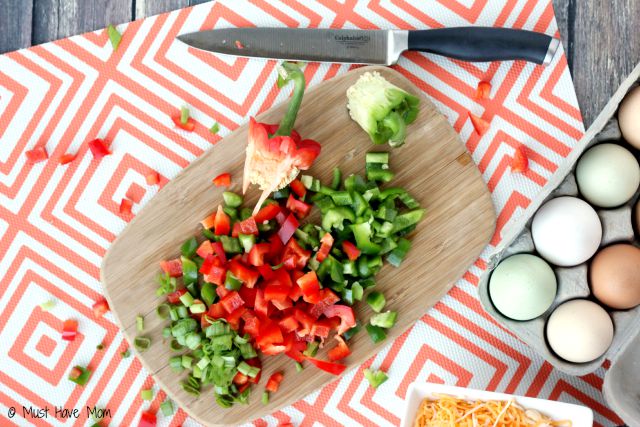 While those are cooking chop up your ingredients. I used some beautiful bell peppers straight out of my garden. I also tossed in some green onions for good measure. You could interchange these ingredients with mushrooms, tomatoes, spinach, etc. Whatever you like! Have a picky eater (I do!), swap these out for ingredients they like. Not a fan of veggies? Just make them with the sausage, egg and cheese! It's completely customizable to your taste!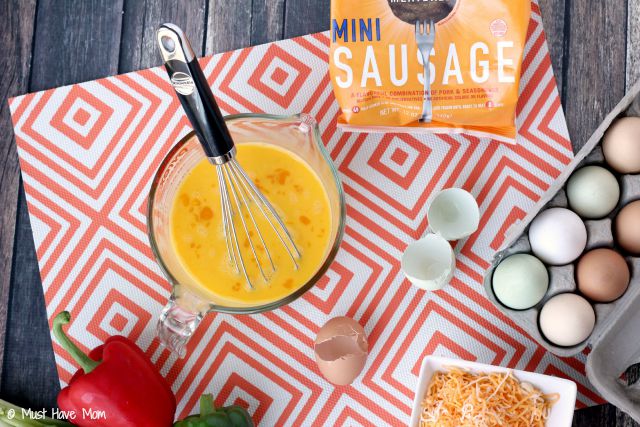 Next whisk together the eggs, milk and water. You might be wondering why I add water to these instead of all milk. Water is the secret ingredient to make these eggs fluffy! Totally counter-intuitive, yet it simply works!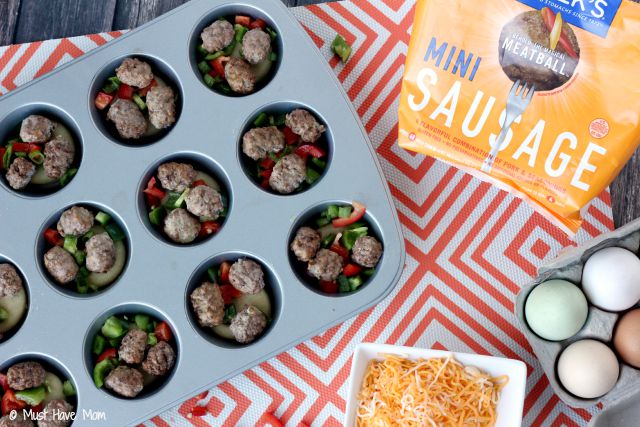 Now your potatoes should be done. Top with 3 mini sausage meatballs (Simek's makes mini sausage meatballs that work perfect for these) and your veggie ingredients.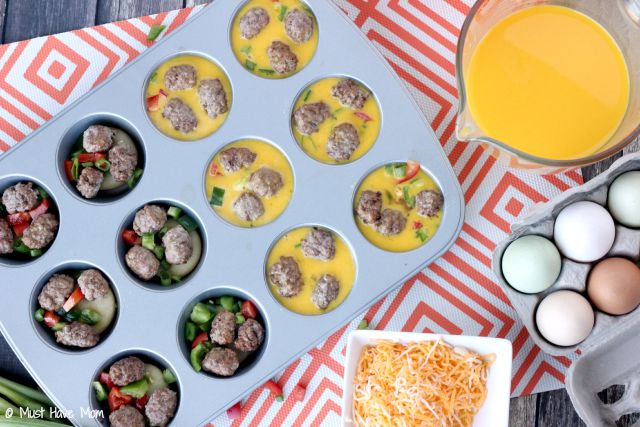 Now pour your egg mixture over the top of each one, filling it to the top.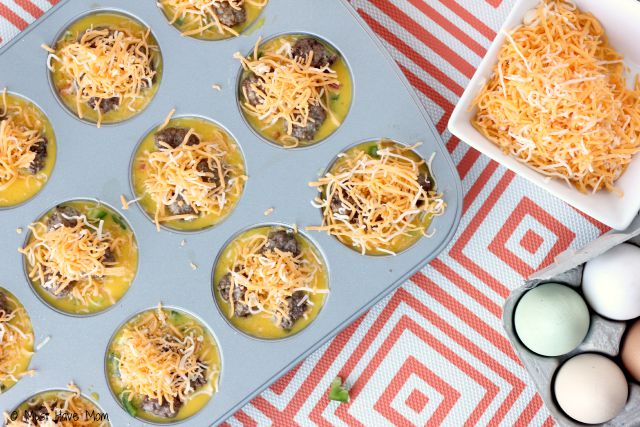 Then sprinkle it with some shredded colby jack cheese.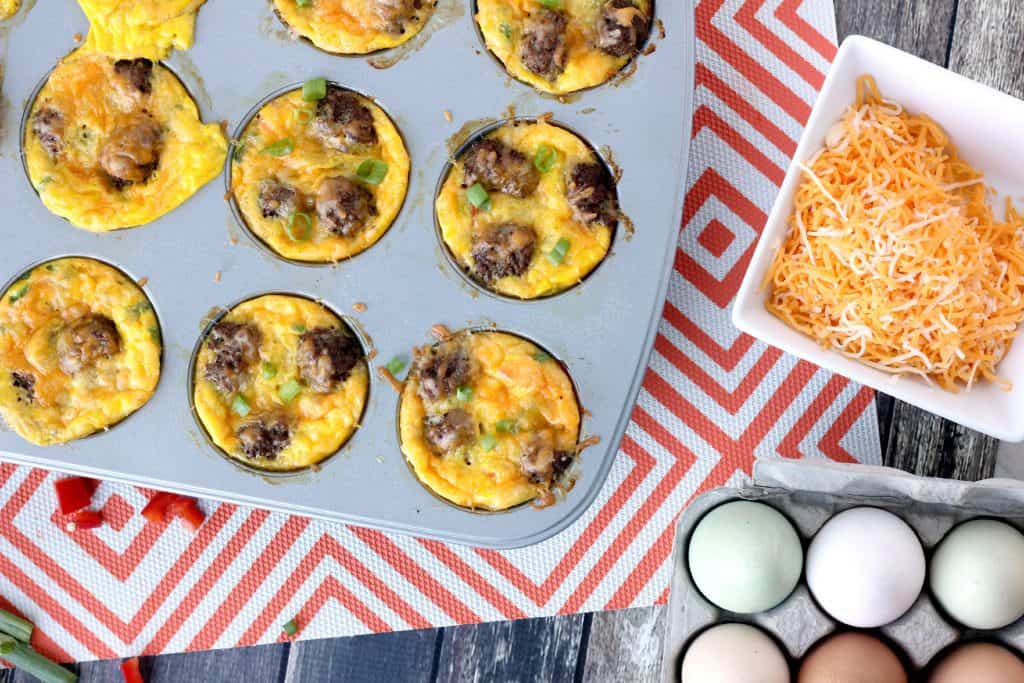 Bake at 350 degrees for 25 minutes or until the egg is cooked through.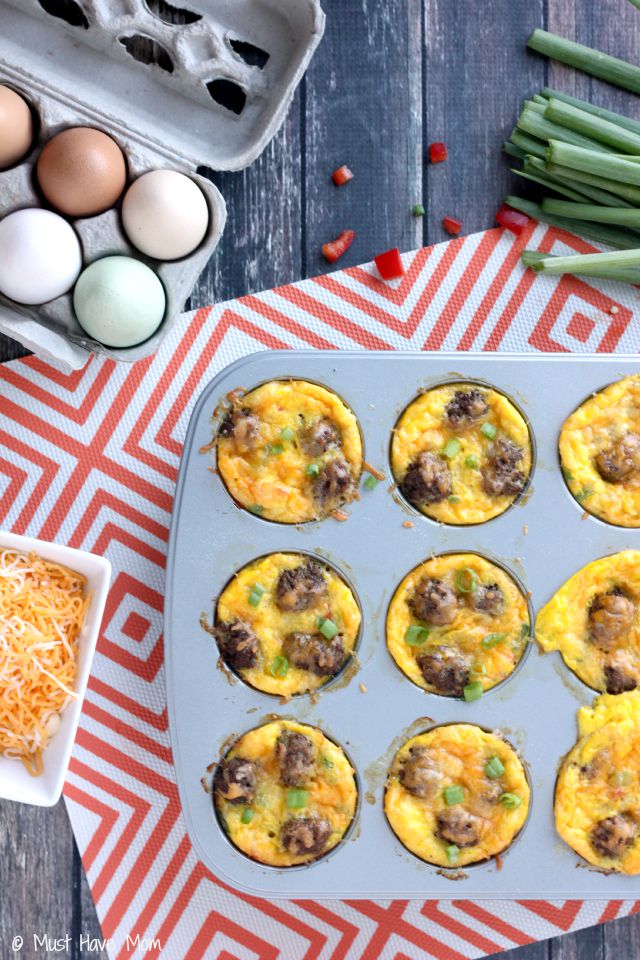 Then use a knife to slide around the outside edge of each omelette to help release it from the pan.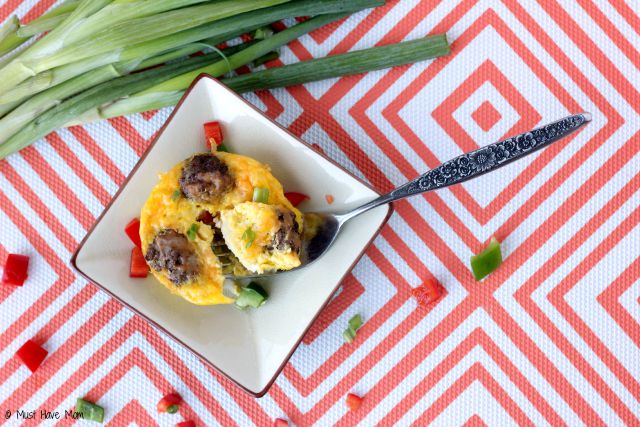 Now you've got an amazing, mini omelette that is not only completely satisfying, but will also keep you full for a busy day ahead! The fluffy eggs along with the protein from the sausage and vitamins from the veggies are sure to fuel your day.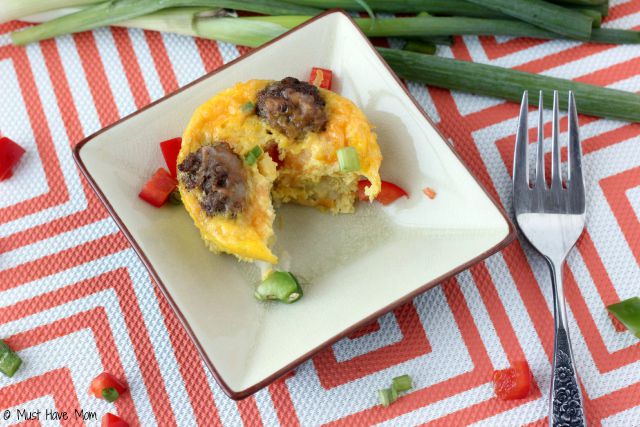 If you'd like to make these ahead of time you can prepare the mini omelette recipe as instructed and then allow them to cool. Wrap each one individually in plastic wrap then place them in a gallon freezer bag. Pull out as many as you need at a time and microwave them until hot. Now you'll have a freezer full of ready to go breakfast freezer meals!
Print off the mini omelete recipe below or pin this post for later! You can also share on Facebook to save it to your timeline!

Print the mini omelette recipe below & Pin for later!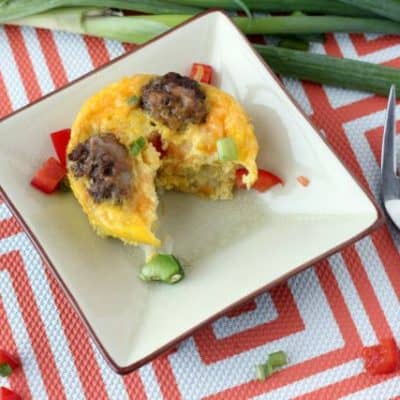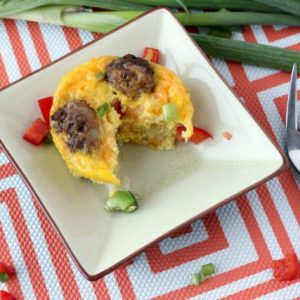 Easy Mini Sausage Egg & Veggie Omelettes Recipe
Easy omelettes that you can customize to each family member's liking! You can make them and eat them immediately or make them ahead and freeze for later!
Ingredients
8

eggs

1/4

C

milk

1/4

C

water

12

potato smile shapes

in the freezer section by the fries-or use tater tots and smash them to fit in the muffin cup

36

Simeks mini sausage meatballs

1/2

C

red bell pepper

diced

1/2

C

green bell pepper

diced

2

green onions

chopped

1

C

shredded monterrey jack cheese
Instructions
Preheat oven to 400 degrees F.

Grease 12 cup muffin tin.

Place one potato smile (or 3 tater tots) into each muffin cup. Bake for 10 minutes

Remove from oven and lower temp to 350 degrees F.

Whisk together eggs, milk and water. Set aside

Top the potato smiles with 3 sausage mini meatballs and veggies.

Pour egg mixture over the top of each muffin cup, filling it to the top.

Sprinkle cheese on top.

Bake at 350 degrees F for 25 minutes or until egg is cooked through.

*If freezing for later: Allow to cool completely. Wrap individually in plastic wrap then place them in a gallon freezer bag. Freeze. Warm them in microwave until hot.