Best RV Mattress & Why We Ordered Online
Sick of sleeping on that crummy RV mattress that came with your camper? I'll show you the best RV mattress and why we ordered ours online!
Our camper makeover is one of my most popular posts here at Must Have Mom. We LOVED our makeover and one integral part of it was replacing our old RV mattress. The mattress that came with our camper was so old and in desperate need of replacing. We went on the hunt for the best RV mattress and quickly learned that our best option would be to look at regular queen mattress options online.
Why Order A Mattress Online?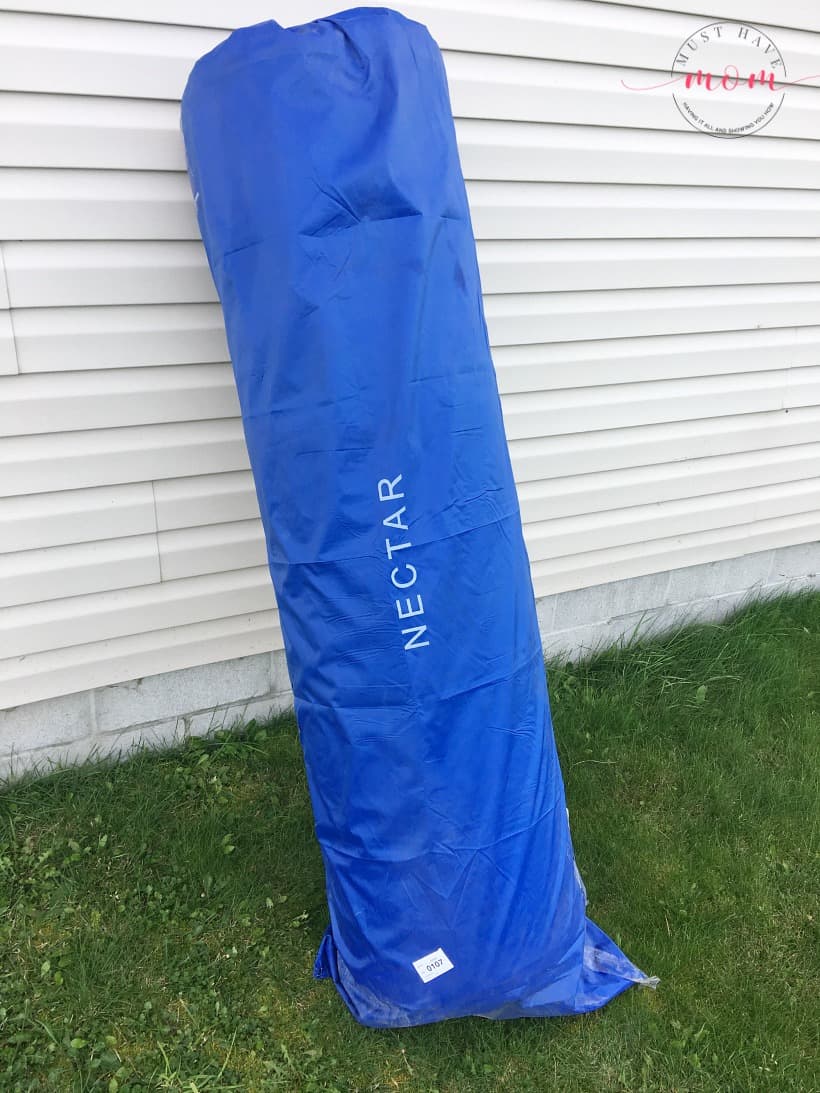 We decided to order a mattress online for several reasons! It was definitely a great decision and something I would do again.
Price – You'll find much better value for the money by buying a mattress online. Since the middleman is cut out of the process, you benefit with lower prices on better quality mattresses.
Shipping – If you've ever hauled a mattress home on the roof of your vehicle then you know what a pain it can be buying a mattress in store. If you choose home delivery from the furniture store, you likely will have to pay a hefty fee for that. By ordering online you often score free shipping and it ships straight to your door. No awkward car trips home with a mattress on your roof!
Better Warranty – By ordering a mattress online you often score better warranties because companies can save money and in turn offer the customer a better warranty. Our favorite mattress company for their warranty is Nectar. They offer a LIFETIME warranty. Yes, if your mattress breaks down in 100 years, they'll replace it!
Best RV Mattress
We ordered a Nectar queen mattress online because it offered all of the values I listed above (including free shipping!).  It quickly arrived at our door in a beautiful blue bag making it easy to haul into the camper and set up. It was packed by compressing and rolling it for shipping. This made it really easy to carry through the skinny camper door. Can you imagine trying to get a regular queen mattress through the camper door? This is one of the reasons we decided to order a mattress online.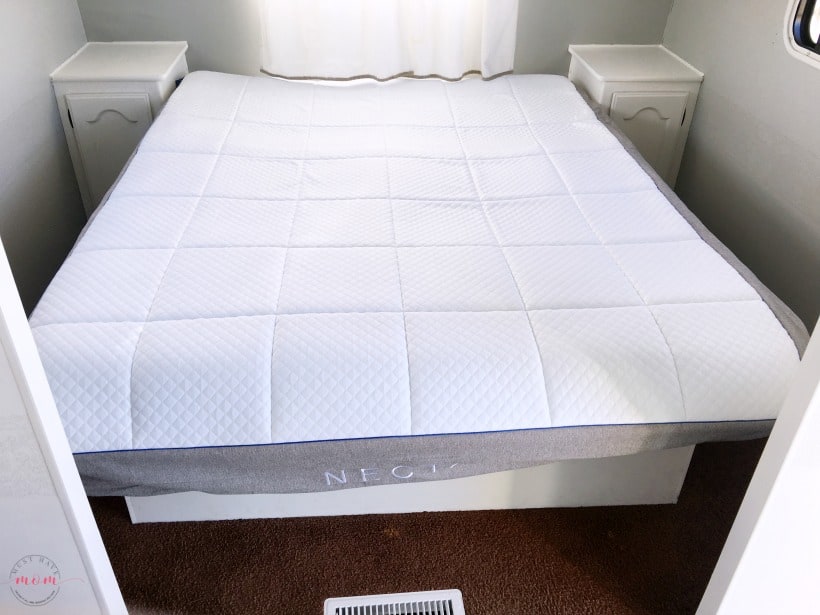 Once we had the Nectar mattress in the camper, we rolled it out on the platform for the master bed. Before ordering we measured the bed platform area for our master bedroom in the RV. It was the same dimensions as a regular queen mattress which is why we decided to skip costly RV mattresses that under-perform in quality and comfort and go for the best queen mattress instead.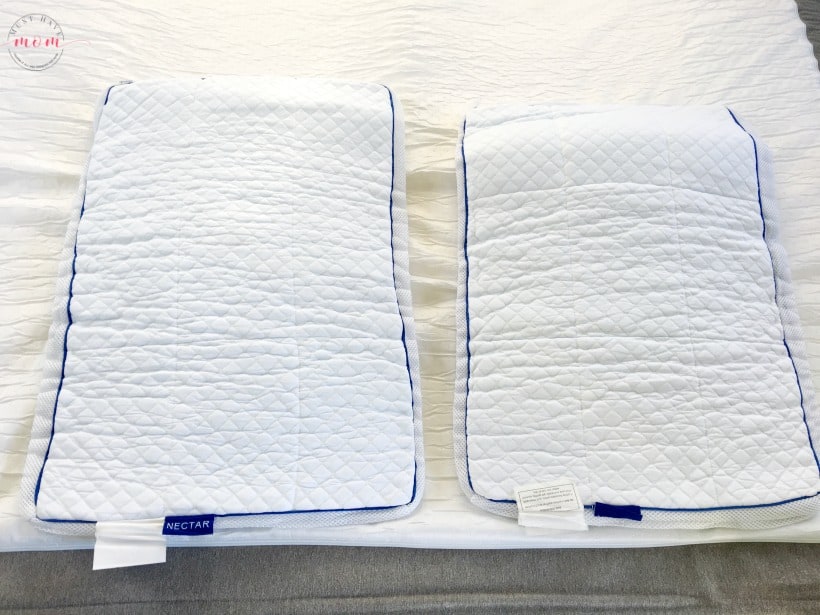 The Nectar mattress also comes with 2 free pillows (and they frequently run specials!). We rolled those out as well and left everything to sit overnight and expand.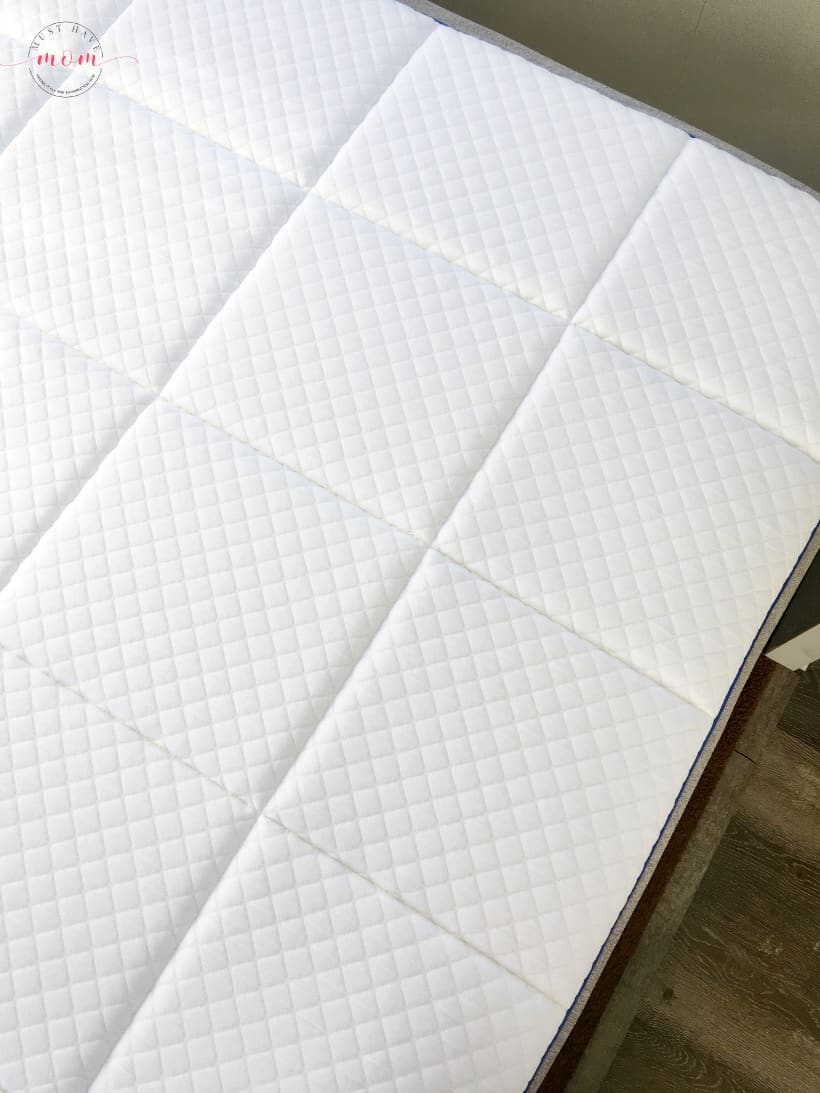 I was pleasantly surprised to find that there were no stinky odors or off-gassing while the mattress expanded. In the past, I've encountered mattresses that really smelled like chemicals for a few days after setting them up but this one didn't smell AT ALL. We stuck our face right in it and smelled and there was nothing. I was thrilled with that!
The Nectar queen mattress is plush but highly supportive. It rates at a 6 on a 1-10 scale if 1 is a feather pillow and 10 is a cement floor in a penitentiary. The Nectar mattress is designed for perfect long-term support with true top layer comfort. Nectar has won 16 awards, 20 mattress comparison sites and 9,000 reviews recommend NECTAR. The best part? You can try Nectar risk-free for a year!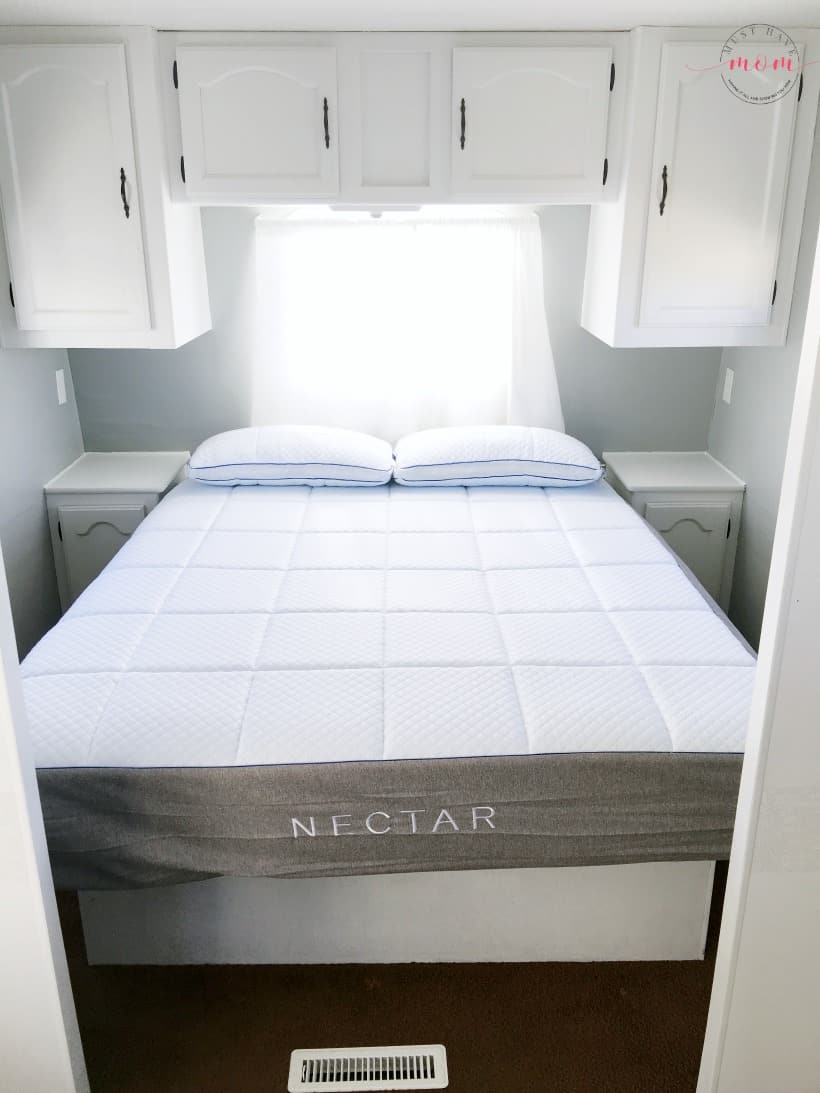 The mattress was fully expanded the following day and we couldn't wait to sleep on it! It was the plush, yet supportive comfort we had been looking for. The mattress fit beautifully and was as comfortable as it was beautiful.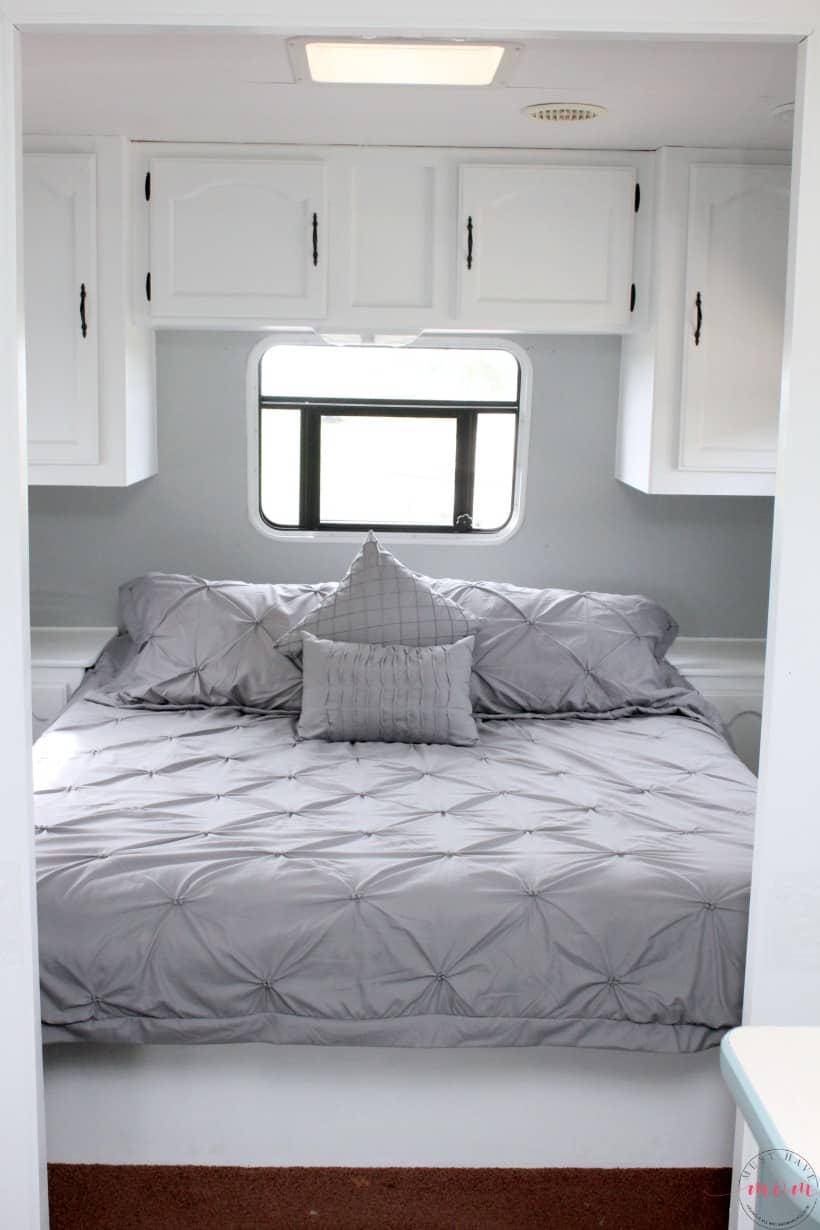 I topped it with a gorgeous gray comforter and my RV makeover was truly complete, mattress and all!
Whether you want a new RV mattress or you just need a new queen mattress for your bed at home, Nectar is my top pick thanks to the comfort and lifetime warranty, along with free shipping and ease of setup with no off-gassing smells. Grab your free trial or take advantage of their amazing Halloween sale today where you can save $125 off your order and get 2 free pillows!
Pin the Best RV Mattress: