If you have ever driven to Walmart at 2am with a screaming baby (me waving my hand wildly!), then you know that being prepared when you have a child that is of age to be teething is a necessity. I only did that once and from then on, I made sure I was always prepared with natural teething remedies that actually work. As a mom to four kids and a Registered Nurse, I have a bit of experience with teething! I'll show you what you should always have on hand for your teething baby.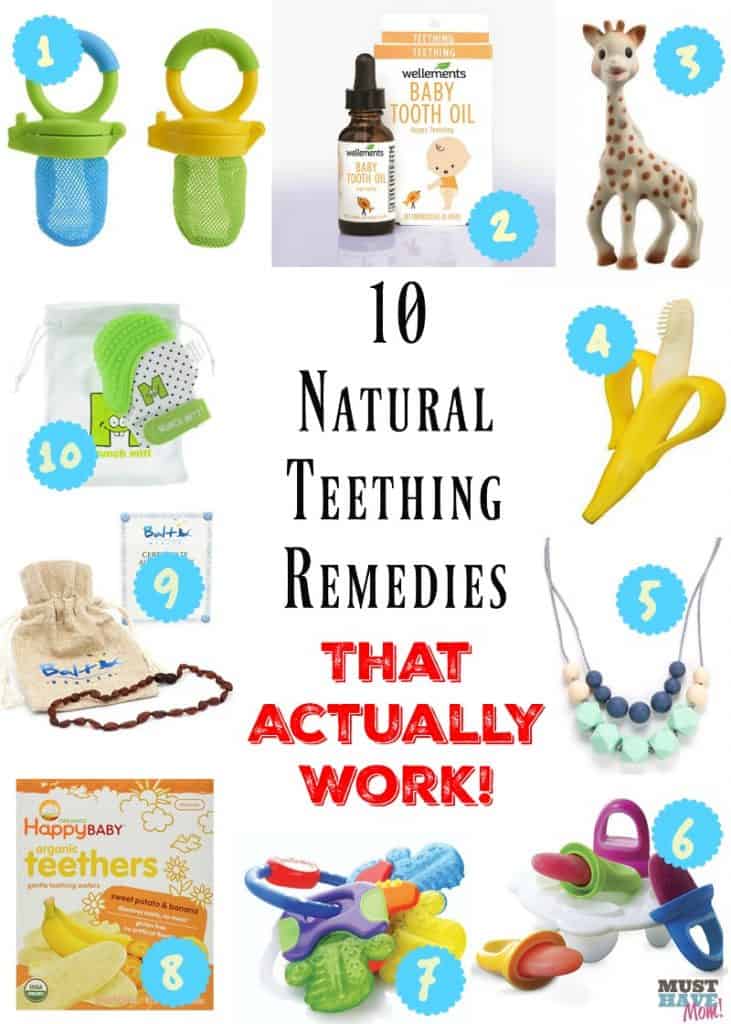 These Fresh Food Feeder, 2 Pack, BlueGreen mesh bags are like gold for teething babies. Simply fill them with frozen fruit or frozen breastmilk and they will have instant relief on those aching gums as they gnaw away on it without the risk of choking.
Wellements Baby Tooth Oil works naturally to deliver almost instant relief to sore gums. Without any ingredients you don't want (no belladonna, benzocaine or other icky ingredients), and only safe, natural ingredients, it works quickly and effectively. Just rub it on your baby's gums.
Ask any seasoned parent and they will tell you that Sophie The Giraffe Teether is basically a right of passage for every baby. A definite must have!
The Baby Banana Infant Training Toothbrush and Teether is right up there with Sophie the Giraffe. This is great for baby to chew on at home or on the go!
Any mom knows that babies always go for the pretty necklaces to chew on. Don't let them chew on your nice jewelry and potentially choke or ingest harmful chemicals, instead wear this beautiful and trendy Marotaro Harper Designer Teething Necklace that is safe for baby to chew on and pretty enough to wear.
Make baby some fresh fruit popsicles or frozen yogurt pops with the Nuby Garden Fresh Fruitsicle Frozen Pop Tray.The frozen pops will soothe sore gums.
These Nuby Icybite HardSoft Teething Keys are perfect for chewing on. Toss them in the fridge to cool them down before baby chews on them for added relief.
All four of my kids absolutely loved these Organic Teething Wafers. They dissolved quickly so they didn't choke and they tasted great too.
My kids all wore these Amber Teething Necklaces and I truly believe in their effectiveness. My 2 year old still wears one every day. They work wonders by decreasing inflammation naturally when the amber in the necklace is absorbed into the skin.
Babies always chew on their hands. That's why the Munch Mitt Baby Teething Mitten works so well! Babies love chewing on it.
Don't be caught without these natural teething remedies on hand! You never know when your baby will start to cut a new tooth. Usually I find it happening in the middle of the night when stores are closed.