Dr. Seuss Party Food Recipes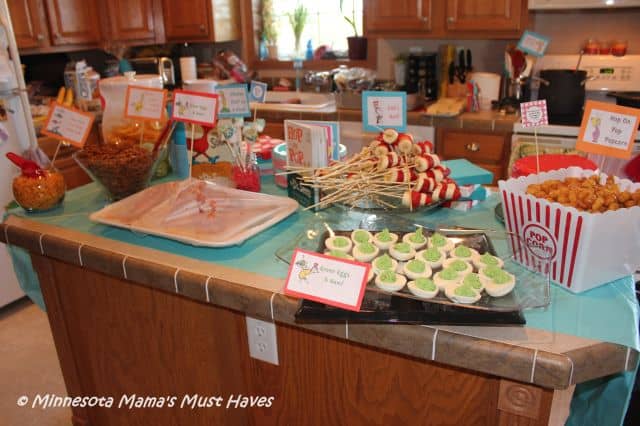 For
Carson's 1st Birthday
we did a
Dr. Seuss themed Birthday party
which was such a fun theme to plan. I've had a lot of requests for my recipes for the party food and this post is long overdue! You can get my
free Dr. Seuss food sign printables
, fonts, and lots more ideas in my previous posts. Now on to the recipes!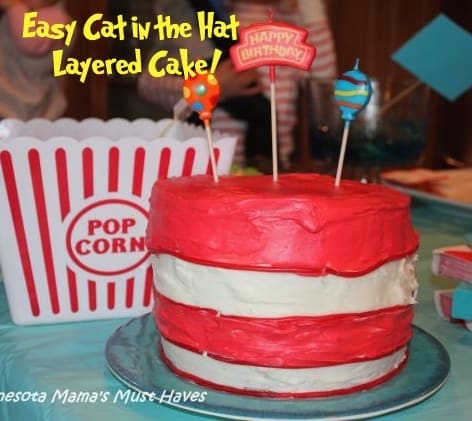 For Carson's "smash cake" I did the Cat's hat. I simply baked four 8″ round cakes from a box mix and then stacked them on one another. Be sure to level the top of the cake with a knife to ensure you have a flat, stackable surface. Use a little frosting to "glue" them together. Once they are stacked then you can frost the layers with white and red frosting. I used canned frosting and used red gel food color to dye the white frosting red. I then used pull 'n peel licorice to divide the layers. It was simple and while it isn't the most beautiful cake I've ever seen, it fit the theme! Alternatively you could do a simple layered cake with white or red frosting and top it with a
Dr Seuss Cat in the Hat Birthday Party Cake Topper
. Easy peasy!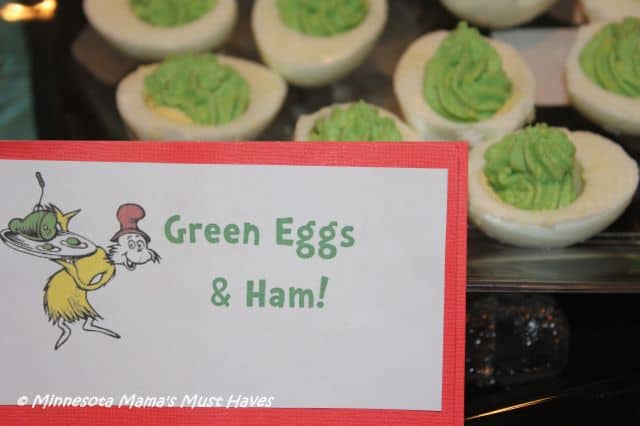 What would a Dr. Seuss party be without the green eggs and ham? I made deviled eggs and simply dyed the yellow yolk mixture with
green gel food color
. Use any deviled eggs recipe and then dye the yellow mixture before piping it back into the eggs.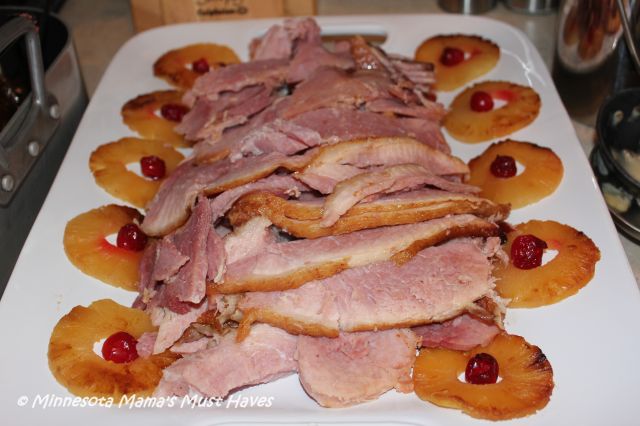 For my ham I baked a 10# ham in a
turkey bag
following the instructions on the turkey bag. Before cooking I placed the ham in the turkey bag, used toothpicks to stick pineapple rings and maraschino cherries to the ham and glazed it with a simple brown sugar and pineapple juice glaze. It was delicious!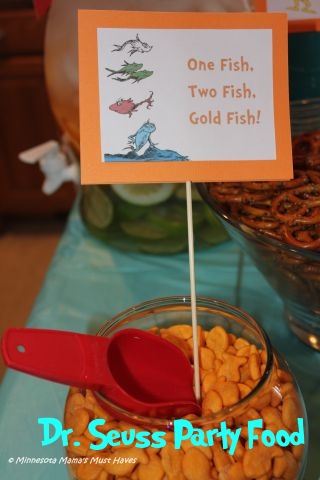 I just used goldfish crackers for this!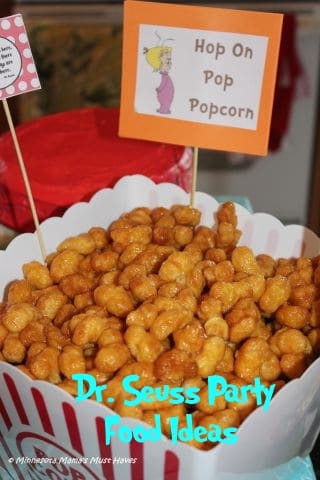 This is a favorite recipe around here. It's highly addicting and way too good to be this easy to make 🙂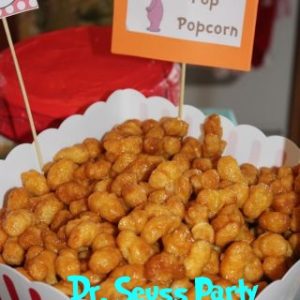 Hop on Pop Caramel PopcornStinky Pretzels
Perfect for any Dr. Seuss themed party! Easy and addicting!
Ingredients
1 9

oz

Bag of Puffcorn

1

Cup

of Butter

Not Margarine

1 1/4

Cups

of Brown Sugar

2/3

Cup

of Light Corn Syrup

1

Teaspoon

of Baking Soda

2

Tbsp

Dill Weed

1/2

tsp

onion powder

1/2

tsp

garlic powder

1

package dry ranch dressing mix

12

oz

Orville butter flavored oil

found near popcorn

2 - 16

oz

bags pretzels
Instructions
Preheat oven to 250°F.

Combine butter, brown sugar, and light corn syrup in a 2 quart sauce pan.

Cook on medium heat until mixture has melted.

Once mixture has melted add the baking soda. (Note: This will cause the mixture to foam)

In a large roaster pan pour the bag of Puffcorn then pour caramel mixture over it and stir until mixed.

Place in oven for 45 minutes, stirring at least every 10-15 minutes.

Remove from oven, pour on wax paper and break apart.

Let cool and store in airtight container.

Mix all ingredients together. Stir frequently and allow to marinate several hours or overnight. Store in airtight container.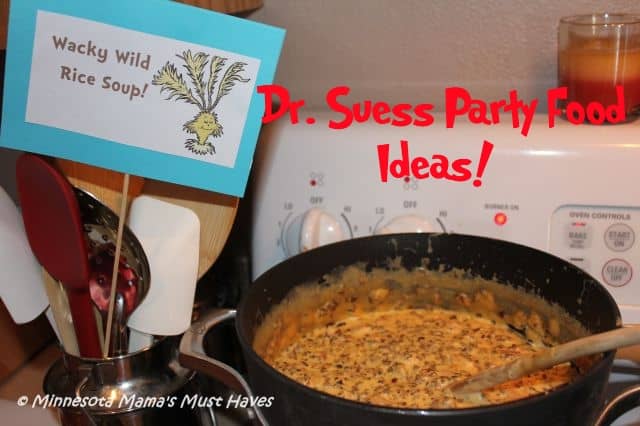 I made my favorite Wacky
Wild Rice Soup recipe
which is SO delicious! Click the link for the recipe.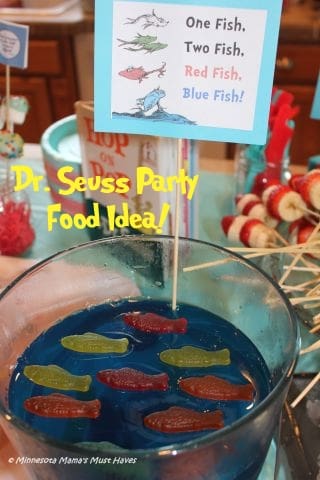 To create this fun Jell-O bowl simply make blue Jell-O in the bowl and then add Sweedish Fish to the top once it is almost set.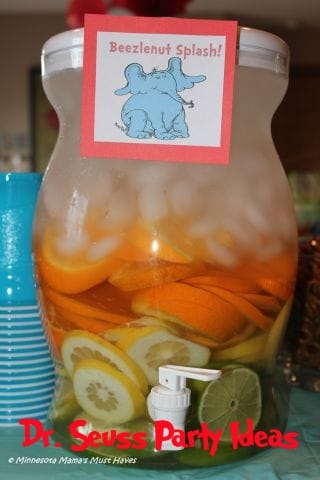 The Beezlenut Splash was a big hit too! We had to refill it several times. Get my
Beezlenut Splash recipe
by clicking the link!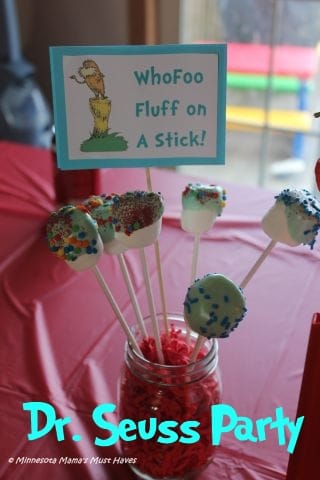 For this WhoFoo Fluff on a Stick I simply put Jumbo marshmallows on sticks and then dipped them in melted almond bark that I had dyed blue with food coloring. I then added the sprinkles and let them dry in a jar just as they are displayed here.
I hope these Dr. Seuss party food ideas help inspire you and be sure to check out all of my Dr. Seuss posts as I have a lot of free printables and ideas (including the free food sign printables to go along with all these recipes!).