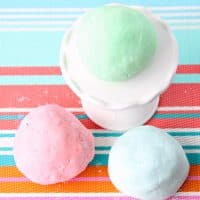 Lush Fun copycat recipe for bath tub playdough! Bubble bath play dough can be used in the tub and disappears when mixed with water.
In a small bowl combine Johnson & Johnson Bubble Bath, coconut oil and food coloring. Stir together until mixed well.

Add 1/2 cup cornstarch and work together. Knead with your hands and slowly add in more cornstarch until it reaches the desired consistency. If you add too much cornstarch and it becomes dry, simply add a little more bubble bath to reach the right consistency.

Store near the sink to use as soap or give your child a little bit to play with like play dough in the bath tub. The soap dough will disintegrate and become bubbly when mixed with water.