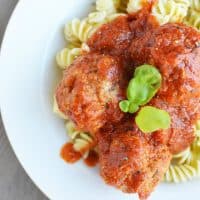 Hide your children's veggies inside their favorite meatballs!
1

pound

ground pork

1

pound

ground bison or beef

1

big fist full of spinach

1

medium onion

about a cup of chopped tomatoes

¼ to ½

cup

of peppers

sea salt and pepper to taste

1-2

tablespoons

avocado oil or olive oil

2-5

fresh basil leaves

about 1 cup of bread crumbs or Panko

1

large jar of tomato sauce

I like to use a tomato and basil.
Thoroughly wash all of the vegetables before starting. Rough chop the onion and place in the blender along with the spinach, blend until you have a relatively smooth consistency then pour into a hot, nonstick pan with the oil, salt and pepper. Cover and cook until the onions are transparent.

Then add in the chopped peppers and fresh basil.

In a large bowl combine the meat, breadcrumbs, cooked vegetable mixture and raw tomatoes. Mix until fully combined (I like to wear food grade rubber gloves for this). Add in a little more of the breadcrumbs it the mixture is too wet).

Form uniform sized meatballs that are about 1.5 around then set into the crock pot, pour the tomato sauce over them to cover completely. Add the lid and cook on low for about 3-4 hours or until the meatballs are done. The final cook time will depend on the size of the meatballs and the actual cooking temperature of the crockpot.