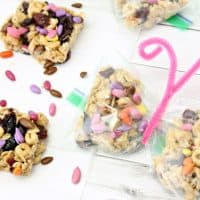 Healthy no bake honey oatmeal breakfast bars recipe for easy on the go breakfast.
Spray an 8" pan with cooking spray to prevent bars from sticking. Set aside.

In a large bowl combine oats, cheerios, and craisins and set aside.

In a saucepan over medium heat combine coconut oil, honey, and brown sugar. Heat to boiling and keep at a gentle boil for 30 seconds. Remove from heat and add vanilla. Stir to combine.

Pour saucepan mixture over dry oat mixture and mix well. Pour finished mixture into your prepared pan and press down so it is packed tightly in the pan. Sprinkle chocolate covered sunflower seeds on the top. Place in fridge for one hour or until bars are firm.

Cut into squares and put in baggies or create butterfly baggies with them. Store in the fridge until ready to eat.