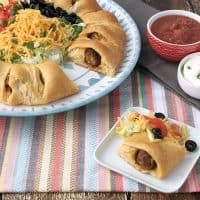 Easy weeknight meal or appetizer for a gathering, ready in 30 minutes and a kid-pleaser too!
16

Simek's Original Meatballs

⅔

cup

water

2

tablespoons

taco seasoning

2

cups

8 ounces shredded cheddar cheese, divided

2

tubes

8 ounces each refrigerated crescent rolls

1/2

medium head iceberg lettuce

shredded

1

medium tomato

chopped

4

green onions

sliced

1/2

cup

sliced ripe olives

2

jalapeno peppers

sliced

Sour cream and salsa

optional
In a sautee pan, combine water, taco seasoning and meatballs. Cook over medium heat for 10-15 min, stirring occasionally, and stir well to combine.

Preheat oven to 375° F.

Arrange crescent rolls on a greased 15-in. pizza pan, forming a ring with pointed ends facing the outer edge of the pan and wide ends overlapping.

Place a meatball on each roll. Sprinkle 1 cup of cheese over meatballs. Fold point of crescent roll over meatball and tuck under wide end of roll. Repeat until all meatballs have been covered in crescent roll. Bake for 15-20 minutes or until rolls are golden brown.

Transfer to a serving platter. Fill the center of the ring with lettuce, tomato, onions, olives, jalapenos, remaining cheese, and sour cream and salsa if desired.