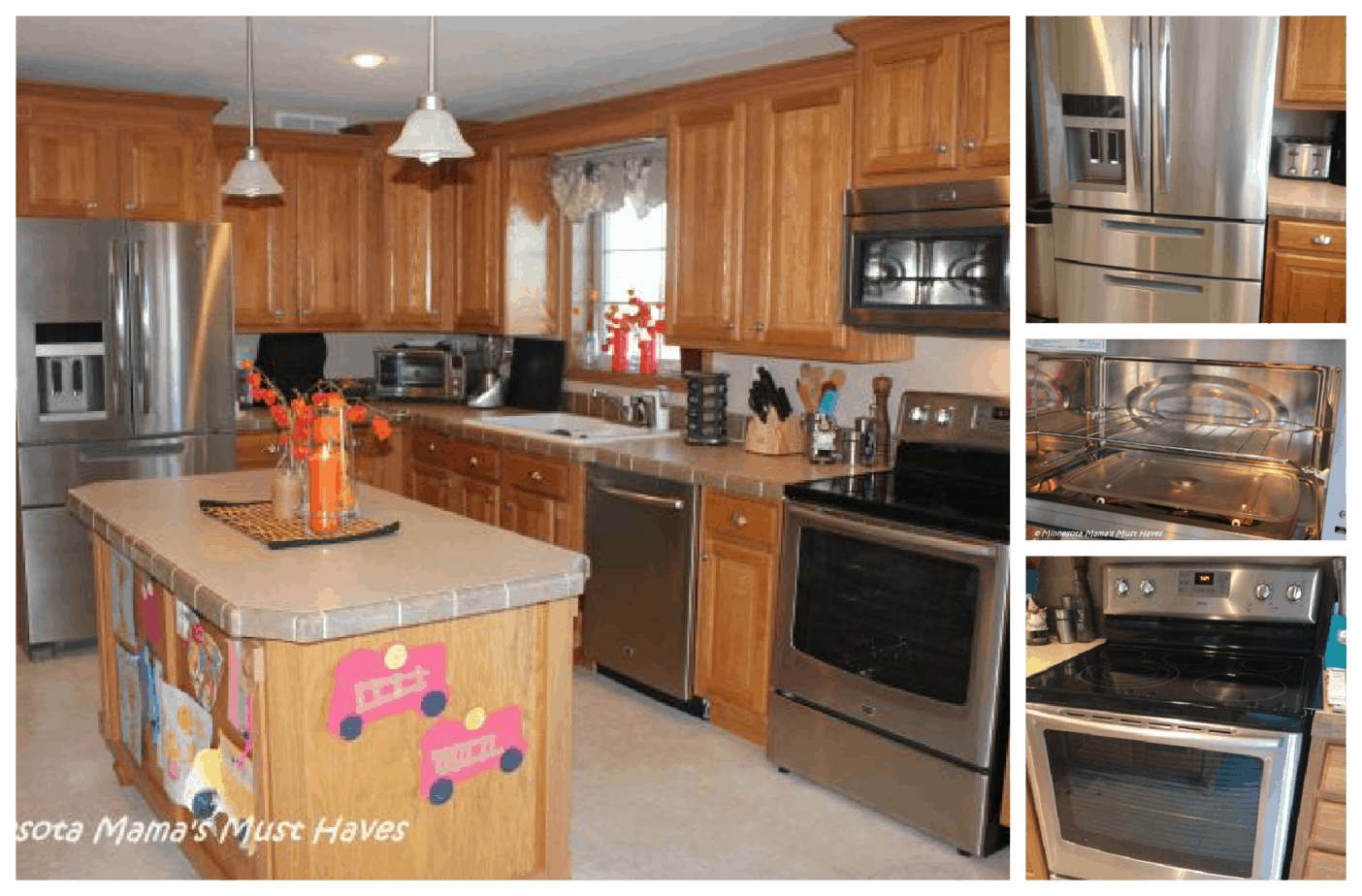 You may recall my awesome "reveal" photo after my kitchen makeover thanks to my new Maytag appliances. I have been sharing all of my favorite features of each appliance with you but I have yet to tell you about my stove! My original stove was one of a small batch of ovens that were not functioning properly. I was really bummed but glad that Maytag was so quick to take care of the issue and ensure my family's safety.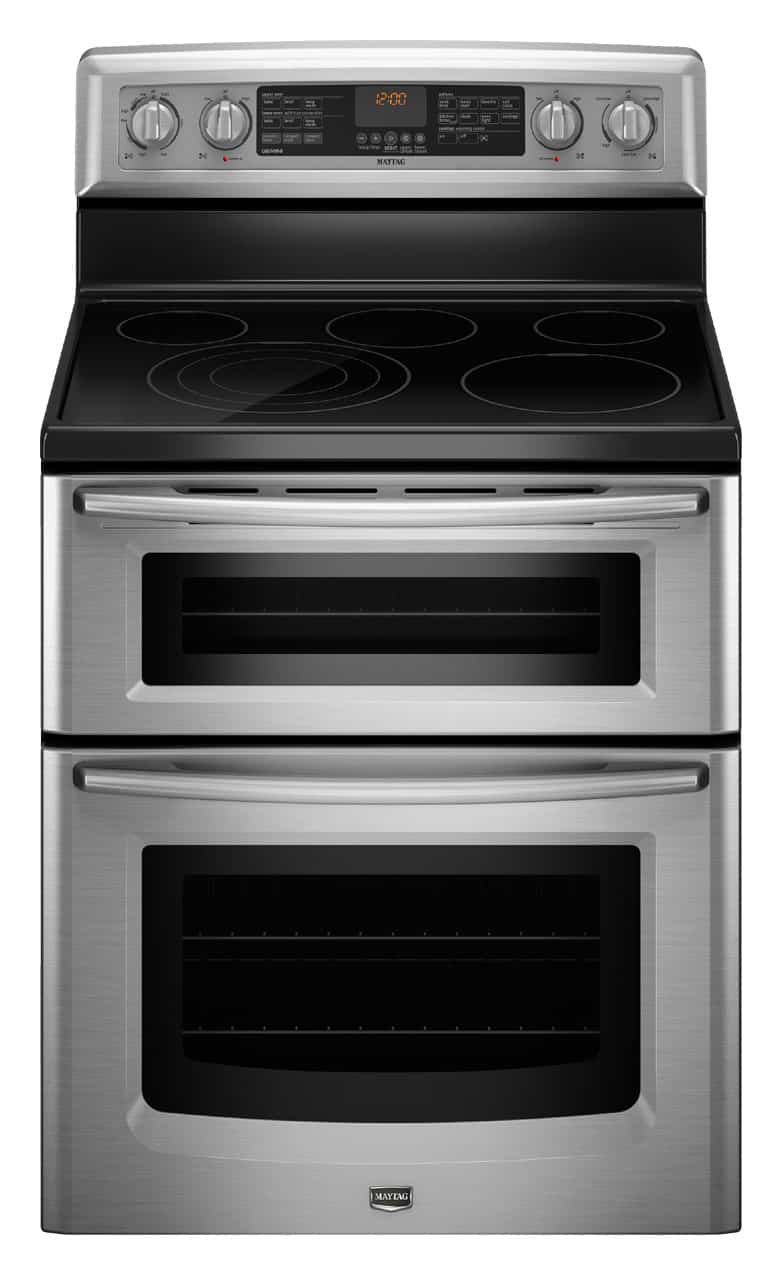 They decided to replace my original stove with a new Gemini Electric Double Oven Range with EvenAir True Convection. I couldn't be more excited as I had always wanted a double oven. The thought of being able to cook two things at the same time, at different temperatures was so thrilling to me! My only concern with a double oven was whether or not the ovens would be large enough to cook what I wanted to. Could I still cook a turkey in it? Would my cookie sheets fit? Would all of my families favorite meals still be easy to prepare? I was excited to find out!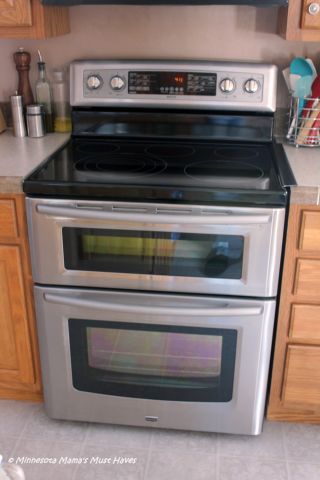 The double oven is absolutely gorgeous! The first thing I checked out was the size of each oven. The top oven is perfect for all of my everyday cooking. I can easily fit a pizza or lasagna pan in it and it easily fits a cookie sheet too. An added bonus that I didn't think about until I started using it was that since it's not the size of a full oven, it heats up faster and doesn't use as much energy. We use the upper oven for 90% of our cooking needs. The lower oven is plenty big for anything else you might be cooking. It will fit a turkey, ham or any other big pan! I love being able to cook multiple dishes for dinner or cook dinner and dessert at the same time. I can have both ovens going with cookie pans in each and be done in half the time. After using the Gemini Double Oven I can't ever see going back to using a single oven.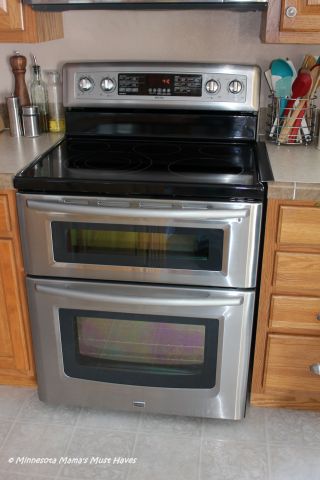 I often bake my own bread with our dinner each night. Since Aiden has a severe nut allergy I prefer to make my own breads since we can't buy from bakeries. Having the double oven allows me to cook our dinner and bake my bread at the same time despite needing two different temperatures. In the past I would have to remove our dinner and then wait for the bread to cook while hoping our dinner didn't get cold. Now I don't have to worry about that and I can serve everything at the same time! We have also noticed that the upper oven cooks our food faster than our old oven did which is a great time saver and shows the power and performance of our Maytag!
Another huge time saver that I'd be lost without is the innovative coating on the oven's interior with AquaLift Self-Clean technology that activates with water and heat to release tough baked on soils from underneath. This allows you to easily wipe away food and debris without having to heat up your whole kitchen. I had a pie boil over and coat the bottom of my oven with sticky filling. It easily removed thanks to AquaLift.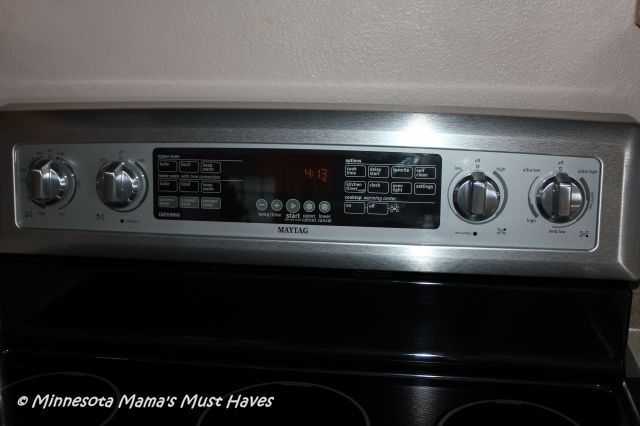 Not only do I love the double oven, but I was thrilled with the stove top too. It has five burners, including a warming center burner in the back, an adjustable triple burner up front and a rapid heating burner that boils water in no time! Being able to boil water so quickly is definitely my favorite feature. It saves me so much time when preparing our meals.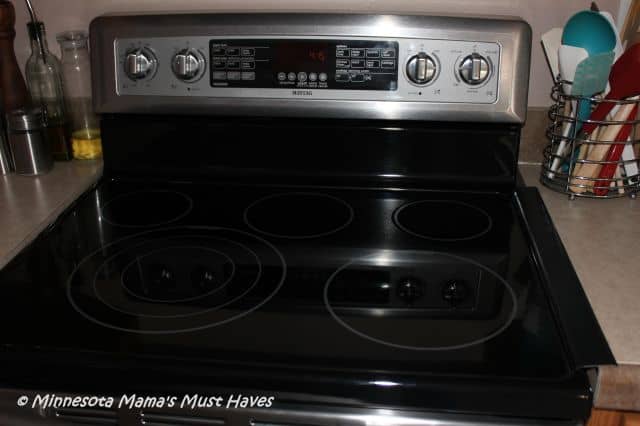 If you are looking for a new oven I highly recommend checking out the Maytag Gemini Double Oven. It is absolutely amazing and has been a huge time saver, money saver and has simplified the cooking process for us. It gives us the options and versatility that we need. You can read about all of my Maytag appliances and their features that I love HERE.
Follow Maytag on Facebook & Twitter for the latest news!
*I wrote this post participating in an Maytag Moms Dependable Kitchen Ambassador program by Mom Central Consulting on behalf of Maytag. I was provided with a Maytag kitchen appliances set, including a refrigerator, microwave, dishwasher, and range to facilitate my post.