Still coming down from the high of your recent engagement, you can't wait to start planning the main event: your wedding! Literally radiating happiness, you pull out your dream chest from underneath your bed and sort through the clippings you've collected over the years. You knew that someday you'd appreciate having saved these! With the clippings and other ideas saved to your Pinterest boards, your wedding is going to rock!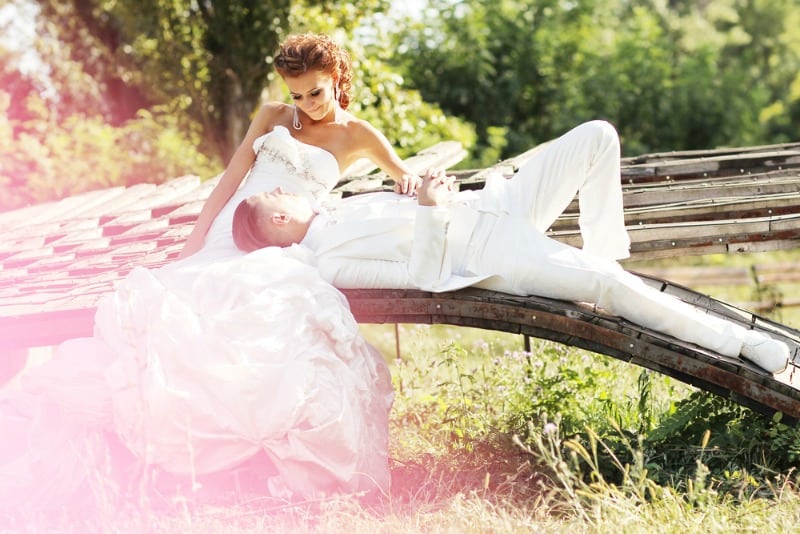 Now comes the time to agree on a budget. Easy enough, right? As it would turn out, weddings are pretty expensive, or at least the dream wedding you've been planning since you were six is. According to CNN Money, U.S. couples spent an average of $31,213 in 2014 on their wedding nuptials, and this didn't even include the honeymoon. As two 20-somethings, you really don't have the budget to spend tens of thousands of dollars on your wedding. And as two forward-thinking individuals, asking your parents for help seems absolutely medieval.
Not wanting to suffer through a long engagement of scrimping and saving for the big day, you decide to only go for the essentials. And fortunately, you can still have an unforgettable wedding day on a shoestring budget. For tips on how to have a tasteful ceremony and reception, read on!
Make Some Cuts
After you announced your engagement to your family, you started getting emails from your mom telling (not asking) you whom to invite. It's your wedding—you don't have to invite relatives that you know will just bring the party down.
To save on unnecessary expenses, The Simple Dollar suggests slashing your guest list. When you hire a catering company, they will give you an estimated per-head cost for alcohol and food. Providing guests food and drink is usually one of the more expensive big-ticket items. When you trim the fat off your guest list, you can feed your intimate friends and family well for less.
Invite friends and immediate family you know will share in your joy. Bonus? Now you don't have to worry about your bigoted uncle and his simpering wife bringing their drama to your celebration.
The Art of the Pop-Up Wedding
As you've sorted through pages and pages of wedding stuff online, you're finding every venue you've ever thought to have your wedding at comes with a hefty price tag. But did you know you could still get married on the beach or in the exhibit halls of a fancy museum without having to pay for the location itself?
Companies like PopWed help couples pick a venue that represents their collective spirit. With a small ceremony made up of the bride and groom and a handful of guests, couples can get married in art galleries, on the beach, in the library or even at the local historical mansion. But because you technically haven't paid the venue, there's a chance you can get kicked out mid-ceremony, but that's part of the fun! The ceremony is all about the experience, and if you and your guests have to make a mad dash as you say I do, then you've captured the thrill of saying those two sweet words!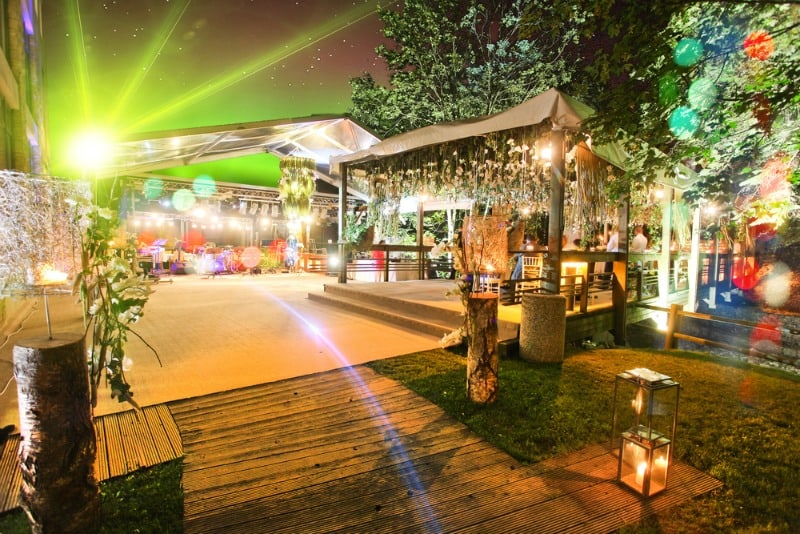 The Magic of an Intimate Garden Reception
After saying "I do," you can really make your reception an exquisite affair. The garden reception brings your guests outside into the fresh air to enjoy good laughs and good times. One way to create a romantic visual effect is through the design of your outdoor light fixtures. Using a string lights, you can stretch the iridescent lights from one tree branch to another, creating a drapery of soft, amber light that envelops your guests in the seeming physical warmth of your and your partner's happiness.
For a tropical island vibe, retailers like Lumens offer gas and propane tiki torches to help light up the dance floor. The plasma cut tiki torch has a cast brass pipe and head. The head is perforated with small, irregular sized holes. When lit, fire erupts from the torch's top and the circle design looks to dance with the flame.
Another way to use outdoor lighting for a dreamy effect at your outdoor wedding reception is to hang cascading string lights above the tables of your guests. This mimics the effect of beautiful winter rain without the chilling damp. Your guests will feel like they are being bathed in light.
To create an indoor/outdoor effect, use bistro lights to make a canopy of light, blurring the lines between interior and exterior space. This lighting effect will frame you and your guests while also enlivening the views of the mesmerizing twilight sky.
By purchasing your lighting display by the foot instead of by the bulb, you're saving money all while designing a memorable and authentic garden reception.
Weddings are remembered for the way they made people feel, not the way they looked. You can create magnificent memories without going for broke by following the above tips or unleashing your own creativity.