This is a sponsored post written by me on behalf of Payless. All opinions are 100% mine.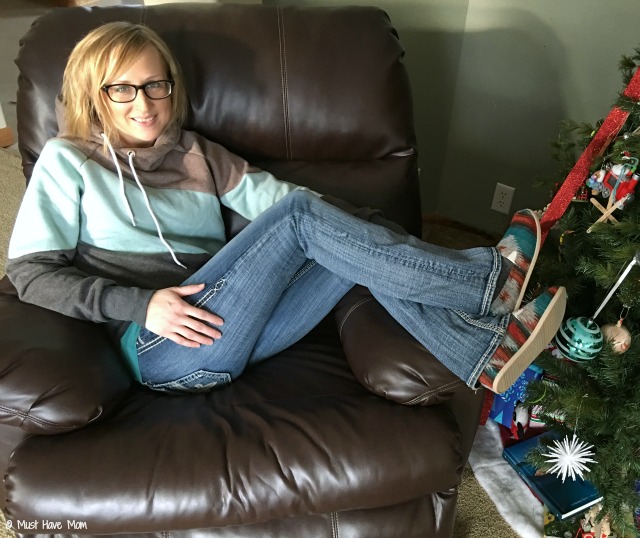 Being a mom to four little ones means that their needs come first. Often times that means that I forget about ME! Life can get so busy taking care of a family that it's difficult to squeeze it all in, much less put together an outfit that doesn't include yoga pants. Good news for all of you mamas out there! You CAN wear on trend fashions without busting the budget and it can be fairly effortless. I'm here to help you 🙂 There is something to be said for wearing an outfit that makes you look great. You also FEEL great which in turn leads to a better attitude, more productivity (I always get more done when I'm wearing an outfit as opposed to pj's) and a generally better self confidence. Don't think you have room in the budget for new clothes or shoes? I bet you do! It doesn't have to be expensive to look great. I'll show you how to get on trend mom fashion on a budget!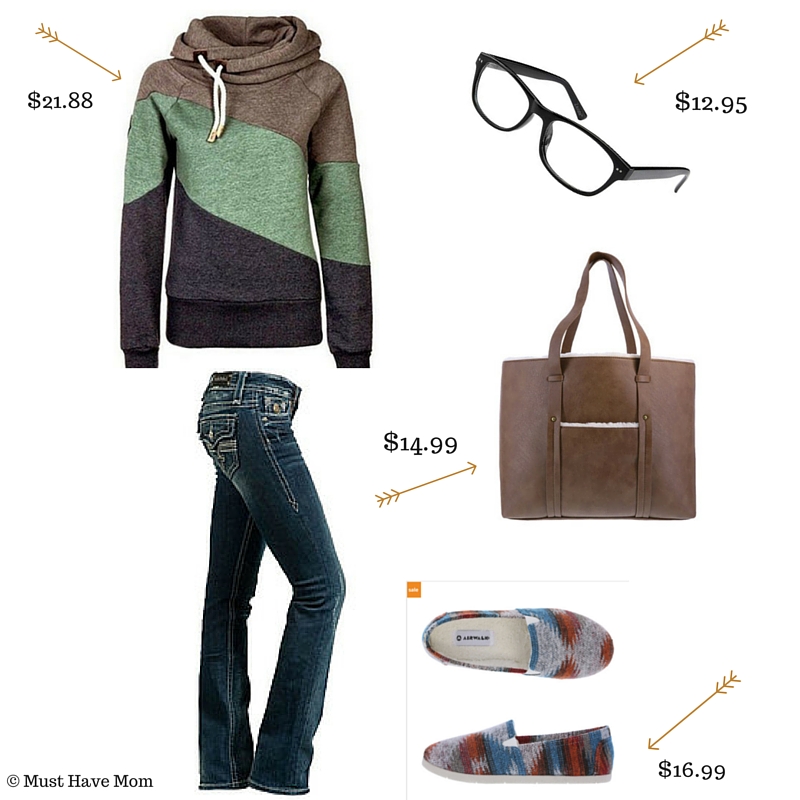 *Tip: Click the products in the photo above to be taken to the site where you can buy each item!
This outfit I'm rocking in the pic above cost me under $40 including the shoes! Everyone has jeans so I didn't count those in the cost. *Tip: I am in love with name brand jeans and often find them for a steal in private facebook buy/sell/trade groups. Simply type in a brand name and search for groups to join! The color block hoodie was only $21.88 with free shipping and it is a nice, thick fabric that is so cozy for winter! I recommend sizing up 2 sizes though as it's sized small. The adorable shoes are my favorite! They remind me of similar style, high priced shoes but these Cozy Dream shoes come with a much smaller price tag of just $16.88! They came from Payless where I've been pleasantly surprised to find all of my favorite on trend styles lately. Plus you can stack a coupon on top of the sale price and really get a steal of a deal on them. Be sure to sign up for their email newsletter where you'll get coupons emailed to you to save even more!! I went to Payless the other day and walked out with 5 pair of boots and shoes for far less money than I though possible! They have some amazing sales and coupons going on this month!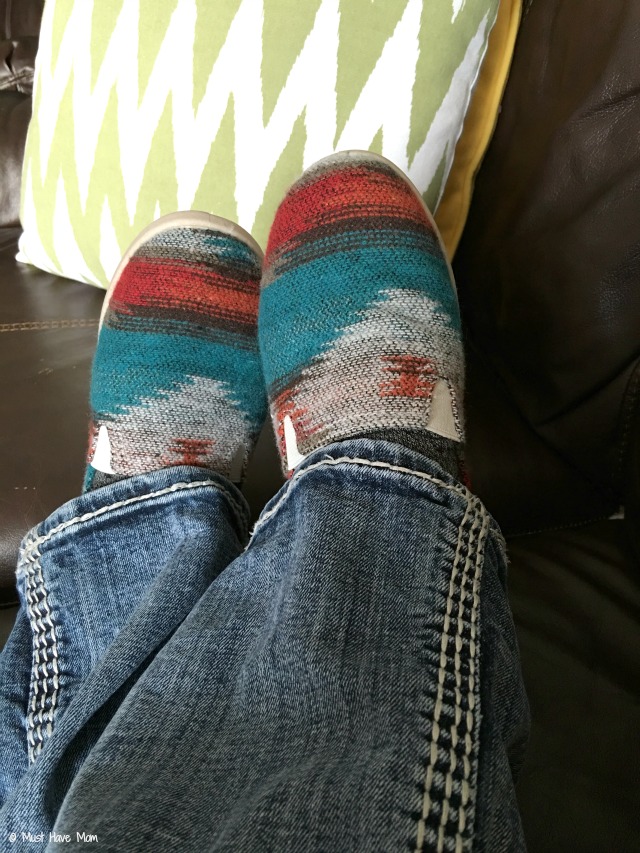 These Cozy Dream shoes have a fluffy lining that is nice and cozy for cold Winters! I love that they are so versatile and they are becoming my favorite casual shoe.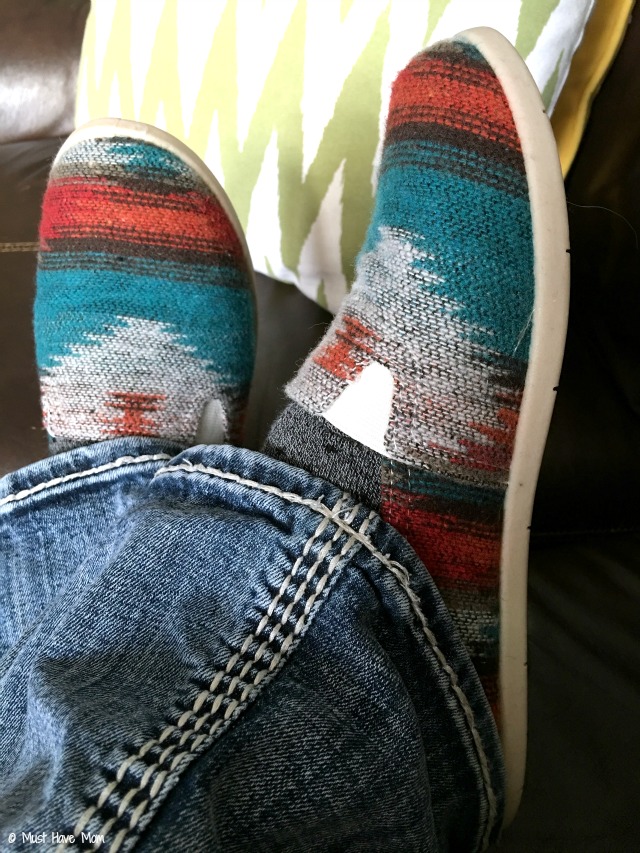 *Tip: If your Payless store is out of your size or color you want then check at Payless.com because they probably have it! I have done this for a couple of pairs of shoes I had my heart set on and couldn't find at my local store. They offer free shipping on orders over a certain amount and you can return them at any Payless store if they don't fit or you don't love them! I have also had to return or exchange a few pairs I bought online and it was easy and painless!
My feet are in love! In my next post I'll be sharing with you all of the boots I bought to go with the latest Winter trends! I'll share more tips for dressing on trend while still being able to function as a mom and fit everything into your budget. This holiday season you deserve to look and feel great!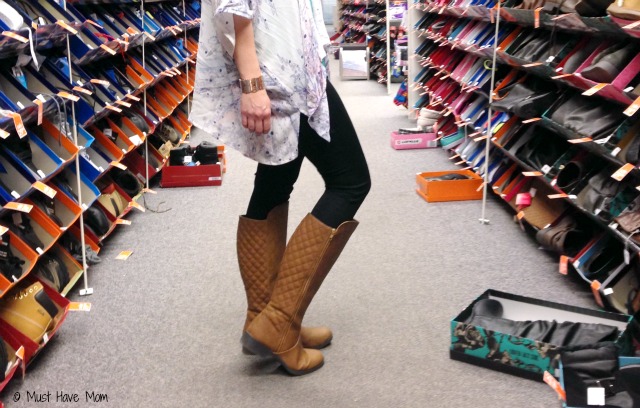 Be sure to read my previous post on the right way to wear leggings and mistakes to avoid!
Follow Payless on Pinterest for more inspiration!