Aiden is learning to count and at 3 years old he is becoming more interested in game play. The HABA First Fun with Quantities Pegging Game is just what he needed to encourage his learning and stimulate his need for game play.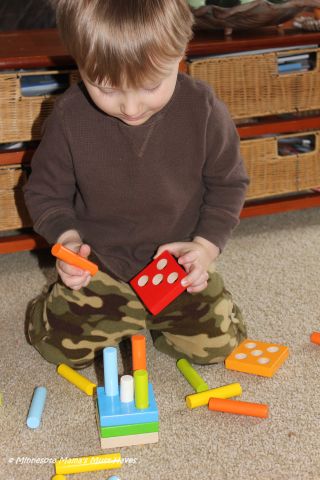 The HABA First Fun with Quantities pegging game is colorful and durably made for many years of fun to come! It allows children to practice through play how to handle quantities. The wooden pieces offer many possibilities: counting the pegs, sorting them by color, sticking them into the little boards, and piling up the boards to form towers or arranging them into a row. Playing in this way, children train their recognition and naming of quantities.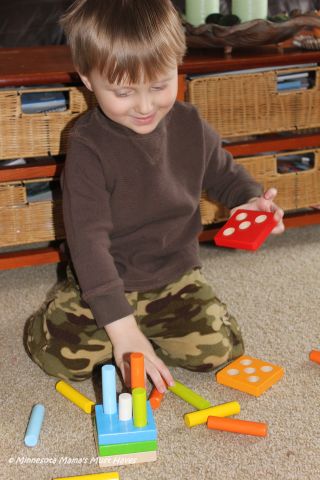 Aiden's favorite way to play has been to stack them in a tower. This requires him to start with the board with one hole and then the board with two holes and so on. It fosters his ability to count and solve problems. I love that he gets to do one of his favorite things, build towers, while solving a problem and learning counting at the same time!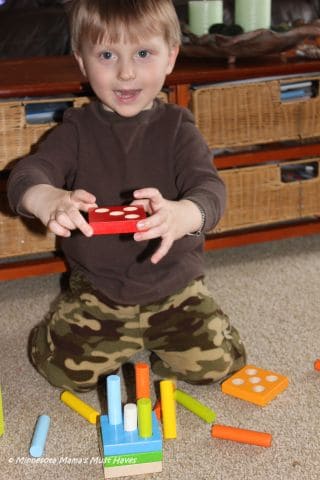 There is also the option to play with a die and turn it into a game for more than one player. There are several different suggestions for game play and Aiden and Danika have had fun playing together. Since she is great at counting it is the perfect setting for her to teach her little brother.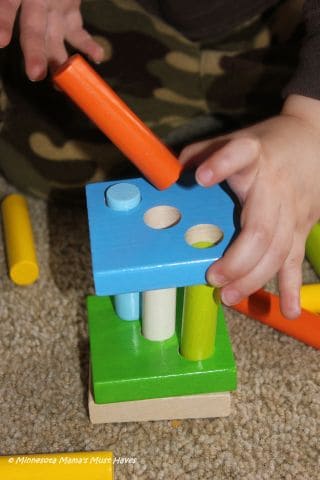 You can get the HABA First Fun with Quantities Pegging Game on HABA's website for $21.99. It's the perfect blend of fun and education for your little one who is learning to count!
What ways have you found to teach your child how to count?
*Site Disclosure: Products providing by company or representing PR firm for review purposes only. No compensation was received in exchange for this post. My opinions are my own and reflect my personal experience with the product.