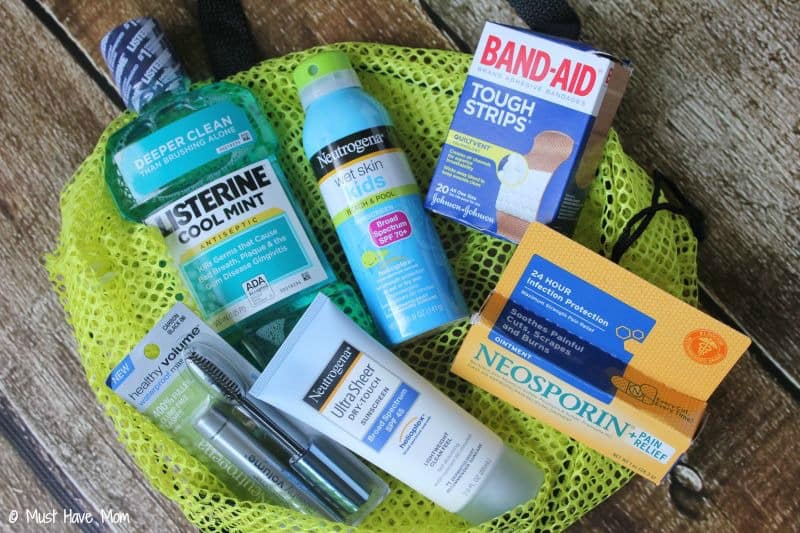 I love going to the beach and I HATE packing the bags. With six of us it always feels like we are bringing the entire house with us. I needed a way to be more efficient when I pack our bags so I now have a designated beach bag that always includes the Summer essentials and all I have to add is fresh towels and suits! Genius right? Why didn't I start doing that sooner? So what should you keep in your bag at all times? Here are a few essentials!
Band-Aids! We use the tough strips because they stay on better than other kinds even when at the beach. Of course character Band-Aids are always great boo boo healers too. Whether your kiddo steps on something sharp and cuts their foot or you cut yourself on the boat, it's always a good idea to have Band-Aids on hand.
Neosporin: This of course goes hand in hand with Band-Aids. It will help keep the wound free of bacteria and the Pain Relief variety also helps soothe the pain. It will keep your cut, scrape or burn infection free for 24 hours.
Sunscreen! Do not forget the sunscreen! This is very important! We love the Neutrogena Wet Skin Kids sunscreen because we can spray it on the kids even when they are wet. It works great! I like the Neugrogena Ultra Sheer Dry-Touch sunscreen for myself because it absorbs fast and it's water resistant.
Mascara: This might not be on your list of must haves but I always toss a Neutrogena waterproof mascara in my beach bag so I can freshen up for that on the fly dinner out after a long day at the beach.
Mouthwash: Once again, you know you will probably do an impromptu dinner after the beach and being able to quickly freshen up is great! Keep Listerine Mouthwash in your car and give your mouth a quick swish to feel fresh and ready for the evening. Not only is mouthwash good for cleaning your mouth but it also has all sorts of other uses as well like poison ivy treatment, hand sanitizer and cleaning cuts and scrapes! Who knew?! Read about other uses for mouthwash in my post!
Don't have all these essentials on hand? Not to worry! The HEALTHY ESSENTIALS® program is offering amazing printable coupons, tips & tools and so much more for all the products you and your family love. You can save more than $45 by visiting HealthyEssentials.com in June and July and signing up for HEALTHY ESSENTIALS® program coupons and offers.
These are just a few of the great coupons you can score on HealthyEssentials.com this summer for more than $45 in savings:
• Save $1.00 on any (1) NEUTROGENA® Sun product (excludes trial size)
• Save $2.00 on any (3) NEOSPORIN®, NEOSPORIN® ESSENTIALS, BAND-AID® Brand Adhesive bandages, BENADRYL® Topical or JOHNSON and JOHNSON RED CROSS® Brand products (excludes all trial and travel sizes, First Aid Kits, 10 ct Band-Aid Brand Adhesive Bandages, and On-the-Go First Aid Kits). Must buy (2) different brand products to qualify for this offer along with a third product
• Save $1.00 on any (1) SPLENDA® No Calorie Sweetener Product
• Save $1.00 on any (1) LISTERINE® SMART RINSE Anti-cavity Mouthwash, 500 ml
• Save $1.00 on any LUBRIDERM® product
• Save $1.00 on any (1) CLEAN & CLEAR® product (excludes trial and travel sizes)
• Save $1.00 on any (1) REACH® Total Care Floss, or REACH® Gentle Gum Care Floss, or REACH® Dentotape® or REACH® Access® Flosser
• Save $3.00 on any (1) REMBRANDT® Whitening Kit or Strip or any (2) REMBRANDT® Whitening Paste or Rinse
• Save $1.00 on any (1) VISINE® product, 5 oz. or larger
What essentials do you pack in your beach bag?