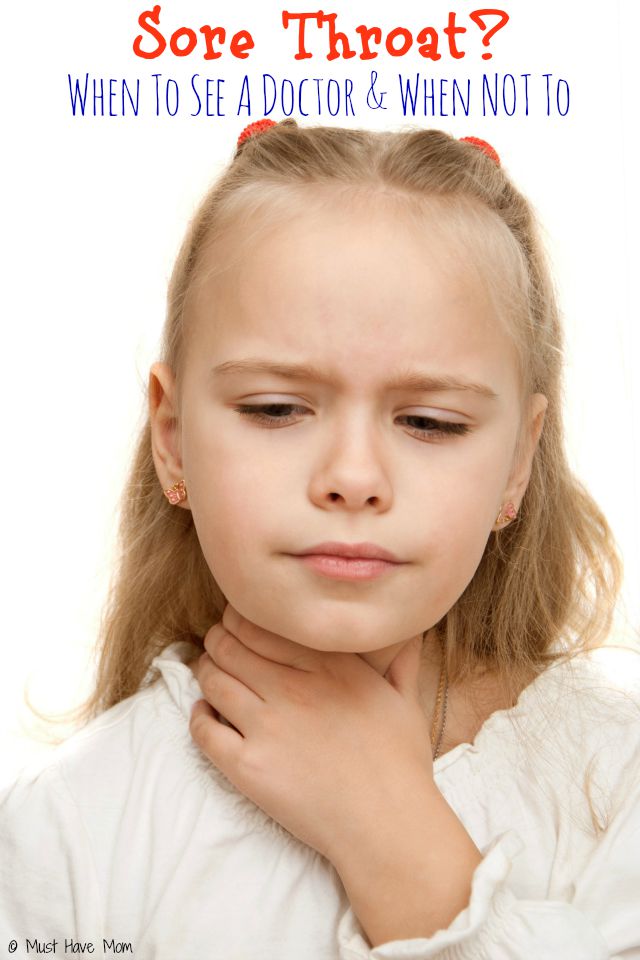 With back-to-school and the upcoming cooler weather coming our way, the season of sickness is also inevitable. As kids get back in close proximity and germs start getting passed around it's not long 'til one of your kids will come home and report that they don't feel good. It can be difficult to know what symptoms warrant a trip to the doctor and what symptoms don't. Luckily, I am a Registered Nurse, so I have always found these waters easy to navigate, unlike the chaotic back-to-school schedules that I always seem to mix up! When this season hits, my phone suddenly starts ringing more often with calls from friends wondering if their child's symptoms warrant a trip to the doctor or not. I'm happy to share some of my knowledge with you and in the process hopefully I'll save you a trip or two to the doctor!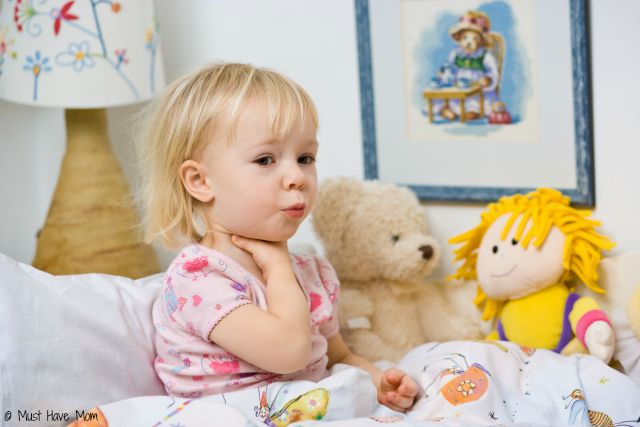 First off, let's get a quick lesson on how germs work. The two most common things to cause sickness are viruses and bacteria. There are very big differences in the two. A bacterial infection is something that requires antibiotics in order to treat it and allow you to get better. A virus, on the other hand, does NOT respond to antibiotics and will NOT improve by taking antibiotics. When you have a virus you simply need time for your immune system to overcome the virus and knock it out. Most illnesses like the common cold and the flu are viral and do NOT require antibiotics. Many people misunderstand how different bacteria vs. viral infections are and everyone wants an antibiotic in order to "get better". That's not how it works though!
Now that you understand those two differences I can share some easy ways to identify if your illness requires a trip to the doctor or not. If your illness is bacterial in nature then you WILL require a trip to the doctor. Things that require antibiotics are things like Strep infections, some pink eye infections, skin infections such as stepping on a rusty nail, etc. Things that are viral in nature and do NOT warrant a trip to the doctor unless complications ensue are; the common cold, "stomach flu" as it is commonly called, and things like fevers without complications.
If you suspect your child has a viral illness then you can make them comfortable and allow the virus to run it's course. If you suspect your child has a bacterial illness then a trip to the doctor is usually necessary. There are a myriad of helpful tools out there to give you a hand in narrowing down what might be causing your child to be sick. Since the introduction of technology into the medical field we can now also rely on emailing our doctor, teleconferencing with them or chatting over the phone before rushing in to see them. Arm yourself with knowledge of your child's symptoms before you discuss the need for an office visit.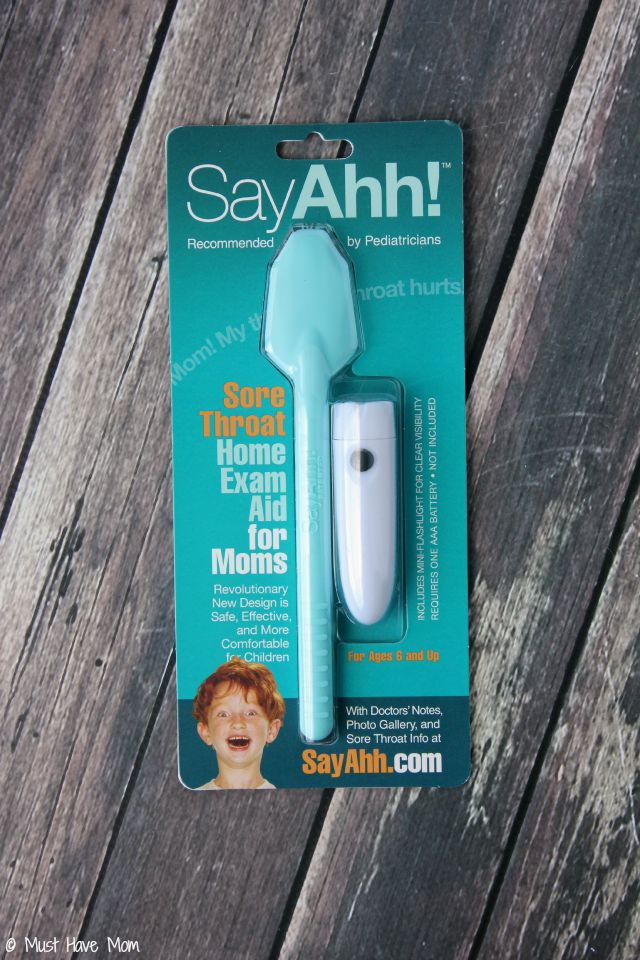 Keep notes! If your child has been running a fever keep notes as to the time you took their temperature, what the temperature was and any symptoms they were having. Also jot down what times you gave any medicine as that will cause a fever to be lower than it would be without medicine. If your child has a rash be sure to document it by snapping a photo with your phone. If the rash changes snap another pic so you can document its changes.
If your child has a sore throat many parents want to rush in for a strep test. While you can't do a strep test at home, you can do your own exam of their throat, which I recommend doing. The SayAhh! Sore Throat Home Exam Aid is invaluable in helping you to be able to visualize your child's throat without gagging them. We keep this little guy in our medicine cabinet for just such an occasion.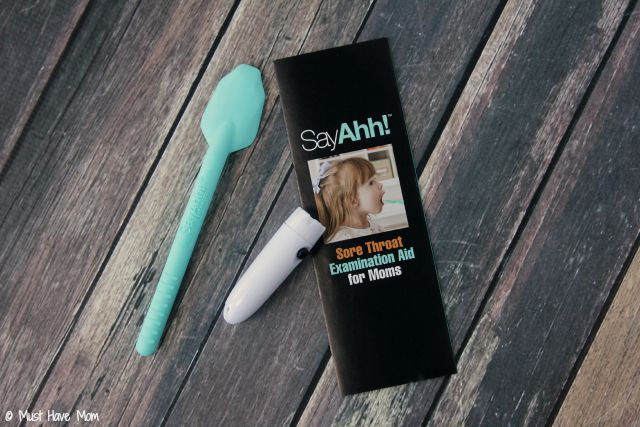 The angles and curves of SayAhh! provide true control of the tongue, which helps improve visibility for the examiner. With SayAhh! the tongue remains controlled and relaxed vs. a wooden tongue depressor, which causes the tongue to curl, obstructing vision of the throat. Once you can visualize the throat you can compare what you see to the illustrations on the inside of the booklet that is included with the SayAhh! It shows six common throat ailments, and a health management program on its website (www.sayahh.com) and the new SayAhh! Exam Guide App, providing a solid basis for comparison to what should be seen in a normal throat. Record what you see so you can discuss it with your doctor in order to determine if an office visit is necessary. The information you give them about your child's symptoms will go a long way in helping them determine if you need to be seen in office or if you can stay at home with comfort measures.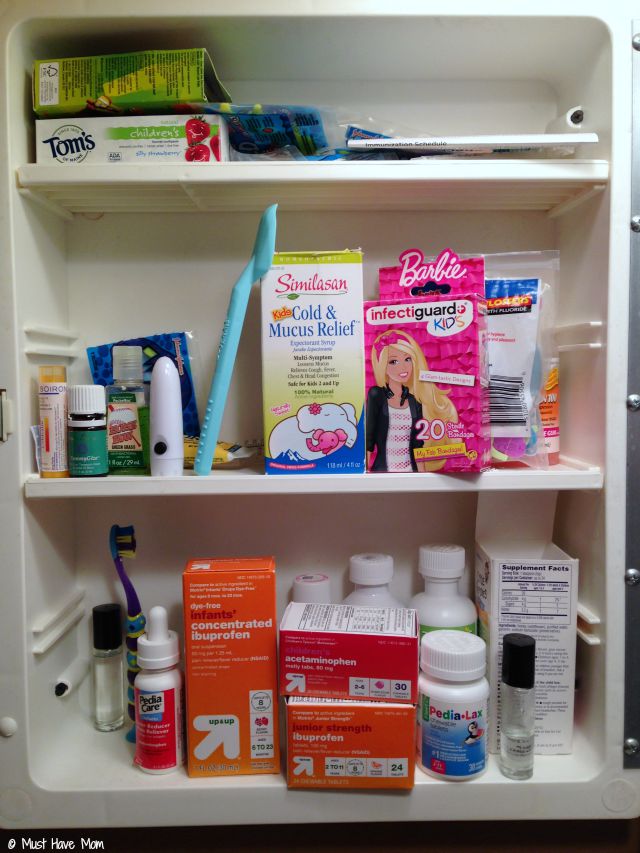 Just for fun I figured I'd give you a little peak in my medicine cabinet. Despite the fact that I am a Registered Nurse, I do not go to the doctor very often with my kids. I use what I shared above to determine if an office visit is necessary or if they just have a viral illness that needs to run its course. We've avoided so many unnecessary trips to the doctor by doing this and it has saved us a lot of frustration. My favorite go-to remedies are not medicine at all, but are a more natural approach to treating their illness.
In my medicine cabinet you'll spot some homeopathic medicines, some TummyGize essential oil for tummy aches, the SayAhh! Sore Throat Home Exam Aid, bandages, ibuprofen and tylenol. I also like to use local honey for coughs and humidifiers to help when it's dry out!
Are you ready to stock up YOUR medicine cabinet for this year's cold and flu season? Save $1.00 on your purchase of the new SayAhh! Sore Throat Home Exam Aid with my special promo code "mom442". Purchase online at http://sayahh.com/purchase.html. Follow SayAhh! on Facebook to continue the conversation!
This is a product-provided, sponsored conversation that contains affiliate links. All opinions, text and experiences are my own.