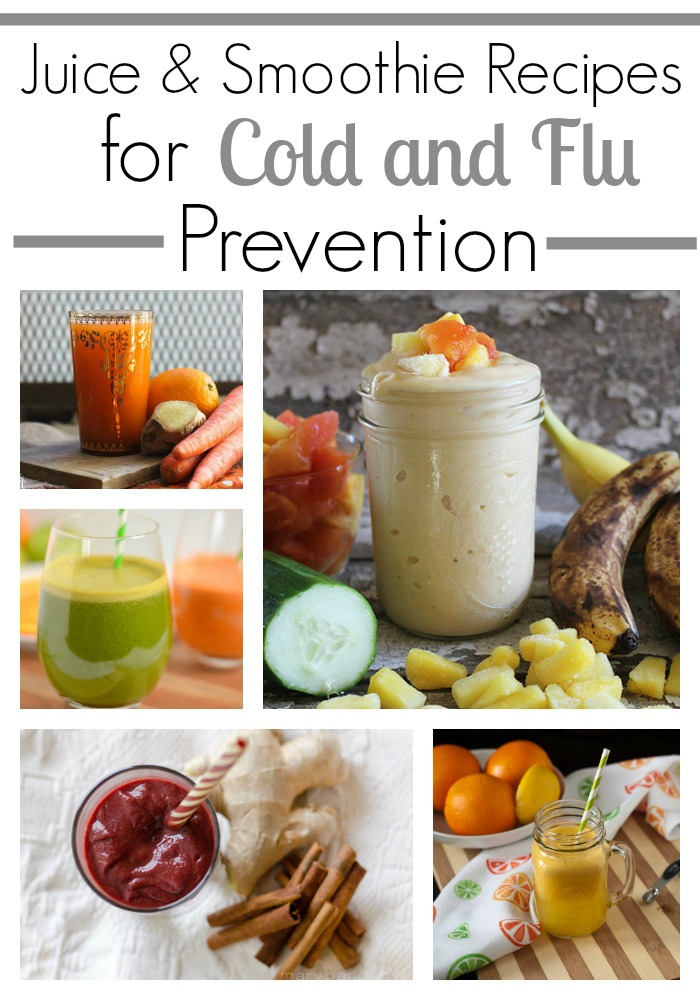 I don't know about you but I HATE being sick. There is SO much sickness going around this year and it seems to be worse than it has been in years past. This has left me doing everything in my power to be on the offense and stay one step ahead of the cold and flu bugs so that me and my family can stay healthy. We have done a fairly good job so far this year with less illness than last year despite the huge flu outbreak and many bugs going around at our school.
Part of our routine is to apply Thieves essential oil to the bottom of our feet everyday. We also take daily multivitamins, probiotics and drink a glass of grape juice with grapefruit seed extract in it. With abundant health insurance marketplace coverage options available, we also get regular checkups too! We add these cold and flu smoothie and juicing recipes for cold and flu prevention to our arsenal and our bodies are ready to attack any bugs that come our way! Grab these 15 cold and flu prevention juicing and smoothie recipes to add to your arsenal.
1. Immune Boosting Smoothie from Seeds of Real Health
2. Cold and Flu Busting Coconut & Orange Smoothie from Green Thickies
3. Cold Busting Orange Juice from Beard + Bonnet
4. A Cold Ninja Recipe from The Healthy Wife
5. Immunity Boost Juice from Makin' it Mo' Betta
6. Raw Coconut-Creamsicle Smoothie from The Health Seekers
7. Vitamin C Surge Smoothie from Nutrition Stripped
8. Cold and Flu Protector from Pinterest
9. Mango Green Smoothie from My Frugal Adventures
10. Immunity Strengthening Smoothie with Elderberry from Sweet Roots
11. Flu Buster Clementine Creamsicle Smoothie from Oh She Glows
12. Pear Monster Green Smoothie from Peachy Palate
13. Feel Better Green Juice from Food Doodles
14. Cranberry Juice from Image Cooking
15. The Perfect Wellness Shot from Blue Eyed Finch
Then read up on my post on preventing the stomach flu. There is a lot of great conversation and tips in the comments on that post as well! I use this VonShef juicer for my juice recipes and I love my Ninja for my smoothies. You can also grab another flu fighting smoothie recipe at my Ninja post!
Doing a detox can also be very beneficial for your health. I have detox juicing recipes collected for you and I love taking a hot bath with epsom salts and essential oils for additional detoxing. Adding lemon to your water can be very beneficial as well.
Be sure to pin this for later! Stay well!