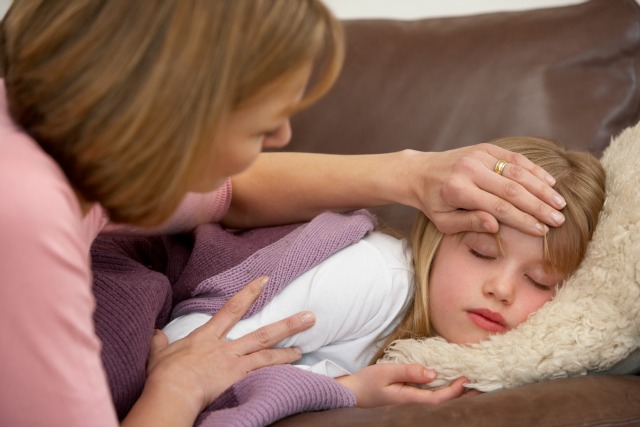 If you are a parent raise your hand if your child has ever gotten ill on a weekend or perhaps just started coming down with something on Friday evening. Raise you hand if your child has ever woken up at midnight with a high fever. Raise your hand if you've ever been on vacation and had a child suddenly become ill or wake up with pink eye. Chances are if you are a parent you've experienced at least one of these scenarios.
It seems like it never fails, your child will fall ill at the absolute worst time. It is usually a time when going to the doctor is not a convenient option. It's those times that the doctor's office is closed and you'd need to visit urgent care, or the time when you're out of town and don't know where to find a good doctor, that Amwell can come to the rescue. Once it wins you over with it's convenience during those hard times you'll also find yourself turning to it instead of packing up the kids in the car and heading to the clinic to sit among a bunch of other sick people. Let me tell you how to see a doctor in the comfort of your own home and today I'm going to give this service to you for FREE! Scroll to the bottom for the free Amwell promo code!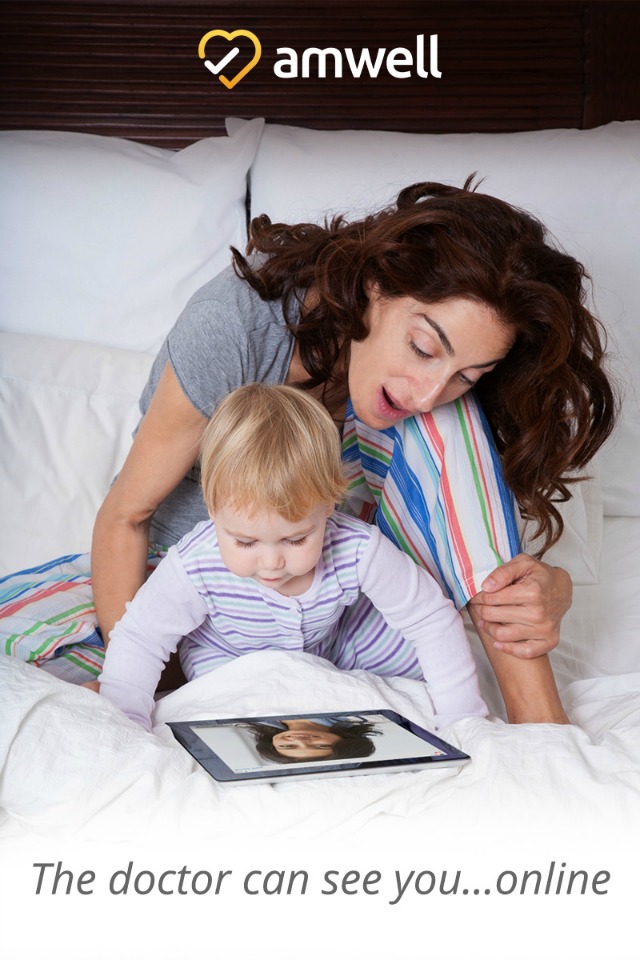 I have four children so the number of times I have needed to take a child to urgent care for a high fever, ear infection, rash or any number of things, is beyond counting. I HATE having to go sit in urgent care, among a bunch of sick people, for hours at a time just to get a prescription for an ear infection or some other common ailment. I have had to drive home from our family cabin to have a tick bite looked at after thinking it had formed a bullseye rash on my five year old son's arm. I have had my son wake up at 1 AM with a fever of 105 degrees F. You name it, there have been SO many times when I would have loved for another mom to swoop in and tell me I didn't have to go to the doctor because the doctor could come to me!
That is exactly what Amwell does! So when my son had a cough that just wouldn't go away I knew that instead of packing up all the kids and driving an hour to see his pediatrician I was going to grab my son and sit on the couch and visit a doctor via the Amwell app instead! Guess what? I got the same results too! They can prescribe medications and have them sent to your local pharmacy. Want to see how easy my visit was?

First you'll need to download the free Amwell app from the App Store or Google Play or visit the Amwell site.
Then you will fill out some brief info about yourself and continue. Once you have done this you will have created an Amwell account which will enable you to add in medical history or add in your children's information. Then this info is saved so you don't have to fill out the same forms over and over (unlike the doctor's office!).
Next you can scroll through the available providers and choose one that you'd like to see.
When you click on their name you will be able to read about them and see their experience as well as where they attended school. Choose a doctor that you feel best suites you and then you can proceed with your visit. The visit is done via video so it's just like sitting in your doctor's office. It's SO cool! You'll be able to see the doctor and they can see you or your child. The feel of the visit is very similar to sitting in your doctor's office only you don't have to contend with all the extra germs and wait times!
This quick video shows just how convenient Amwell is compared with a trip to the clinic! I chose to use Amwell for my son's coughing. They can also see patients with problems such as pink eye, sinus infection, cold, flu, urinary tract infection, fever, vomiting, even sprains and strains! There are also psychology providers for problems with depression or anxiety. They can even help with weight concerns and smoking cessation. Your visit with the doctor is secure and HIPAA compliant.
The great thing about Amwell is that not only is it more convenient than going to the clinic, but it's also less expensive! Most in-office visits cost $82 for first-time patients according to the Healthcare Blue Book, Amwell offers a $49 physician visit which is a savings of $33. This makes it a great option for students in college looking for cost-effective healthcare or those between jobs and without insurance.
So instead of hopping on google in the middle of the night to google your child's symptoms, why not trust a board certified doctor to diagnose and treat them instead? You don't even have to leave home or change out of your pj's!
Get your FREE Amwell visit!! This is amazing folks because I get to give you a FREE doctor's visit! Simply visit Amwell and use my code: BEWELL15 for a free doctor visit! UPDATE: THE CODE IS NOW VALID FOR A $1 FIRST TIME VISIT AS THE PROMO PERIOD FOR THE FREE VISIT HAS ENDED. HOWEVER, YOU CAN GET YOUR FIRST VISIT FOR JUST $1 BY USING MY CODE BEWELL15!