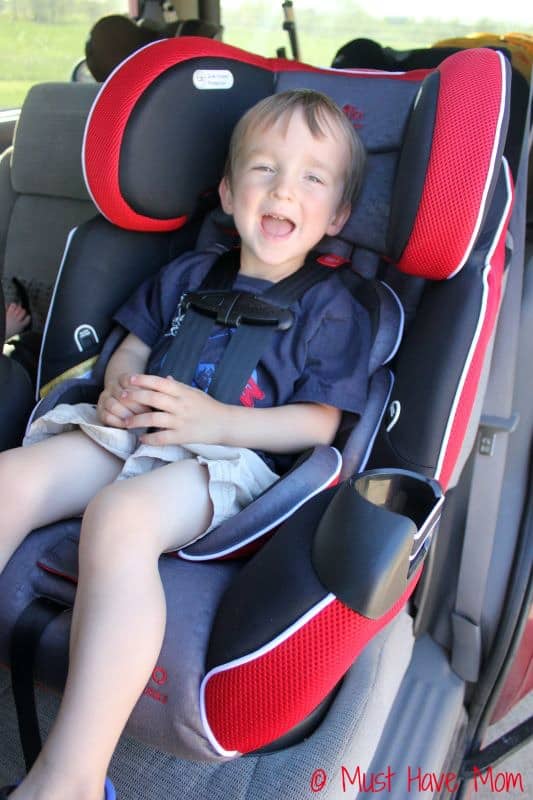 With Summertime comes road trips and that means more time spent in the car for your kiddos. Car seat safety is one thing that parents don't get taught. There really should be a "crash course" so to speak, pardon my pun, before you leave the hospital with your new baby. Ensuring that your child is properly fastened in their seat and that the seat is properly installed could save your child's life. Take a few moments at the start of Summer to brush up on car seat safety. You won't ever regret it!
Choosing a car seat can be tricky. There are so many on the market and it can be hard to know which features to look for in a car seat. As a mom to four children I've tested out a lot of car seats and I've learned over the years which features are important and which are just fluff. The Evenflo Platinum Symphony™ LX car seat is packed with must have features and not only does it excel in safety, it also excels at being user friendly for both parent and child.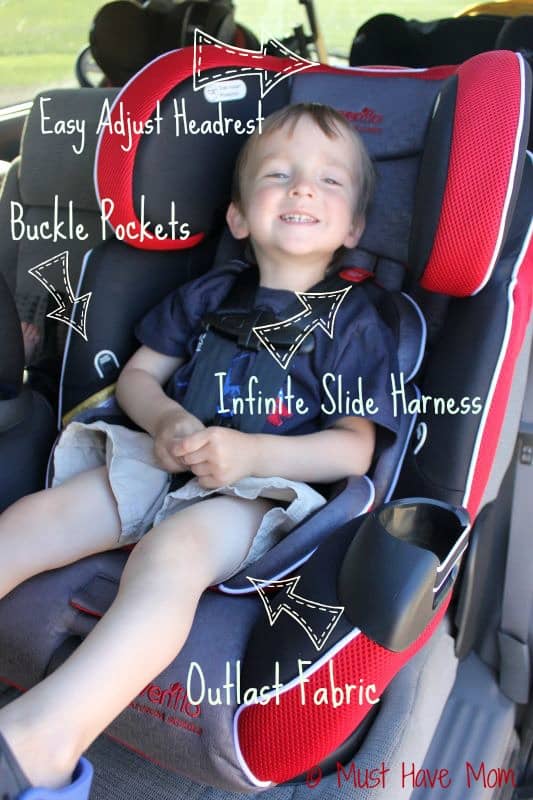 I'm not going to lie to you. Car seats intimidate me. I want to make sure that my child is safely latched and that the seat is properly installed. Lucky for me my husband is on the same page and he ensures that their seats are installed correctly and that they are as safe as possible.  Knowing how to operate the seat and adjust it as my child grows has always been a challenge for me. In the past I've often relied on my husband to take the reins in that department but I realized that it is just as much my duty as it is his since I am the one strapping them in their seats more often than not. The Evenflo Platinum Symphony made it easy for me to be confident in my car seat skills thanks to their user friendly design.
Check out the must have features included in the Evenflo Platinum Symphony:
NASA-developed Outlast® technology: a temperature regulating fabric that keeps babies and toddlers comfortable during hot and cold weather. The fabric helps to ensure a safer, more peaceful ride for both mom and child and help prevent an accident from ever happening since baby will be comfortable and mom won't be distracted.
Buckle Pockets: protect from hot buckle burns and eliminate digging under your child for lost buckles. Simply tuck the buckle into the buckle pocket when you unbuckle your child!
This All-In-One seat accommodates children ranging from 5 – 110 lbs which makes it the only seat you will ever need. I have four children ages 3 months to 6 years. Any of my children would fit in this seat safely.
Quick Connector™ LATCH: quickly and safely attaches and detaches the car seat from the vehicle with one hand!
Infinite Slide™ Harness: easily slides to adjust for an accurate fit every time with no re-threading necessary. Um, did you hear that? No more re-threading the straps when your child grows!! Can I get a Woot Woot! Seriously every car seat needs this feature.
e3 Side Impact™ Protection: Designed and tested to reduce side impact forces up to 50%.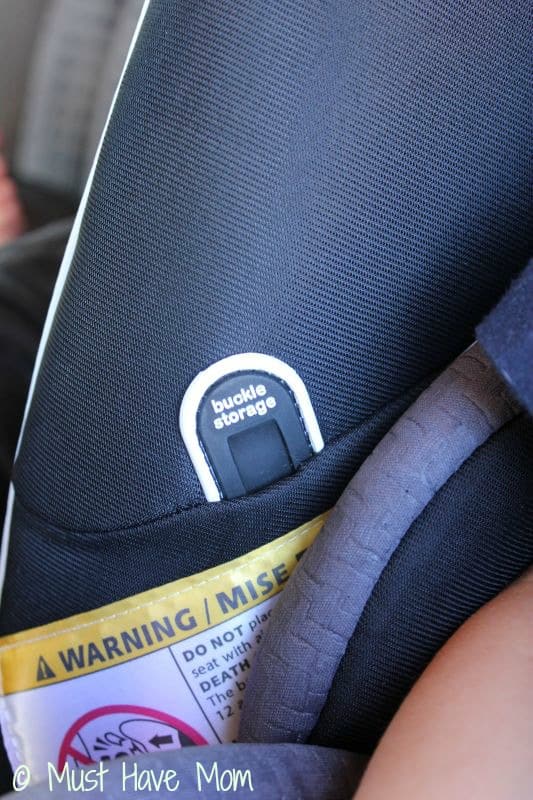 My husband installed the seat and then came inside and told me he could have been a millionaire. He said he has always wondered why there weren't buckle pockets in car seats so that you didn't have to dig under your child to find them. Way to go Evenflo!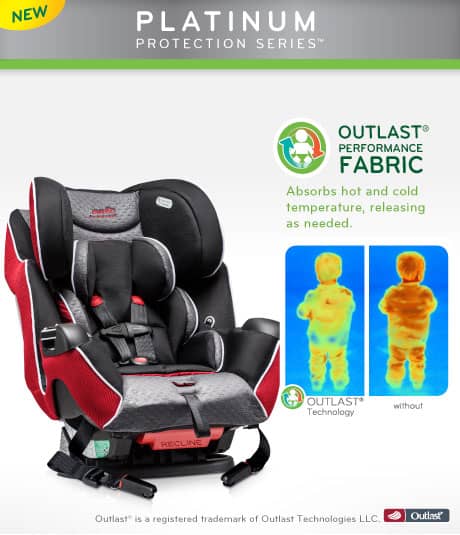 With Summer temps rising you can keep your child cool and comfy thanks to the OUTLAST® fabric in this car seat. It balances your child's body temperature for a safer, more peaceful ride. OUTLAST® Performance Fabric absorbs hot and cold temperature, releasing as needed. The image on the left is of a child after 30 minutes in a seat with OUTLAST®. On the right is the same child who sat in the exact same style car seat and for the same amount of time, but without OUTLAST®. As you can see the body temperature is much lower after the child sat in the seat with OUTLAST® technology. A comfy child = less whining and less distraction for mom or dad while driving!
All in all the Evenflo Platinum Symphony LX delivers both safety and comfort. The features make it easy to adjust and install. My child was comfortable in it thanks to the OUTLAST fabric and Carson loved that it had two cup holders. I love the parent friendly features and quick adjust harness. The fact that it will be the only car seat you ever need makes it a worthy investment.
You can buy the Evenflo Platinum Symphony LX car seat at Babies R Us, in store or online.
Which feature is most important to you when you are shopping for a car seat?
*I participated in this sponsored campaign on behalf of One2One Network. All opinions stated are my own.