Easter is quickly approaching, and if you're looking for ways to make this year's festivities more memorable than ever, consider incorporating these revamped Easter traditions to make the holiday fun for all ages.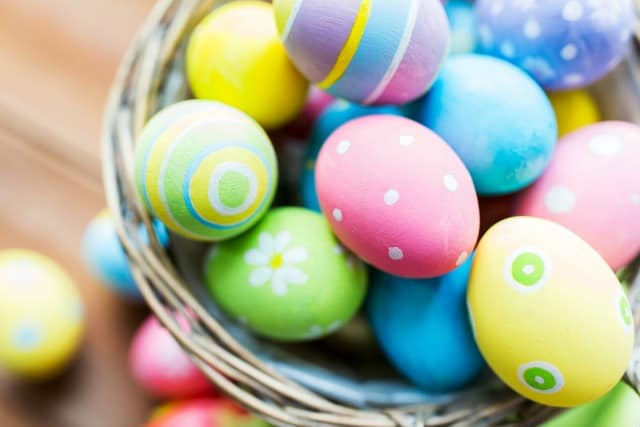 A New Take on Egg Dye
Brightly colored eggs are a classic Easter tradition, but who says you have to use messy dye? Especially with little children, breaking out the food coloring dye can create a fluorescent mess on every surface of your dyeing space. This year, offer different methods for egg decoration. Grab some brightly colored tissue paper, cut into tiny pieces, take the still warm eggs (be sure they're not too hot to the touch before handing them over to little hands) and place over. Once you have your tissue paper laid in your preferred placement, grab a coffee filter and wrap around it, keeping it in place with a thin piece of string or thread. Place the eggs into a bowl filled with warm water and a touch of vinegar. Once they've reached the hue you're looking for, take them out and let them dry. Voila! Tissue paper eggs fit for royalty. This technique allows for more creativity and much less mess—the perfect combination for kids of any age.
Detectives on the Case
Instead of sticking with the same old Easter egg hunt, make the kiddos put their detective skills to use. Turn this year's hunt into a scavenger hunt extravaganza, with riddling clues hidden around the yard. A scavenger hunt indoors is also the perfect hunt alternative for those of us living in areas where the rains make an outdoor egg search impossible (who wants dye dripping onto their lawn?). Begin the hunt with an easy riddle that takes the little hunters into another room to find yet another clue. They'll love getting to explore and use their reasoning skills, and the adults will have a blast watching the little ones work together to find their treats at the end of the big hunt.
Dessert Time
Let's face it, Easter is a holiday rife with sweet treats, but you don't have to stick with stale Peeps and boring old chocolate eggs. Take a different take on dessert ideas to surprise everyone in your family with exciting treats they'll be scarfing down in no time. Think cupcakes with frosting designs that create a happy bunny face your kids will love, or mini parfaits with all sorts of tasty layers. If you want to make it easy on yourself, order a cookie basket delivery from a company like Cookiesbydesign.com. It's also a good idea to incorporate healthy options within your dessert table. Consider bright fruit salads with all the freshest fruits from the season, and give them a decadent spin by dipping some of the leftovers in chocolate—don't be surprised when those pieces disappear first.
A Customized Holiday
Instead of the usual Easter material fodder, make this Easter memorable with items customized for your kids. Whether it's personalized Easter baskets for all their hunting treasures, or a special set of bunny ears that they can wear around the house on the wonderful day, finding special "just for them" gifts is sure to make the occasion more exciting than years before and definitely going to make more of an impression than the same old hollow chocolate bunny.
Soaking up the Sunshine
If you're lucky enough to be blessed with beautiful sunshine during the Easter occasion, make sure you take advantage of it! Have the family head outside for some fun games that inspire togetherness and teamwork. Whether it's a cornhole game customized with your family name, or a rousing game of badminton, getting the kids and adults outdoors to take in the wonders of springtime nature is the perfect way to spend the day. You can even choose to bring your Easter feast outdoors. Spread blankets over the grass and eat up under the warming rays of sunshine. It will definitely be a meal your family won't soon forget.
This year's Easter occasion falls on March 27th, and if you're hosting your family and friends for this joyous day consider how you could make the celebration different than years past. From personalized gifts that will make your little ones' jaws drop in awe to interesting dessert options, making this year memorable is easier than ever.