My daughter Danika is 5 years old now and is as girly as they come. She is happy to get down and dirty in the mud but she will choose a dress over jeans any day of the week and is obsessed with all things girly. One of her favorite things to do is paint her nails. As her Mother I love having Mother daughter bonding time and painting nails together is one of my faves. One thing I don't love though is the toxic chemicals and smell that comes with nail polish. That's why I use Piggy Paint instead! Have you heard of it yet? If not then you NEED to read on and check it out! You'll be amazed at this "Natural as Mud" nail polish that has no stinky smell and delivers vibrant colors!
This is the "Color Me Happy" set from Piggy Paint! It's packed full of fun, vibrant colors that your little girly girl will love! It comes with fun colors with names like Pocketful of Posies, Jazz It Up, Dragon Tears, Girls Rule!, Forever Fancy, Mac-n-Cheese Please, Ice Cream Dream, and Tea Party for Two. Tell me that doesn't sound fun?!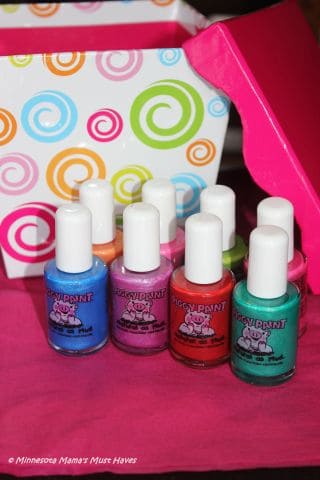 Danika couldn't wait to dive into all these colors. We had multiple Mommy Daughter days of painting our nails together. Our first was the night before her Rainbow Birthday Party and we painted every nail a different color. She loved doing it together and it was a special time. She loved even more that our nails matched!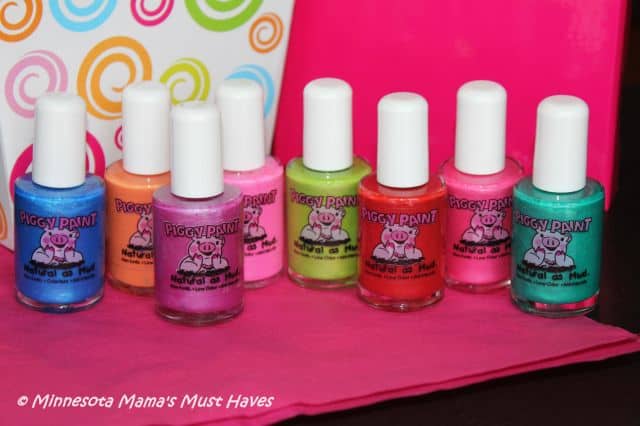 Her next choice was purple and pink fingernails and blue and red toe nails. I think her favorite part is picking the colors! I just love that Piggy Paint offers such a wide variety of colors and that they are bright and stand out, just like any little girl would wish for.
The thing that I really love about Piggy Paint (other than their fun colors!) is that it is safe to use on kids of all ages. It's water based, non-toxic and it's odorless! Ensure maximum dryness and chip resistance by using a hair dryer to dry polish for one minute with warm heat/low setting (for some extra fun while waiting for the polish to dry – sing 2 rounds of the ABC's)!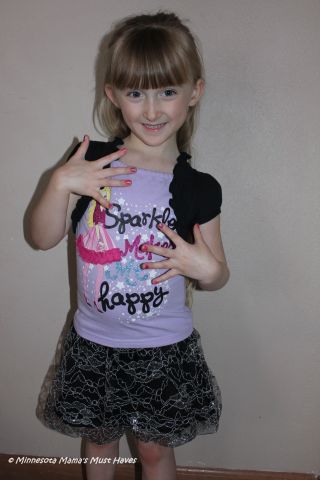 I'm thrilled that Piggy Paint is now available at select Walmart stores and at Walmart.com. You can also get it on the Piggy Paint website. As a special offer to my wonderful readers you can get 15% off your order at Piggy Paint's website by using promo code "PiggyFun" at checkout. This offer expires April 30th 2013.
Win! One lucky reader will win this Toe-Tally Fancy Piggy Paint Set! It includes Forever Fancy, Jazz it Up, and Girls Rule! It's their best selling 3 polish set with pink and purple! Enter my Rafflecopter giveaway below for your chance to win! Good Luck!
*I participated in a campaign on behalf of Mom Central Consulting for Piggy Paint. I received a product sample to facilitate my review and a promotional item to thank me for participating.