I had the opportunity to host my very own HERSHEY'S CAMP BONDFIRE BLOCK PARTY BBQ featuring the iconic Hershey's S'mores! Since we live in the country on ten beautiful acres of land we don't have a plethora of neighbors to invite over for a block party. We decided to put a spin on it and create a block party of our own on a camping adventure in the woods! We invited along some friends of ours and everyone had a wonderful time. We dubbed it the "Island Block Party" since we camped on our very own island for the weekend!
Myself, my husband, our three children and our closest friends all camped for a whole
weekend in celebration of our island block party!
We built a fire in the fire pit at our campsite. We actually had more than one fire! We made S'mores for breakfast every morning too 🙂 The kids thought that was a really special treat and it has since become tradition to have S'mores for breakfast when we are out camping or at the cabin.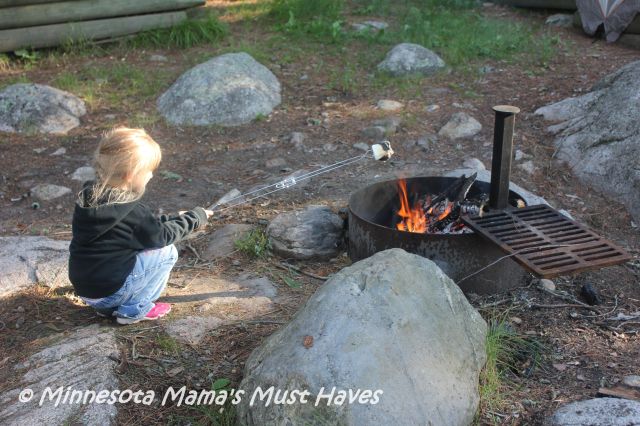 We pitched our tents, brought tons of yummy food and the squirrels were our entertainment. They would come up and steal our marshmallows and even let us feed them crackers out of our hands! They were hilarious to watch. We grilled specialty brats and burgers. I made homemade salsa fresh from the garden and brought up tons of cut up fruit and veggies. We also had pasta salad and all the traditional BBQ food. It was
wonderful!
Throwing a BBQ Block Party doesn't have to be expensive or complicated. Traditional grilling foods like burgers and brats are always a big hit and are easier on the budget when feeding a large crowd (as opposed to steaks and ribs). Pasta salad and potato
salad are old standbys that everyone loves. Top it off with some fruit and S'mores for dessert and it becomes a nicely rounded meal. Since everyone makes their own S'mores it is easy prep and doubles as an activity.
There are tons of fun yard games to set up if you do your party in the yard. You can see game ideas on my Block Party Pinterest board. If you go the non-traditional route like we did then incorporate fun things on site like swimming, sand castle building, bubble blowing and squirrel watching. They are all easy things to do but create memories that last a lifetime!
My 4 year old Danika had a funny moment that she still talks about. She was done with her S'more and was trying to throw the last bit of it in the fire. It was so gooey that the marshmallow was sticking to her hand so every time she tried to throw it in the fire it sprung back and hit her hand. She did it over and over and everyone was cracking up at the sight of it!
This was our first camping trip with all three of our little ones in a tent. It will always be a special memory for us to look back on. The family bonding time is immeasurably important.
You can throw your very own BLOCK PARTY BBQ. For ideas and inspiration check out my block party Pinterest board! You can see more highlights from our HERSHEY'S CAMP BONDFIRE on the Hershey's Facebook Page where I am featured! I hope you will visit and leave a comment for me 🙂
*I am participating in a campaign for Hershey's through The Motherhood. I have received compensation for my time and materials to facilitate this post. My opinions are 100% my own.