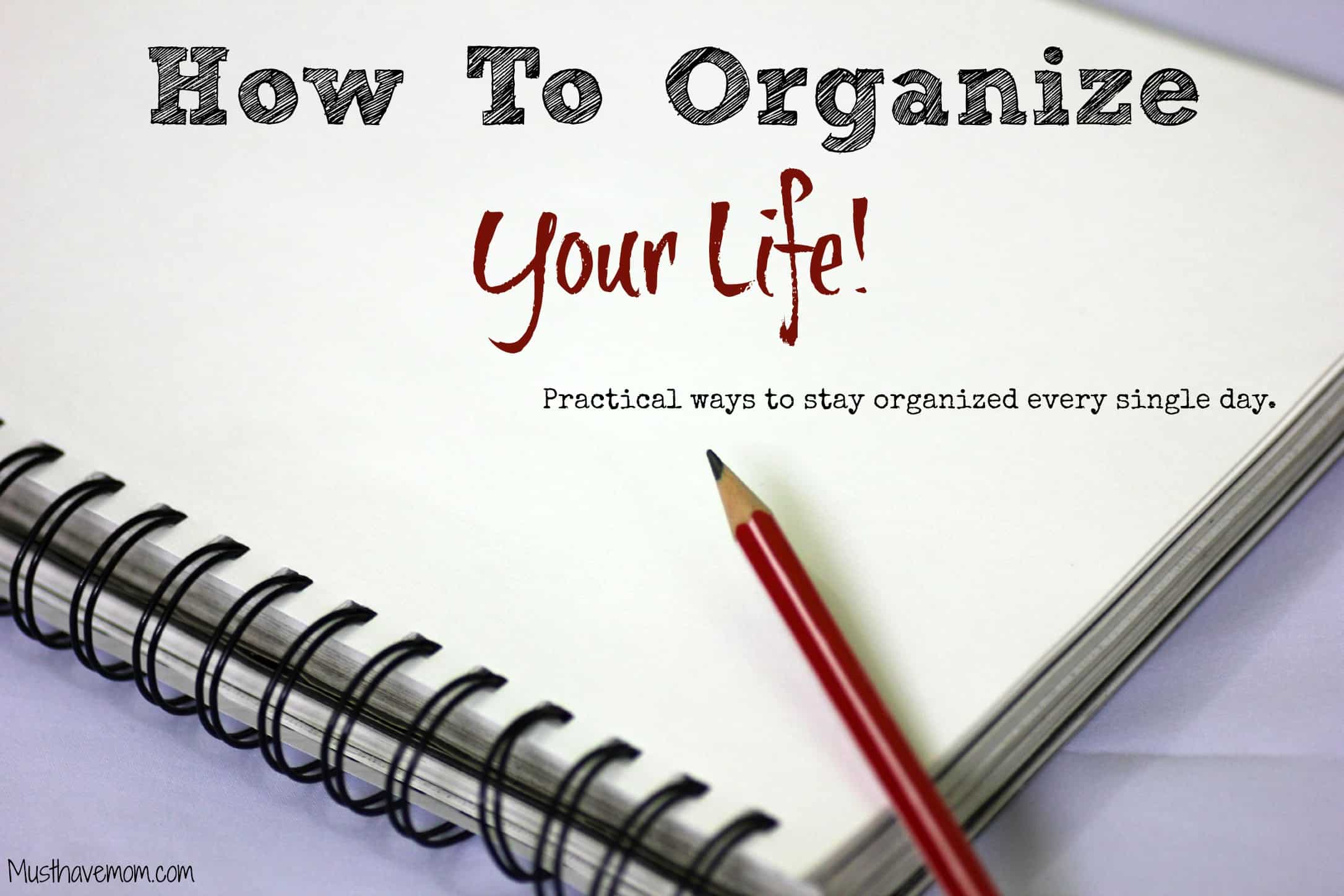 I am on a mission to get and STAY organized this year. I want everything to have a place and I want everything running on a system. As a family of six, yes SIX, there is only one of me to keep the train on the track so to speak and getting organized is the only way I can save my sanity and function well. I have always been a consummate list maker. I love my lists. To do lists never seem to get done though because I always over plan and never have enough time to complete them. That can be frustrating and deflating. When I get overwhelmed my instinct is to just shut down and not accomplish any of it. To beat that urge I have devised a system that keeps things real and keeps me from becoming too overwhelmed. Now I just need to fine tune it and be consistent in using it. Consistency is KEY. So how do you organize your life?
Everything Has a Place & Everything In It's Place
Get your house organized and create systems so that things function smoothly
Getting organized is a challenge and it always means that my house gets more disorganized before becoming organized, but it's worth the time and effort. Once it's done you will have a well oiled machine that runs smoothly. Everything in your home should have a home of it's own. Everything needs a place. If everything doesn't have a place then you probably have too much stuff and it's time to part with things you don't find beautiful or useful in your home. Trust me and let go. Once you say goodbye to the unnecessary clutter in your house your mind will feel a weight lifted off it.
Create a place where everything belongs and it makes it easy for everyone to return that item to it's place. If you find new things coming into your home that don't have a place then either create a space for them or get rid of something else to make room for the new. When one of my kids has a Birthday and new toys come into the house that means that old toys leave the house. I go through their toys and donate anything that hasn't been played with in awhile in order to make room for the new stuff. This eliminates the clutter mounting to a problem.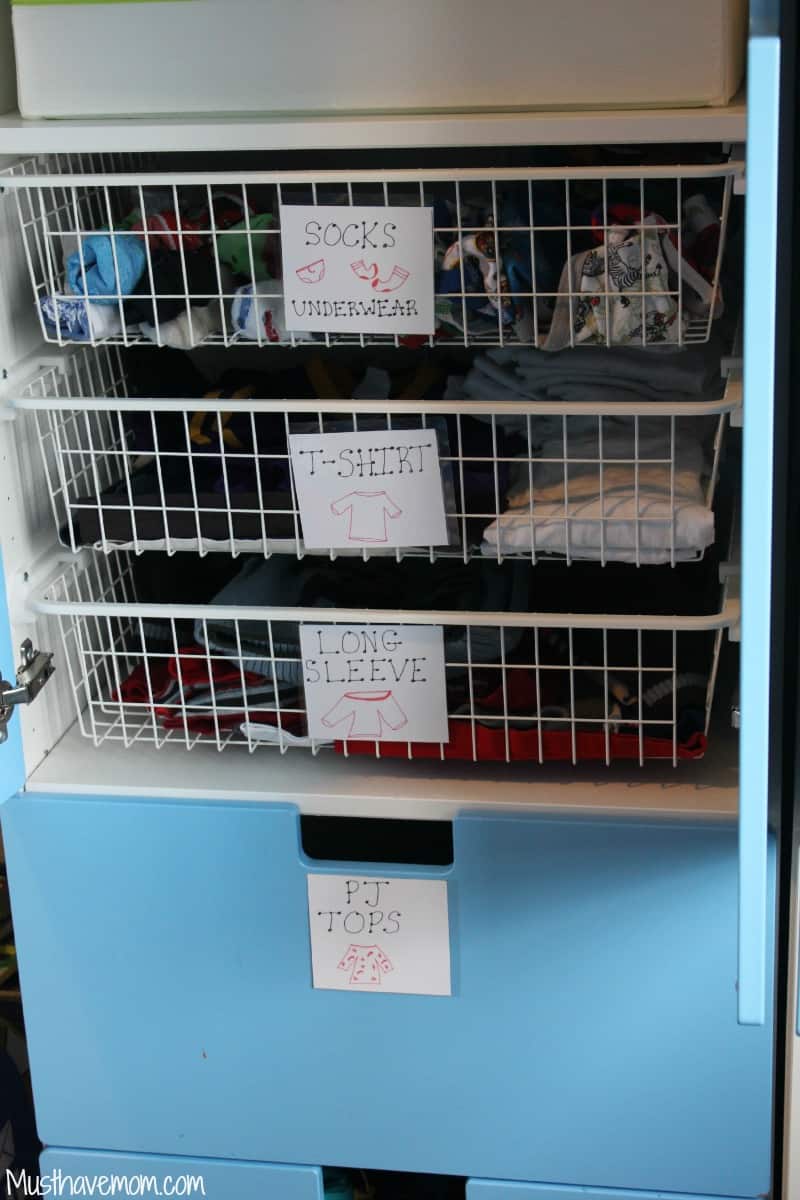 Clothes should also be organized and each have a place. I recently organized my boy's closets so that they are able to easily see where everything belongs even though they can't read yet. This enables them to get dressed on their own without my assistance AND it has also enabled them to put away their own clean clothes. Read this post to see how I was able to stop folding laundry for my kids and it might change your life 🙂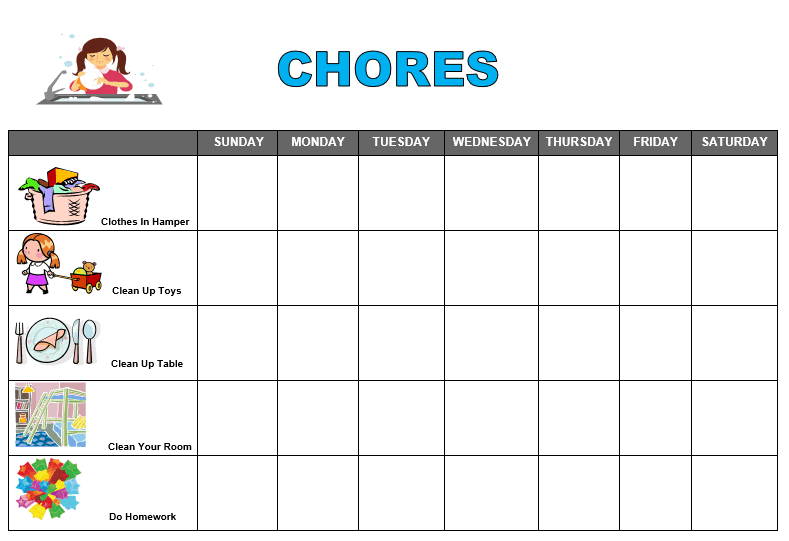 Create a System For Completing Chores
Having a daily chore system for both kids and adults creates a well oiled machine
Everyone in the family must pitch in and pull their own weight. It's imperative that you involve your kids in household responsibilities from a young age. Don't worry though if you have a lazy teenager that won't clean their room. It's never too late to start! Create a chore chart (or go print off mine for free) and hold your kids responsible for completing it before bedtime each night. Consistency is key.  Involving the whole family in chores not only frees up some of your time for other things on your to do list, but it also teaches your kids a valuable life lesson.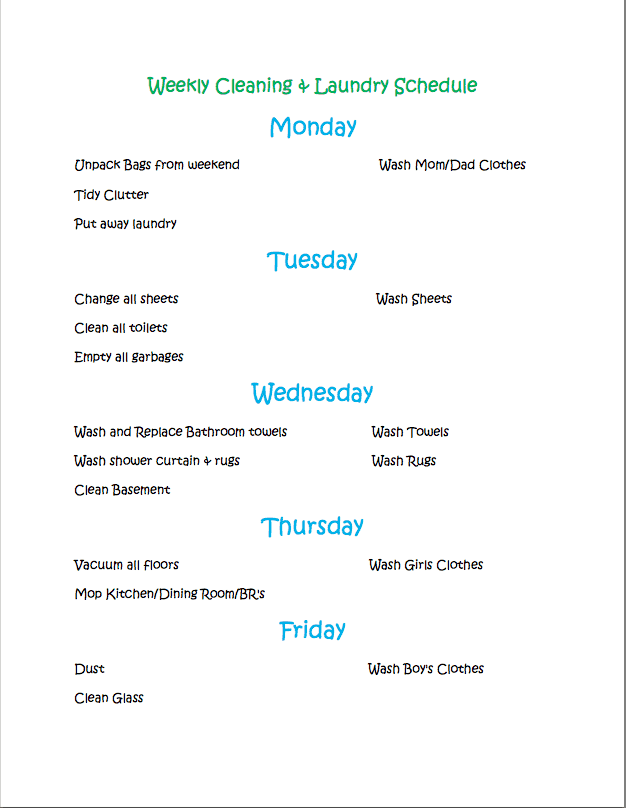 Develop a weekly cleaning and laundry schedule. Cleaning the house and doing the laundry can be a challenge and staying on top of it is the key to having a system that runs smoothly. You can print off my weekly cleaning and laundry schedule or create one custom tailored to your needs.  By assigning a few tasks to each day the work doesn't feel overwhelming but everything still gets done. By washing laundry each day you can avoid having one big laundry day that eats up all of your free time.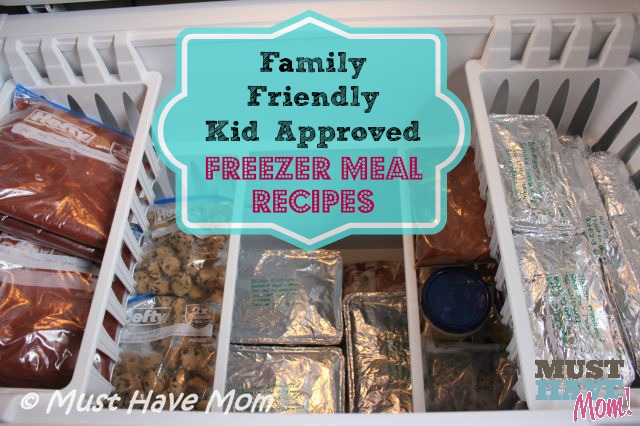 Meal Plan
Creating a weekly or monthly meal plan allows you to plan ahead & be prepared
Meal planning sounds daunting but it really isn't. By planning what you will eat for dinner each night you are eliminating the 5pm scramble which nine times out of ten ends in calling for delivery. You will save yourself time and money and you will be eating healthier meals around the dinner table as a family. I prep freezer meals for my family so that if we ever have that last minute scramble or I don't have time to cook that night, we can reach into the freezer and pull out a ready made meal. Now I HATE mushy, casserole-type freezer food so if you are like me then check out my freezer meal recipes that are kid-friendly and do not taste like a mushy leftover casserole.
If freezer cooking isn't for you then don't worry! Planning a weekly or monthly menu will allow you to buy all the ingredients you need ahead of time and ensure that you have a dinner plan each night. I like to plan around the weekly grocery store sales. If ground beef, lasagna noodles and chicken are on sale that week then I might plan to have tacos, lasagna, chicken stir fry and sloppy joe won tons for meals that week. No matter how you do it, just do it!
Organize Your Finances
Get your finances in order and cut down on the time you spend on them
Now you have your house organized, your chores and laundry on a system and you've tackled meal plans. What's left? Your finances! Bill paying is one of those weekly chores we all hate. Streamline the process by using online banking and billpay. We love the ease of scheduling and sending out our payments.
Cut down on the amount of junk mail and pre-approved credit card offers you get in the mail by using LifeLock. It's one of the many benefits you will get when you use their service. When you use online billpay, shop online or really do anything online, LifeLock helps by protecting your identity. There are more and more cases on the news of stolen identity or fraud alerts. There was just a big announcement that another big box retailer had their financial systems hacked and millions of credit card numbers and sensitive data was breached. You can rest assured when you have LifeLock that you will be protected. It's one of those things you can waste a LOT of time doing on your own (and still not be protected) OR you can sign up for LifeLock and let the experts do it. Imagine all your time wasted in worrying about unauthorized purchases, data breaches (and whether or not you shopped there during the time the breach occurred), and more. This frees up time in your life to complete the rest of your to do list.
My readers can use the LifeLock Promo Code LifeLockSafety to save 10%. I believe in their service and I use it myself. It's one thing I will gladly cross off my list of things to worry about!
Once you have all of these in place your day to day life will run much smoother! It's imperative to have a schedule and a plan and that's exactly what this will give you. It's easy to follow but makes a dramatic difference.
Could you use some organization in your life? Are you protected from identity theft or is it something that doesn't make it on your to do list?