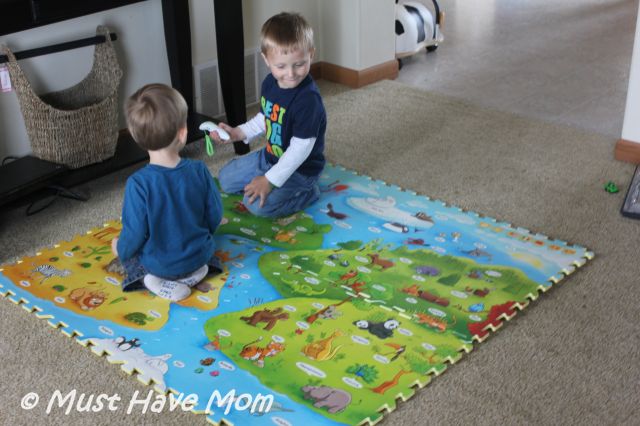 I am always on the lookout for toys that will not only engage my kids and keep them entertained, but will educate them at the same time. I hit the jackpot with the Creative Baby i-Mat: My Animal World. It's sooooo cool. I have to admit that even I was caught in it's spell. My kids LOVED it and I loved that they were busy learning while having a blast.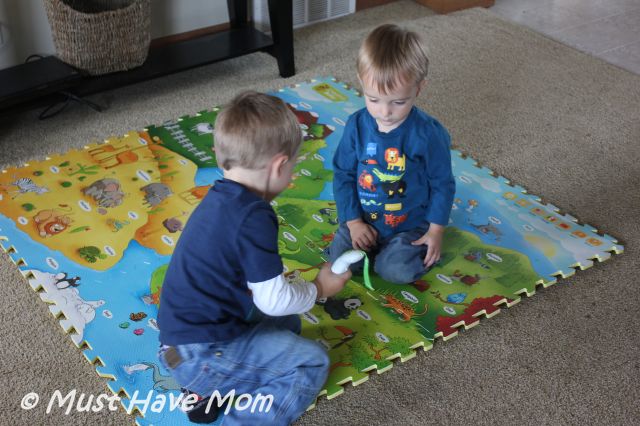 This i-Mat is the first in a series of themed interactive foam mats from Creative Baby. The colorful play land is made of four interlocking soft sections that are activated when used with its Voice Pen. Babies and older siblings learn while exploring the illustrated mat with a simple point on the "word bubble." They're instantly rewarded with an animal sound, a word, music or a foreign language translation! Newborn babies can enjoy the mat without the pen—the mat is phthalate-, lead- and heavy metal-free, and no electronics mean no worries for wiping the mat clean.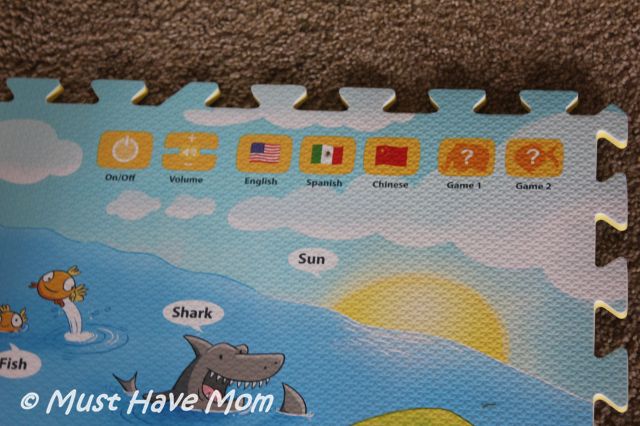 The i-Mat contains a series of pictures on the top corner of the mat. Use the pen to turn it on, adjust the volume, choose your language or play a game. Aiden is 3 years old and quickly caught on to choosing what he wanted to do.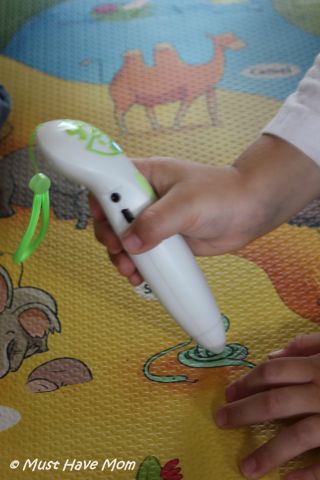 Aiden's favorite part was playing the game. It will interact with the child and have them find things on the mat. He was thrilled and engaged his 2 year old brother in the fun by asking him to help find certain animals according to what the game was asking for. They really worked together well to have fun playing the game.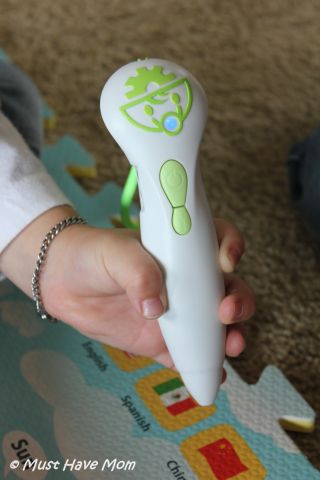 The voice pen is a good size for small hands to hold on to easily.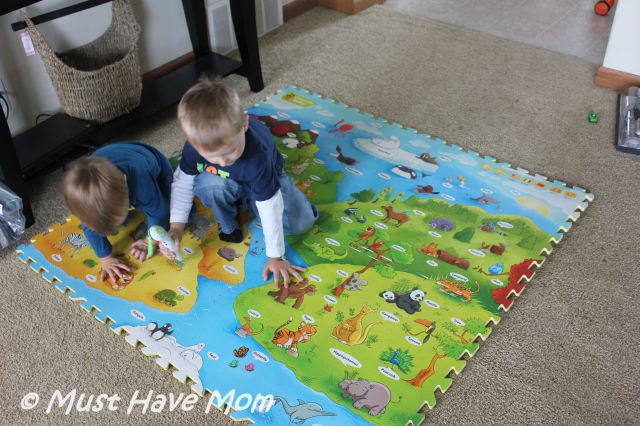 Carson had fun by pointing the voice pen on the animals and hearing the feedback. It was easy enough for him to do himself but I love that the mat also has more difficult games that Aiden can be challenged by.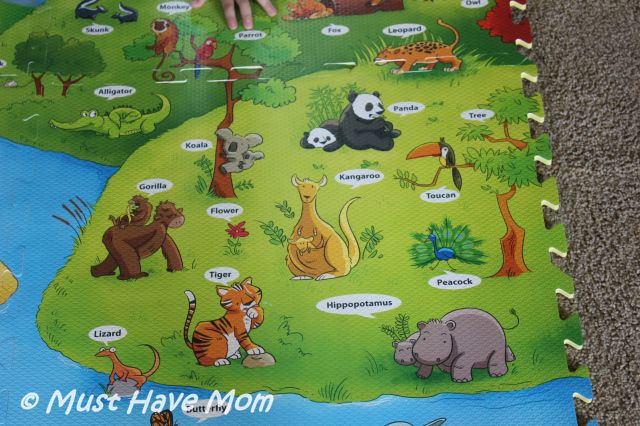 I love the colorful mat and all the adorable animals. It displays different scenes with all sorts of different animals. The foam pieces easily lock together and provide the perfect play surface. Aiden and Carson both played with the i-Mat for such a long time that I had to keep checking in on them to make sure they were still playing with it. They were so quiet and intent on their play that it was fun to see them so engaged in an activity they could both participate in on their own age levels.
The i-Mat is perfect for both younger and older toddlers to play with alone or together. I love that there are different levels of play, age appropriate for multiple levels. The mat is well constructed and easy to use and my kids were quick to learn how to play.
My 5 year old daughter also wanted in on the fun. She had an easier time locating the animals right away during the game but enjoyed playing. I would say this is best for those under 5 as it will hold their attention longer. Despite that, my 5 year old also enjoyed it. She loved it so much that she wanted to give you all a quick demo of how it works. It's so cool!
You can buy the Creative Baby i-Mat: My Animal World on Creative Baby's website. The i-Mat's secret is the 2 GB memory of the Voice Pen. Sold as a set, the foamy pad and pen together retail for $79.99. For a limited time, Creative Baby offers free shipping for all pre-orders. Two more themed adventures — i-Mat My Alphabet and i-Mat Under The Sea — are planned for Fall 2013. As new pads are introduced, parents can connect the Voice Pen to any computer with internet access (with the included USB cable), download the new sound file from Creative Baby's website to the i-Mat Voice Pen. Then, explore new i-Mat adventures! New pads will be priced from $24.99 to $29.99.
Win! One lucky reader will win the Creative Baby i-Mat: My Animal World mat and voice pen! Enter below. Good luck!