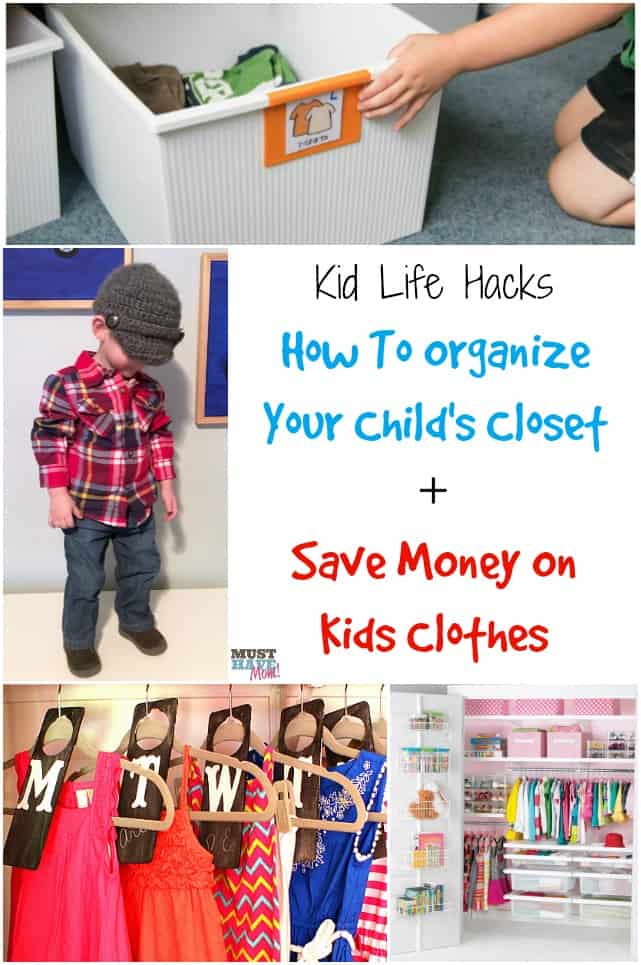 Organizing your child's closet can be quite the chore. It may not seem daunting at first but add in a busy toddler and pretty soon that neat closet has turned into a ransacked mess! Kids are after the clothing item they want to wear with no regard to all the time you spent folding and organizing their closet. That's why today I'm sharing my favorite kids life hacks including how to organize your closet and how to save money on kids clothes. It's no secret that kids grow like weeds and that means they outgrow clothing at a rate that can be hard to keep up with financially! I've got some easy, money saving secrets to share that will keep your kids looking stylish while keeping your money in your wallet!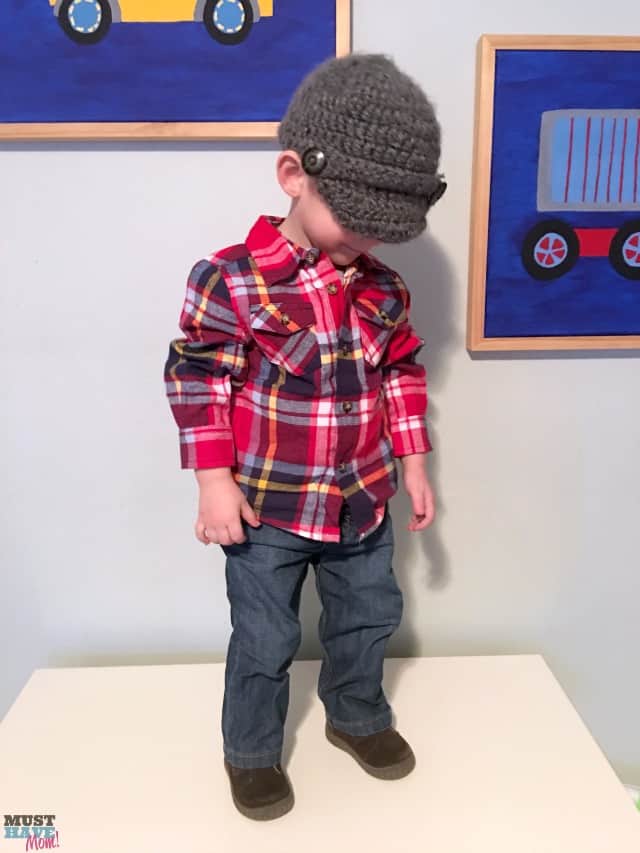 This adorable outfit that Brady is wearing could easily pass for a spendy outfit. The secret? It's not! I've paired basic jeans with an adorable Healthtex Flannel and newsboy cap that my friend made. Add a pair of brown shoes and you've got yourself a little man looking adorable!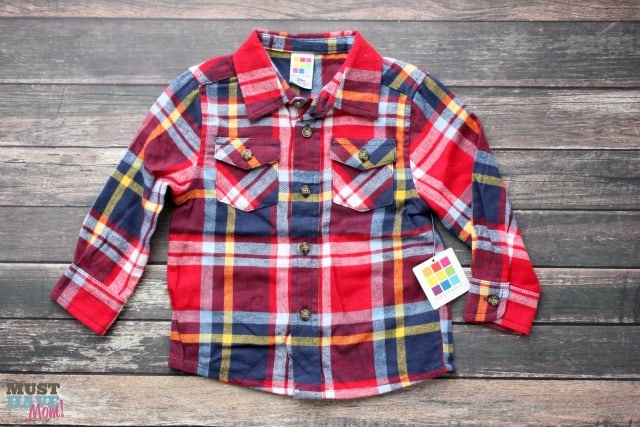 The Healthtex flannel shirt was the inspiration for this outfit and only cost me $6 at Walmart! You can't beat that! Plus it's warm so Brady will stay toasty during these cold Winter days here in Minnesota.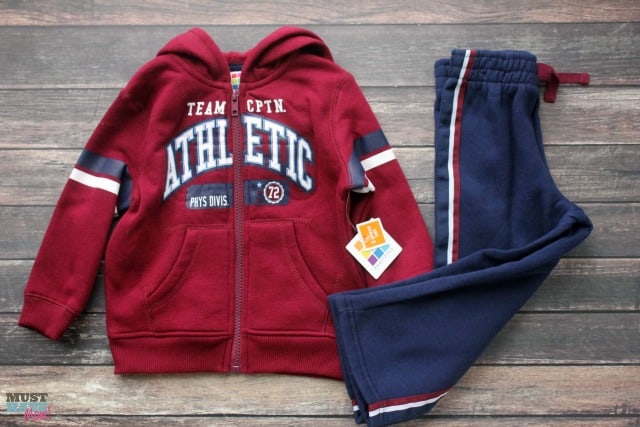 Stocking up on basics is important. My kids prefer to be in comfortable clothes when they are playing so when we are at home they always prefer to wear soft pants and sweatshirts. This Healthtex set is around $10 so it's easy to stock up on a few sets so we always have plenty of comfy play clothes on hand.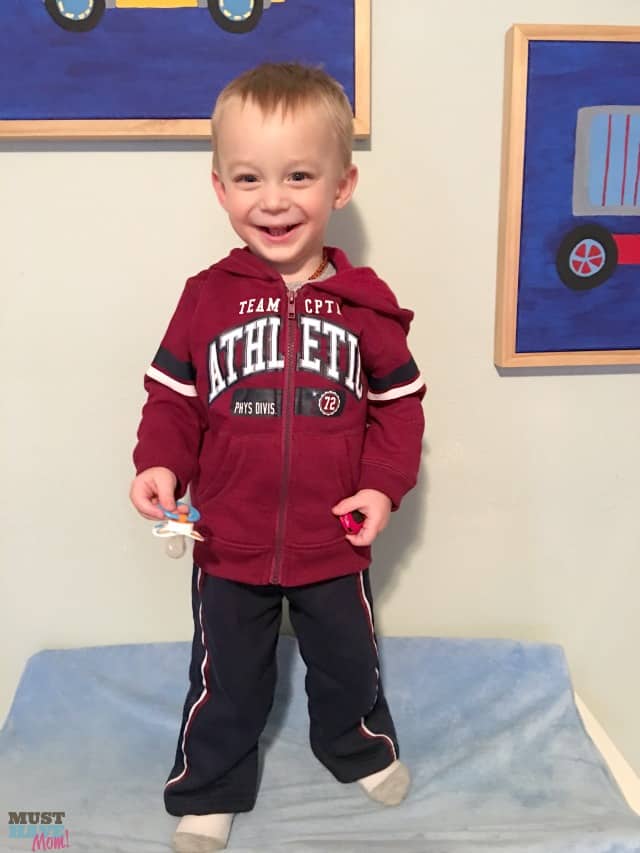 The material has held up really well and it's pretty adorable on Brady too!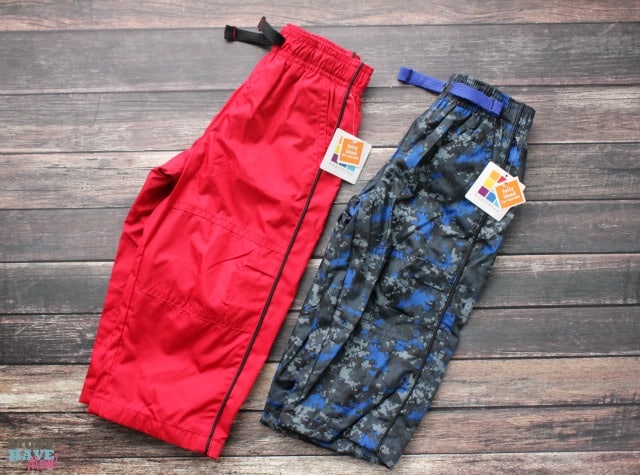 These Healthtex wind pants are also one of the basics that I keep plenty of on hand. They pair perfectly with tees or long sleeve tops and are comfortable too. They are fully lined so they keep kiddos warm too. Stock up on them for just $5 a pair! My 5 year old is constantly getting holes in the knees of his pants so I always find myself having to buy him new pants. I was going broke buying him new pants all the time until I discovered these Healthtex pants! Now I buy plenty of these pants for him and at $5 a pair I'm not breaking the bank if he does put a hole in them!
If you love dressing your kids in matching outfits then you'll love these matching Healthtex Active Wear Sets I scored for just $10 each! The blue really brings out my boy's natural blue eyes and I love the bright pop of color! As an added money saving tip my older kiddo will pass down his outfit once he outgrows it and we'll get lots of use out of it!
The best part about these Healthtex clothing finds is that I scored all of them at Walmart! Being able to stock up on kids wardrobe basics at the same time I'm getting groceries for the week saves me time and money. Brady doesn't last long when we are running errands so having a one stop shopping trip is a must. No more lugging him around the mall and trying to figure out sales and store coupons in order to score great prices on the clothes they need. I never knew Walmart stocked Healthtex clothing until last week! I'm so thrilled to discover it there.
Another important tip when trying to save money on kids clothes is to buy ahead. If you are able to predict what size your child will be in for the following season then stock up on clearance finds at the end of the season. My kids grow pretty predictably so I'm able to estimate their size for the following season. When I was at Walmart picking up all these adorable clothes I also scored a TON of Healthtex short and tee sets for just $1 a set! I bought one of each in the size Brady will be this Summer. I got an entire Summer wardrobe for a dollar an outfit! While picking through clearance items isn't always fun, it will save you a lot of money in the long run!
Finally, when trying to save money on kids clothes be sure to keep your child's clothing in good condition and remove stains. When they outgrow it you can resell it to a consignment shop, list it on ebay or sell it on a local Facebook buy/sell/trade site. Reinvest that money into your child's next season of clothing you need to buy.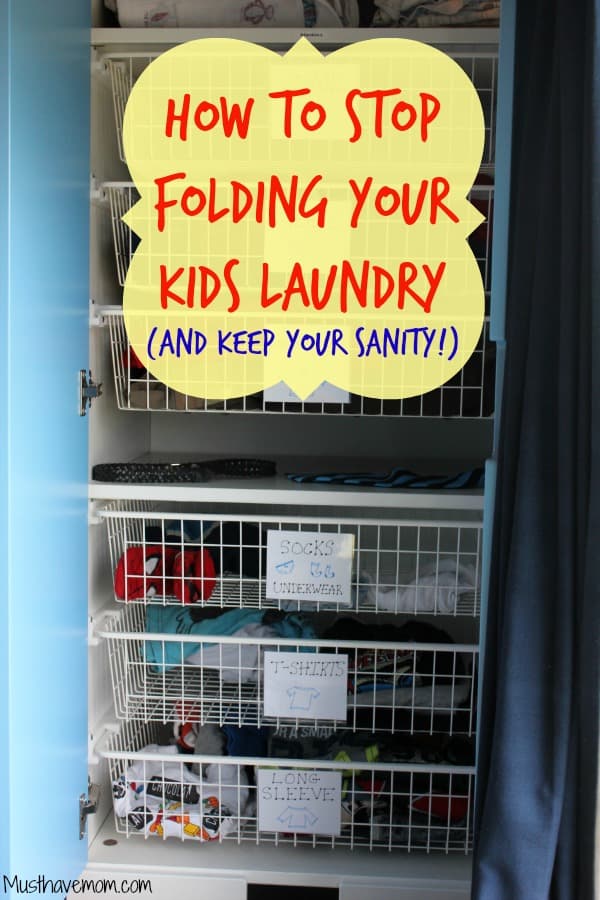 Now let's tackle a few other issues! Why not start with laundry? This method to stop folding your kid's laundry changed my life! No longer do I spend hours on end folding clothes each day! Read this. I promise it will help you!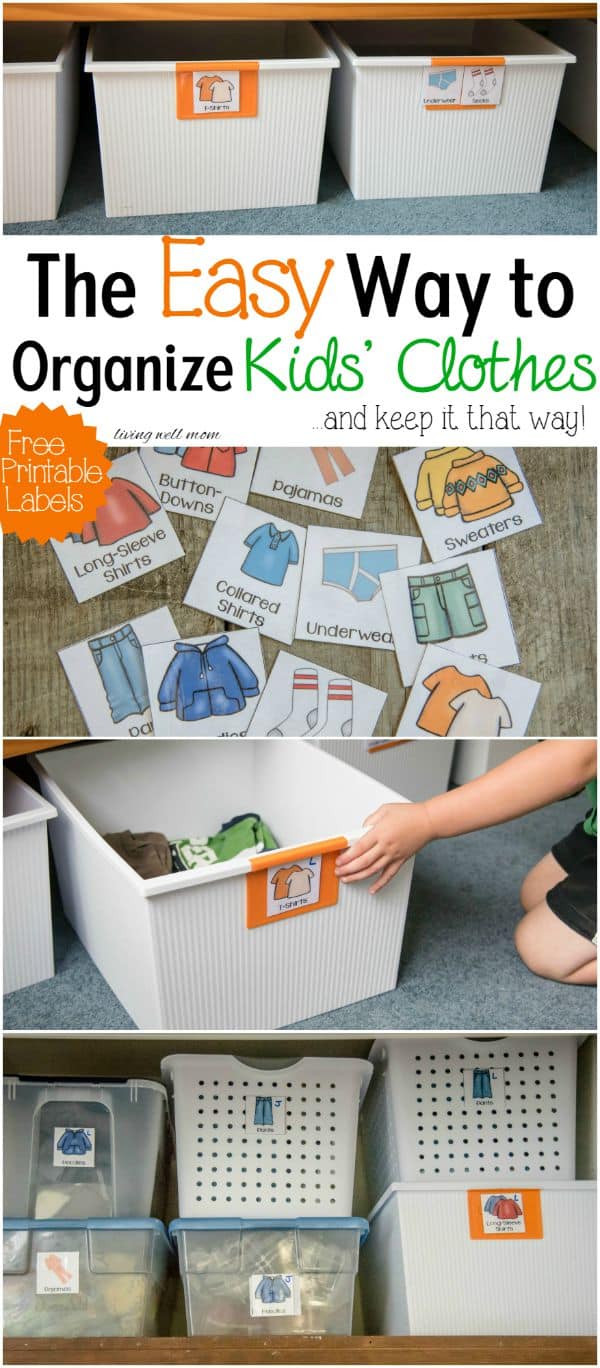 This mama uses a similar approach as the one above but she has some awesome free printable clothing labels you can print off too! Go print them out and laminate them. Do it!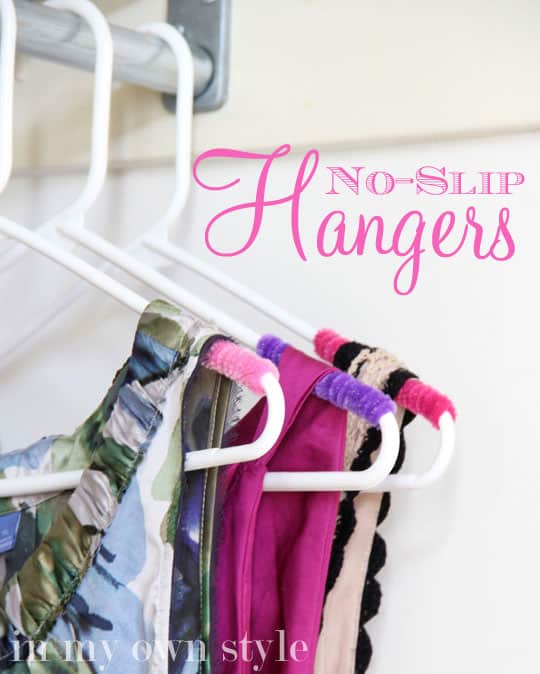 These easy DIY no slip hangers are genius! If you find your child's clothes are slipping off the hangers then try making these. Get your kids to help!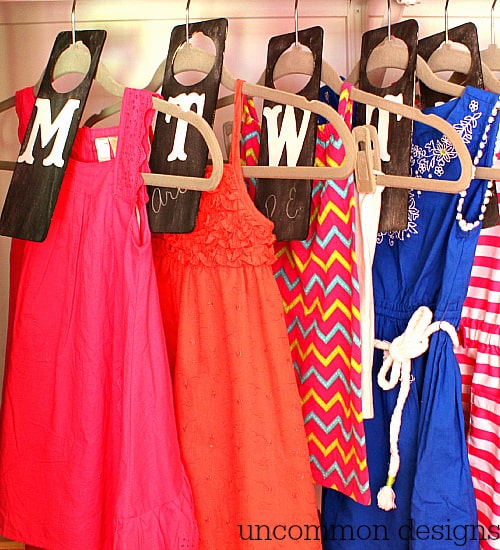 If hectic mornings are an issue at your house (who doesn't have hectic mornings??) then try picking out your child's clothing for the week on Sunday night. I am in LOVE with these days of the week closet organizers that slip over the hanger for each day's outfit. Pick out each outfit according to the day's activities. Perhaps they have art on Tuesdays so you want an outfit that can get messy or maybe you need to remember to set out pants for P.E. day. These make it easy!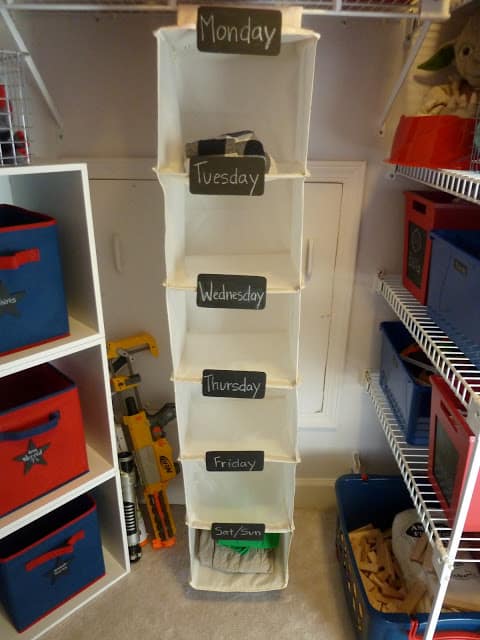 I think this method would work great for boys! My boys clothing isn't hanging up so being able to fold it into an organizer like this labeled with each day of the week would be perfect! See this mama's other closet organizing tricks too!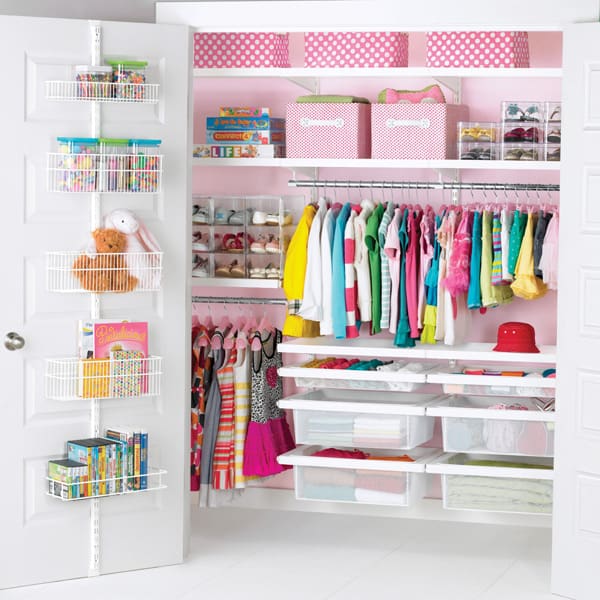 Be sure to maximize use of your child's closet by utilizing the space behind the door too! I love the little baskets on the door. Hang the child's clothes low where they can reach them and make use of the space up high by organizing with baskets.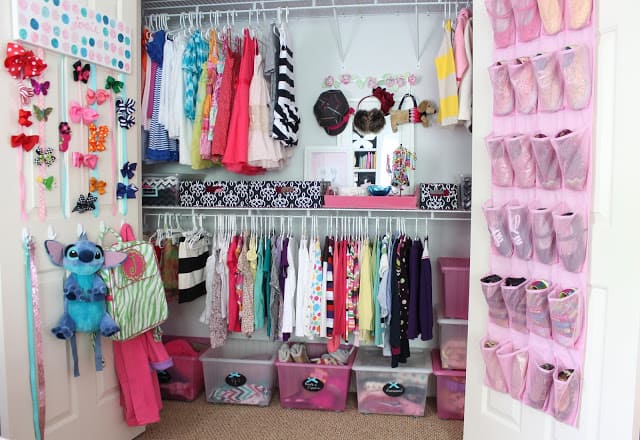 Don't forget to include a space for your child's shoes, belts, hair accessories and backpacks too! This mama uses the back of the closet doors to organize her daughter's accessories all in one place. Check out her cool chalkboard bin labels for organizing clothes too!
Whew! I hope all of these awesome kid life hacks will help you get your child's clothing under control! Now you've got my secrets to saving money on kids clothes, how to organize your closet and even my favorite laundry time saving method!
Liked this post? Pin this post for easy finding later or share it on Facebook!
What kid life hacks do you use to keep your child's clothing under control?