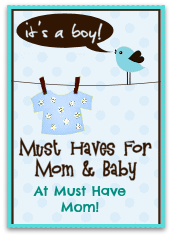 One must have for every crib mattress is a good mattress protector. After spending your money on a mattress go one step further and protect your investment! Kolcraft has a fantastic variety of crib mattress pads by Sealy to choose from. But how do you know which mattress pad is right for you and your baby? I am highlighting three of their popular mattress pads below and comparing the features so you can make a decision as to which is the best fit for you and your baby's needs.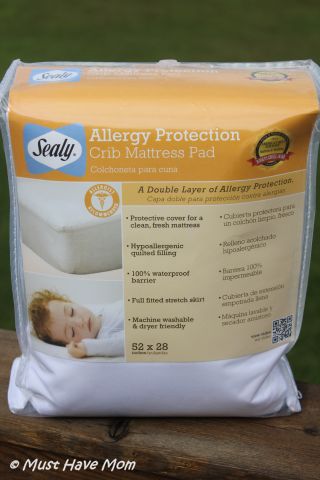 First up is my personal favorite of the three mattress pads, the Sealy Allergy Protection Crib Mattress Pad. As the Mother of a very allergic three year old I definitely wish I had this when he was a baby. As a baby Aiden was SO sensitive to everything and he still is very sensitive to everything. Preventing allergens from clinging to a crib mattress is important for infants whose immune systems are still developing. As a baby Aiden constantly had a rash all over his body which I now attribute to his severe allergies. He is allergic to peanuts, dust and a variety of other environmental allergens. Using the Sealy Allergy Protection crib mattress pad helps protect your child's sleeping environment.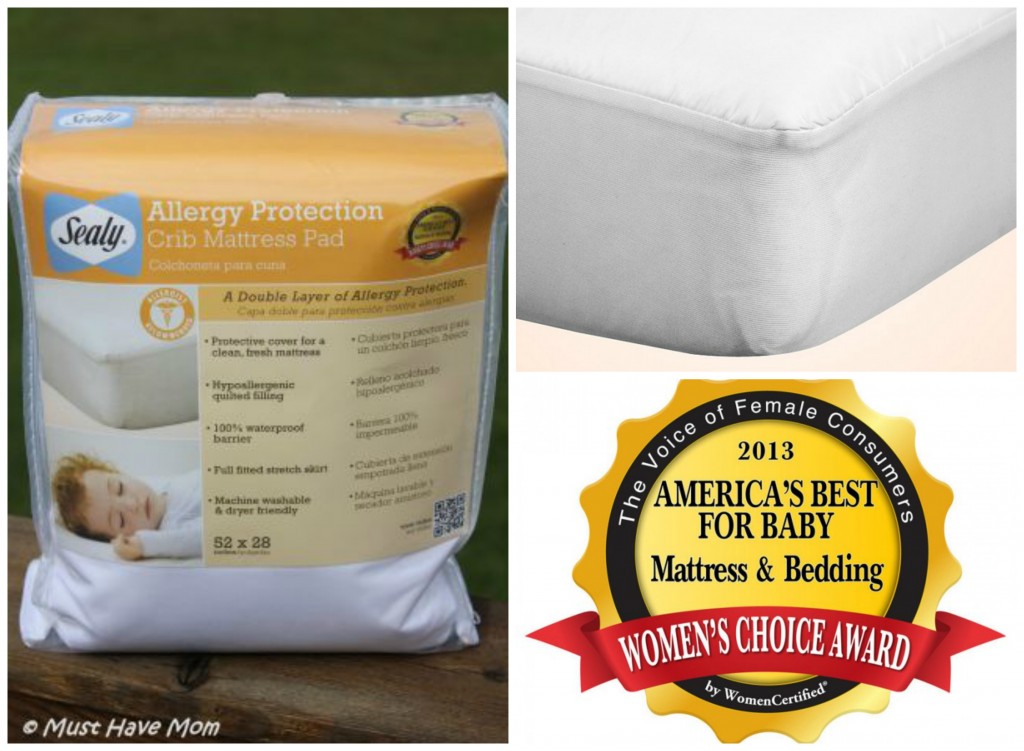 Another issue with kids is asthma. Aiden not only has severe allergies but also has asthma which can be a terrible combination. The allergen barrier in this crib mattress protector helps protect against asthma instigators which is ideal for little ones. I also like the added comfort that it gives. It has a double layer of protection with a top microfiber and a bottom quilt. The Premium SecureStay full fitted skirt stretches to wrap well under the mattress to prevent sliding or pulling and elasticized edge holds pad in place on crib mattress. Nothing drives me more batty than a mattress pad that won't stay put! I've had my share of mattress pads that don't fit well and pop off and they've all ended up in the trash. This mattress pad fits the mattress great and stays put!
Another must for me with any mattress pad is that it has a 100% waterproof barrier to protect against leaky messes. All too often baby is spitting up or blowing out of a diaper and the last thing I want to do is clean up the mattress. Being able to just whip off the sheet and mattress pad and put a new one on is priceless, especially in the middle of the night. Last but not lease, I look for a mattress pad that is machine washable and dryer friendly. At 2am I want to be able to toss it in the wash and dry it when I wake up again so it's ready for the next bedding change! This mattress offers all of these must have features and more. This one is my top pick for baby!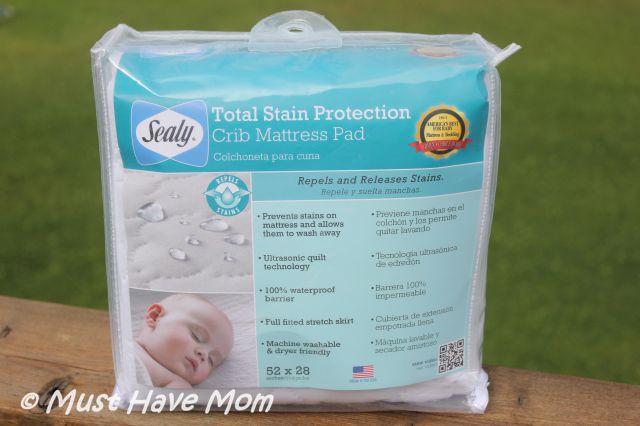 Up next from Sealy is the Total Stain Protection Crib Mattress Pad. The Sealy Total Stain Protect crib mattress pad keeps stains, liquids, and odors away from baby and helps keep your baby's mattress clean and fresh. This is of course a must for every mattress. I love that this mattress pad will whisk leaks away from where baby sleeps. So if your baby's diaper leaks and you haven't discovered it yet then you can rest assured that not only is your mattress protected from the leak but the pad is also whisking away the moisture from baby's sleep area.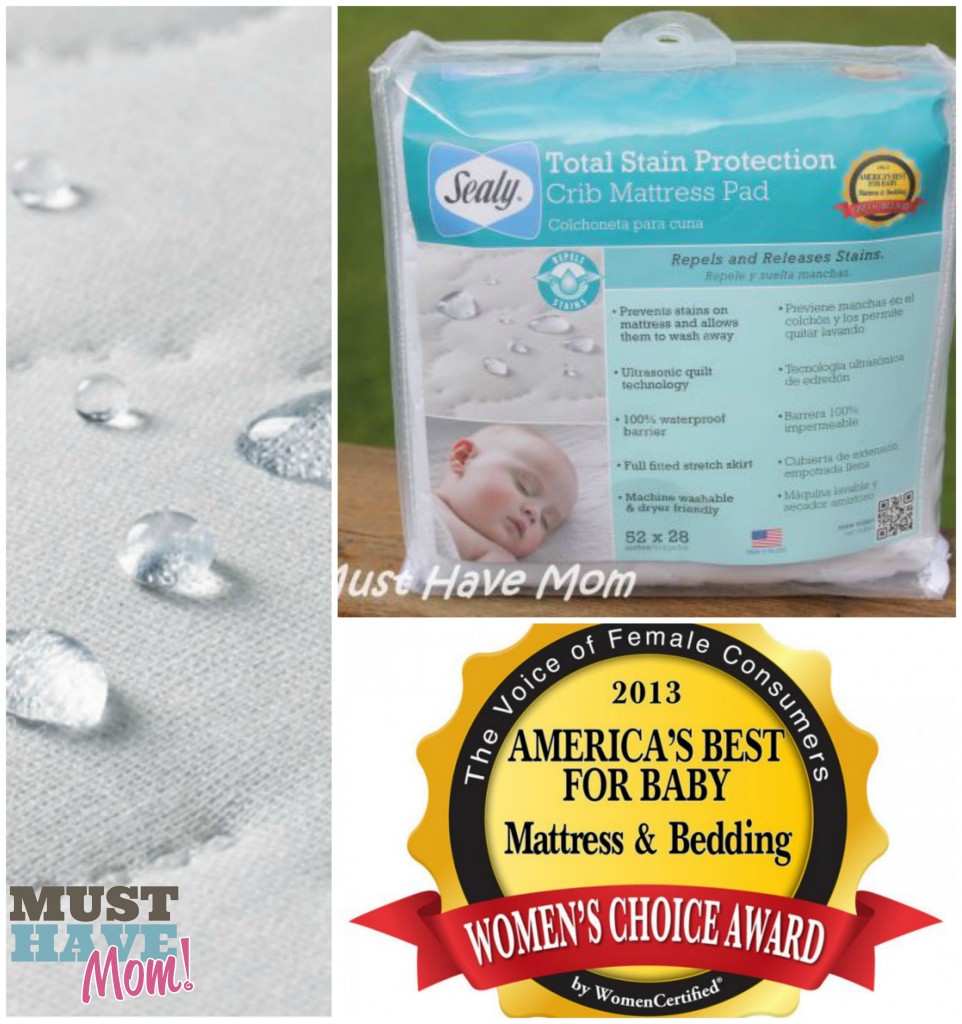 Much like the allergy protection pad, this pad also features Premium SecureStay which means a full fitted skirt stretches to wrap well under the mattress to prevent sliding or pulling and elasticized edge holds pad in place on crib mattress. The ultra sonic quilted top is soft and comfortable for baby and they use pinsonic quilt technology which means there are no threads stitched through the waterproof barrier. The crib mattress surface is protected from leaks, keeping your mattress nice and clean! I also love that it is made with hypoallergenic cotton and polyester materials for quality softness and cleanliness.
One HUGE feature to me is that this crib mattress pad won't shrink in the dryer and the waterprood barrier won't crack! You know how many waterproof pads I have that have cracked?! This one won't do that!! And it's machine washable and dryer friendly.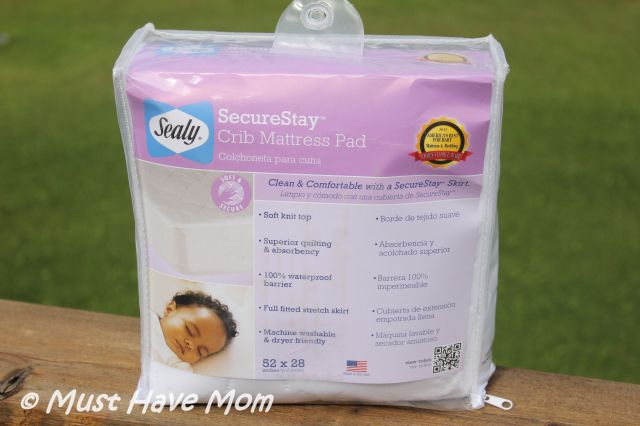 Last up is the Sealy SecureStay Crib Mattress Pad. The Sealy SecureStay Crib Mattress Pad offers the best fit on your baby's crib mattress, provides a waterproof barrier and superior softness and absorbency to help keep your baby dry and comfortable. Like the others this pad also offers Premium SecureStay full fitted skirt stretches to wrap under the mattress. This prevent sliding or pulling. The elasticized edge holds the pad in place on the crib mattress.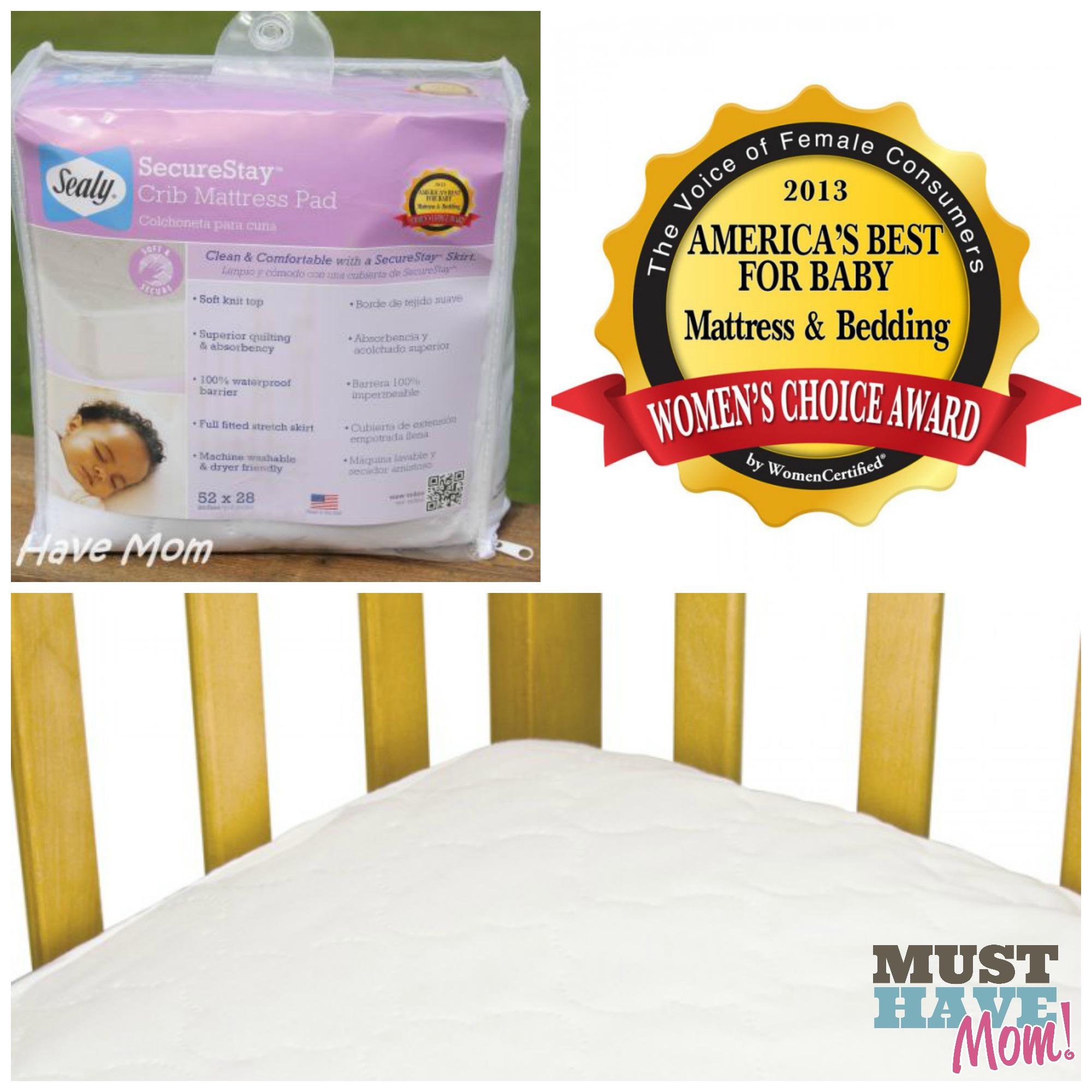 It features a 100% waterproof bottom layer that protects your crib mattress along with a super absorbent pad that keeps baby dry. It's also hypoallergenic and is Machine washable & dryable!
Sealy crib mattresses and pads earned the Women's Choice Award for 2013! They were voted America's Best For Baby! They are also made in the USA!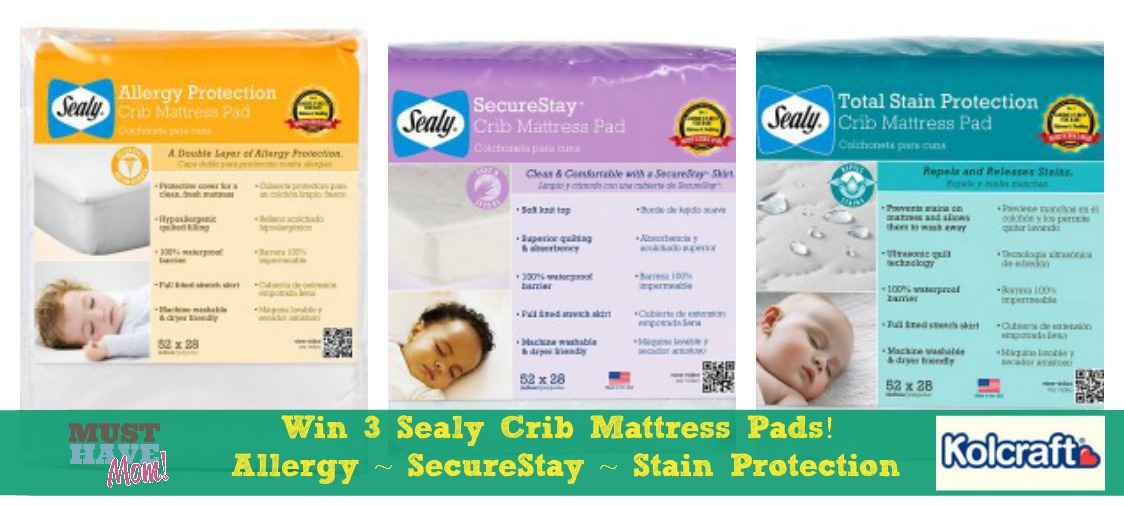 Features that ALL 3 crib mattress pads offer:
Premium SecureStay Fit
Machine washable and dryer friendly
Made in USA
Waterproof Barrier
Hypoallergenic
Fits standard crib mattress and toddler beds
The Allergy Protection Crib Mattress Pad is best for protecting baby from allergens in their sleeping environment. The SecureStay Crib Mattress Pad is best for a great fit and softness with a waterproof barrier. The Total Stain Protection Crib Mattress Pad is best for whisking away leaks and keeping the mattress fresh. They are all great picks! Which one best fits your needs?
You can buy all three of the Sealy Crib Mattress Pads at Walmart and Walmart.com!
Win! Kolcraft is giving one lucky mama ALL THREE of these fabulous mattress pads! Enter below. Good luck!