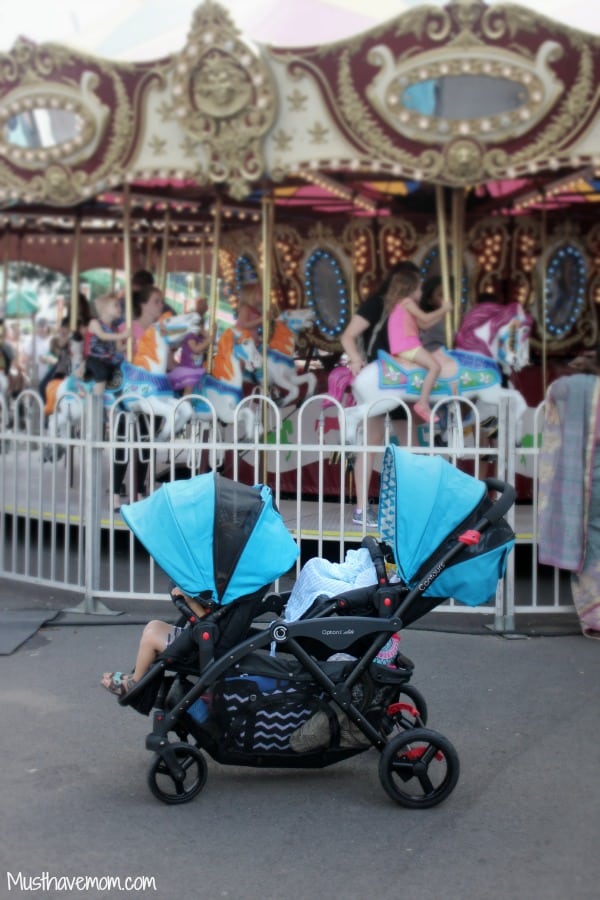 One of my favorite things to do in the Summer here in Minnesota comes at the end of Summer right before it's back to school season. Can you guess what it is? The Minnesota State Fair! I absolutely love attending and so do my children. We go every year and we just love so many things about the state fair. Having four kids age 6 and under can present it's challenges when attending the State Fair (or any crowded place) so I'm sharing my secrets on surviving the state fair with four kids in tow AND I'm showing you the must see attractions at the fair if you have children.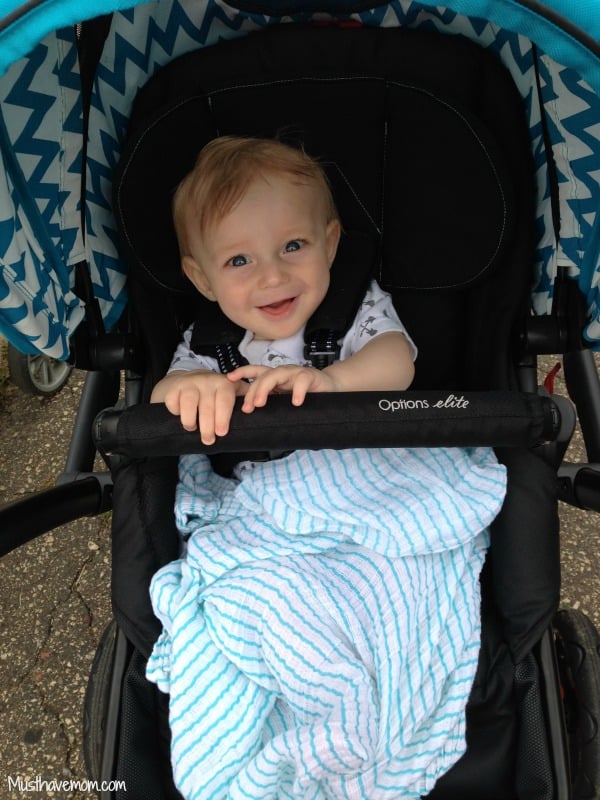 This was Brady's first trip to the Minnesota State Fair at just six months old. We brought along our new Contours Options Elite tandem stroller along with our Contours Options so that all four kids could ride in a stroller. With a record braking 250,000+ people in attendance on the day we went to the fair I knew we would need to keep them confined to a stroller where we knew they weren't going to get lost in the sea of people. Brady was more than comfy in his new ride and I love the plush head rests that helped hold his head comfortably in place. The seats feature an easy recline too so I was able to adjust it to where he would be comfortable and not sitting up to far where he would tip to the side.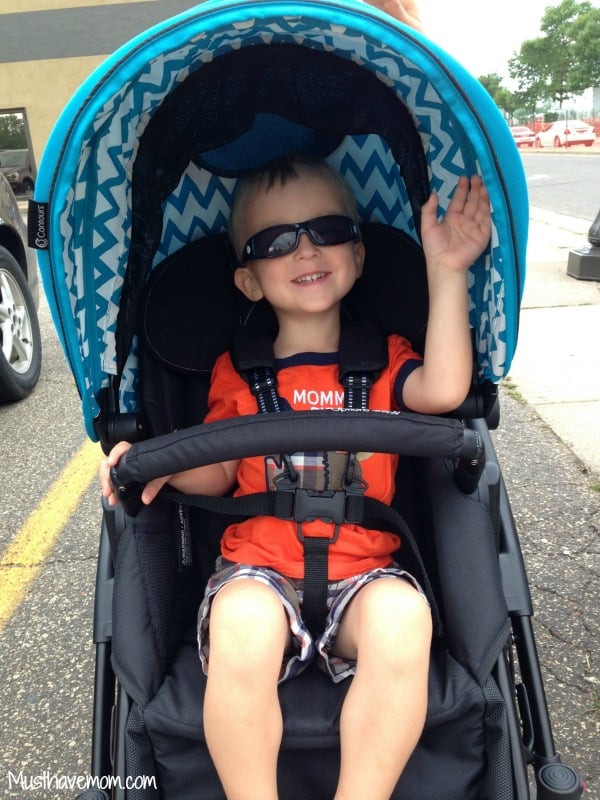 Carson is 3 years old and he occupied the front seat of the stroller. The five point harness was a must for keeping him in his seat and not letting him sneak out of the stroller when we weren't looking. He was comfortable and more than happy to nab a spot in the new stroller.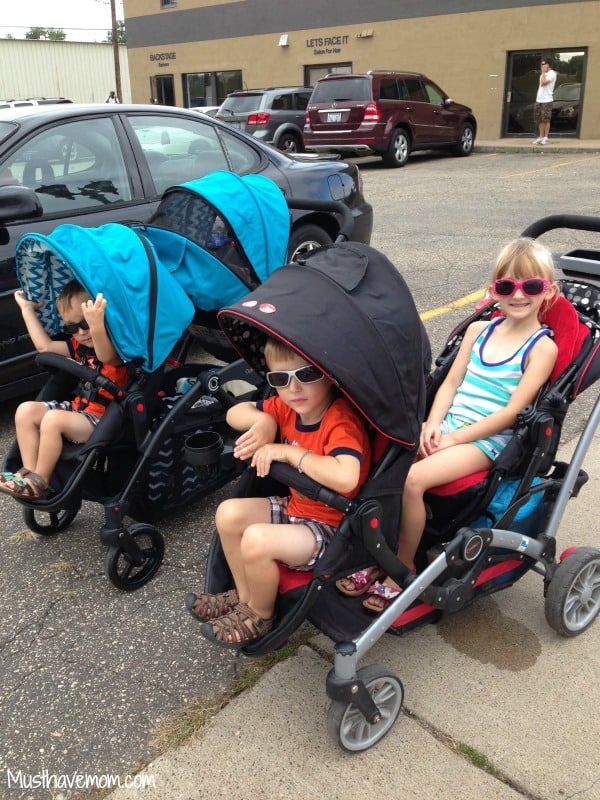 Surviving any crowded place with four young children means that two double strollers is essential. If you have two adults then I highly recommend having two doubles for crowded occasions. It's much too easy for a child to wander away for a moment and in a sea of 250,000 people that can quickly turn into an emergency.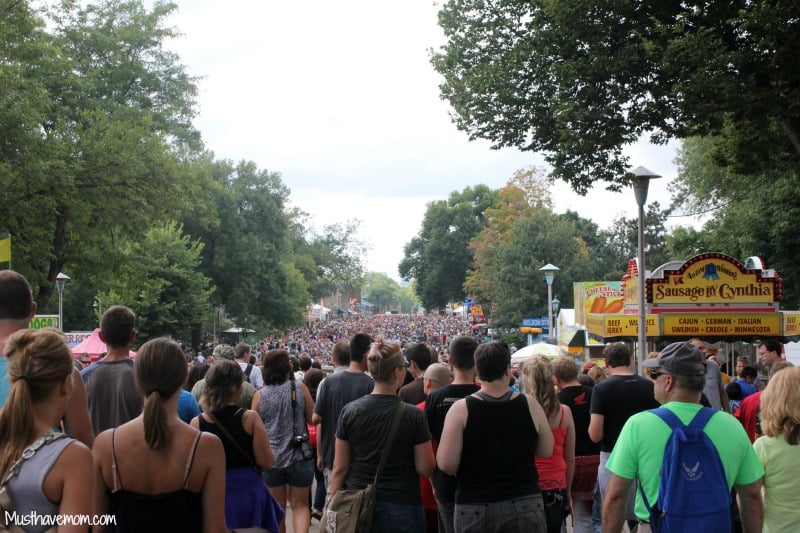 See what I mean? LOOK at all those people! It's much too easy to become separated. While this sea of people looks overwhelming, and it was, having two strollers was key!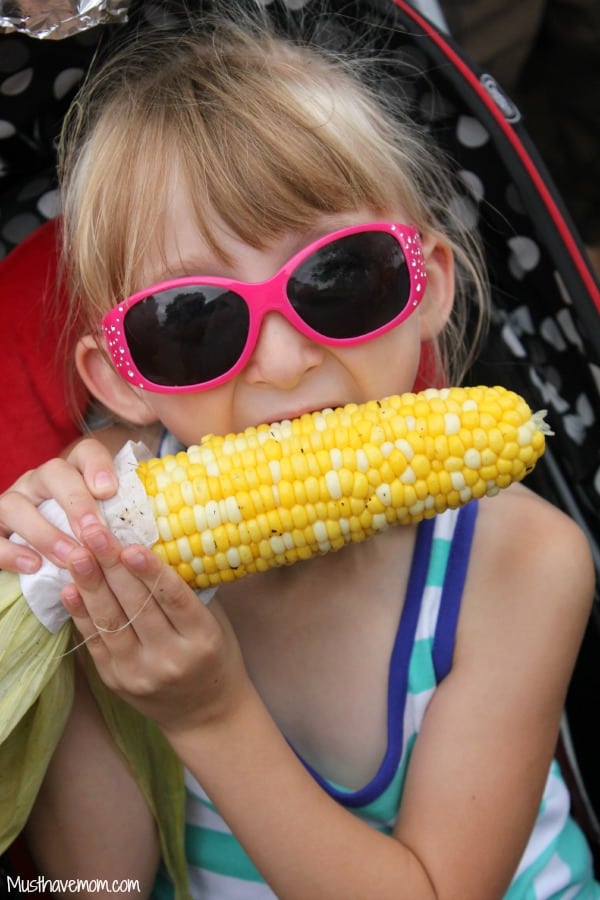 Our first stop was at the corn roast to get hot, buttered corn on the cob! It's a MUST HAVE food at the state fair. The kids love it and so do we!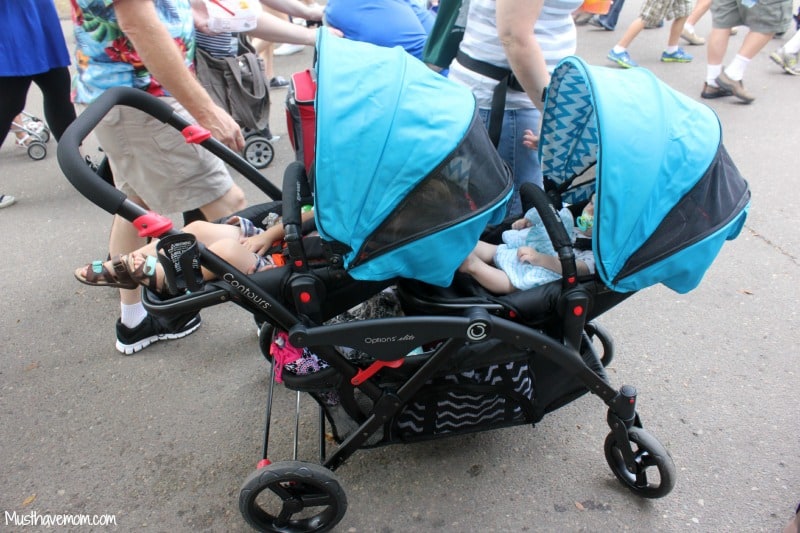 After walking around for awhile the two youngest kiddos were sleepy so we tipped both of their seats back and let them recline and snooze for awhile. The Contours Options Elite allows you to configure the seats in seven different seating positions which is my absolute most favorite feature. Not only can you turn the seats whichever way you desire, you can also recline them or sit them up. With multiple positions it lends to the amount of seating options at your fingertips.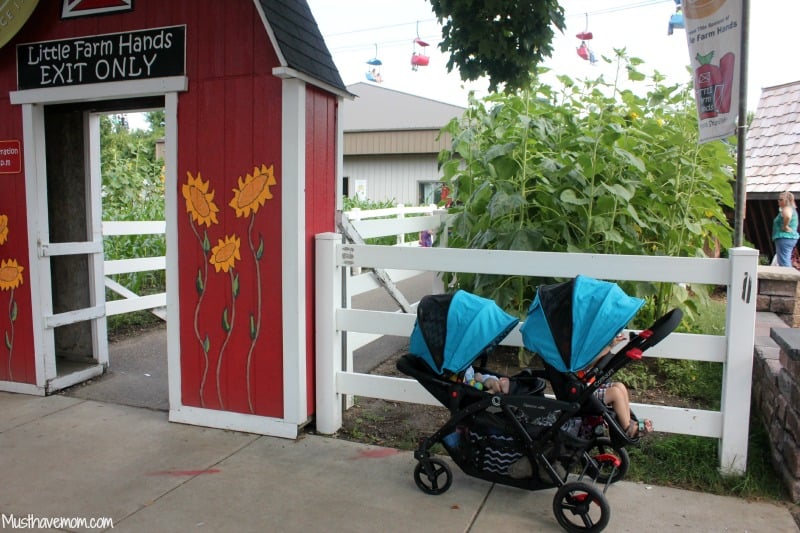 Once Carson woke up our next stop was the kids' favorite place to visit at the state fair, Little Farm Hands. They absolutely love this activity at the fair and if you have a little one with you then you HAVE to do this! Kids start their adventure with a bucket in hand an they get to wear an apron. Their job is to help out on the farm that day. They go through a series of activities which teach them about farming and helping on the farm. They get to ride little pedal tractors and deliver feed to the cows, feed pretend sheep and milk a pretend cow. They get to plant seeds in the garden and harvest the vegetables. Then it's off to the farmer's market where they sell their goods in exchange for a dollar to spend at the farm store where they get to pick out a treat! My kids got yogurt pouches and apples. They love this and so do I! There are lots of great opportunities for photos during the farm day too!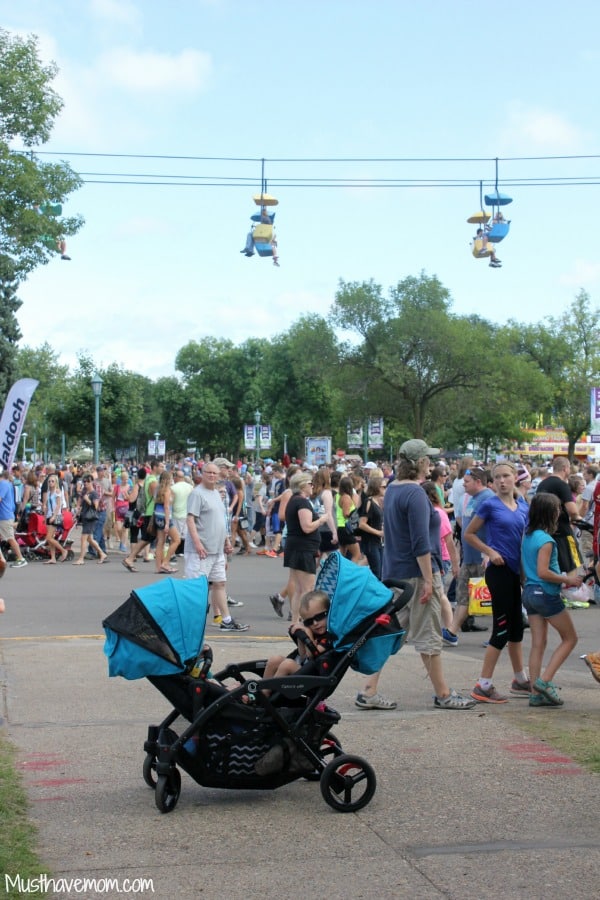 Once we had walked around and stuffed ourselves full of Aussie potatoes, Deep fried twinkies, Chocolate covered bacon and footlong brats, the kids were getting sleepy again so we turned both of their seats facing inwards to reduce the amount of stimulation. By facing them both in they could look at each other instead of all of the things going on around them. It worked and after a bit they were both sleeping again.
I created a video to show you all of my favorite features in person. Watch this video to see all of the features that made our day at the fair a breeze.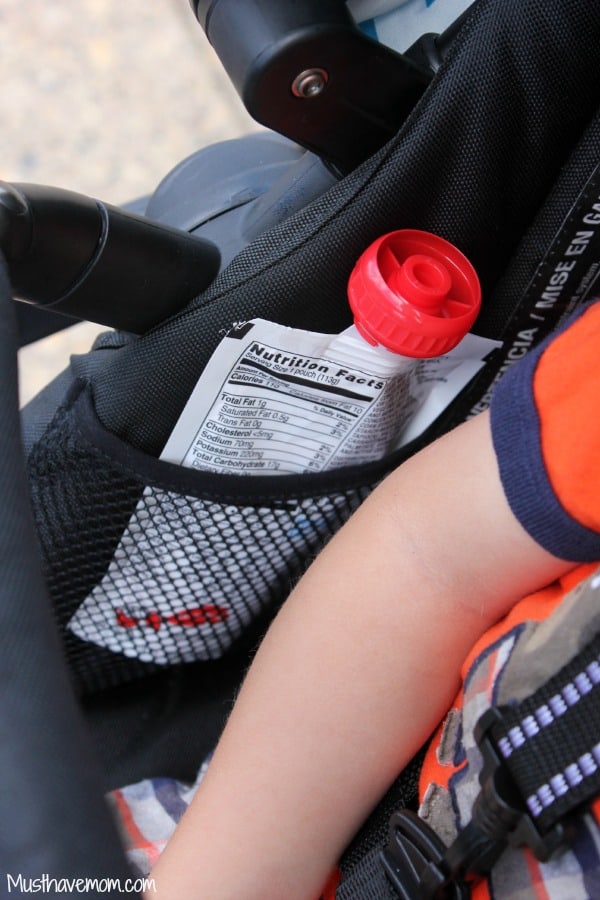 The seats also feature a mesh pocket where your child can store their snack or toys.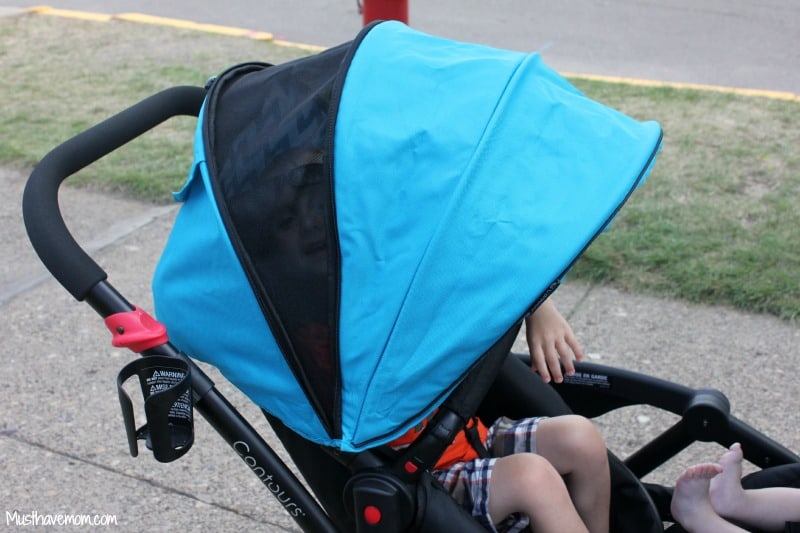 The zip open canopy was perfect for letting a breeze blow through their seats and it also serves to extend the canopy and shield the sun even further from the kids.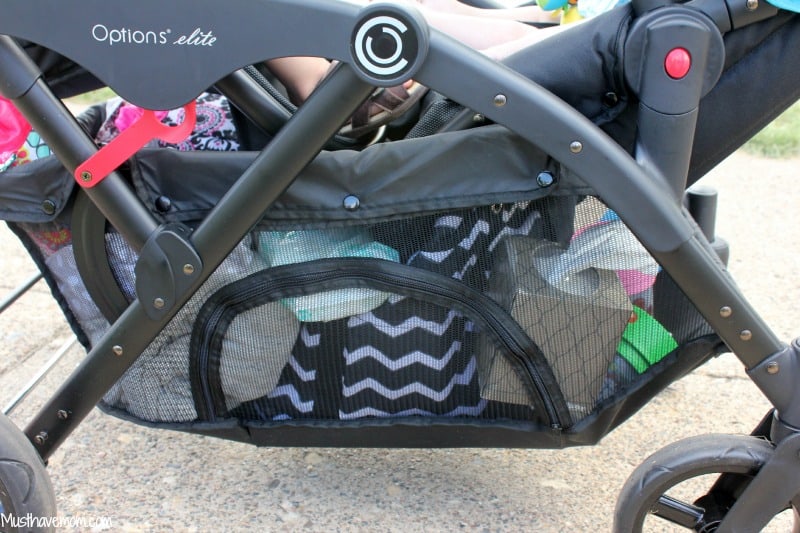 With four kids we had a lot of stuff to bring with us in order to survive an entire day at the fair. The oversized storage basket easily handled it all and we ended up with extra room so my husband who was suffering from sinus issues that day even through in an entire box of Kleenex. That's a huge storage basket!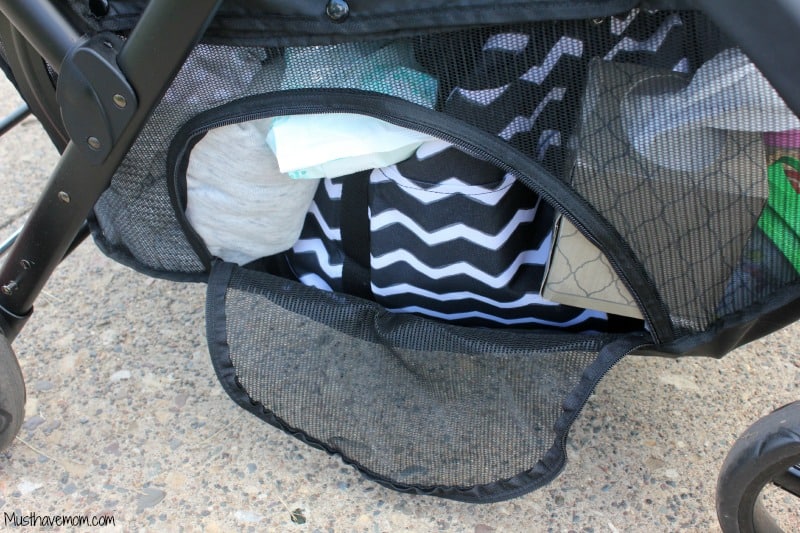 The folks at Contours really nailed this one by adding a zip open feature on the storage basket so you can easily reach in and grab whatever you need without having to move your child's legs.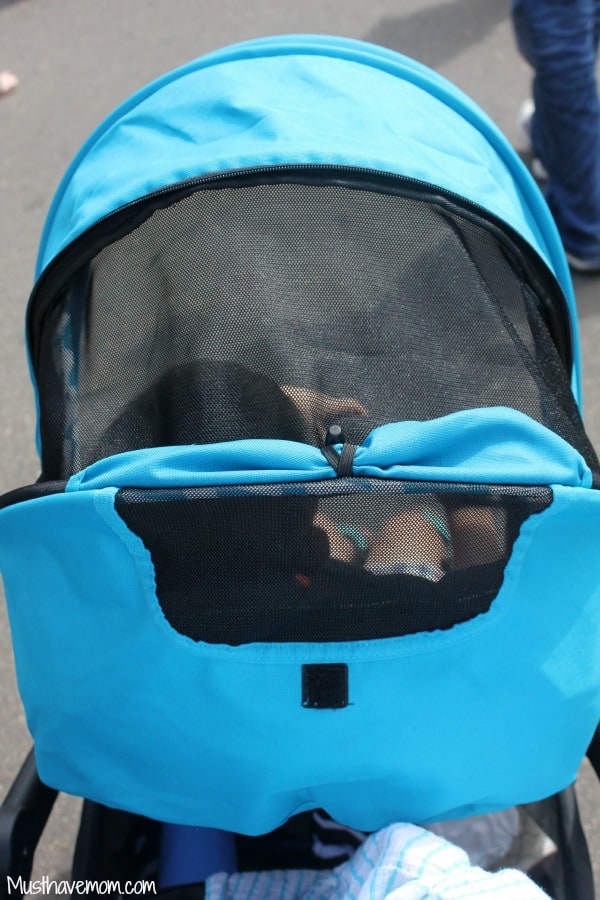 I loved that when the zip open canopy and peek-a-boo window were open I could easily see what Carson was doing in the front seat while I was in the back pushing. One thing I dislike about many tandem strollers is that you can't see what the child in front is doing while you are pushing and their canopy is up. This was I always could see him and know what was going on in the front of the stroller which is key in large crowds.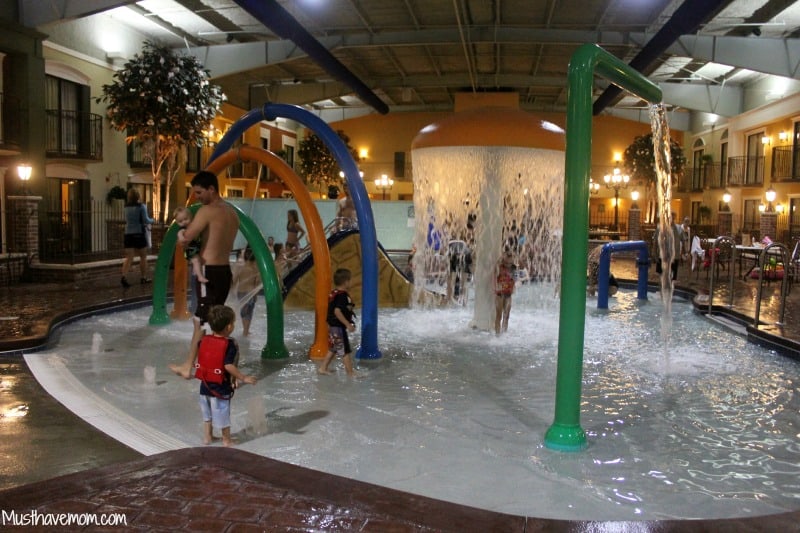 After an exhausting day at the MN State Fair we retired to our hotel in Lakeville. The Holiday Inn Lakeville has an amazing kids water play area that was just perfect for our kiddos! It's filled with different water play spouts, a slide and it's only 8 inches deep. There is also a hot tub for the adults so it was ideal for our last night in the cities. We had an amazing mini vacation!
I can't say enough about the Contours Options Elite Tandem Stroller. We have the Contours Opitons Tandem Stroller as well and it has really held up to all that we have put it through. These are quality made and they hold up over time. I am in LOVE with the Laguna Blue fabric and the modern feel that it gives to the Elite.
You can find more info on the Contours Options Elite on the Contours Baby site. Watch their official Contours Opitons Elite video review on their YouTube channel.
Win! Contours wants YOU to fall in love with the Options Elite as much as I have so they are giving one lucky reader a $100 Babies R Us gift card so you can purchase one at Babies R Us!