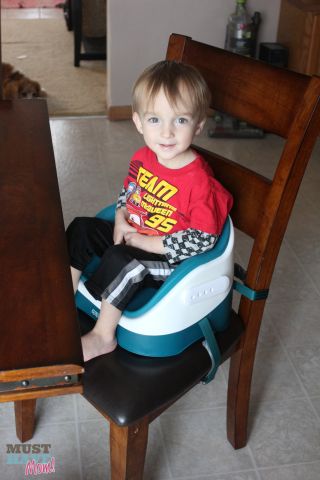 Moving your toddler from the high chair to the table is a big step towards being a "big boy". We loved that Carson was contained when he was in his high chair and was deterred from leaving his seat every few minutes during meal time. It also helped contain the mess he made while eating. Now that Carson is two years old it was time to ditch the high chair (after finally finding the perfect wooden high chair that I loved!) and move him to the table like a big boy. Mamas & Papas has the perfect seat that helped him make the transition, the Mams & Papas Baby Bud.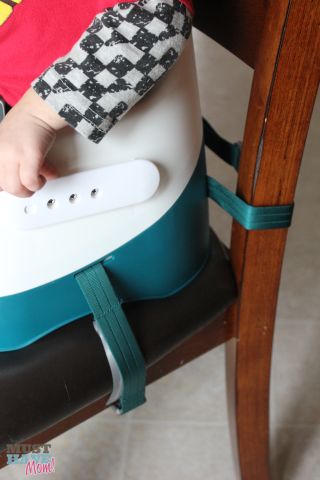 The Baby Bud was easy to set up and secure safely to the dining room chair. It hooked around the back of the chair and underneath.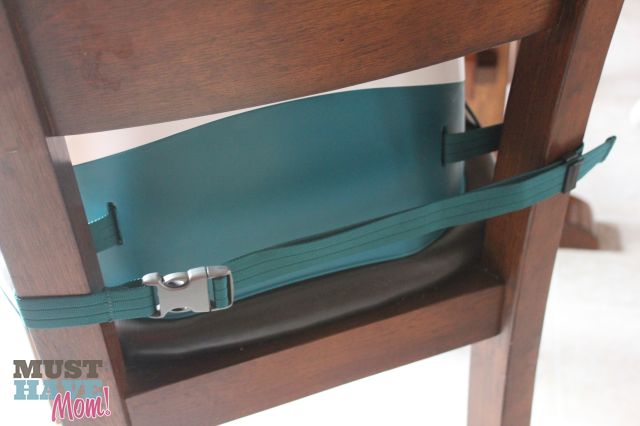 I also appreciated that they include clips on the straps to hold the excess strap once you fit it to your chair so you don't have any unsightly straps hanging from your chair.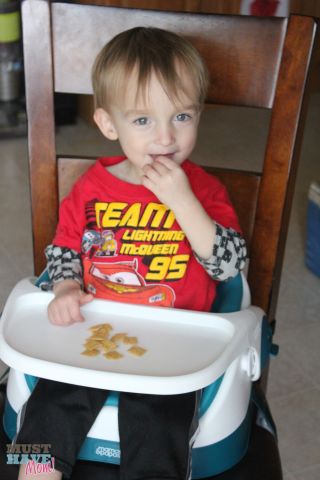 With Thanksgiving coming up this week I can say this is the perfect time to look at ditching your bulky, space hogging high chair. The Baby Bud allowed us to get rid of the high chair which took up extra space and move to a much smaller, space saving chair. It is a three stage seat that grows with baby so you can use it as your child grows and accomplishes new stages. There are three distinct stages – stage one: seat with comfortable molded insert and tray (as shown above), stage two: insert removed with tray and stage three: insert and tray removed to bring baby to the table – the Baby Bud grows with baby. Carson is so tiny that he fit comfortably with the insert in the seat. It fit him really nicely and I like that it has a removable insert for toddlers that are larger than him. He is on the tiny side and I can see how the insert would need to be removed for many two year olds.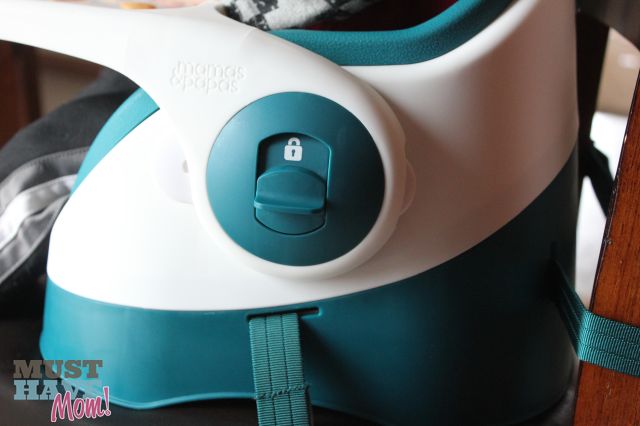 The tray is easy to slide into place and I loved that it has a lock feature so they can't kick it off the chair and send their food flying. You can easily see when it is locked in place. This seat is also ideal for younger babies to be at the table with toys on the tray. It has a three point harness that holds them securely in place. Carson is a little old for the tray and this is a great booster to bring him to table level. It's also really portable so it's ideal for bringing along to Thanksgiving or a restaurant when you eat out. I love how easy to clean it is with no nooks and crannies that collect crumbs.
You can buy the Mamas & Papas Baby Bud on Mamas & Papas site or at Babies R Us!
How old was your child when you moved them from their high chair to the table?