Do you remember the moment you found out you were pregnant? Do you remember the emotions that flooded in at that very moment? Did you feel excited? Scared? Joyful? Anxious? There are so many different emotions that you go through in a matter of moments when you first lay eyes on that positive pregnancy test. I can remember those moments with each of my children and this baby is no different. This is our fourth (and final!) baby and this pregnancy has flown by. Having three other little ones to look after means that time flies and before I knew it I was already 6 months pregnant! I think back to the moment I found out I was pregnant and savor it as it will likely be my last time experiencing that joyful moment.
My husband and I had decided we were done having children after Carson, our third child, was born. I wanted at least one more but he felt three was a lot of work and was happy at that number. I made peace with that and was truly okay with it other than the occasional baby fever I got. Then one morning my husband went into Carson's room to get him out of his crib and he sat down at the kitchen table where I was eating my breakfast. He looked at me and said four words I never expected to hear that morning (or ever), "Let's have another baby". I was caught off guard and didn't expect him to ever want one more baby. I didn't believe that he truly wanted another baby and told him I expected his mind to change soon. He told me that something happened that morning when he went to get Carson and he really wanted another baby. I was excited but cautious. I expected he would change his mind and I would be let down if I got too excited about it. I made him wait a month before I entertained the idea and when he was still standing on solid ground that he wanted another baby, I let myself get excited. Really excited. I had always longed for another baby and now my wish was going to come true.
I was on hormones to prevent me from ovulating so I needed to stop those and wait for my cycle to return. The waiting was tough! My cycle was irregular as it returned and I wasn't sure I was even ovulating because my cycle would come and go every other week and was so abnormal. I was getting frustrated with my body and lack of ovulation or a regular cycle. I had one pregnancy test in the cupboard and one morning I was so sick of that pregnancy test staring me in the face each morning that I decided to take the test just so I wouldn't have to look at it each morning while I waited for my body to cooperate. Unbenounced to me I was pregnant! I had no clue how far along I was because despite my earnest attempts to get pregnant, my body wasn't on a normal cycle and I hadn't had a real menstrual cycle in a couple of months. I had taken pregnancy tests between my last cycle and this positive pregnancy test and they had come back negative. I didn't have a date to base how many weeks pregnant I should be. I was sooooo anxious to find out how far along I was and I was hoping I was further than I thought I was.

How I wish I had the Clearblue Weeks Estimator at the time! I didn't even know about it and now that I do I can see the value in this pregnancy test. What sets this apart from the run of the mill pregnancy test that I took is that it tells you approximately how many weeks since you ovulated. Had I taken this test I would have known about how far along I was! Instead I was stuck waiting for my doctor's appointment where they drew blood and did an ultrasound to date my pregnancy. Of course in the mean time I was extremely impatient and anxious waiting for that darn appointment and then waiting longer to hear the results! With the Clearblue Weeks Estimator I would have had a general idea of how far along I was and that would've eased my anxieties while waiting for my first appointment.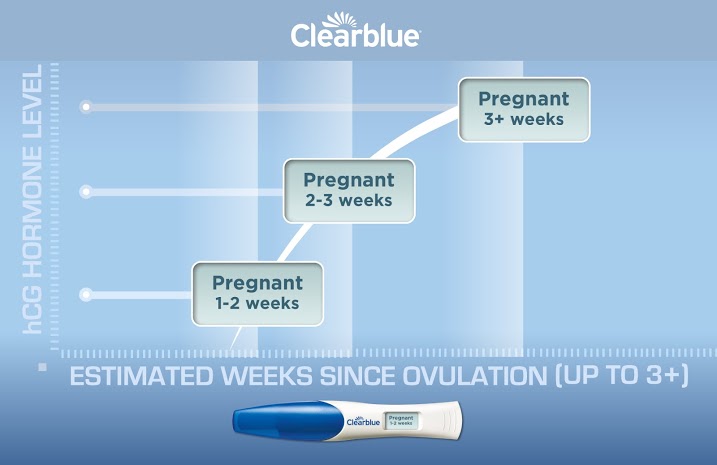 If you are trying to conceive then pick up the Clearblue Weeks Estimator. It will tell you if you are pregnant or not and also estimate how many weeks since you last ovulated. It displays in an easy to read window with no codes or lines to decipher! I wish I had it! You can find the new Clearblue Weeks Estimator at CVS.com or your local CVS Pharmacy.
Now that moment is already six months behind me and I here I sit six months pregnant and counting down to my little BOY's arrival! He has a name and his nursery bedding is on the way. It's so much fun to plan for my new little arrival and anticipate all of his firsts. Before you know it I'll be announcing his birth here. Time flies by way too fast!
Do you remember when you first found out you were pregnant? How did you feel?
I was selected for this opportunity as a member of Clever Girls Collective and the content and opinions expressed here are all my own.