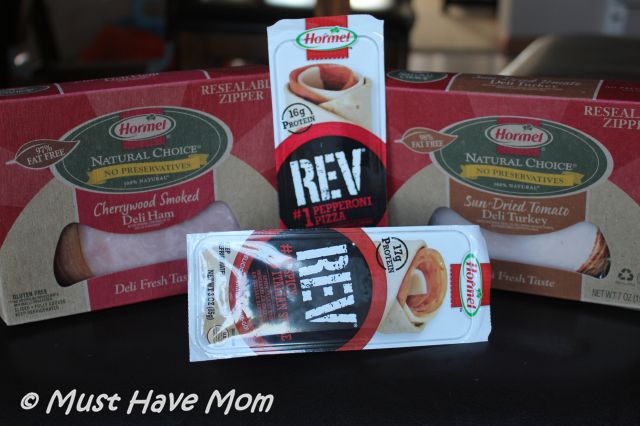 With back to school comes packing lunches. It's one thing that I really dislike! It seems that after no time the lunches become boring and you repeat the same things over and over again. Then when you add in a picky eater, things can get even harder! So this year Hormel is here to help! They have great lunch options for every eater.
To start off on the right foot I always start packing lunches the evening before. That eliminates the morning scramble and leaves me feeling much more organized in my morning haze. Hormel can help out when you get in the lunch time funk and can't come up with any great meal ideas.
Hormel® Natural Choice® deli meats (available in two new varieties-cherrywood smoked ham & sundried tomato turkey): did you know that the Hormel® Natural Choice® line has zero preservatives and no artificial colors or flavors? These delicious deli meats are perfect for sandwiches and wraps.  When paired with other healthy options like whole grain breads, and a side of fresh fruit with non-fat yogurt as a dip, a sandwich of Natural® Choice® deli meats can be the foundation of a healthful lunch.
Hormel® pepperoni stix: these individually wrapped portions are the perfect size to pop in a lunchbox and are packed with protein. Also available in turkey pepperoni!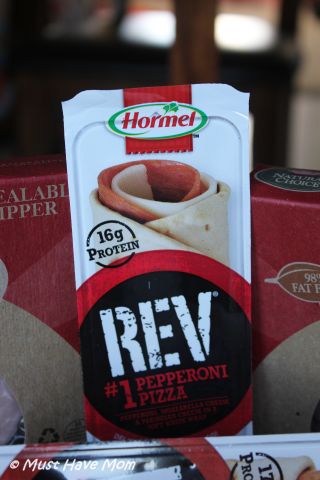 Just last month, Hormel Foods introduced a brand new product: Hormel® REV® wraps. Hormel® REV® wraps  are the perfect after school snack to fuel an active lifestyle with 15 grams of protein or more in each wrap, providing real, sustaining energy. They are available in eight different, delicious varieties!
Hormel® Compleats® cheesy pasta: made with real cheese, the new line offers a variety of satisfying flavor selections for consumers to choose from. Varieties include: Macaroni and Cheese, Smoky Bacon Parmesan Rigatoni, Creamy Cheese and Basil Tortellini, Three Cheese Chicken
Pasta, Cheesy Ravioli and Italian Herb and Cheese Rigatoni.
In addition, Joan Hanson, director of the Hormel Foods Test Kitchen, has compiled a list of a few tips to ensure kids enjoy their lunch (and don't trade them or throw them away!) To keep your kids healthy, but still happy, combine taste and nutrition:
• Make It Unique: Mix up the classic sandwich by using a whole grain bagel or wheat tortilla as the bread. Pile on preservative-free Hormel® Natural Choice® Deli Ham with kid-friendly condiments.
• Keep It "Cool": A small frozen water bottle in a colorful insulated lunch bag will keep food cool and give your child needed fluid to get through recess.
• Leave Some Love: Add a note from home or a colorful sticker to add some fun and love to your child's lunch.
What tips do you have for packing lunches that aren't boring?!