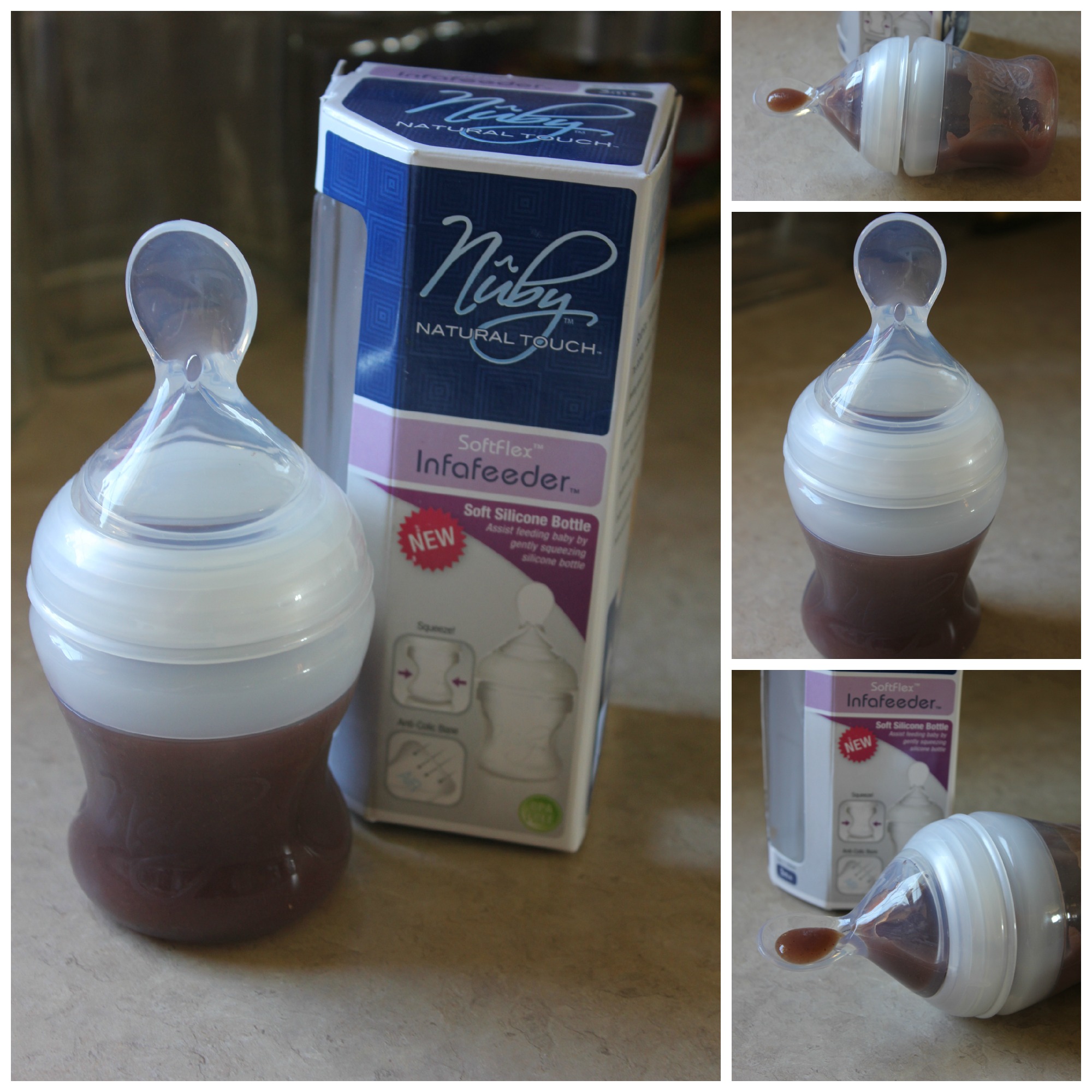 From the time that my oldest daughter Danika could eat baby food I was busy making it. I took pleasure in knowing exactly what went into her baby food and knowing that there weren't any unnecessary ingredients used to make it. It was all just natural food that was grown in our gardens. In talking to other moms I found that most found the thought of making their baby's baby food from scratch to be too bothersome or time intensive. They were always surprised to hear how easy it was. One thing that took a little trial and error was taking it on the go. Sure, jarred baby food from the store was convenient. It didn't have to be kept cold and you could just toss it in your bag. That didn't stop me from making my own and finding great solutions though. Nuby has some fantastic products that really make feeding and traveling with your homemade baby food much easier. Read on for all of my tips for feeding baby on the go and how to make your own baby food from scratch. It's easy, I promise!
Making your own baby food is not a science. It's all about steaming your veggies, pureeing them and freezing them. Read my detailed posts on how to make homemade baby food and how to make homemade baby food part 2. Then come back here for my tips on feeding and traveling with your homemade baby food. Really, go ahead. I'll wait 🙂
Now that you know how to make your own baby food I'll show you the easiest ways to feed it! I LOVE the Nuby SoftFlex Infafeeder. It takes the concept of having the baby food in the pouches that squeeze out onto the spoon and makes it quick and easy to use your own food. You can also use food from a jar if you don't choose to make your own food. You fill the Infafeeder with the food, screw on the lid and gently squeeze the right amount out onto the silicone spoon. The sides of the bottle are soft so you can squeeze the food out easily and the silicone spoon is soft and flexible for sensitive baby gums. This is convenient and easy to use. I absolutely love it. It's also great for on the go feeding because it eliminates the need for a bowl and spoon to feed baby which often get spilled and are messy. Toss this in a zip top bag after you use it and wash it once you get home.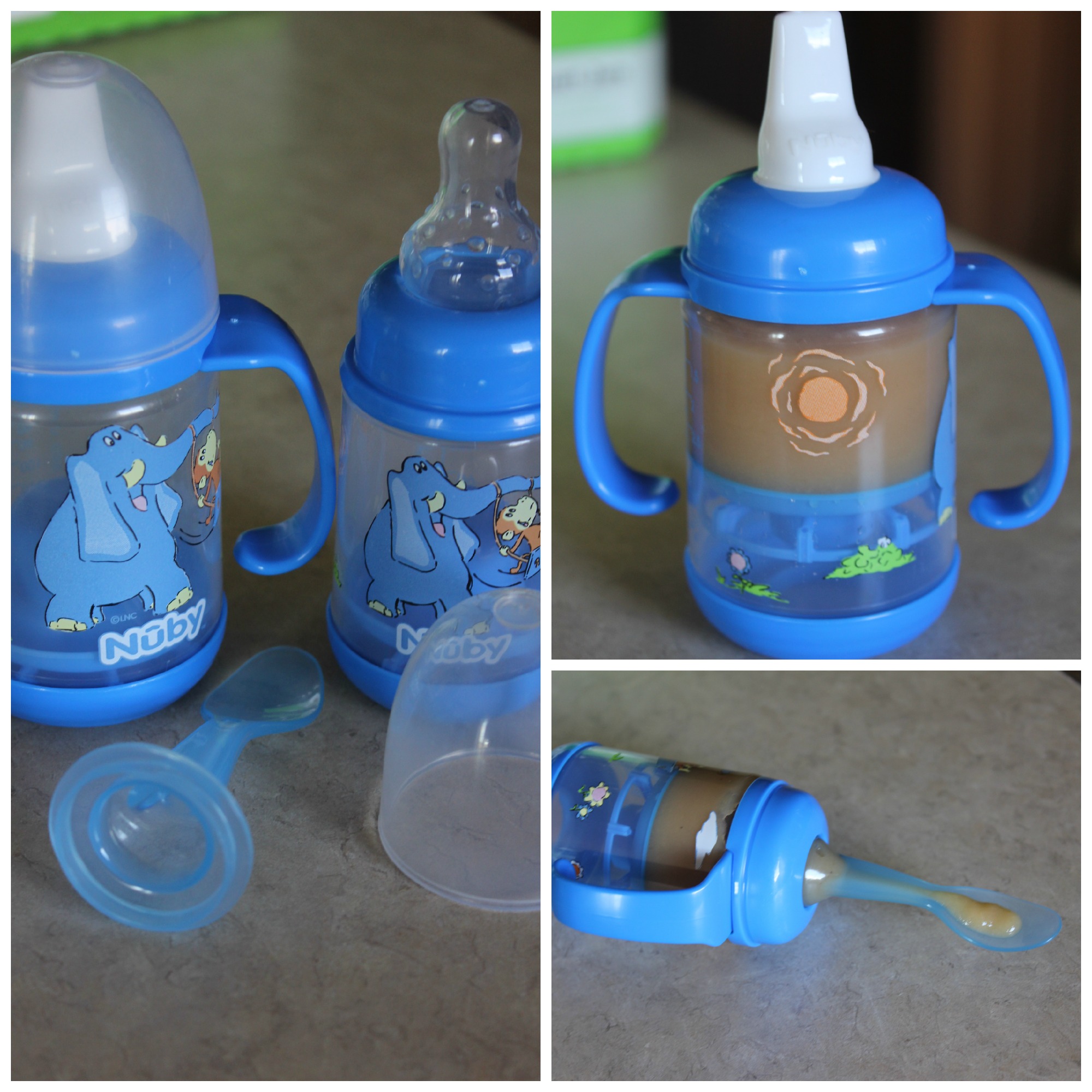 The Nuby Infant Feeding Set is another gem for feeding baby. These are great for on the go. If you aren't in a location that makes it easy to feed baby from a spoon then you can use the nipple top and thin the food with water or breastmilk and place it in the bottle. Your child can then drink their meal as opposed to spoon feeding it. You also have the option to use the spoon top and squeeze the food out onto the spoon and feed it. It is similar to the Infafeeder but this bottle uses a bottom that you push up to get the food out rather than squeezing the bottle. I like the Infafeeder better for the spoon feeding option but this one is great for thinning the food and nipple feeding it. There have been so many times that I'm out and about with nowhere to sit and spoon feed my baby and this is perfect for those times. I of course don't recommend nipple feeding your baby all of their meals because they need to learn the important skill of spoon feeding, however when on the go this is a great mess free option. This is only available at Baby Depot at Burlington however they also have it on Amazon.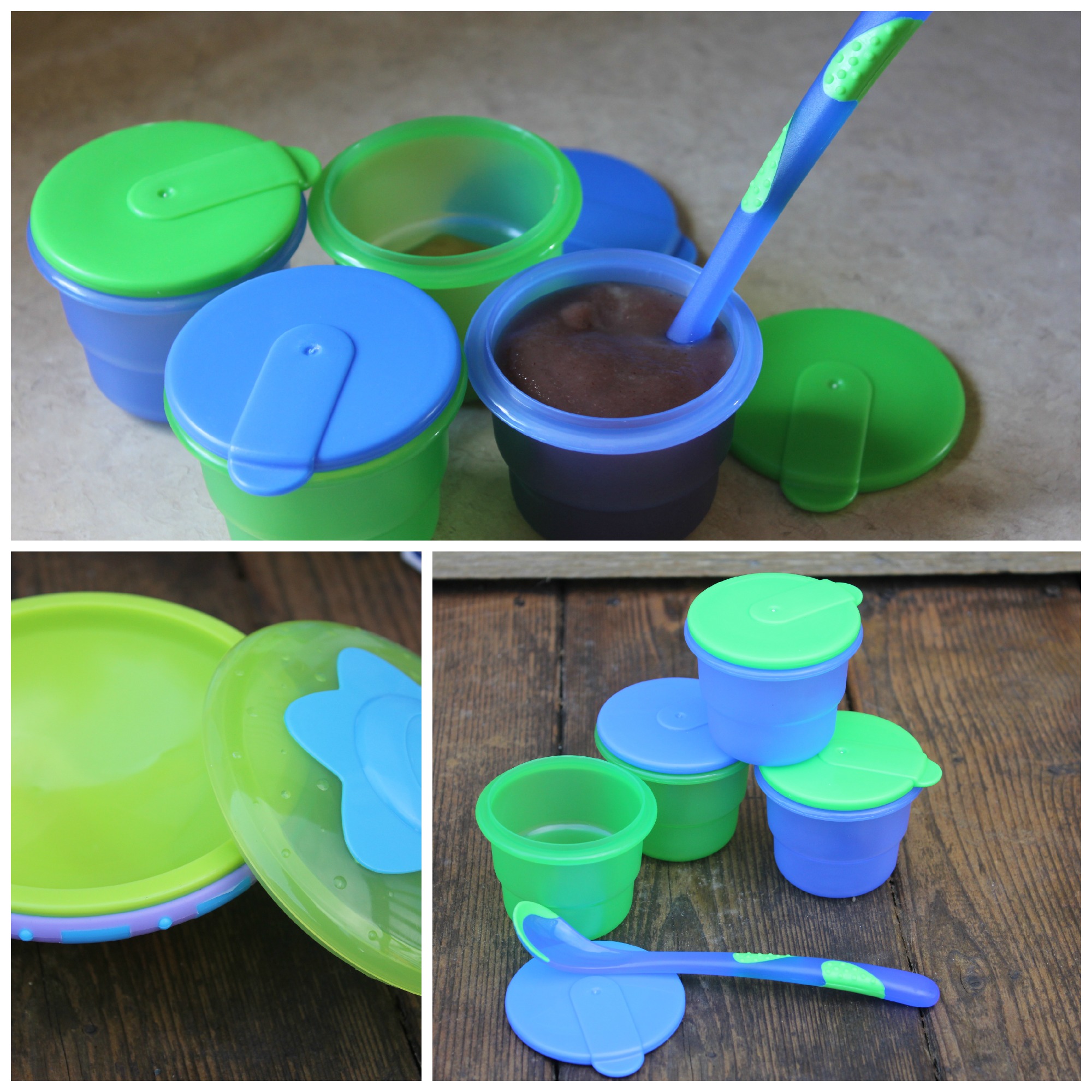 Okay now on to storing and taking food with you on the go! These Nuby storage bowls are dishwasher, freezer and microwave safe which makes them perfect for storing your food and taking it on the go. The lids snap tight on them and they are the perfect serving size similar to a jar of baby food. Put your homemade baby food into these storage bowls and freeze them. When you are ready to serve it just take it out and microwave it and serve to baby. These are also great for on the go. You can take them in the diaper bag and let them thaw for baby to eat. The Wacky Ware bowl is microwave safe with a tight fitting lid which makes it perfect for popping your frozen cubes of baby food into for heating and serving to baby. It also makes the perfect snack bowl! I fill it with puffs and toss it in the diaper bag so my baby has a snack on the go.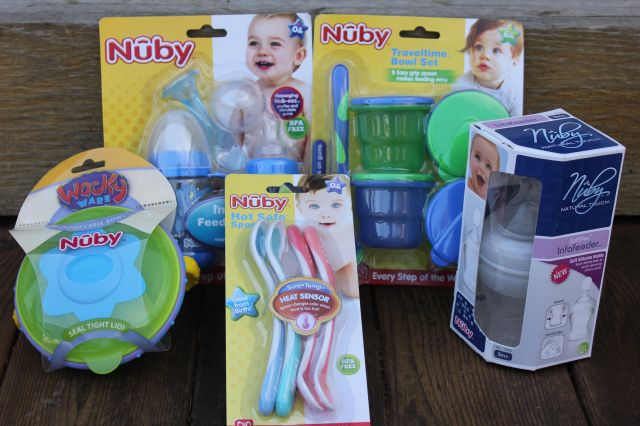 My favorite spoons for feeding baby food are the Nuby Hot Safe Spoons because they change color when the food is too hot for baby. The also have a soft tip for sensitive baby gums and I love that the handle is long enough to reach into deeper jars and bowls without getting moms fingers messy.
With this collection of feeding products from Nuby feeding baby on the go is a breeze even if you do make your own homemade baby food. You will save a fortune by making your own food rather than buying it. You can make a month's worth of food for the price of a handful of jars of baby food. Not to mention that you know there are no unnecessary preservatives or chemicals in your baby's food. Give it a try!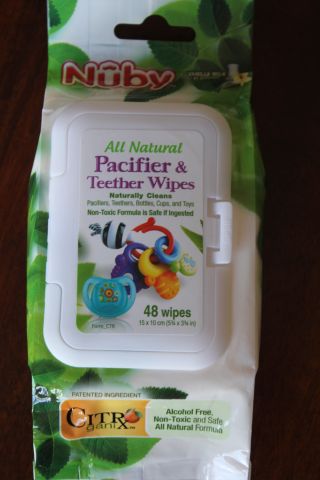 One other product from Nuby that you will want to toss in the diaper bag when on the go with baby are the Pacifier & Teether Wipes. These are perfect for when baby's toy or binky falls on the ground and you aren't near a sink. They also work great for wiping down your spoon or Infafeeder.
You can get these Nuby products at stores near you or on Amazon. You can check the Nuby site for store availability as several products are only sold at select retailers.
These make a perfect baby shower gift idea too! I love to write out some baby food recipes on cute recipe cards and include them with a bundle of these items for feeding baby. It makes the cutest gift!
Win! One reader will win your choice feeding item that I reviewed! Good Luck!