This post brought to you by Luvs®. The content and opinions expressed below are that of https://musthavemom.com/.
Have you ever tried Luvs® diapers? If you have then you know they offer super absorbent protection against leaks AND a great value in one. If you haven't tried them, then you are missing out! Diaper costs can add up in a hurry and Luvs® aims to provide your baby with the protection he or she needs without the hit to your pocketbook. Now they've made the value of their diapers even better with the introduction of their new Luvs® Loyalty Program!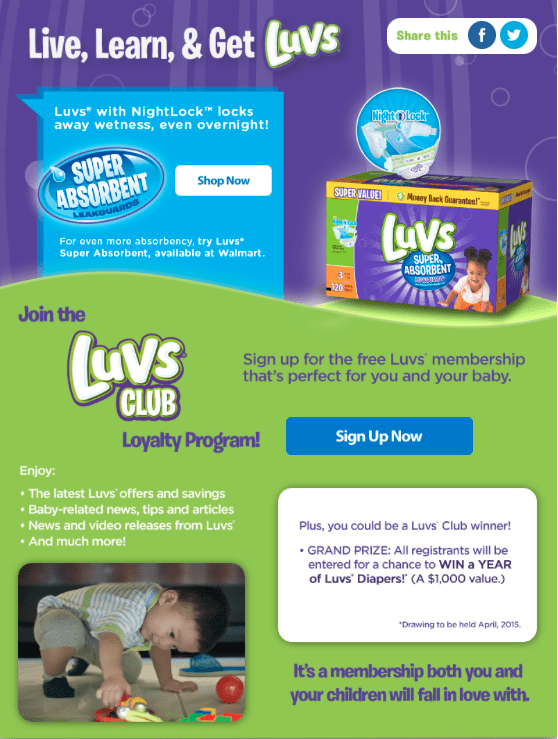 I signed up for the loyalty program so I could receive Luvs® latest offers, savings, baby related news, tips and articles and lots more! As an added bonus (as if I needed more incentive to sign up), everyone who signs up for Luvs® Loyalty Program is also entered to win a YEAR of Luvs® Diapers! That's a $1,000 value! Who wouldn't like an extra $1,000 in their wallet? I'm sure we all could use that! How nice would it be to quit buying diapers for a year? Well if that isn't enough to send you clicking over to sign up for the Luvs® Loyalty Program then I don't know what is!
Signing up is easy. Click this link and you'll be taken to a website and see the above screen. Click "Sign up Now" and a pop up window will appear where you can fill in your details to register.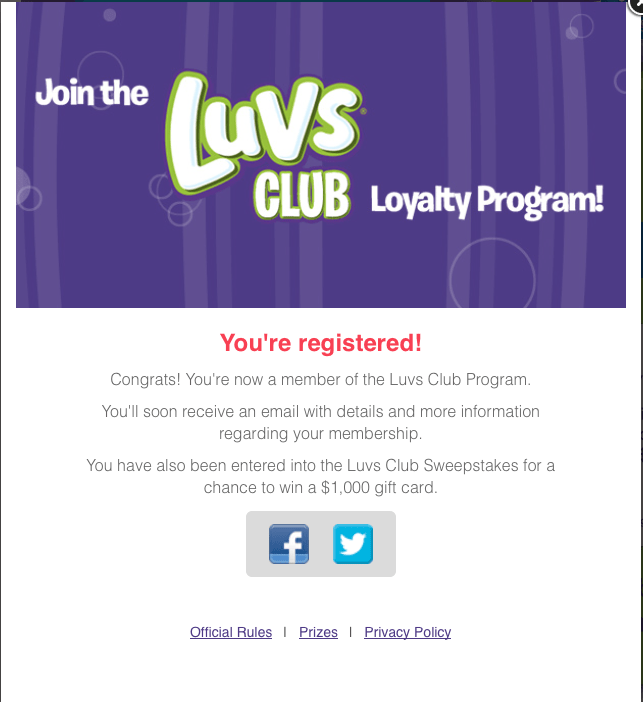 When you are done you'll see this screen appear! You can then share it on Facebook and/or Twitter if you have other mom friends that you know would like to sign up! All in all the sign up process took maybe a minute at most! It's an easy entry to win a year supply of diapers AND get savings delivered to your inbox. It's a win win! Head over and sign up now #LuvsClub!
Do you have a baby in diapers?