September is Childhood Obesity Month so in keeping with the theme of keeping kids healthy and active I am sharing this less sugar brownies recipe with you! You can have all the flavor of brownies that you love, but without all the sugar. My kids loved these and told me I'm the best brownie maker ever! Your kids won't know there is less sugar in them because you don't have to sacrifice taste in order to create a reduced sugar brownies recipe.
To make the less sugar brownies you will need unsalted butter, 60% dark chocolate, sugar, Monk Fruit In The Raw, Eggs, Vanilla and Flour.
Monk Fruit In The Raw is a wholesome, zero-calorie sweetener, made with real fruit. It has a simple, sweet taste that can be used in any recipe that calls for sugar. It can be used cup for cup just as sugar is used. I like that Monk Fruit In The Raw has a simple ingredients list – no table sugar, molasses or sugar alcohols added. It isn't a fake, chemical laden sugar substitute. Instead it is derived from Monk Fruit and blended with natural ingredients. It is something I can feel good about serving my family.
First melt your butter in the microwave in a medium glass bowl. Then add your finely chopped dark chocolate and let stand for 2 minutes. Then whisk until smooth and add remaining ingredients according to the recipe.
Pour into a greased 8X8 pan and cook for 22 minutes or until a toothpick inserted in the center comes out clean.
Serve with a glass of milk and enjoy!
Print this recipe off now or pin it and save it for later!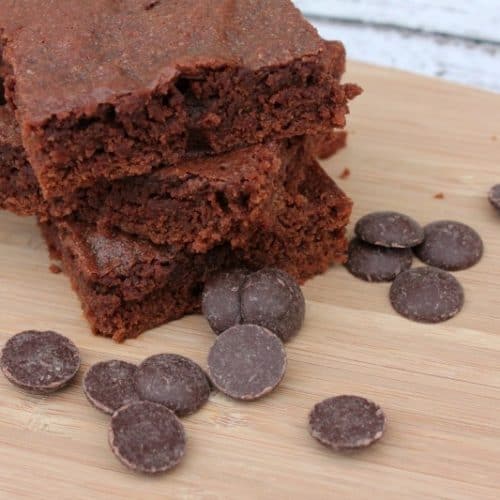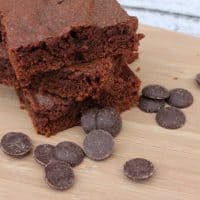 Less Sugar Brownies Recipe
Less sugar brownies recipe that doesn't sacrifice taste.
Ingredients
7

tablespoons

unsalted butter

4

ounces

dark

60-62 percent chocolate, finely chopped

1/2

cup

sugar

1/2

cup

Monk Fruit In The Raw® Bakers Bag

2

large eggs

at room temperature

1

teaspoon

vanilla extract

1/2

cup

unbleached all-purpose flour
Instructions
Place a rack in the center of the oven, Preheat the oven to 350• F. Coat an 8-inch square baking pan with cooking spray.

Melt the butter in medium-size microwaveable bowl. Add the chocolate and let stand for 2 minutes. Using a whisk, stir vigorously until the chocolate is melted and the mixture is smooth. If necessary, let stand until lukewarm, 3-5 minutes.

Whisk in the sugar and Monk Fruit In The Raw® Bakers Bag. One at a time, whisk in the eggs. Stir in the vanilla. Using a flexible spatula, mix in the flour; leaving some white streaks is better than over-mixing. Spread the batter in the prepared pan in an even layer.

Bake for 22 minutes, or until a toothpick inserted into the center comes out almost clean. Set the pan on a wire rack and cool completely. Cut the brownies into 12 squares.
Have you ever tried baking with Monk Fruit In The Raw? It's delicious! It can be used in baking, in your coffee, or anywhere you would use sugar. You can find Monk Fruit In The Raw at retailers near you. My local Walmart carries it.
You can connect with Monk Fruit In The Raw on Facebook or Twitter @InTheRawBrand to learn more!
What recipe would you love to use Monk Fruit In The Raw in instead of sugar?