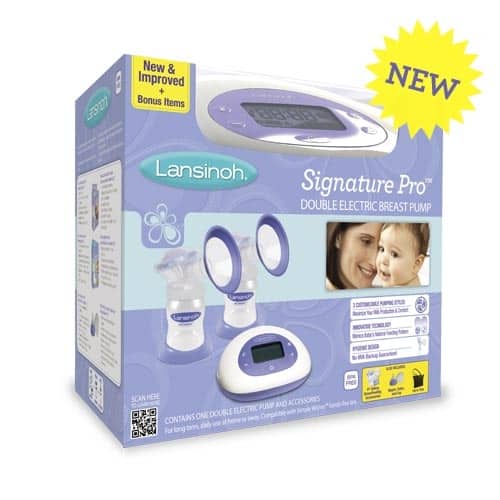 If you plan on breastfeeding then give some thought to whether or not you need a double electric breast pump. I've used one with each of my four kids and I would not have been able to stockpile breastmilk in my freezer if I hadn't. Moms returning to work and desiring to continue breastfeeding definitely need a quality breast pump. Moms that stay home with their kids (like me) can also benefit tremendously from having a breast pump. I use mine to pump and stockpile breastmilk as well as to pump while I am away from baby in order to keep up my supply.
Lansinoh just released their brand new Signature Pro Double Electric Breast Pump and I couldn't wait to try it out! I felt like a kid on Christmas when it showed up at my door. Breastmilk after all is like liquid gold and the chance to stockpile it in my freezer can't be passed up.

MY LATEST VIDEOS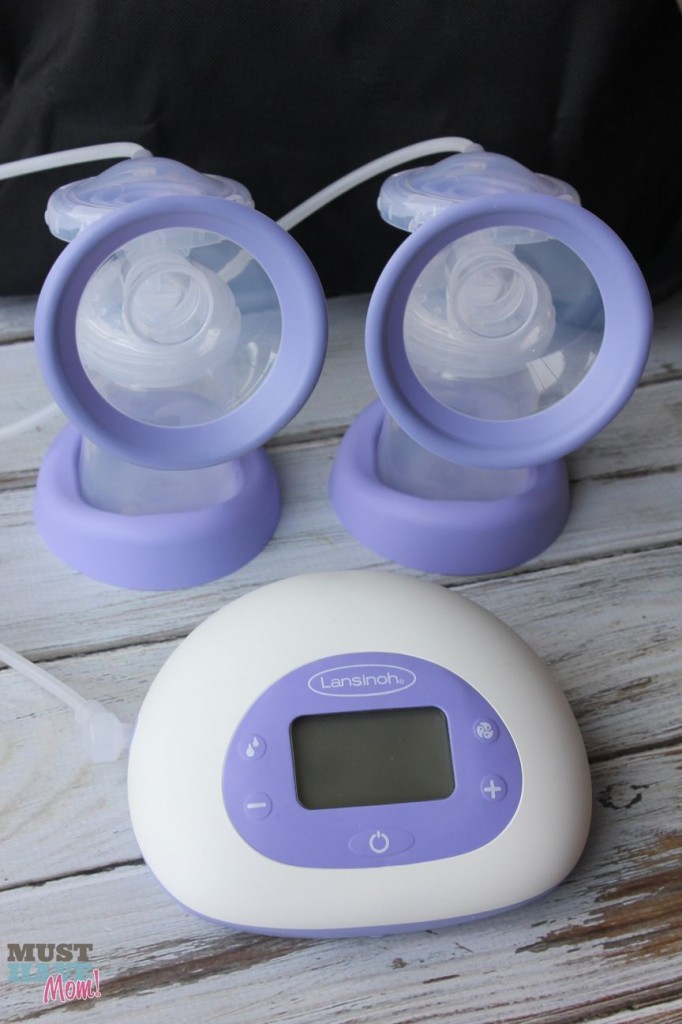 After looking through all the features this pump offers one thing is clear. Lansinoh knows breastfeeding. I have long trusted their name to provide me with my favorite nursing accessories, like the disposable nursing pads, lanolin cream and breastmilk storage bags to name a few, but I hadn't ever used one of their breast pumps. It just makes sense that I would also love their breast pump. They understand a nursing mom's needs and they've worked in features in this pump that make all the difference.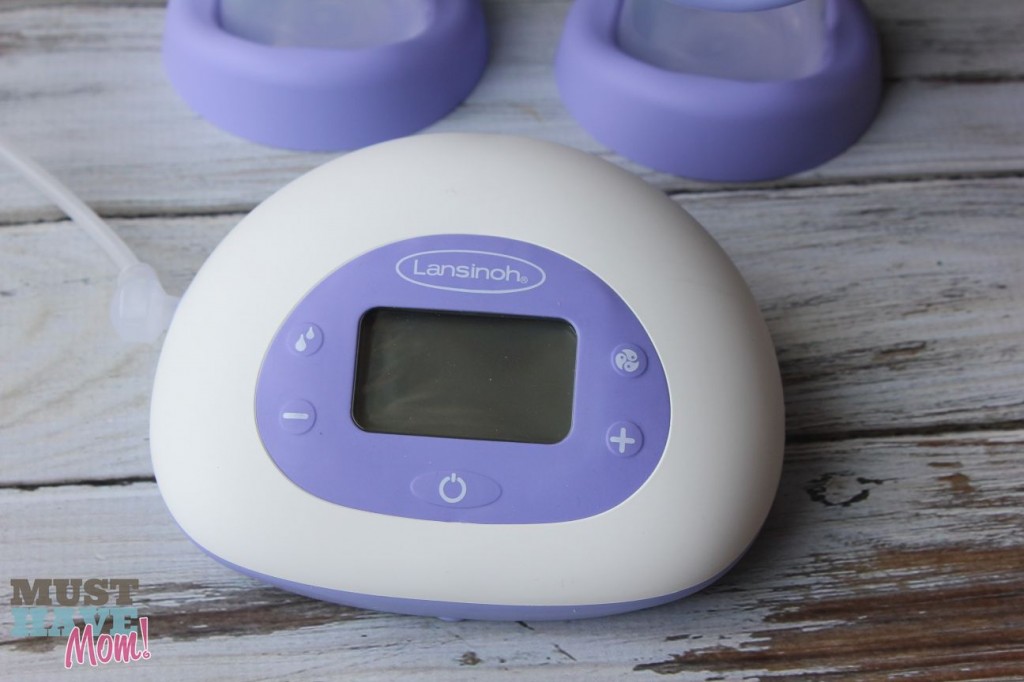 Signature Pro™ is the only pump with three customizable pumping styles to maximize your milk. The pump starts off with a cycle to mimic your baby nursing and allow for your milk to letdown. It then switches to a different cycle optimal for milk expression. If your milk lets down before the 2 minute programmed stimulation cycle switches you can just hit the button to change to the expression cycle.
The pump allows you to adjust the suction to your preference and adjust the cycle. This allows for a comfortable pumping experience tailored to your individual needs. I love that I can adjust the suction to the level that is comfortable for me. The LCD Screen with timer keeps track of time so you know how long you've been pumping. A must for me is the hygienic design which guarantees no milk will backup in the tubing or motor. Their innovative technology mimics baby's natural feeding pattern which makes pumping easier and more natural.
The pump can either be plugged into the wall or you can use AA batteries for on the go use. It can also be used to double pump or single pump. The tubing allows you to close off one side and pump one side while nursing on the other.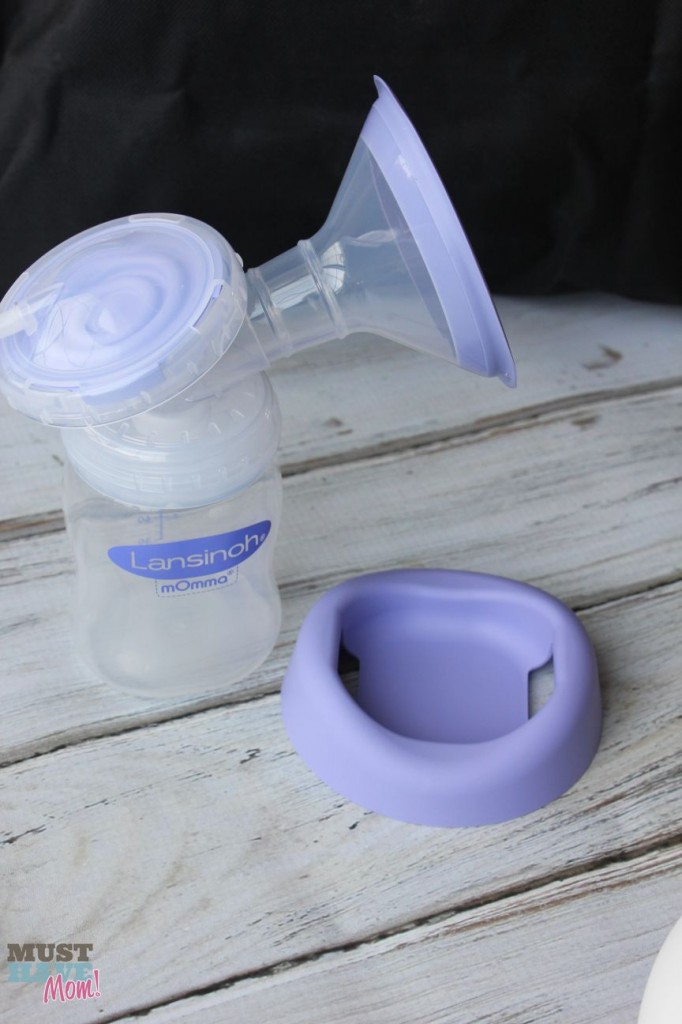 When I said they've thought of it all, they really have. If you have ever pumped then I guarantee you that at one point in time you've tipped over a bottle of milk or two. When I'm done pumping I always set the bottles with flanges attached over on the table and put my bra back in place and fix my shirt. Too many times the bottles are top heavy from the flange and have been easily tipped over spilling my hard earned milk.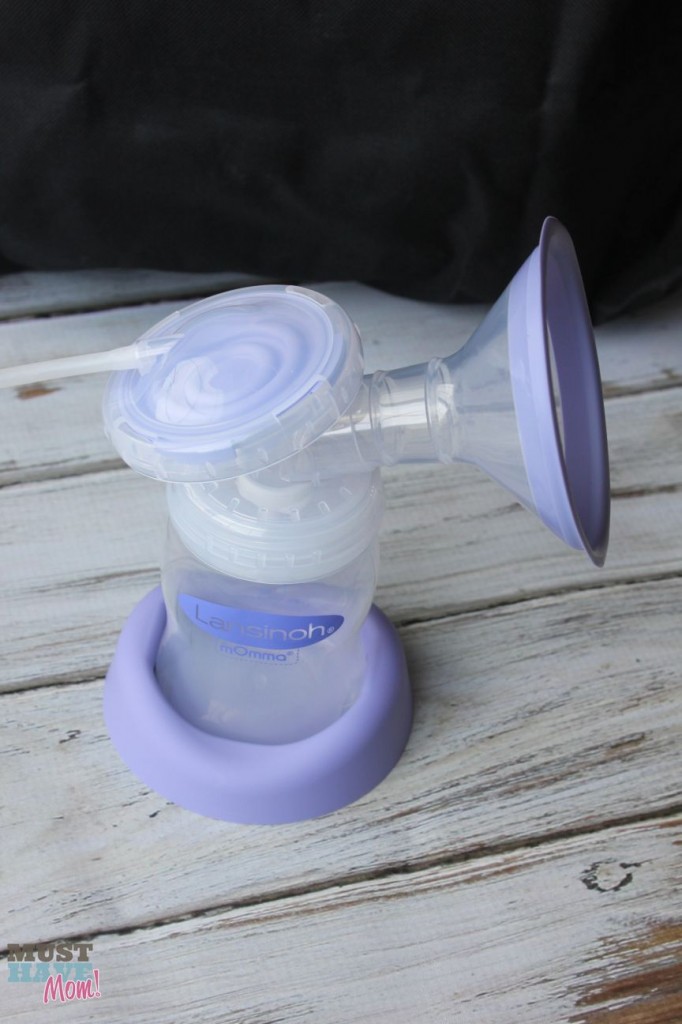 Well, the smart folks over at Lansinoh know a thing or two about us moms and they have solved that problem with this super clever bottle holder base. Just set your bottles into the base and you no longer have to worry about them tipping over! The base holds them firmly in place until you are ready to move them. I love it! It's so simple and so genius.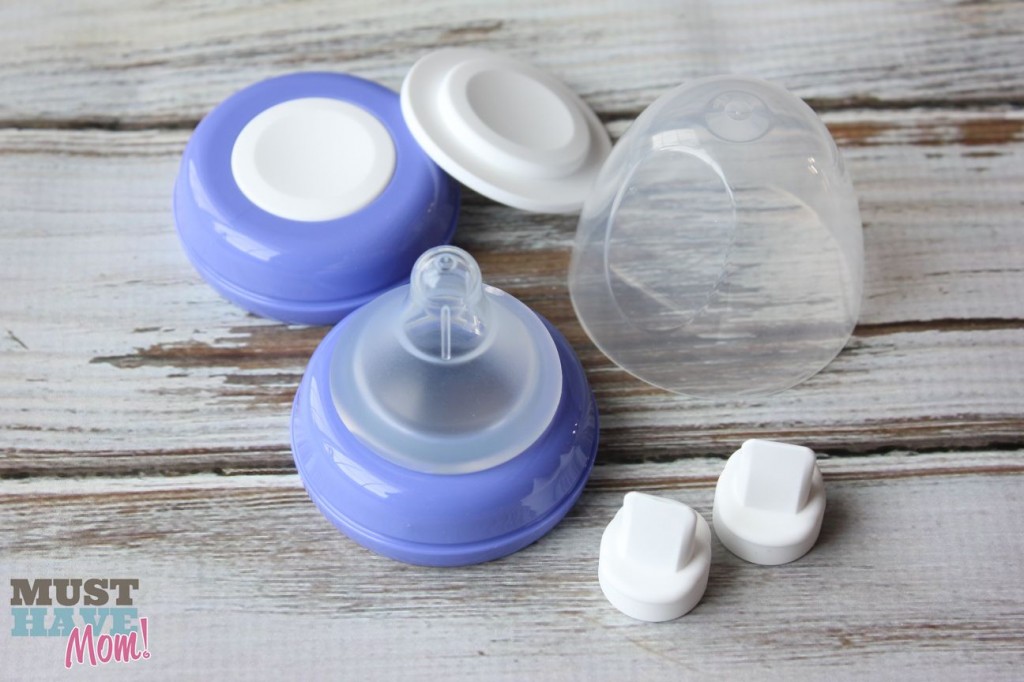 Lansinoh has also created this pump with ease in mind. Their Pump-Store-Feed system allows you to pump directly into bottles and attach the NaturalWave™ Nipple (included with your pump) for immediate use or seal to store until needed. All of these accessories are included with the pump allowing you to easily pump and feed or pump and store.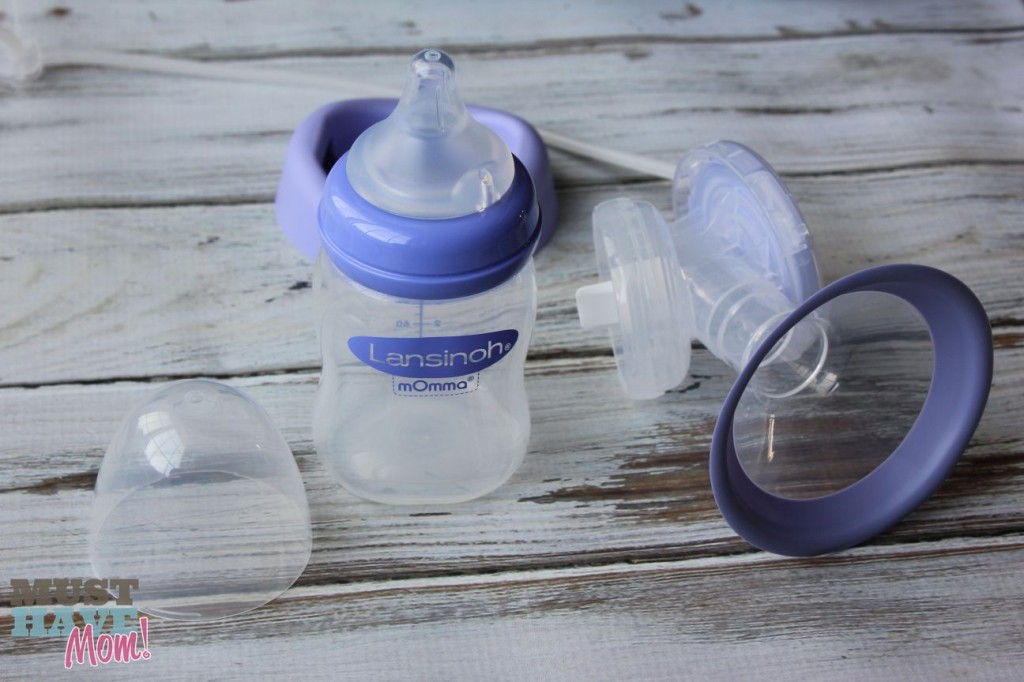 You can simply remove the top of the pump by unscrewing it and screw on the nipple/ring for feeding. The nipple is designed to help baby easily switch from nursing to bottle and back again.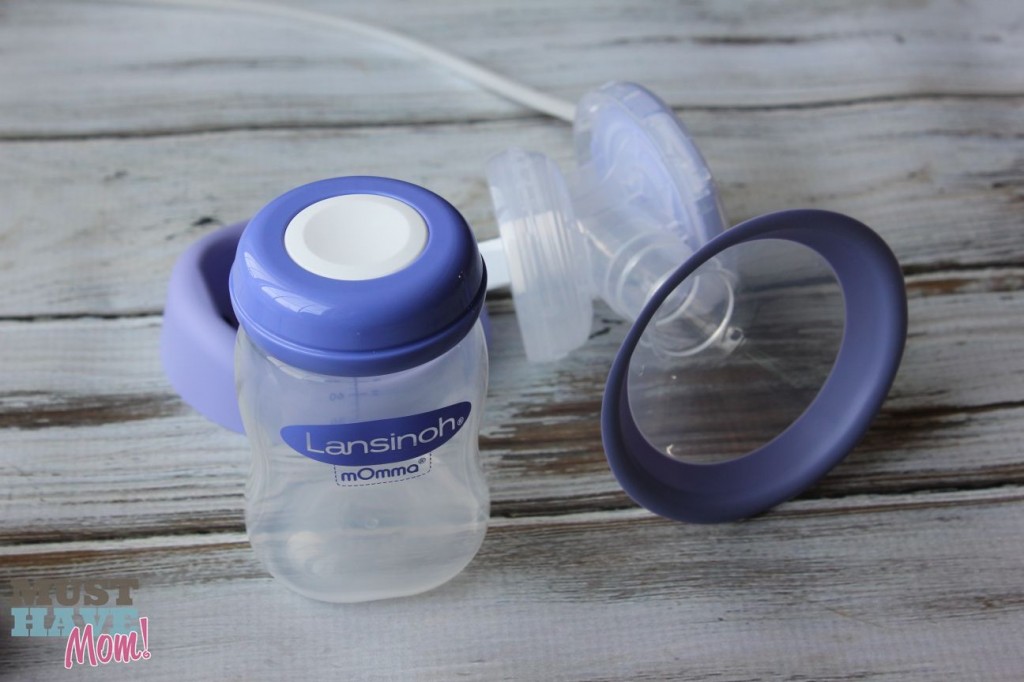 Alternately you can unscrew the top of the pump from the bottle and cover it with the collar and sealing disk for storage. Then just remove the sealing disk and insert the nipple when you are ready to feed it to baby.
Lansinoh has really thought of it all when it comes to this pump. I'm loving all the extra attention to detail that they've worked into this pump. I've been using it everyday to stockpile milk in my freezer and I absolutely love it. It makes pumping comfortable and does a great job at expressing my milk efficiently. In 15 minutes I can get 6 ounces of milk pumped. It's fantastic! It's also easy to clean and assemble. My hubby has been so helpful in washing it while I recover from my c0section and he can easily re-assemble it too!
You can learn more about the Lansinoh Signature Pro™ Double Electric Breast Pump on their site and find a retailer near you that carries it!
What feature most appeals to you?
Win! One reader will win the Lansinoh Signature Pro Double Electric Breast Pump, a box of milk storage bags, and a new Lansinoh mOmma bottle! Enter below 🙂