Do you have a young reader in your house? There is a new book out from James Patterson kids books in his Jimmy Patterson's children's book offerings. Sci–Fi Junior High by John Martin and Scott Seegert is aimed at readers age 8 and up, but advanced readers (like my 7 year old!) will love it too!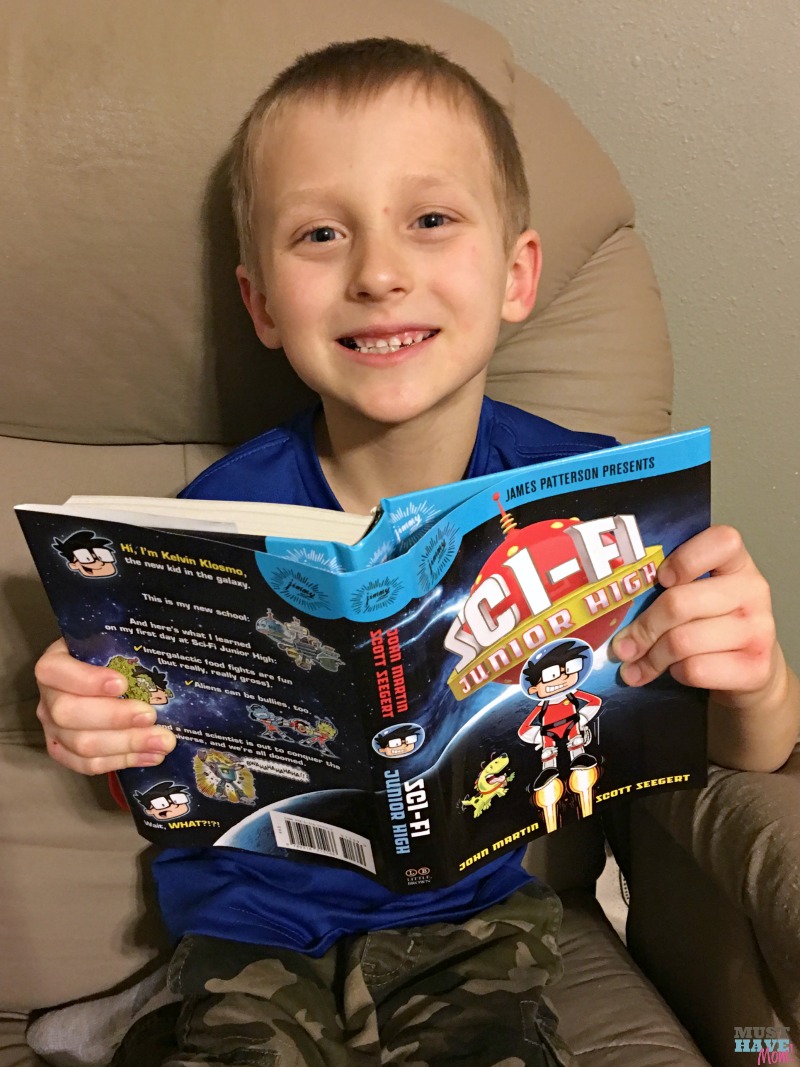 James Patterson Kids Books
Before I ever recommend anything to my readers I always take it for a test drive myself. What better way to test out the quality of this book than to have my kids read it? I intended to let my 8 year old daughter read it, but her brother got his hands on it first! A short fight ensued and my son won out the privilege to read it first. He was thrilled. For school he has a reading goal each month and he reads at bedtime each night to reach his reading minutes goal. Let's just say it was no struggle to get him to pick this book up and read every night! He absolutely loves it.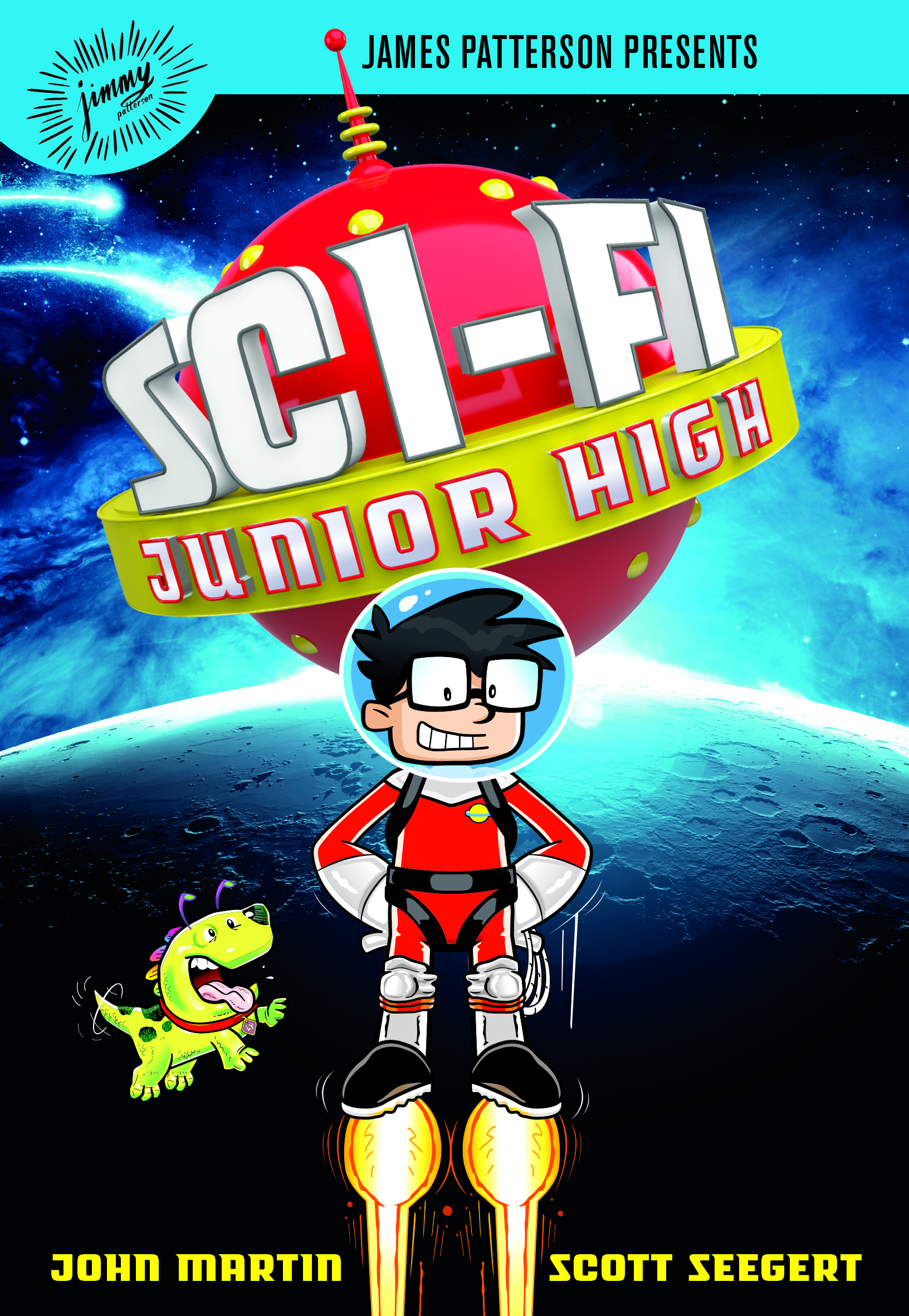 About SciFi Junior High
Presented by James Patterson's new children's imprint, this gleefully illustrated space adventure is a laugh on every page. That's a lot of laughs!
Kelvin Klosmo isn't just the new kid at school – he's the new kid in the galaxy! Welcome to Sci-Fi Junior High: an inter-galactic space station with students of all shapes, sizes, smells, and… slime content. As the son of Earth's two most famous geniuses, Kelvin isn't just the smartest kid in the world….he's the smartest kid in the UNIVERSE. At least, that's what everybody at Sci-Fi Junior High thinks.
So, maybe Kelvin lied a little about being a genius to fit in. And maybe a mad scientist is about to take over the universe unless Kelvin can stop him. Maybe everyone is doomed.
Well, at least Kelvin won't have to worry about math homework anymore.
Sci-Fi Junior High is an out-of-this-world story about friendship, accepting our differences, and the fight against evil… bunnies. Yes, evil bunnies – don't ask.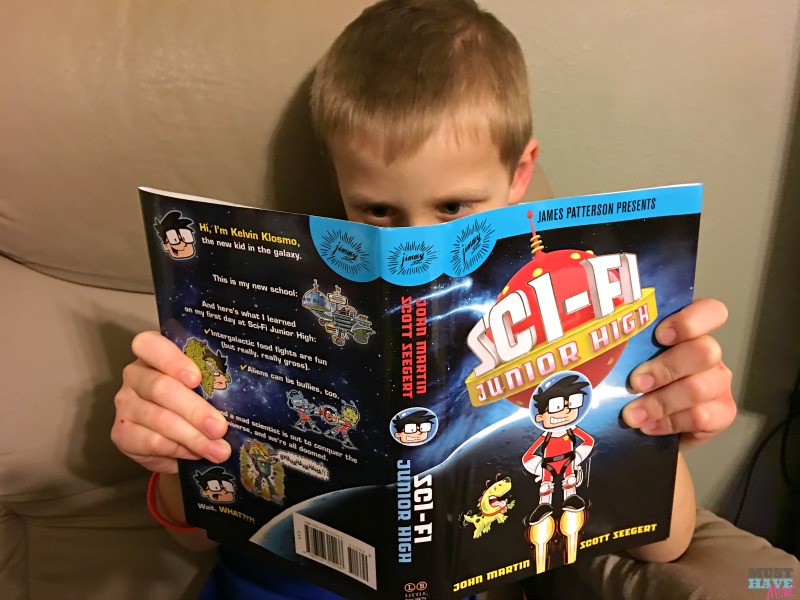 Aiden has been engrossed in the James Patterson kids books Sci–Fi Junior High since it arrived. You can pick up a copy for your child on Amazon or in stores!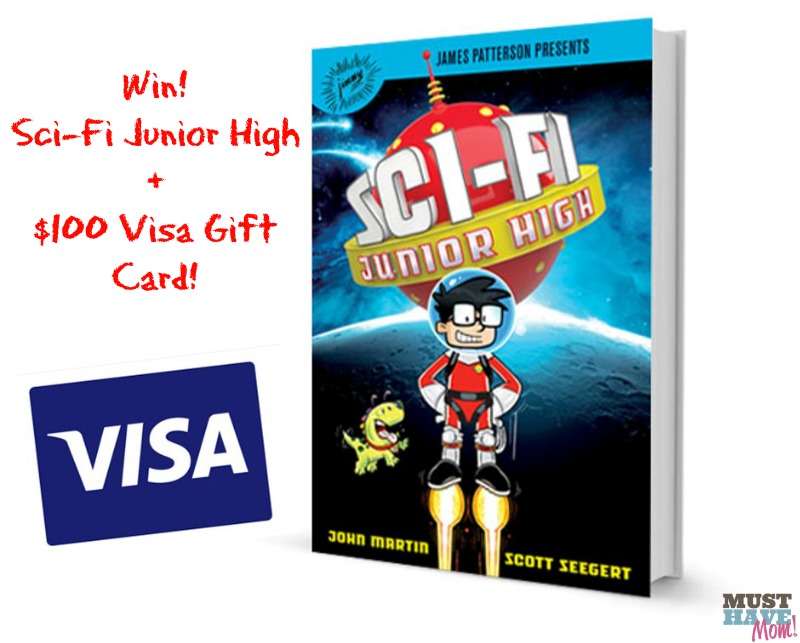 One lucky reader will win a copy of James Patterson Kids books Sci–Fi Junior High AND a $100 Visa Gift Card! Enter to win below!
*Prizing and samples provided by JIMMY Patterson.