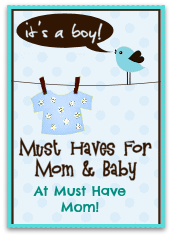 I am going to warn you that I LOVE this product. It's high up on my "must have" list for a few reasons. 1.) You can use it for so much more than baby food and 2.) It will save you a ton of money versus buying the pouches at the store. When Infantino asked me to try out their Fresh Squeezed line of products I already had them on my radar and they were already on my wish list. After trying them out I can say that I would definitely buy them and they also make great baby gifts. Now on to my review 🙂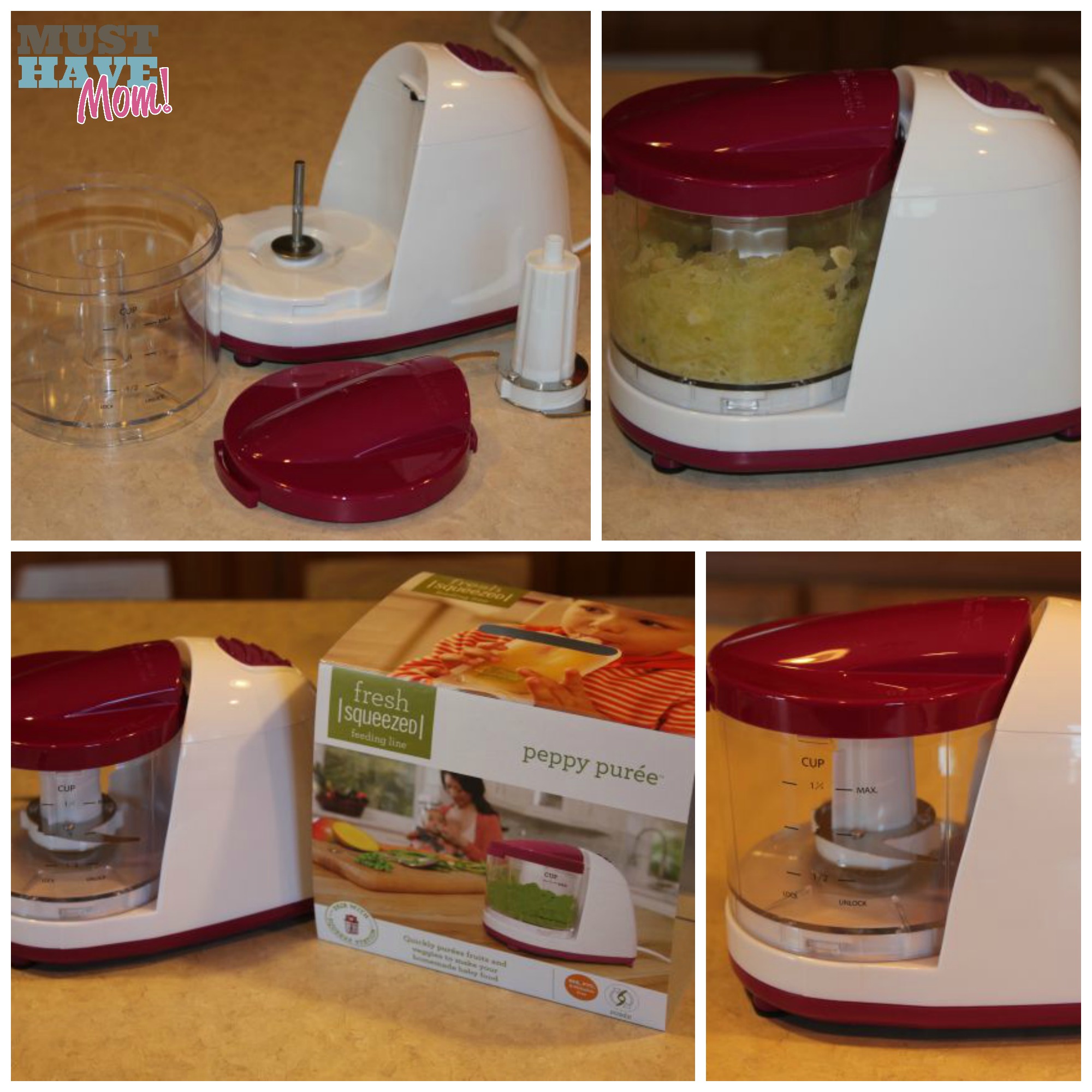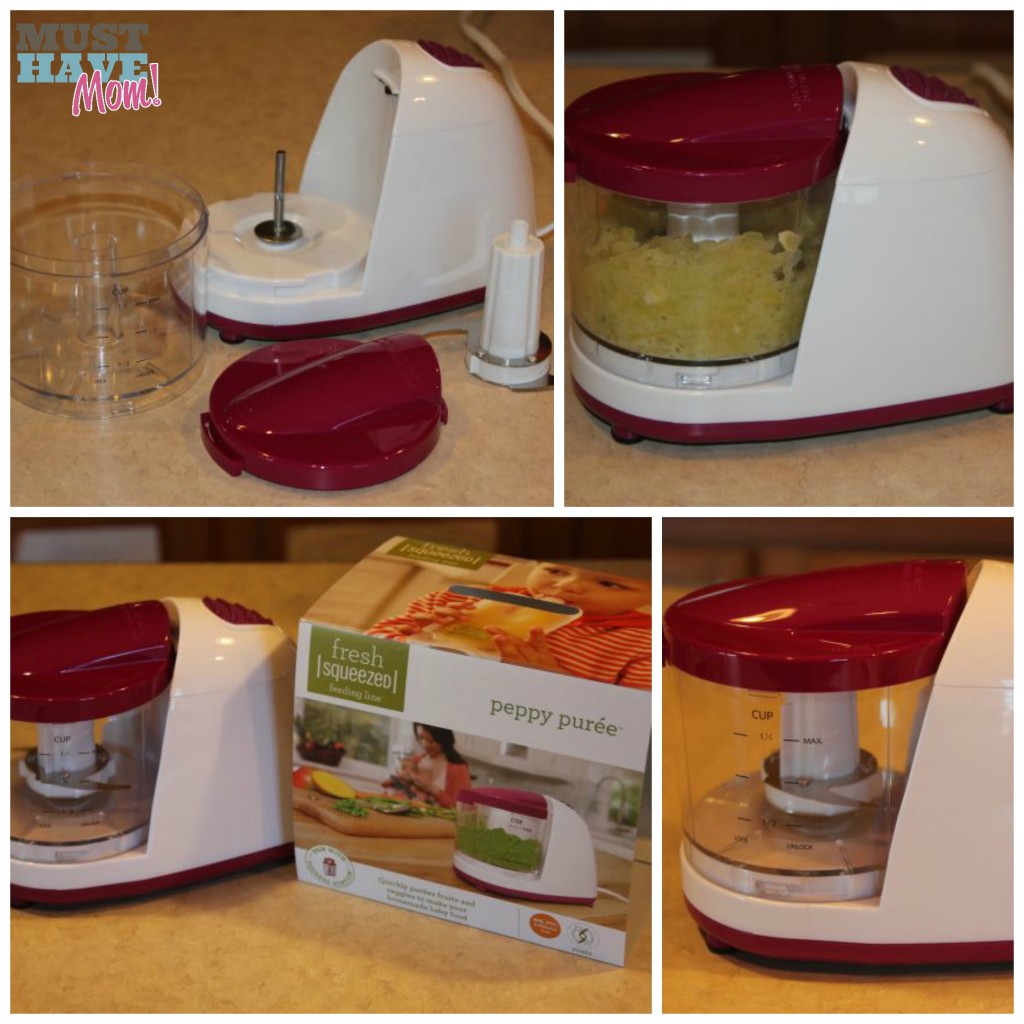 First up is the Infantino Peppy Puree. This is basically a mini food processor. It has one speed with a pulse control button to puree steamed veggies and soft fruits. It works best for soft foods that don't require a lot of power to puree. It also works to make cracker crumbs for recipes and things like that. I like the compact size but that also means that this is most useful for making only a few servings at a time and not a big batch. I found it was really easy to use and would be handy for pureeing foods at the dinner table when feeding baby.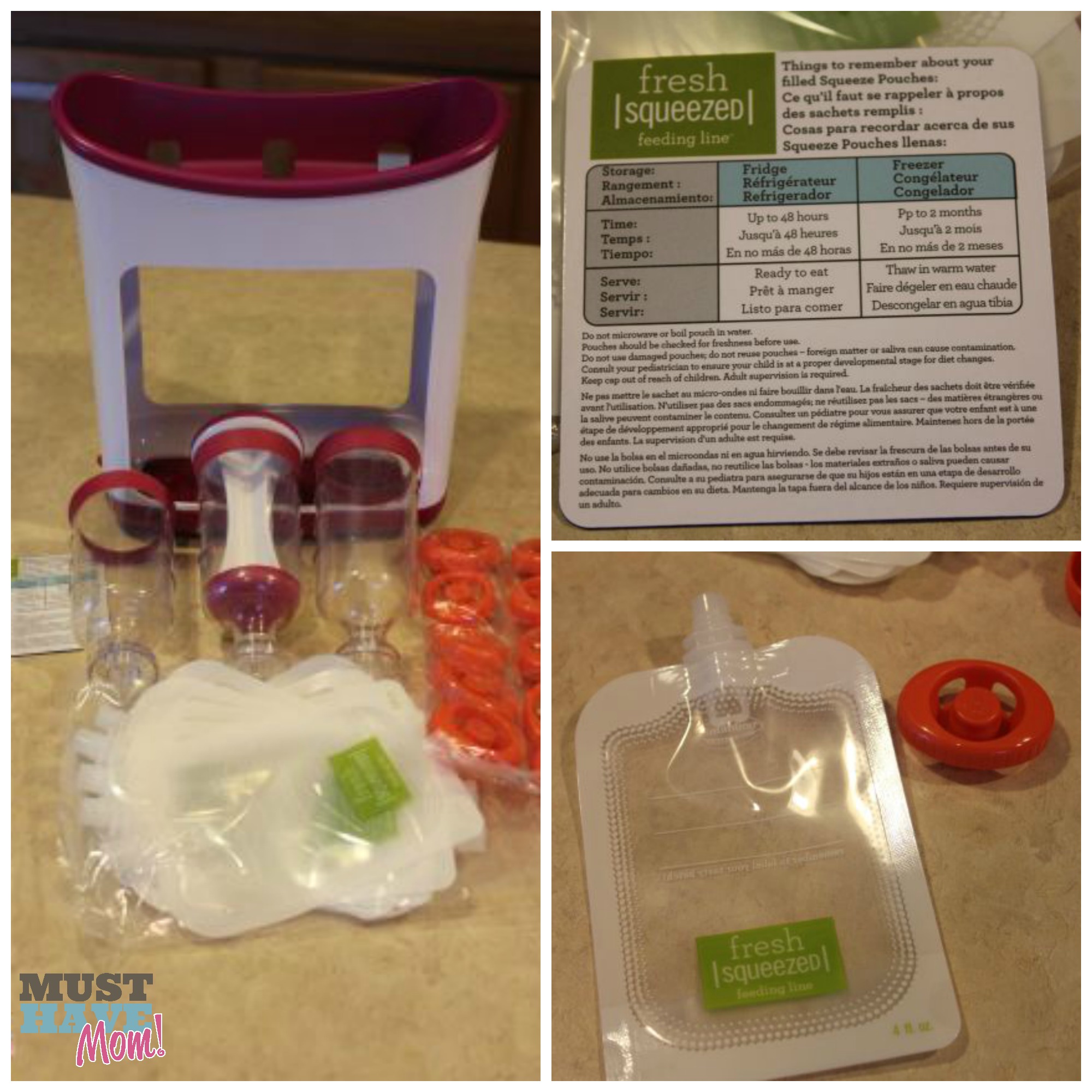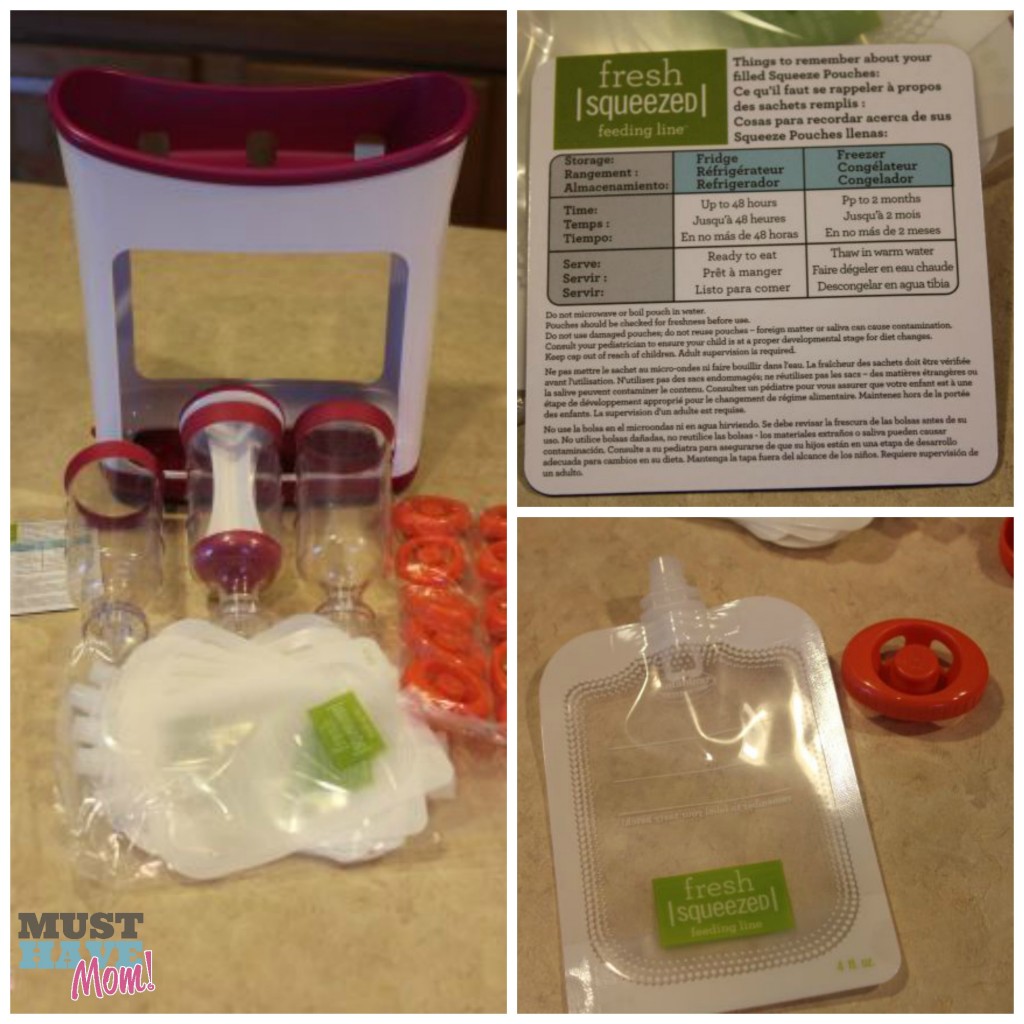 The Squeeze Station is the star of the show here and definitely wins my "must have" status. This little beauty allows you to make your own pouches at home with whatever you'd like to fill them with. The kit comes with the Squeeze Station itself which can fill 3 pouches at a time, 10 pouches and caps and a magnet with fridge/freezer keep times. Additional pouches can be purchased in sets of 50 for $16.99. That puts them at .34 each which is far cheaper the the $1 plus a piece pouches of baby food they sell.
This works fantastically for homemade baby food and saves a TON of money versus buying the pouches at the store. Plus I like to make my own baby food so I know exactly what is in it. No extra artificial ingredients or anything other than fresh fruits and veggies. This works for SO much more than just baby food though! My kindergartener loves the applesauce pouches but I refuse to buy them because they are so expensive when compared to buying a big jar of applesauce. Now I can buy the big jar and fill my own pouches at a fraction of the cost. I then freeze the pouches and put them in her lunch or take them with us when we go places. It works great!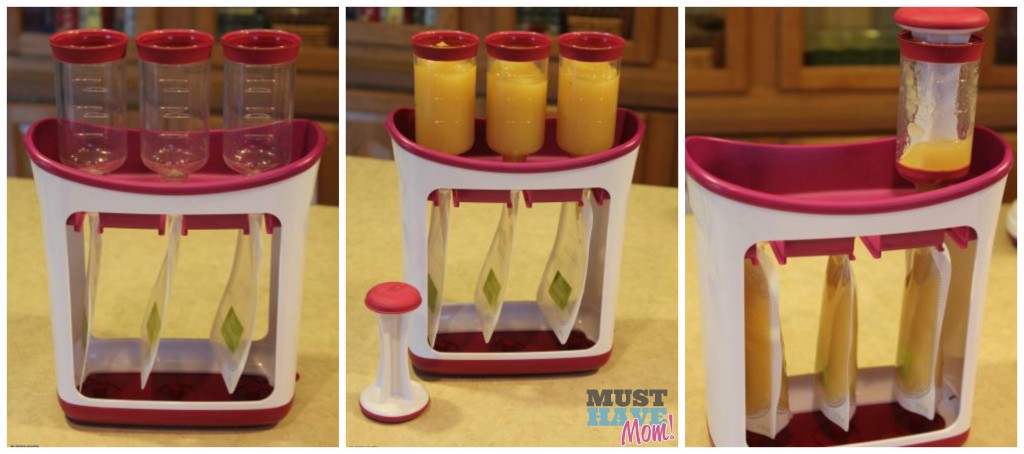 The Squeeze Station was very easy to operate and I was filling pouches in no time. You first insert each pouch in the slot until it clicks in place. Then attach the filling device to the top of each pouch. Fill to the measured line and use the plunger to push the puree into the pouch. For these pictures I was using applesauce. Once you have filled the pouch then pull it out of the slot and put a cap on it. It's really easy. I was able to fill ten pouches in no time.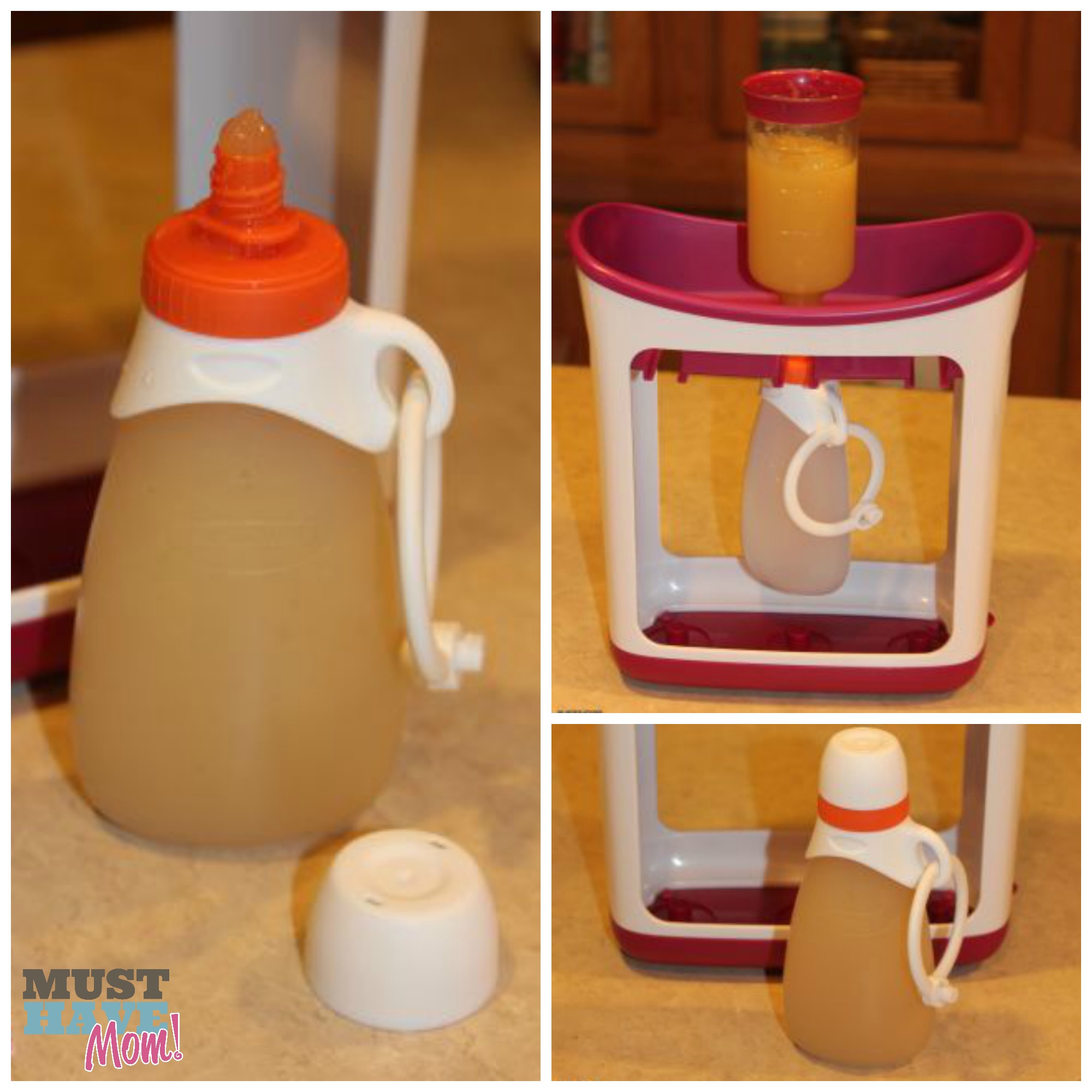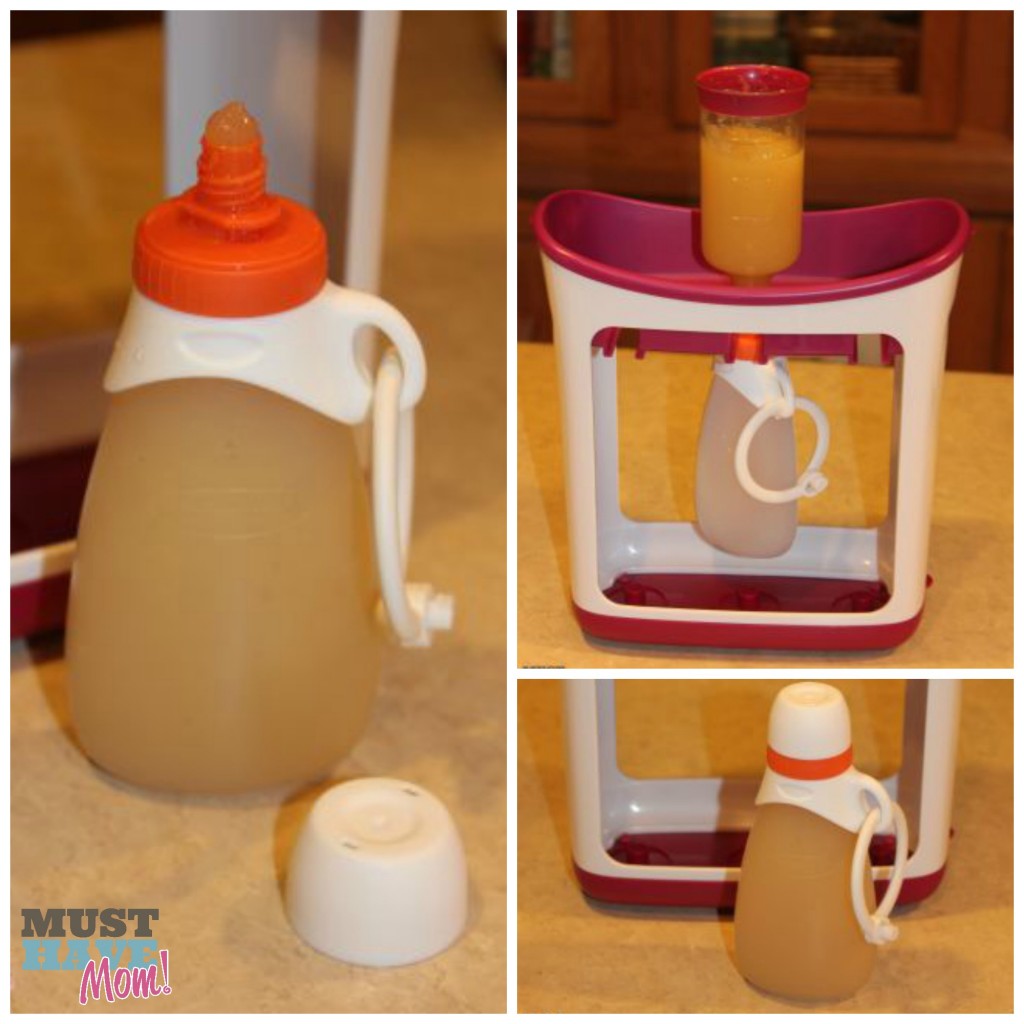 If you aren't a fan of buying the pouch refills then they have a great keeper squeeze pouch reusable option that will save you even more money since you won't be buying pouch refills. If you are only making small batches of puree at a time then a few of these would be great. You can also fill this by hand without the squeeze station so you could buy just this pouch if you don't plan on needing to fill a lot with the squeeze station. It is soft and squeezable to get the food out easily. It's washable and also has a cap so it's great for on the go!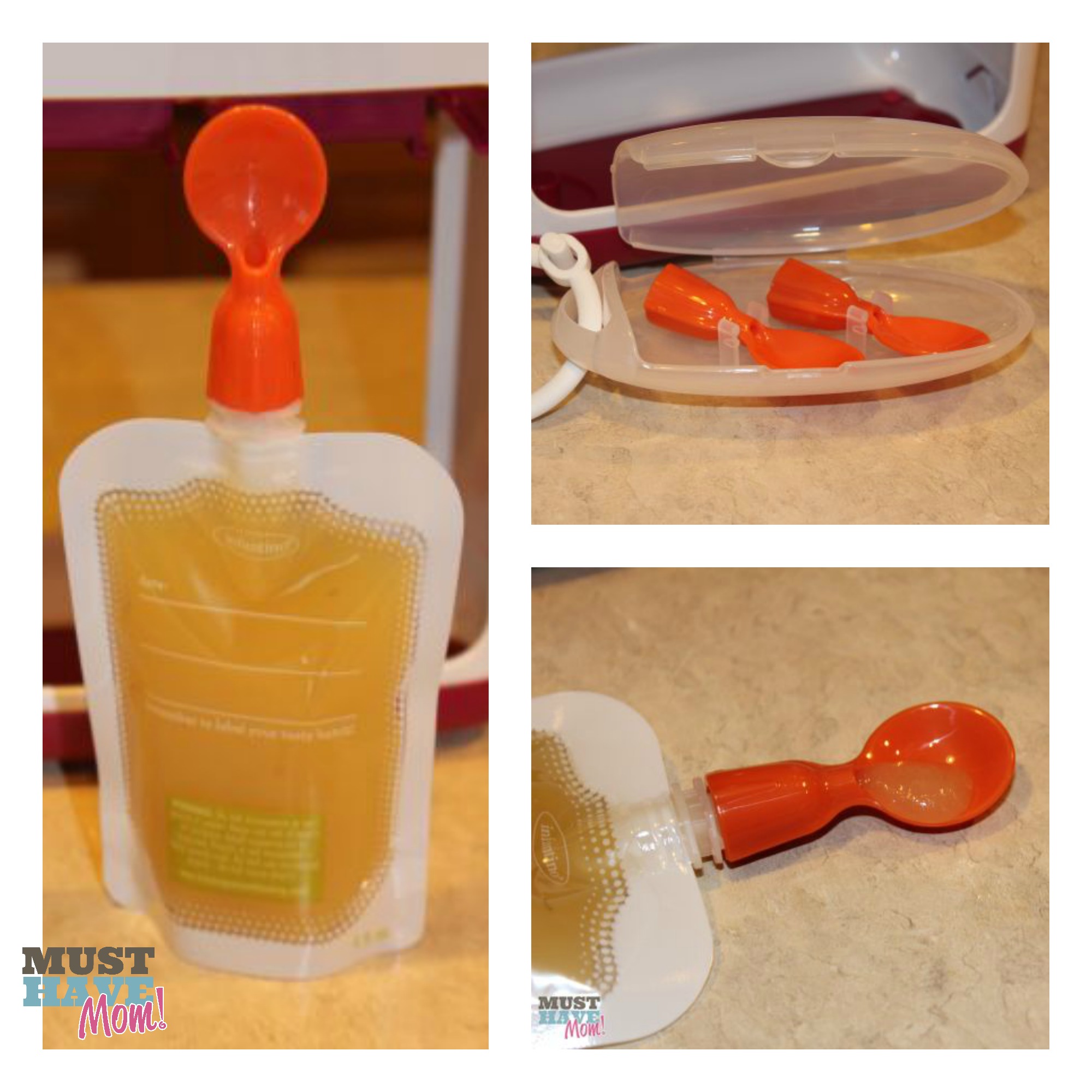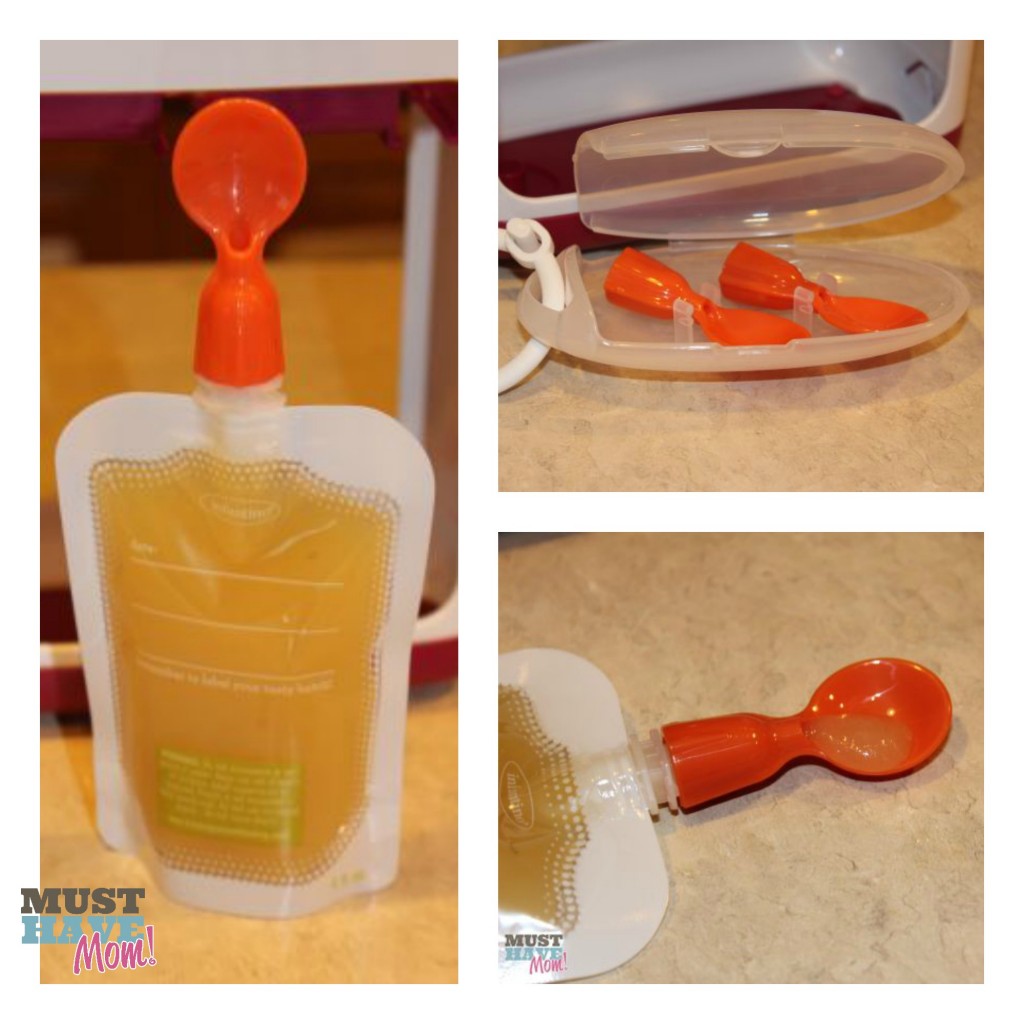 If you plan on feeding baby food to your child then the Couple A Spoons are a must. They screw on to the top of the pouch and allow you to squeeze food directly onto the spoon for easy, mess free feeding. They come in their own plastic container which makes them great for on the go use.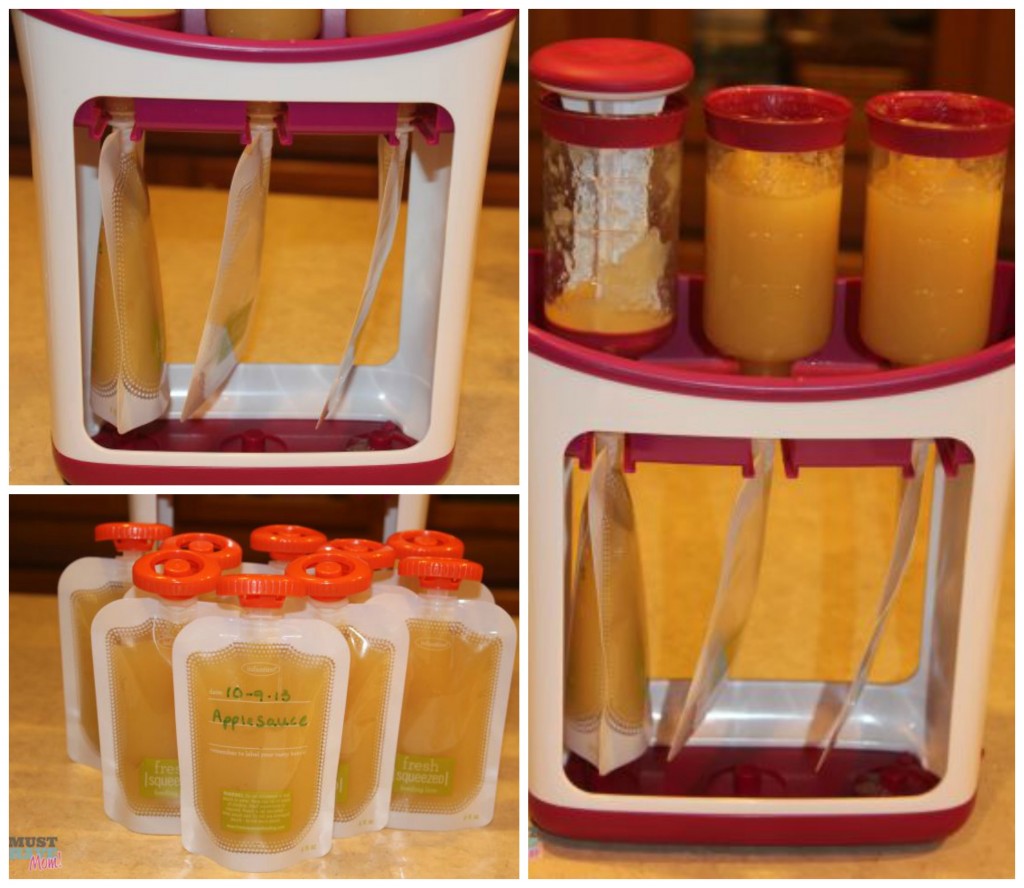 The pouches have lines on one side so you can easily date and label them. Once you fill them they will keep for a couple days in the fridge and up to several months in the freezer. These are a great solution for making homemade baby food and freezing it. I also love that I can buy a huge jar of applesauce, fill the pouches and freeze them. Then none of it goes bad! The entire product line is dishwasher safe and BPA, PVC and phthalate free.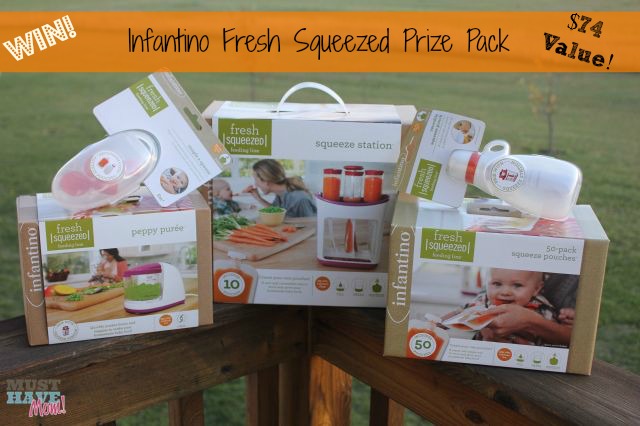 All in all the Squeeze Station is everything I thought it would be and I am in love with it! I love that it goes from baby food to far beyond, making pouches for my toddlers and kindergartener. I can live without the peppy puree but that's because when I make baby food I use my big food processor and do a large batch. For small batches and pureeing of dinner foods at the table, it's perfect.
You can buy the Infantino Fresh Squeezed products on their site. These make an ideal baby shower gift!!
Win! One reader will win ALL of the products pictured above that I reviewed!
Squeeze Station – 3 Pouch Press unit with (10) starter Squeeze Pouches – $24.99
50-pack Squeeze Pouches – Plenty of pouches for mom to store her own baby food – $16.99
Keeper Squeeze Pouch – Offers an additional way to fill-and-go in an easy-to-clean, soft silicone container – $7.99
Peppy Puree – Quickly blends soft fruits and steamed veggies – $19.99
Couple a Spoons™ – Spoons that attach easily to Squeeze Pouches for mess-free feeding – $3.99
Enter below. Good luck!
*Open to US only. Winners may only win once per program. Winner will be drawn by random.org and announced on this blog as well as emailed. Products reviewed were provided to me free of charge. No compensation was given in exchange for this review. My opinion is my own and is an honest view of my experience with the product. Winner will have 24 hours to respond or a new winner will be drawn. You may only enter once per household (multiple entries from more than one email account are not permitted). Must be 18 or older to win. Good Luck!