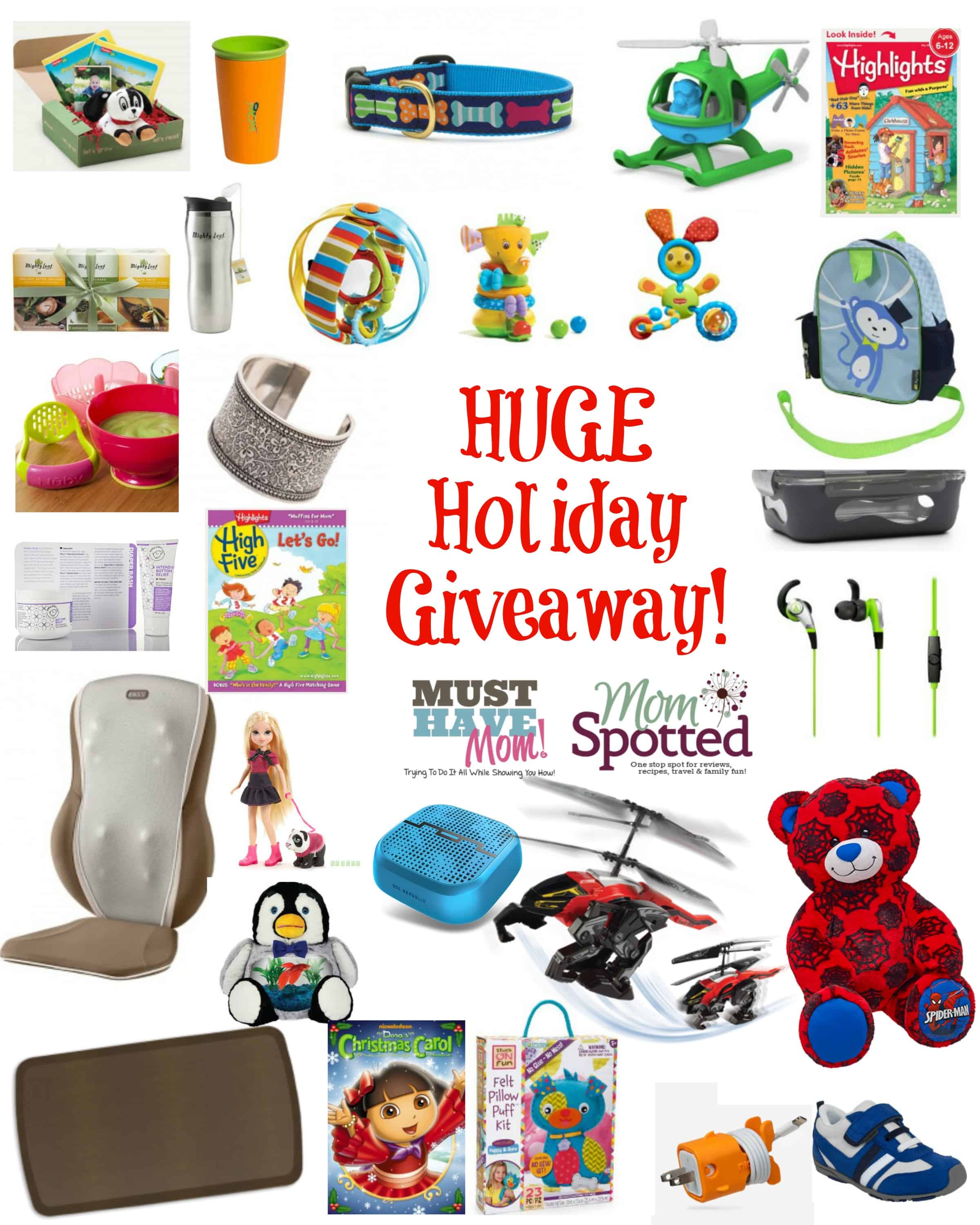 Christmas is almost here! As you are bustling about trying to finish up all of your last minute Christmas shopping be sure to stop and check out all of the must have gifts for everyone on your list this year from Must Have Mom and Mom Spotted! Not only will you find all of our favorite gifts but you can also have a chance at winning this HUGE holiday giveaway package which includes many of our favorite gift picks straight from our holiday gift guides! Here is what you'll have a shot at winning in this amazing prize giveaway going to ONE lucky winner:
Baby:
Your choice of one Tiny Love toy from gift guide
Highlights Baby Subscription box
Baby Pibu Blissful Bottom Gift Set
Preschool:
Green Toys® Helicopter
Highlights High Five Magazine Subscription
Pediped 1 pair originals shoes in your choice of boy/girl gender and size
Itzy Ritzy Preschool Happens Backpack
Nickelodeon DVD Bundle
Build-A-Bear Animal
Big Kids:
Telebrands Teddy Tank
Heli Beast from Silverlit
PomTree Felt Puppy & Bone Pillow Puff Kit
Highlights Subscription
Moxie Girlz Poopsy Pets
Under $50:
Mighty Leaf Tea 3 Pack & Brew Mug
SonicFuel™ In-ear Headphones ($49.99)
Over $50:
SOL REPUBLIC Punk wireless speaker
World Vision Gifts Silver Cuff Bracelet
Home:
$149 Triple Shiatsu Massage Cushion with Heat
UKonserve glass and silicone food storage set
GelPro Elite Mat
Pet:
Choice of UpCountry Collar
Stocking Stuffers:
Telebrands WowCup
CableKeeps (choice nibbles or goldie)
This prize package is sure to spoil everyone in your family this year, including you! You can probably use a little spoiling after all the hustle and bustle that comes with the holidays! You can enter to win this amazing prize package below! Be sure to support our sponsors and visit their sites as you do your holiday shopping!
Win! One lucky reader will win this amazing prize package including everything listed above!!