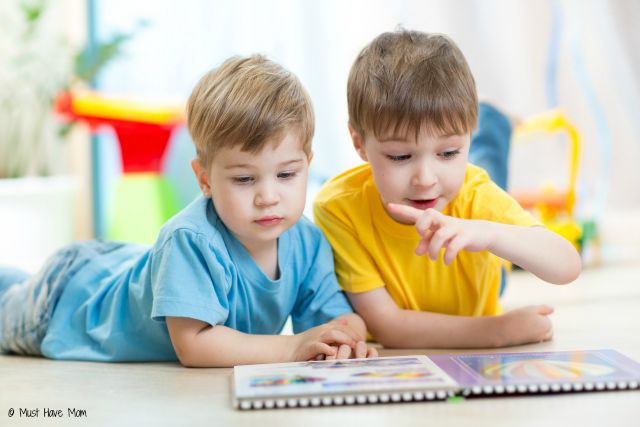 Your child's desire for reading has everything to do with how you shape their existence from a young age. While it is best not to push too much on them too soon, a parent should also select books that age appropriate and encourage reading as much as possible. The great thing about books is that you can read them for free from a library or find them for reasonable prices from places like; Scholastic book flyers sent home from school, rummage sales, goodwill, or by snagging great deals on them with sales and coupons. I love the $5 books at Kohl's that are paired with a stuffed animal character from the book, there are also coupons for Nordstrom stores which you can use on books, and it's always great to grab books on clearance after holidays and save them for the following year.
There are many ways to help your child enjoy reading and here are just a few:
Provide Attention
Don't just stand over your child and read. Use reading as a bonding experience and allow the child to climb onto your lap. Or snuggle up with them in bed. Not only will the child enjoy reading with you, but they will also come to treasure the undivided attention that you are giving to them.
Start A Routine
Whether it's reading a book at bedtime, bath time or first thing in the morning, children respond well to routines and structure. Some children respond better to a story at night time, while others would rather be read to in the morning. Find a routine that works for your child's needs and be sure to stick to it.
Choose The Right Books
Don't break out War and Peace and try to read it to your two year old. Make sure the books you are selecting are correct for the age of the child you are reading to and don't push too much on them too soon. Forcing your child to read books that are out of their age group does not increase intelligence and may increase their apathy when it comes to reading.
Don't Be Shy About Repeated Readings
Chances are high that your child is going to want to hear the same stories again and again and again. Keep your yawns, sighs and exasperation to a minimum. When your child is too old to be read to anymore, you will certainly yearn for the days when they wanted to hear Goodnight, Moon ad nauseum.
Add Some Pizzazz
Jazz up the story wherever possible and add some flair to make it stand out in your child's mind. Let your child act out parts of the story whenever they are in the mood to do so. If this slows bedtime down, then accommodate this request by starting story time a few minutes earlier each night.
Keep Screen Time Minimal
If your child becomes used to parking themselves in front of a tablet, computer monitor or television set, they will not respond to the stimulation of reading in quite the same manner. Children under the age of two should not be watching any television at all, while older children should have their screen time limited to just one hour per day.
Reading is a wonderful experience that helps to develop your kid's imagination. Use all of those tips and watch your child grow into an intelligent and well educated person.