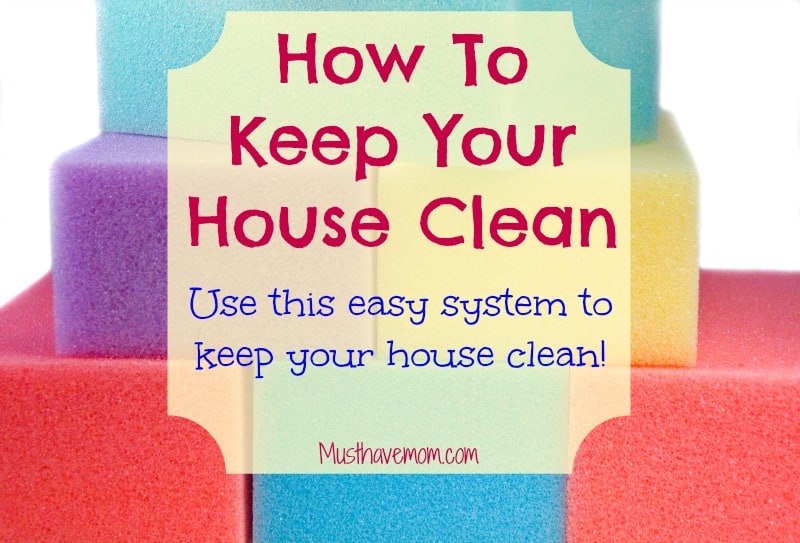 Keeping a clean house is a huge challenge, especially with a family of six. Devising a system to keep it clean is important so that you don't feel overwhelmed by it all. If you break down your chores into a daily to do list then it's easy to tackle and your house will stay clean. After much trial and error I have devised this weekly cleaning and laundry schedule to help me stay on top of my household duties. By also having a laundry schedule I wash each member of the household's laundry on one day of the week and with this rotation no one ever runs out of clothes. It helps to do each person's laundry on a different day so you can easily keep it separate and avoid having to sort it. If you haven't read myi post on how to stop folding laundry then it's worth checking out.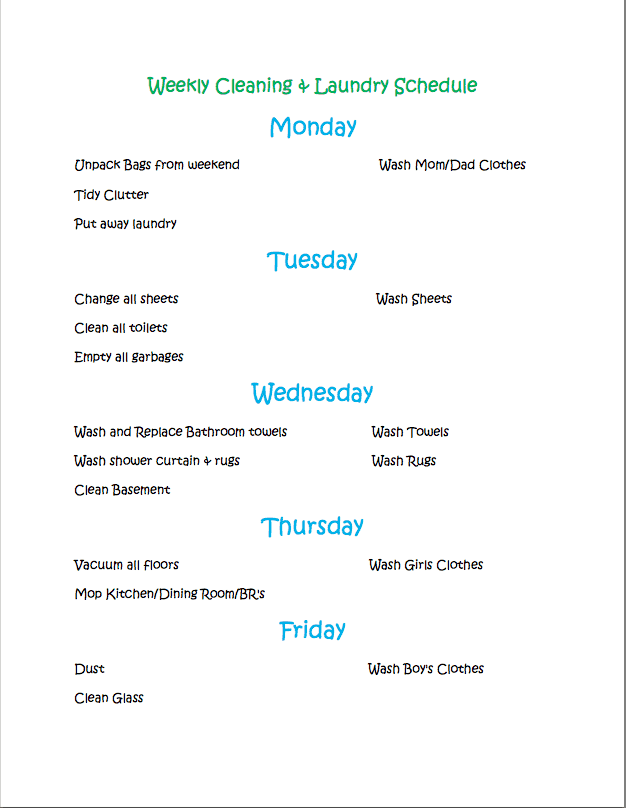 Monday:
Unpack bags from weekend: Inevitably we end up with bags from the weekend, whether we took a trip out of town, were gone for the day, went shopping or what have you. Unpack everything and put it in it's place.
Tidy Clutter: Over the weekend you tend to come and go which results in things being left out and not put back where they go. Put everything away and start the week with a clean house.
Laundry: Wash Mom/Dad's Clothes – On Mondays I wash my clothes and my husband's clothes.
Tuesday:
Change all sheets: Change everyone's sheets and put clean sheets on the bed. Whether you wash and put them right back on the bed or you strip them, re-make them and then wash and put away the other pair, it doesn't matter. Just change them all.
Clean all the toilets: Clean the toilets and wipe down the bathroom counters and sinks.
Empty All Garbages: This includes the kitchen and the bathrooms. Empty them and start with fresh bags for the week ahead.
Laundry: Wash the sheets you stripped off the beds.
Wednesday:
Wash & Replace bathroom towels: Put new hand towels, washcloths and bath towels in all the bathrooms.
Wash Shower Curtain & Rugs: I wash mine together. Buying a shower curtain that can be washed is ideal for easy cleaning and not having to deal with built up mildew or soap scum. If you wash it each week it will stay clean.
Clean Basement: I have a finished basement with a full kitchen, bath, bedroom, playroom and family room. This can be a big task but because I include the basement in my daily tasks there isn't much extra to do to clean it.
Laundry: Wash towels & rugs
Thursday:
Vacuum all floors: This means your whole house, carpet and hardwood. Vacuum it all.
Mop: Mop all the hard floors in your house. Kitchen, dining room, bathrooms, entryways, etc.
Laundry: Wash Girls Clothes – I have one daughter and on this day I wash her clothes. If you don't have girls then split this day with Friday and wash each child's clothes on a different day.
Friday:
Dust: Dust the whole house. If you keep your clutter to a minimum then dusting goes fast!
Clean Glass: Wipe down all the mirrors and windows in the house.
Laundry: Wash Boys Clothes – I have three boys now and I usually add one of the boys laundry to Thursday to cut down on the number of loads. Divide this as you see fit between how many kids you have.
Saturday and Sunday I take a break! Using this system ensures that your general cleaning duties are completed each week and your house stays generally tidy and clean. This is by no means a deep cleaning schedule and I highly recommend devising a list of the deep cleaning tasks that you need to complete and inserting them into your weekly rotation. Just adding in one or two deep cleaning tasks a month can make a huge difference in your overall workload. You'll have your list complete in no time! If you are struggling to get organized then likewise, add in one area to organize each week. Work on your house a little at a time and before you know it you will have a well oiled machine and your house will stay tidy, reducing the overall amount of time you spend cleaning!
Print off my FREE Weekly Cleaning & Laundry schedule here!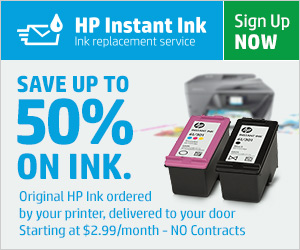 One more tip mommy-to-mommy, if you have a printer and love printing free printables, photos, checklists and more then you definitely need to sign up for HP Instant Ink and save 50% on your printer ink! I have been personally using this service for years and print up to 100 pages a month and never worry about how much ink I am using. When your printer starts running low it automatically orders more ink and it shows up at your door! No postage fees! And with plans starting at just $2.99 you can quit worrying about how much ink you are using and print all the color photos and printables you want! This is the best way to save on printer ink!
Sign up today
and start saving money on your ink.
What cleaning tips do you utilize to stay on top of the household duties?