What parent in their right mind says "I can't wait to start potty training!"? It's no secret that potty training isn't all fun and smiles. It doesn't have to be miserable though! Brady is at the age where he is taking an interest in potty training and to help jump start his excitement, Pampers sent him a surprise box in the mail. His reaction was priceless and utterly adorable. You have to watch the toddler unboxing video til the end because it is seriously the cutest thing ever.
Scroll all the way to the end of this post for a $2 off Pampers Easy Ups Coupon and a Pampers Prize pack giveaway including a $50 AMEX gift card and Pampers Easy Ups.
This post and giveaway were made possible by iConnect and Pampers Easy Ups. I was compensated for my participation in this campaign, but all opinions are 100% mine.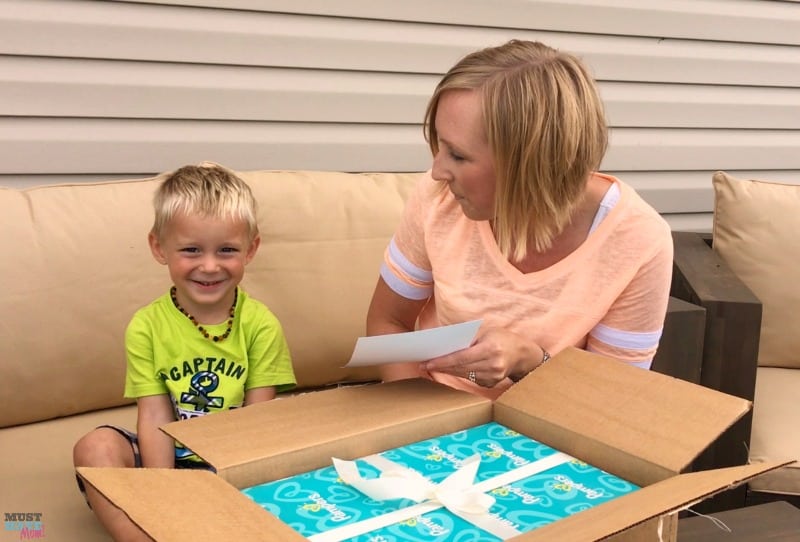 Brady's box from Pampers arrived neatly wrapped with a bow tied on top. It included a fun letter to get Brady excited about underwear training! He was excited to open the box!! His reaction was absolutely adorable! You have to watch the whole video because it's undeniably cute and it's under 3 minutes long. Check it out!
How adorable is he??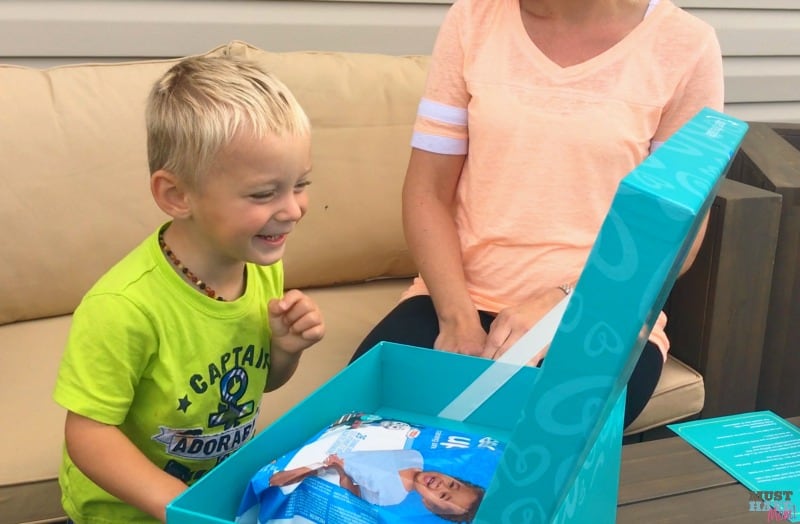 Brady was SO excited to open his box and find Pampers new Easy Ups that look, fit and feel more like underwear. The 360° stretchy waistband and super soft material gives toddlers a fit and feel just like real underwear, helping to build confidence with an elastic waistband that's easy to pull on and off. Easy Ups also tear easily at the sides just in case it's needed.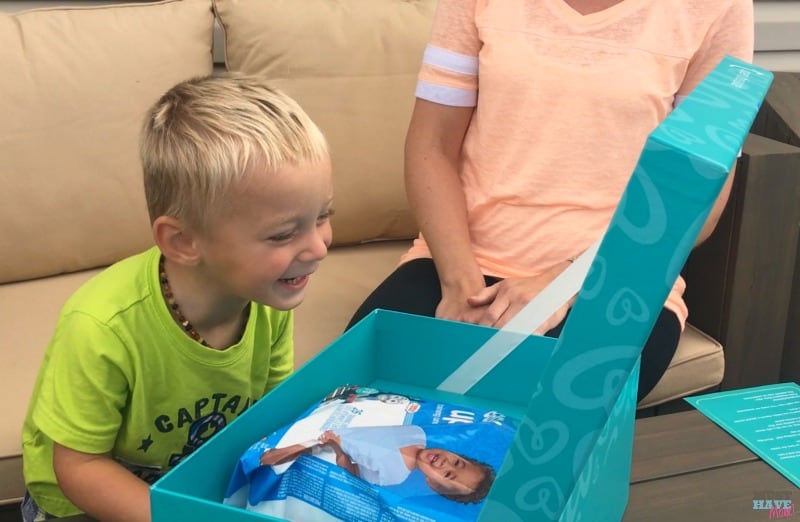 Brady loved the Thomas the Engine TM design on the Easy Ups and he was so excited to try them on!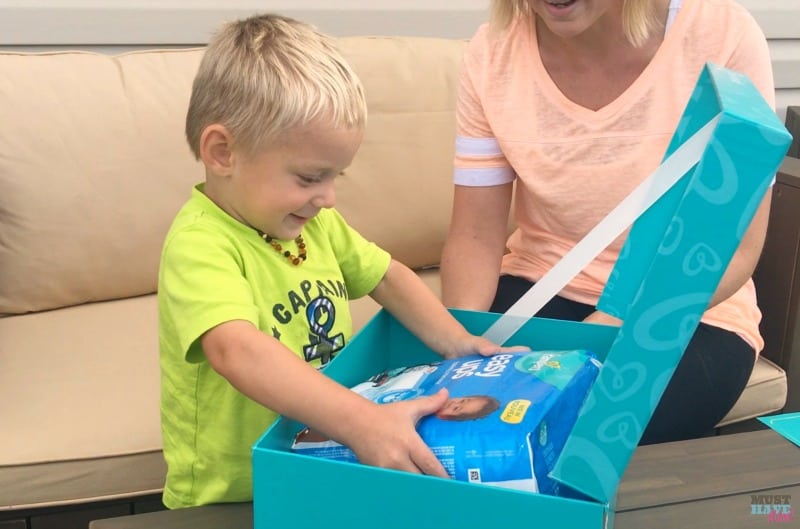 Easy Ups make potty training easier on mom and dad too! Being on the go while potty training can be difficult. The thought of having an accident in the car was always one of my worst fears. Easy Ups is the only training underwear with Extra Absorb ChannelsTM, which help prevent leaks while toddlers are on the go!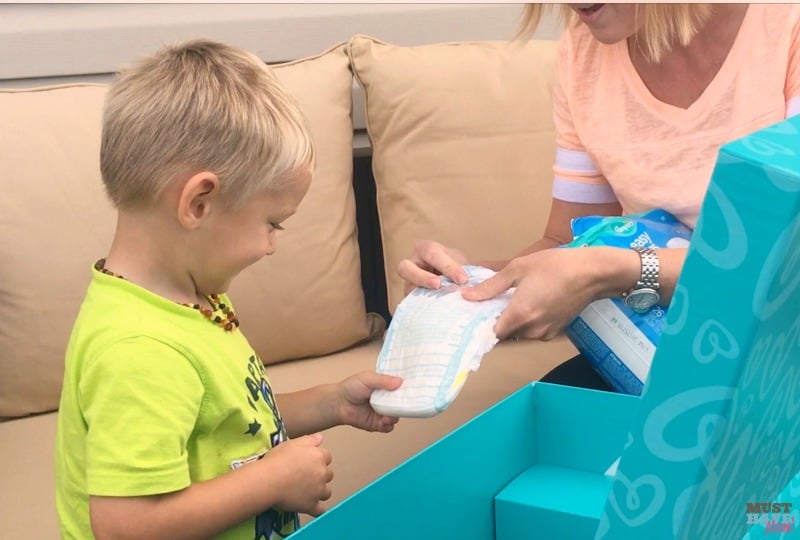 Brady was excited to feel how soft the Easy Ups were and see the fun Thomas designs on them!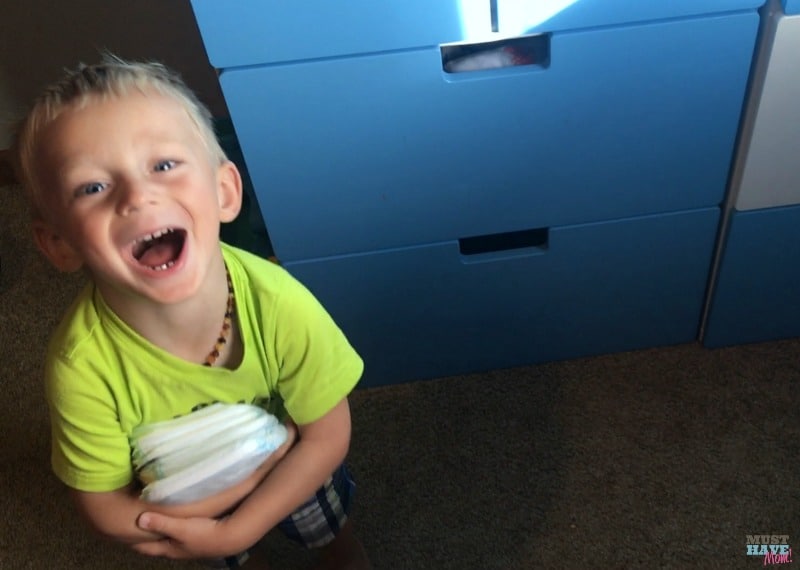 He couldn't wait to put them in his underwear drawer! Brady is excited to start underwear training and I'm not nearly dreading it as much as I usually do. Thanks to Pampers surprise box Brady is on the track to potty training and he's even excited about it!
Print off this exclusive high value $2 off Pampers Easy Ups coupon here!
Pampers Easy Ups are available nationwide in sizes 2T-3T, 3T-4T, and 4T-5T. Visit www.pampers.com to learn more about Pampers products, join the Pampers Rewards program, and find ideas and information to help your baby get the most out of love, sleep and play.
For more information, you can also visit Pampers social media channels on Facebook, Twitter and YouTube.
Share this post on Pinterest and Facebook so your friends can see his adorable reaction and enter the giveaway!
WIN! One lucky reader will win a #PampersEasyUps prize package that contains one $50 AMEX Gift Card & Pampers Easy Ups! Enter the giveaway below! Good luck!