It's been a year in the making. You've bought the plane tickets, booked the hotels, and scoured hundreds of websites and books for touristy sites and activities. But once you get to the new state or country, all your kids want to do is watch TV and sit by the beach. Might as well have driven them down the road to the local pool!
This was one of my biggest fears going into my huge Europe trip last summer. I had planned for so long and was hoping every day that my kids would get something useful out of the trip, either by learning something new or experiencing a novel cultural idea. It took a lot of preparation and perseverance to keep them from just relaxing and vegging out on the couch. We had some great bonding time and it turned out to be a life-changing trip for the whole family. Here are my tips on how to really benefit from your travels and get your kids involved in the local culture of any state or country you're visiting!
1. Play to their interests: My boys love everything about soccer, so what better way to delve into the culture of Barcelona than by heading to the stadium and museum for FCBarcelona – Barcelona's renowned professional soccer club. They had a blast having a look around the stadium and seeing the hundreds of trophies. I also couldn't resist buying them soccer jerseys as souvenirs of the day. Definitely made all of those carpool trips to soccer practices and games back home worth it!
2. Check local listings: Keep an eye open for newspaper ads and flyers around the town or city you're visiting for upcoming, kid-friendly events! These could include free days at the museums or family theater shows in a nearby park! Keep an open mind and you're sure to stumble upon some great cultural activities your children can get involved in! One of the most memorable things I did with my kids in Spain was to bring them to a science museum, which focused on family-friendly hands-on activities. We all learned so much and had an amazing time!
3. Eat and live like a local: Say goodbye to Saturday morning cartoons and dinners of pizza bagels and chicken nuggets! When you're diving into the culture of a new country, the best way to live like the locals is to eat like one! We had a great time exploring the nearby restaurants for tapas and other Spanish delights. I have to admit there were many days where we went with a good ol' cheeseburger but we can't win them all! My goal was to make them try one new food a day. And it's not all about the food. There were some amazing restaurants and cute little bakeries along the way, some with beautiful architecture. My kids loved pointing out the colorful buildings along the way and learning the names to all of the famous (and not so famous) landmarks!
4. Get them involved in the language: If you're heading to a foreign country, you and your family will have to leap (or at least slowly crawl over) the language barrier. One of the best ways to get your kids involved in the culture is to teach them the local dialects. I would suggest investing in basic language learning books and maybe some children's picture books in the language, just to get them thinking like a local! Even if they come away with only knowing how to say "hello, goodbye, and my name is…", they'll feel a little more at ease in this strange new world! You can also turn this into a fun family activity, where you are all quizzing each other on the names of nouns around you or translating the street signs and menus!
5. Snap some pics: This one is a bit old school, but kids of all ages will love it and have a great time exploring! Give each child a disposable camera before your big trip and encourage them to take pictures of anything and everything they find in the new city. This really allows them to show off their own artistic style and preferences. One child could be enthralled by the architecture while another loves snapping pictures of the local food. For extra fun, incorporate a fun scavenger hunt. For instance, take pictures of only things that start with "S" or things that are blue. You'll love developing the pictures at the end of the trip and reminiscing on your favorite memories. Keep the pictures in a scrapbook for family fun years down the road, too!
So there you have it, folks. How to get your children involved on your next big trip. With the right planning, your family trip will allow you to bond even more with your children and have tons of fun exploring new and exciting things! Best of luck, moms and dads, and "bon voyage!"
Melissa Lawrence, co-founder of CloudMom, lives in New York City with her husband and 5 young children. With a few parenting tricks up her sleeve, Melissa posts how-to videos and blogs for parents on a range of issues including baby, toddler, kids, fashion, travel, and well-being.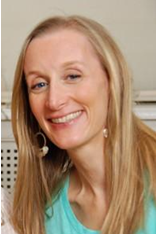 Follow Melissa's latest activity by clicking the links below!