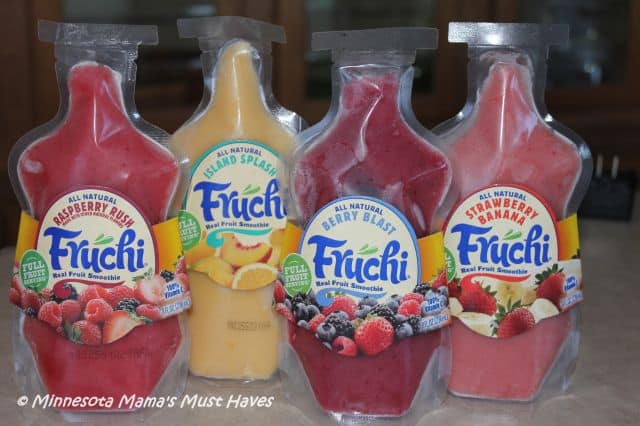 I don't know about you but I love smoothies. My entire family loves them and whenever I serve them they are a much appreciated treat. One thing I'm not a huge fan of is the prep involved with making a smoothie so when I heard about Fruchi ready to eat smoothies I was intrigued to learn more. I was interested right off the bat when I heard they are a Minnesota company that began as a start-up in 2006, and is now owned by The Schwan Food Company. I love supporting Minnesota based companies 🙂
Fruchi sent us a case of their smoothies to try out. They come in 4 different flavors including Raspberry Rush, Island Splash, Berry Blast and Strawberry Banana. We love all four flavors! They are a great blend of flavor and all 4 combinations taste great. Fruchi smoothies are the first ready-to-eat smoothie that you can take anywhere. A Fruchi smoothie is:
All-natural
Perfect for a healthy, on-the-go lifestyle
Blended with the finest, freshest ingredients
A tasty way to get over a full serving of fruit
Rich in Vitamin C and antioxidants
Flavor-sealed in a ready-to-serve pouch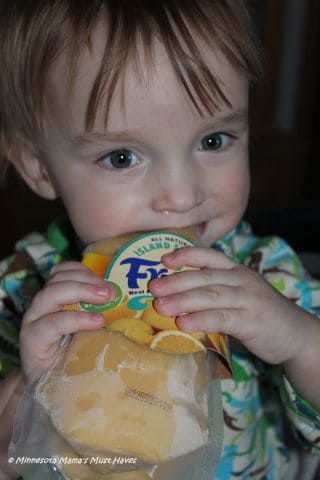 Carson is a huge fan of Fruchi Smoothies! Turns out they are great for his teething gums! He loves to gum the top of the package and soothe his sore gums as he devours the smoothie.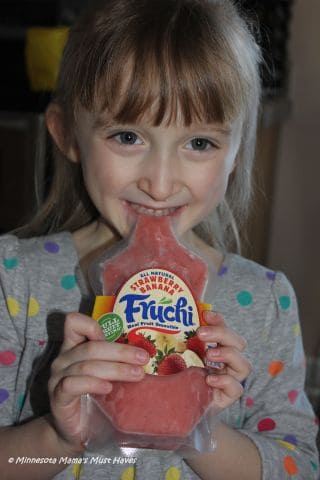 Danika is probably my biggest smoothie fan in the house. She is always SO excited when I make them so I was excited to see what she thought of having ready to eat smoothies in the freezer that we could have anytime we wanted. She was in heaven and couldn't wait to try them all. Strawberry Banana is her favorite! She has been known to volunteer to finish anyone's smoothie who will let her lol. I love how easy the pouch makes it to eat the smoothie, even when on the go. I've grabbed these on my way out the door for the day as my breakfast. They are quick, easy and nutritious. Just take them out of the freezer and let them thaw on their own for 30 minutes or you can pop the in the microwave to speed it up.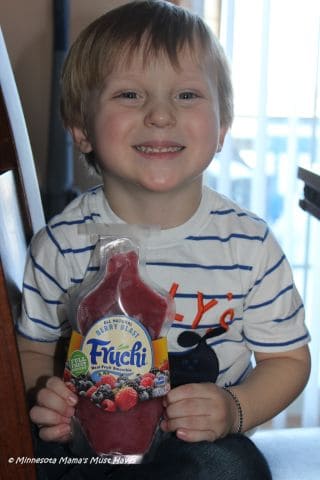 I was so glad to see that Fruchi smoothies are peanut/tree nut free as Aiden has a life threatening nut allergy. You'd be surprised how many products are produced in a factory with nuts making them off limits for him. He loved them too and they are a real treat! They are easy for me to take along with us when we go and serve as a special treat for Aiden when he can't eat the same treats as the other kids at parties (due to his peanut allergy).
Fruchi also has a great fundraising program! If your sports organization is looking for a great concession stand product then Fruchi is for you. You can read full details on their site. They sell to you at a discount and you set the price and keep all the profits. It's a great deal and these are hot sellers at the concession stand. Not only do they taste great, but they are convenient and parents like the healthy alternative to pop and candy.
FRUCHI™ Smoothies are available at a variety of locations across the Midwest. Currently, you can find their all-natural, real-fruit smoothies at the following stores and locations:
Cub Foods
Festival Foods
Kowalski's
Hy-Vee
Win! One lucky reader will win a CASE of Fruchi ready to eat smoothies! *Please note that these need to stay frozen until consumed. Enter my Rafflecopter giveaway below for your chance to win! Good Luck!
*Site Disclosure: Products providing by company or representing PR firm for review purposes only. No compensation was received in exchange for this post. My opinions are my own and reflect my personal experience with the product.