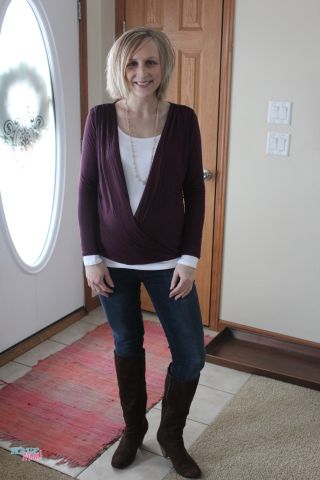 I have to admit that while my body does not love being pregnant, I do love my baby bump. My pregnancies have typically been difficult and I often have complications and more than the usual uncomfortable pregnancy symptoms. This pregnancy has been no different. It leaves me not relishing being pregnant and I'm trying to just enjoy my bump while it's here because this is our last baby that we are planning on having. That means I want to dress my bump to look adorable of course! Maternity clothes have come such a long ways since the days of oversized shirts and moo moos that left you drowning. Now it's all the rage to embrace your beautiful baby belly and show it off proudly and that's exactly what I like to do. Just because you are pregnant does not mean you have to sacrifice the fashion you love. I am in LOVE with the maternity clothing at Envie de Fraises! They are so fashion forward and are made to dress your belly in it's best while making you look amazing!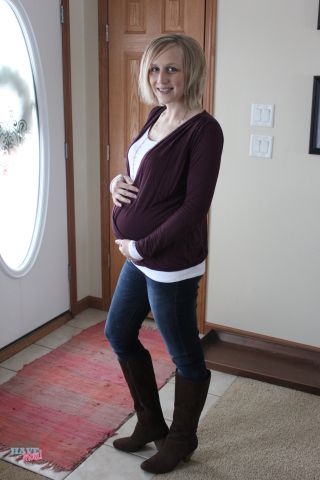 I paired their Power stretch deluxe skinny jeans with the Long-sleeved white maternity tee-shirt and Wrap top. I love the look! Not only do I look fashionable, but it's so comfortable. I'm generally not a fan of the over the belly style pants but these are really comfortable and are the first pair I've ever liked wearing. The material that goes over your belly is very nice quality and feels great. It doesn't rub or itch your belly like other fabrics I've worn.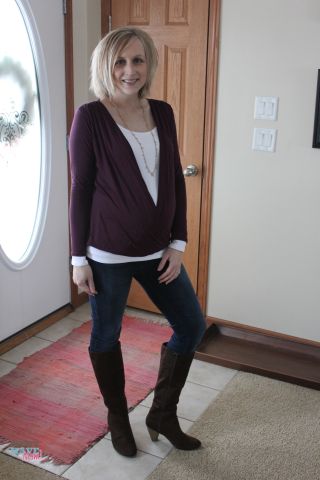 The Power stretch deluxe skinny jeans with over belly band fit true to my normal size. They are designed to grow with you, so you can enjoy wearing Envie de Fraises throughout and even after your pregnancy. Their carefully created range of cuts and styles are exclusive to their brand and suit all tastes which is probably why I love them so much despite my initial doubts about the style. I love the skinny jean fit as it goes perfectly with boots!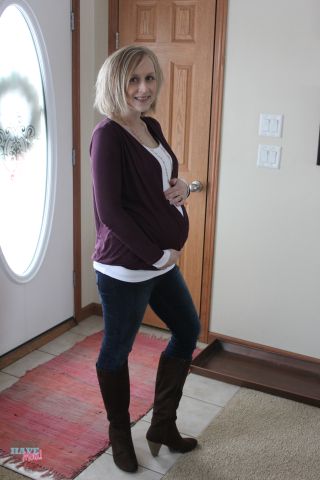 The Long-sleeved white maternity tee-shirt is the perfect core piece for your maternity wardrobe. It wears well on it's own and it pairs beautifully with the Wrap top. It comes in a range of colors and I would recommend getting a few different colors as this is definitely a maternity staple!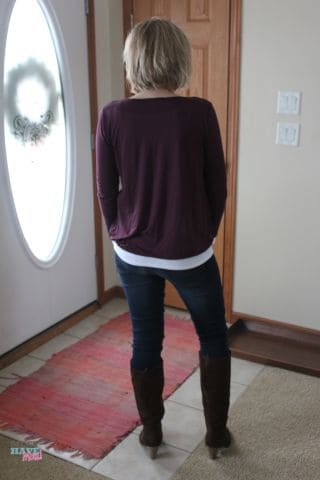 The Wrap top with long sleeves is so chic and well fitted. It gathers at the bottom to create a nice flowing fit. What I love about this top is that I can wear it long after I deliver as it is perfect for nursing too! Pair it with a nursing tank underneath for easy access nursing.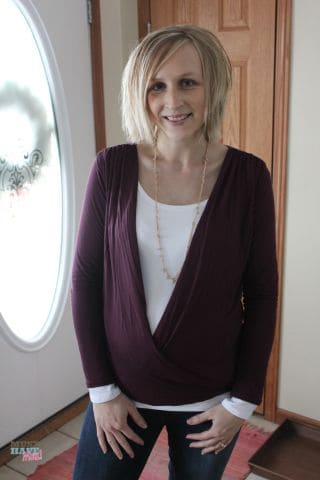 I paired this outfit with this Lantern Necklace from fibi & clo. I love the gold with the plum wrap top. The color combination is great! It's the perfect length to go with the plunging wrap top neckline.
Check out all of the beautiful maternity fashions from Envie de Fraises on their site! Accessorize them with the great accessories from fibi & clo!
What do you think of my maternity look? Would you wear it?