My kids have always loved their VTech devices. We have the InnoTab and the MobiGo and they haven't ever tired of them. We make sure to extend their play by getting them new, age-appropriate games as they master the old ones. It keeps the toy new and exciting! Many parents ask me if I think these type of devices are a good investment and my answer has always been yes. The reason I so quickly answer yes is because I've seen over the years how much play value our devices have given my kids. They area great for car rides, doctor waiting rooms, rewards for good behavior (rewarding with playing time) and great for when the kids are sick on the couch. If you've found your child has tired of their device then pick up a new game to make it a new and exciting toy again! A range of educational cartridges are available, offering age-appropriate games, e-Books and more that allow children to progressively learn key subjects such as math, reading and science in steady stages.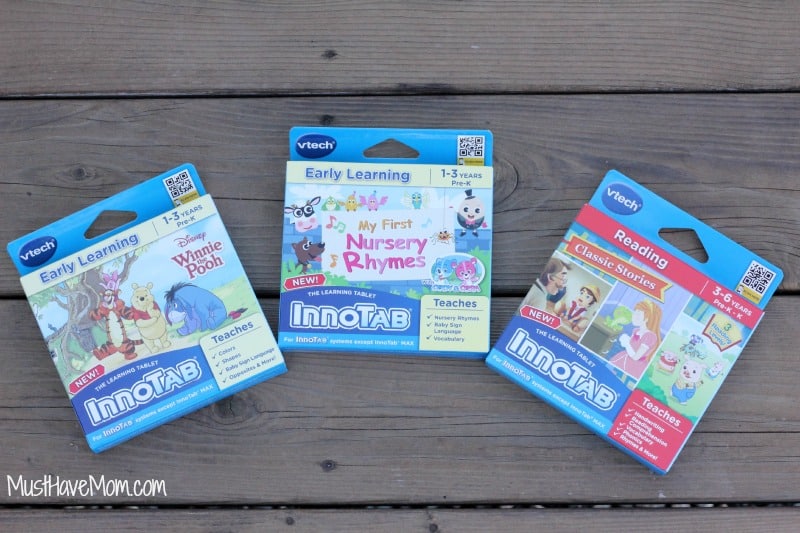 Here are a few games that we picked up to keep our InnoTab exciting! I chose games that would match my kids skill levels. Carson is starting to really enjoy the InnoTab and I knew he would love some fresh games to play and Danika has loved the InnoTab for awhile and since she is learning to read I knew the Reading "Classic Stories" cartridge would be perfect for her!
InnoTab My First Nursery Rhymes Learning Cartridge
(Ages 12-36 months; MSRP: $24.99)
Join Cody and Cora on a musical adventure in My First Nursery Rhymes for VTech's InnoTab Learning Tablets! Listen to nursery rhyme songs, play mini learning games, watch playful animations and learn baby sign language.
This InnoTab Learning Cartridge includes 25 popular nursery rhymes, mini games, introduces five baby sign language signs and allows you to customizable parent settings.
In lullaby mode, you can set the timer for 15 minutes and play a loop of 5 sleepytime songs to soothe your child to sleep. You can also customize characters and create an avatar that interacts within the songs.
InnoTab Disney Winnie the Pooh Learning Cartridge
(Ages 12-36 months; MSRP: $24.99)
Winnie the Pooh is always hungry for honey in Winnie the Pooh for VTech's InnoTab Learning Tablets. Help him find his honeypot and learn shapes, colors, opposites and more along the way. Includes fun songs and baby sign language with Roo and Piglet!
This InnoTab Learning Cartridge features an e-Book about Pooh and his great day bouncing with Tigger and friends, four sing-along songs with familiar melodies about Winnie the Pooh and friends, and a Music Box plays four sing-along songs in a loop for up to 30 minutes.
InnoTab Classic Stories Learning Cartridge
(Ages 3-6; MSRP: $24.99)
In Classic Stories for VTech's InnoTab Learning Tablets, children can read three classic stories: The Frog Prince, Pinocchio and The Three Little Pigs, each with three different reading levels.
This InnoTab Learning Cartridge includes three learning games which introduce writing, rhyming, phonics, reading comprehension and more.
My kids LOVED these new cartridges and it was fun to see an old toy become "new" again with the introduction of new games! The My First Nursery Rymes was a lot of fun for Carson and Brady even got in on the fun as we tried teaching him baby sign language! The Winnie the Pooh game was also a favorite of Carson's. He loved playing the games and I loved that he was learning his colors and shapes! Danika really loved the reading cartridge and it was great to see her cruising through the different reading levels and mastering them!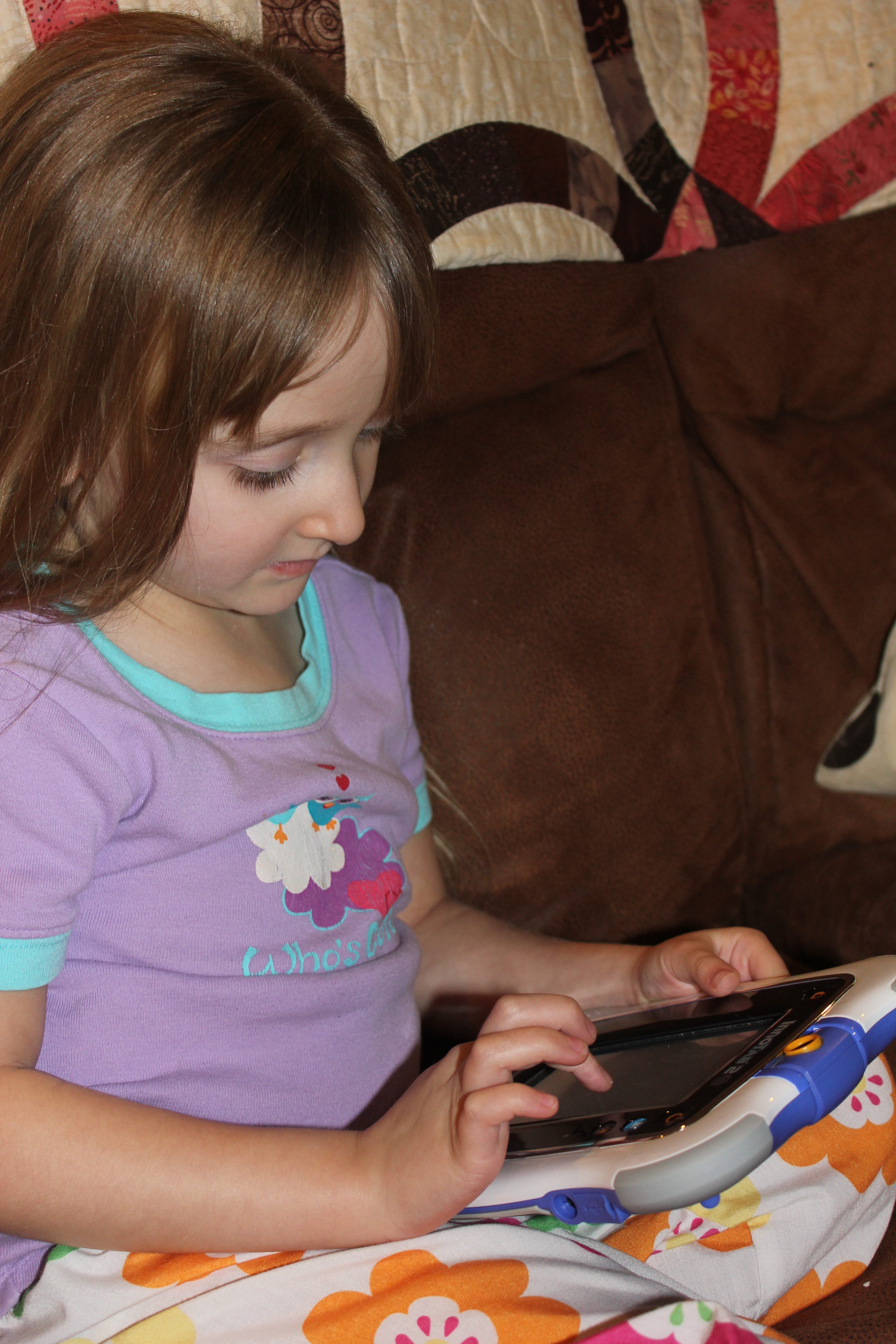 The cartridges are compatible with all current InnoTab models and will also work with new models that will be released later this year, including the InnoTab MAX, VTech's fastest Wi-Fi tablet yet and its first to feature Android™ learning content. Check out all of the cartridges available on VTech's site!
Win! One reader will win an InnoTab Game Bundle with all 3 games I reviewed! A $75 Value! Enter below 😉