Dinner time can often wind up feeling like a three ring circus around here. From making sure the dogs go out for a walk, finishing up homework, making sure everything is put into backpacks for the next day, to actually getting the table set and a meal served. It can get a little crazy. These Easy One Pot Dinner Recipes will help you get dinner on the table in no time with minimal dishes. I call that a win-win!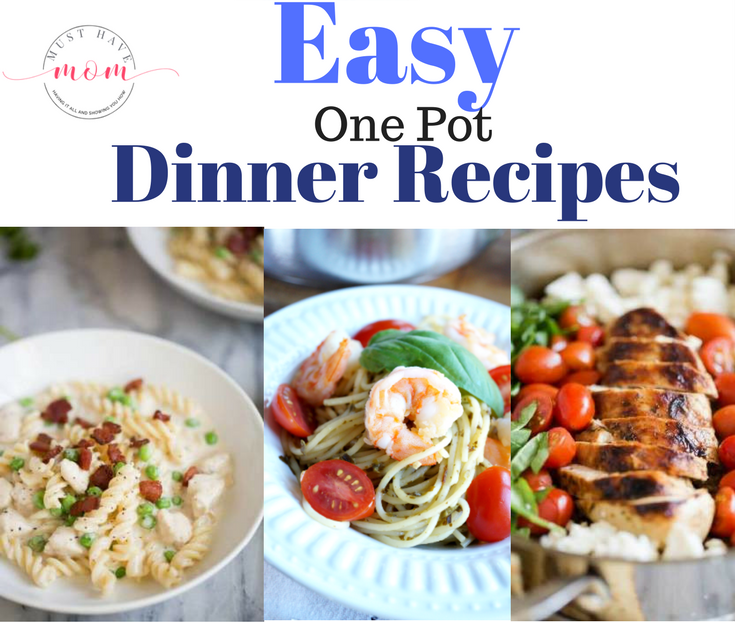 Easy One Pot Dinner Recipes
This Shrimp Pesto Spaghetti will leave your family begging for more.
Warm up on a cold day with these Beef Tips and Gravy.
One pot meals got a makeover with this Chicken and Cheese Alfredo with Bacon and Peas.
One pot meals don't have to be heavy. Lighten up with this Greek Chicken Dinner.
Get your veggies with this one pot Sausage and Kale Pasta.
This one pot Chicken Piccata is also gluten free.
Sausage and Gnocchi blend perfectly in this one pot recipe.
Cheesy Polish Sausage and Peppers blend with noodles for a filling and tasty dish.
Tomato sauce makes this Sausage and Tortellini dish more hearty.
This Caprese Pasta would make a perfect one pot meal anytime.
Pin Easy One Pot Dinner Recipes