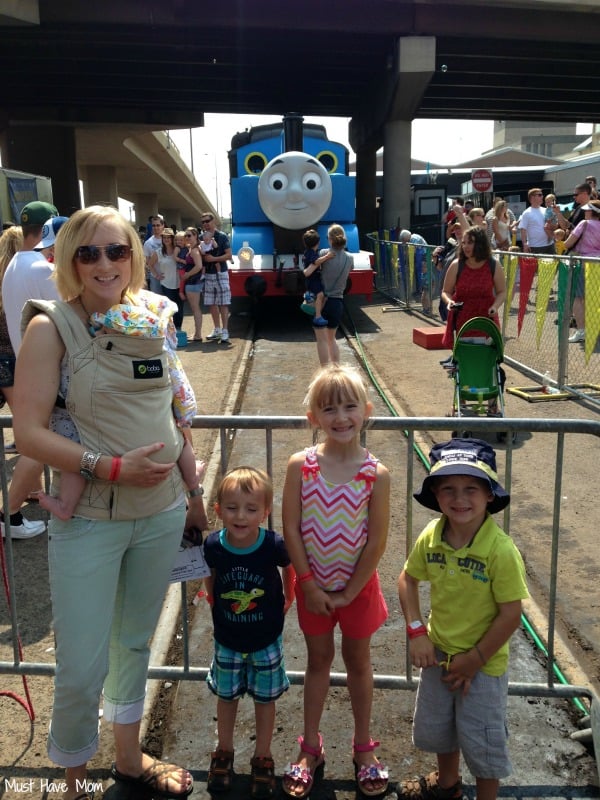 This weekend my husband and I packed up the kids and headed to the Duluth, MN depot to have a fun Day Out With Thomas the tank engine! The kids were beyond excited and waited all week to embark on our adventure. They were over the moon to arrive at the depot and not only get a glimpse of Thomas, but also get a ride on him! Wondering what a Day Out With Thomas is like? Read on for all the info on what the day included and ticket info as Day Out With Thomas Duluth is there until next weekend (August 9th)!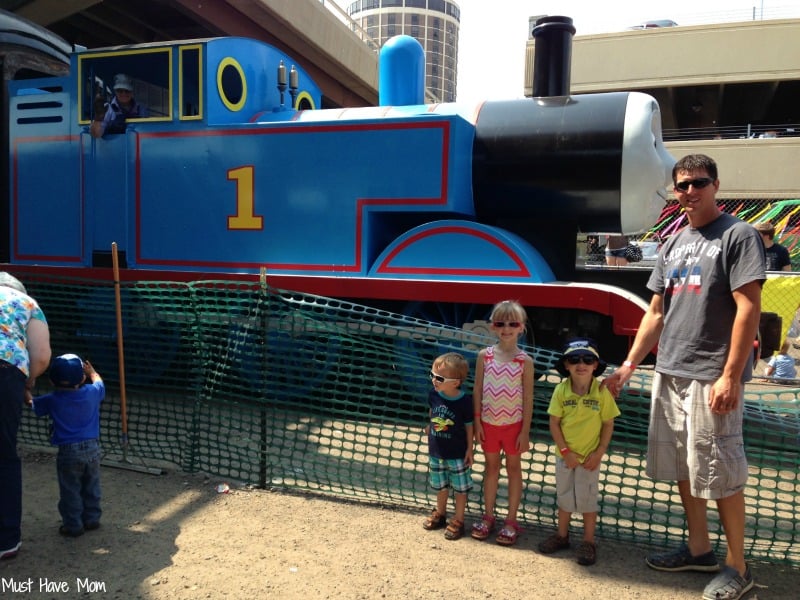 We took the 3pm train ride and in true Thomas fashion he pulled into the station with kids gleefully squealing in delight as they spotted him coming down the tracks. My kids were elated to see the REAL Thomas the Tank Engine!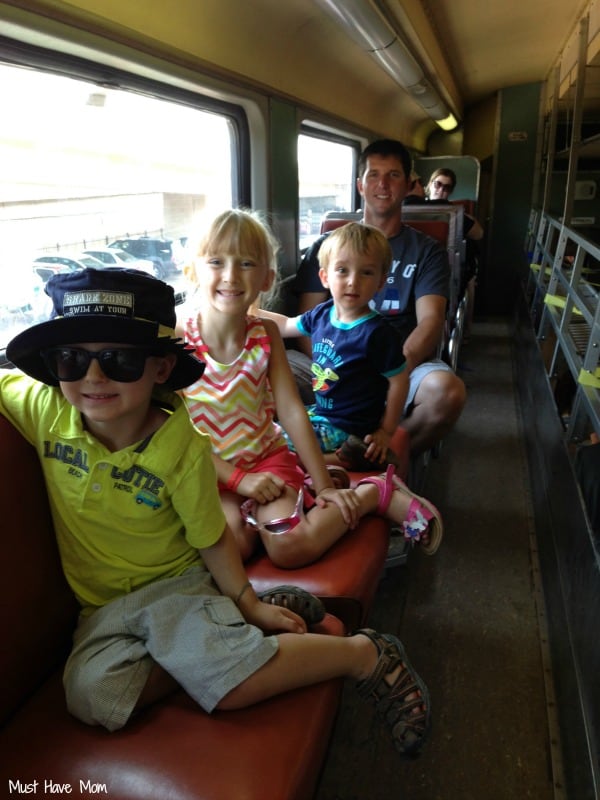 We took a seat in the upper deck of one of the passenger cars. I was impressed that before we boarded the train I could see employees washing every window and sweeping out the train. It was nice and tidy inside and the kids had a perfect view out the window. We took a short ride down the tracks and had a look at Lake Superior before putting it in reverse and heading back to the station.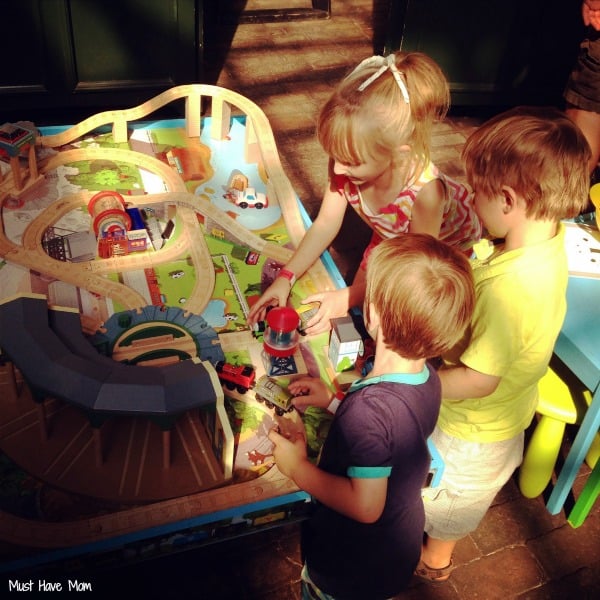 Inside the Depot they had a fun gift shop filled with Thomas toys, train tables set up for the kids to build and play at, Sir Topham Hat was greeting kids, storytelling and more. The kids gravitated to the Train Tables. We also had a map to complete and get stamps from various stations. At the end they received a Mega Bloks prize for completing their maps.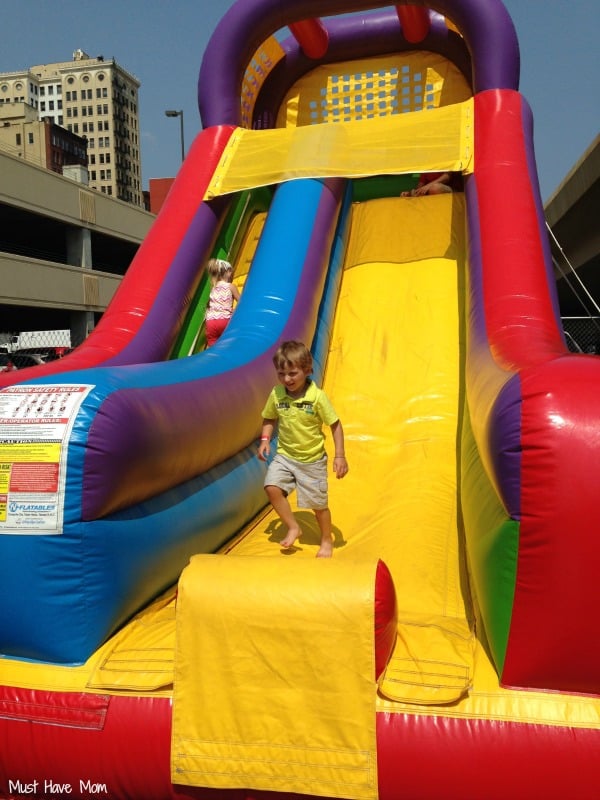 Outside they had several large bouncy houses and obstacles courses set up, bubbles, sand tables, tattoos, face painting and more. The activities were plentiful and we could have spent an entire day there if it was up to the kids. All in all we had a wonderful time and they kids can't wait to go back next year!
You can still catch Thomas at the Duluth, MN depot this coming weekend!
WHO: Thomas the Tank Engine
WHAT: 
A 25-minute (approximate) ride with Thomas the Tank Engine and hear Thomas greet his fans!
Meet Sir Topham Hatt, Controller of the Railway
A Thomas & Friends Imagination Station; featuring stamps, temporary tattoos, hands-on arts & crafts, train tables, and coloring sheets.
Storytelling, video viewing and live music
WHEN:  August 8th-10th
 TIME:   Gates open at 8:30 am and close at 5:00 pm. Thomas departs on the hour from 9:00 am until 4:00 pm
WHERE: 506 W Michigan St, Duluth, MN 55802
Tickets for Day Out with Thomas: The Thrill of the Ride Tour 2014 are on sale now and available by calling Ticketweb toll-free 866-468-7630, or by visiting this direct link here or www.northshorescenicrailroad.org.  Ticket prices are $19 plus tax for ages 2 and up (service charges and fee may apply).
For more information and directions, contact the North Shore Scenic Railroad at 218-722-1273
or www.northshorescenicrailroad.org.
For information on Thomas & Friends, visit www.thomasandfriends.com
Follow Thomas & Friends on Facebook at www.facebook.com/thomasandfriends and Twitter @ThomasParent.
Have you been to a Day Out With Thomas?