Cyber safety is a hot topic right now. With all of the stories out there about kidnappings and stalking, it's not a bad idea to be more cautious of what your children are doing online, especially teens. Teens have many tendencies that may lead them to talk to strangers online, even if they say they won't, monitoring is always a plus to protect your children.
Of course teens need privacy, that's part of growing up and that's okay. However, they don't need 100% privacy when it comes to something that could endanger themselves easily. When your children want to have social media accounts, make sure that you know their usernames and passwords, become friends with them on Facebook, and follow their other accounts. No, this is not being over protective, they should be watching what they are posting online as if their parents will see it, that is never too much to ask of your child. Let them know that you can and will go onto or into their accounts if you feel that you need to. You will let them have their privacy but if you suspect something, you have every right to look into it.
You also want to talk to your teens about online safety, here are a few talking points;
Do not ever share personal information. There is no reason to have things like your phone number and address posted publicly. Facebook might need your phone number in order to use Messenger, but it does NOT need to be posted on your profile at all. Using your privacy settings to your advantage to avoid contact with those you would like to stay away from.
If you are a bully, your online privileges will be taken away. So many teens are caught bullying online even if they would never do it to a person's face. Typing makes bullying easy, and it's one of the roots of the bullying issue going on in today's society. Teach your children to not be a bully online and to watch what they say online as things that aren't offensive might seem offensive to others.
If someone contacts you, asks you strange questions, makes you feel uncomfortable or you get a bad gut feeling, talk with your parents. They are there to help you and will be glad that you came to them rather than trying to handle something that is out of your control online.
Key Tip: NEVER friend anyone on Facebook that you do not know in real life. Also be sure that the profile is real after you accept a friend request, if it looks fishy or not like the correct person, unfriend them right away to avoid spamming and stalking.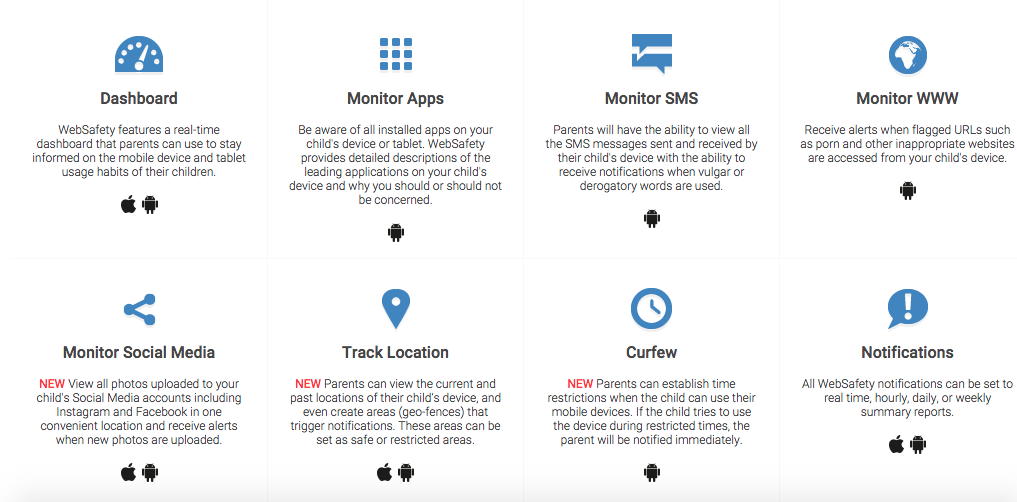 It's SO easy for a kid to get into dangerous territory when they have their own phone or device and are away from parent's prying eyes. That's why I recommend everyone use the WebSafety app. It's free and it's amazing. The features are endless and I'm SO impressed with it. Oh and did I already mention that it's FREE?
With the WebSafety app you can:
Monitor apps: See every app your child installs on their device and whether or not you should be concerned about it.
Easily view all SMS messages sent and received by your child. Want to know if vulgar or derogatory words are used? It does that too.
Be informed if your child accesses any websites that are inappropriate. Your child won't be able to sneak around and delete their browsing history later.
View all photos your child uploads to social media including Instagram and Facebook. You'll get an alert each time new photos are uploaded.
Track your child's location with geo fences that alert you if your child leaves the area where you've designated they should be. You can see your child's current and past locations. This is a HUGE safety feature that I love.
Restrict access to your child's devices at bedtime and other designated times. If your child tries to use the device after bedtime you'll be notified.
Get all notifications in real time so you are always up to the second on what your child is doing on their device.
I've heard far too many stories of teens being bullied, bullying others or pulling the wool over their parents eyes. Teens can get in serious trouble these days with the easy access predators have to our children through their devices. Don't wait until something bad happens to someone close to you before you proactively protect and monitor your child's online activities.
Grab WebSafety now while it's free! This app works on both android and iOS devices! Get it for free here. Follow Web Safety on Twitter and Facebook for the latest tips on keeping your teen safe online.
This year as you prepare for back to school I implore you to not only think of the pens and notebooks that your child needs for school, but also think of their safety and arm yourself with these tools necessary to keep them out of harm's way on the Internet!