The coronavirus, aka COVID-19, has caused quite a scare here in the US. From masks being out of stock everywhere to pantry staples disappearing from shelves, it's clear that people are scared. Here's what you need to know about Coronavirus, how to prevent Coronavirus, natural remedies to treat Coronovirus and how to have a plan so you don't have to live in fear.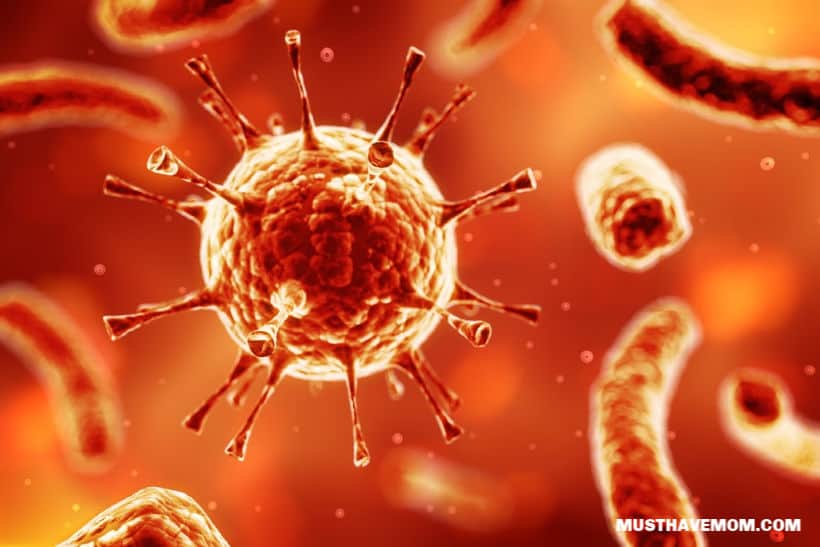 I never live in fear of sickness. I simply educate myself so I can formulate a plan. Whether it is knowing how to prevent stomach flu or how to prevent influenza, the coronavirus is no different. By arming yourself with knowledge you can make a plan and go on with life.
Coronavirus
The coronavirus is a virus that was released from a laboratory in Wuhan, China and proceeded to infect the people of Wuhan. While it has caused quite a stir around the globe, the common flu virus, influenza, has been far more deadly than the Coronavirus has. Even so, it is prudent to learn what you can about this virus so you can effectively prevent it from infecting you or your family.
Coronavirus Transmission
The coronavirus is a virus that is seen in a variety of mammals and birds as well as humans (we are mammals). This virus affects the respiratory system and can produce mild respiratory symptoms up to more serious respiratory problems. The virus can also be transmitted from animals to humans and from human to human.
The coronavirus is transmitted through droplets and contact with bodily fluids. That means it can be spread from an infected person coughing or sneezing into the air and contaminating another person nearby. It can also live on surfaces so it can be transmitted that route. This is why handwashing and covering your cough/sneeze is so vital.
Coronavirus Symptoms
The symptoms of coronavirus include symptoms similar to that of the common cold.
cough
fever
shortness of breath
difficulty breathing
runny nose
headache
chest pain
sore throat
In severe cases, it may also cause pneumonia, kidney failure and even death.
Coronavirus Treatment
According to the CDC there is no current treatment for the coronavirus aka COVID-19. There are no approved treatments and very few effective antiviral medications to treat it. All the more reason to arm yourself with knowledge on how to treat Coronavirus naturally. You don't have another option! Luckily, natural remedies don't come with side effects and toxic ingredients like pharmaceuticals and vaccines do so it is also my preferred way to treat any virus. First, let's talk prevention and then we will cover how to treat coronavirus naturally.
How to Prevent Coronavirus
You may balk at this, but the most basic way to prevent coronavirus is by practicing good hand washing. This goes for EVERY virus! Avoid people who are ill and encourage people to cough into their elbow and cover their sneeze. These are the basics. Here are some other ways to prevent coronavirus:
Handwashing – Wash with soap and water while scrubbing your hands for at least 20 seconds. If water isn't available then used an alcohol-based hand sanitizer. Be sure to wash hands before eating and after coughing/sneezing.
Avoid people who appear to be ill or are coughing sneezing. Maintain a distance of 3 feet to prevent droplet transmission.
Disinfect common surfaces – Viruses can live on surfaces for up to 2 days. By disinfecting common surfaces you decrease the risk of transmission. I use Thieves household cleaner to disinfect countertops, light switches, doorknobs, toilet and faucet handles and any other commonly used surface.
Cover your cough/sneeze – Cough into your elbow or use a tissue to cover your sneeze. Wash hands afterward.
Have common immune boosters on hand – There is nothing worse than feeling a virus coming on and not having any natural immune support or remedies on hand. Stock up on elderberry (make your own), colloidal silver, Oscillococcinum, Vitamin C, etc.
Stay home if you feel ill – If you feel sick, don't go to work/school/etc and spread the virus further. Stay home, rest and take immune support right away.
Natural Remedies for Coronavirus
There are plenty of things you can do to boost your immune system and fight off any virus including coronavirus. Here are a few!
Vitamin C – This vitamin is essential to immune system support. There have been studies that have shown Vitamin C to be effective against some of the most awful viruses. Read this book on Vitamin C by Dr. Levy. It's astonishing. I recommend starting with this powdered form of Vitamin C. Take 1/2 teaspoon mixed in juice or water every hour until bowel tolerance is reached. Once you have a loose stool that means you've hit the dose your body needs. Back off the Vitamin C just slightly and continue taking it. If loose stools continue keep backing off the dosage.
Vitamin D – Many people are lacking in Vitamin D, especially in the winter months. This important vitamin plays a crucial role in immune health. Being deficient in Vitamin D can increase your risk of infection. I recommend this brand of Vitamin D and starting at a minimum dose of 5,000 IU.
Elderberry – Elderberry is a great immune booster and works by preventing the influenza virus from latching on to cells (source). You can make your own or buy it at a health food store. I use this elderberry recipe to make mine at home.
Immune-Boosting Foods – Consume foods known for boosting the immune system such as bone broth, garlic and ginger. It is also important to eat a diet of clean eating foods that is organic or non-GMO so that your body isn't taxed with eliminating the toxins from pesticide and GMO food.
Manuka Honey – Manuka honey is a unique honey due to it's healing benefits. Manuka honey inhibits the replication of the flu virus.
Echinacea – Echinacea is antiviral and antimicrobial. It is a potent antiviral for respiratory infections.
Oregano Essential Oil – Oregano oil is an antiviral. It has been shown to be effective against respiratory infections.
Colloidal Silver – Colloidal silver has been shown to kill viruses, bacteria, fungus and more. It's a potent remedy for any infection. You can drink the silver and even nebulize it to get it directly in the lungs and at the site of the virus. I believe in the power of colloidal silver so much that I make my own colloidal silver for my family. You can buy it though and I recommend this brand if you buy it.
Probiotics – Quality probiotics are important for good immune health. A majority of our immune system resides in the gut so good gut health is essential to good immune health. I recommend Seed Probiotics because they have the most strains and I've studied the science behind this brand and it is solid.
There are several other things you can and should do to strengthen your immune system. These can help you prevent coronavirus and other illnesses as well. These things include:
Limit sugar in your diet – sugar is the root of many diseases. It weakens your immune system as well. Eliminate white sugar from your diet completely and only use natural sugars in moderation (honey, stevia, etc).
Lower you stress – stress directly impacts your immune system and weakens it.
Avoid heavy, dense foods while sick – give the digestive system a break so the body can direct the energy towards healing instead of digestion.
Get plenty of sleep – sleeping gives your body the chance to heal and direct energy toward it. Lack of sleep can deplete the immune system.
Drink plenty of water – Most people are dehydrated. Drink plenty of water throughout the day. We recommend using this system to stay on track and drink enough water each day.
Take a sauna – Saunas are a great way to detox your body and sweat out the toxins. A far infrared sauna has been proven to be very beneficial to your body.
Rebounding – rebounding helps drain the lymphatic system. You have 3 more times lymphatic fluid than you do blood.
Take Trace Minerals – our food is lacking in mineral content. Add a trace mineral supplement like Concentrace to your diet to replace the minerals missing in your diet.
Chaga Mushroom – Chaga mushroom is great for boosting the immune system.
Drink mushroom coffee – We drink this mushroom coffee daily for it's immune-boosting benefits. It contains the adaptogen Ganoderma which is known for going where the body needs it and adapting to your needs.
Zinc – According to Dr. Mercola: Zinc deficiency is associated with increased colds and flu, chronic fatigue, depression, acne, low birth weight babies, learning problems and poor school performance in children, among others.
Garlic – According to Dr. Axe – Experiments have shown that garlic (or specific chemical compounds like allicin found in garlic) is highly effective at killing countless microorganisms responsible for some of the most common and rarest infections, including the common cold. Garlic actually might help prevent colds as well as other infections. This supplement form of garlic is equivalent to eating a whole clove of garlic.
Goldenseal – According to Dr. Axe – for allergies, colds, and the flu because of its natural antibiotic and immune-boosting capabilities. A product containing goldenseal and echinacea is an awesome natural bronchitis remedy.
As you can see, there is no reason to panic. Learn the above info and make a plan. Stock up on immune boosters and take steps to strengthen your immune system so you are prepared if you should be exposed to coronavirus. Your body is capable of great things, including overcoming coronavirus!
Pin Coronavirus Treatment