I write a lot about cold and flu prevention (my grape juice stomach flu post is super popular), but what do you do when your child gets sick? I've got a list of supplies you should always have on hand for when sickness strikes, along with a quiet sick day activity for your kiddos to do while they recover!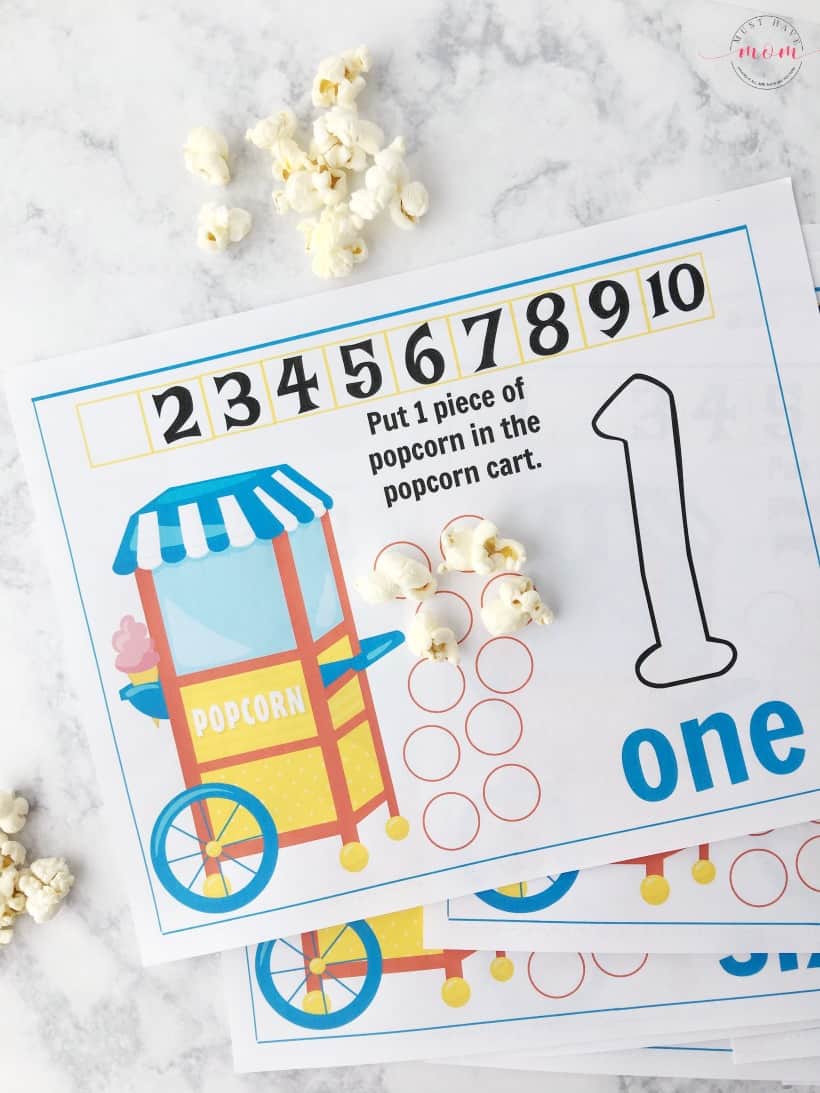 One of the hardest things to deal with when kids get sick is their constant need for caretaking. This means that having supplies on hand will make your day (and theirs) much easier! It will enable you to focus on snuggling them and getting them better rather than running to the store for supplies.
Sick Day Essentials + Best Thermometer For Kids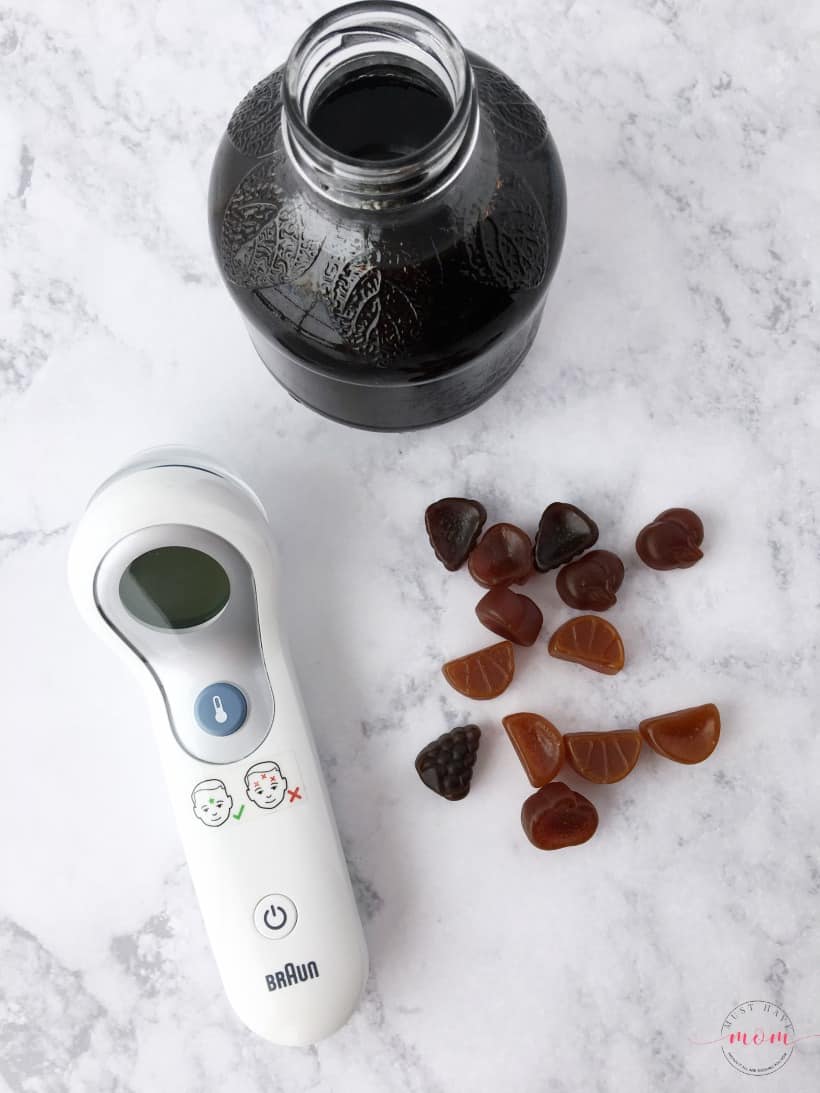 It is definitely wise to have some sick day essentials on hand. It can be hard to know what you should always have in stock though so I've put together a list of essentials that you should keep in your medicine cabinet during cold and flu season.
Acetaminophen and/or ibuprofen
ice pack (I like the retro kind)
electrolyte solution (we make our own homemade electrolyte drink)
tissues
honey (soothes sore throats and coughs for kids over 1 year old)
kids activities for on the couch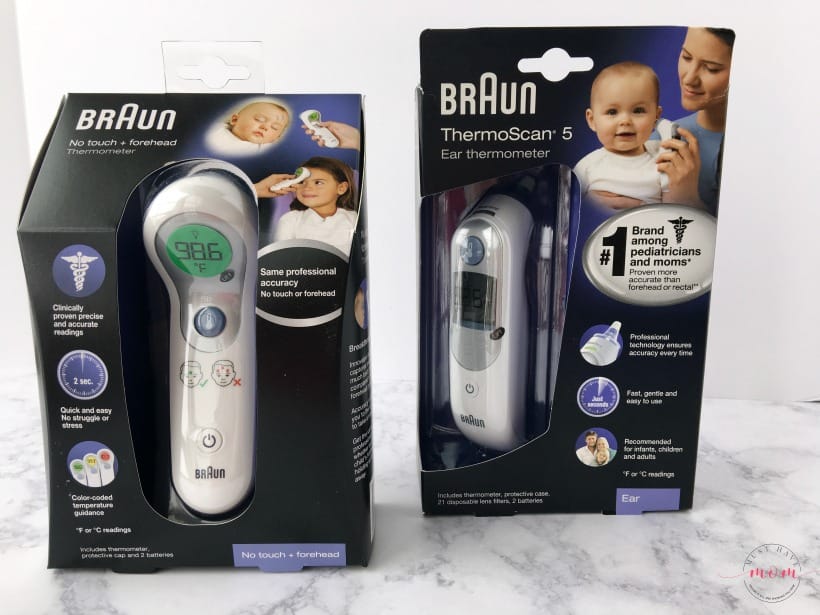 Choosing a thermometer for kids can be tough if you don't know what to look for. As a Registered Nurse, I had some definite features in mind when choosing the best 2 best thermometer for kids picks. The Braun No touch + forehead thermometer and Braun ThermoScan 5 Ear thermometer are my top two picks for kids. They deliver all the features I'd expect and are as accurate as what we use in the hospital.
The Braun ThermoScan® 5 is proven more accurate than forehead or rectal measurement**
The Braun No touch + forehead thermometer is the first thermometer to take professionally accurate temperatures with a gentle touch of the forehead or no touch at all.
So which one do you choose? Let me show you a few features I love so you can decide what would work best for your family. In my opinion, these are the 2 best thermometer for kids picks out there!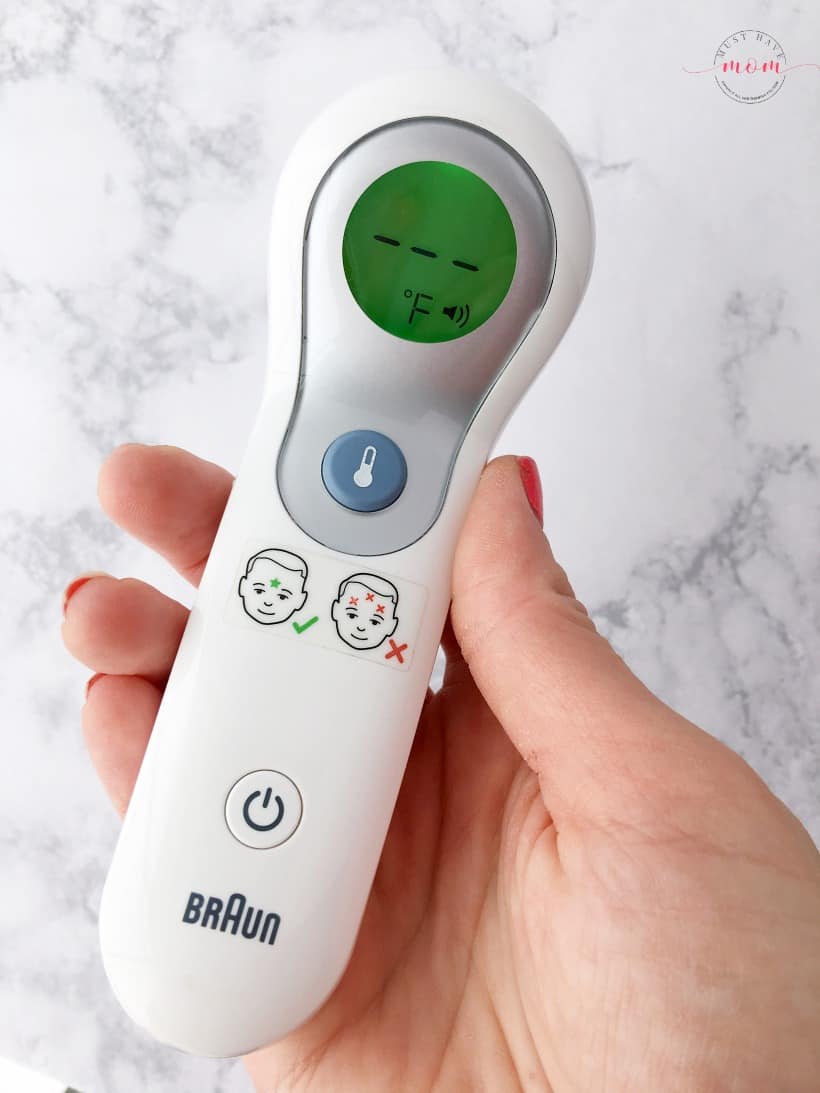 The Braun No touch + forehead thermometer is my personal favorite kids thermometer. We've been using this thermometer for many years and I've never been wooed away from it by another thermometer. It's quick and easy and I don't even have to touch the child with the thermometer to get an accurate temperature reading. Want to see how cool it is?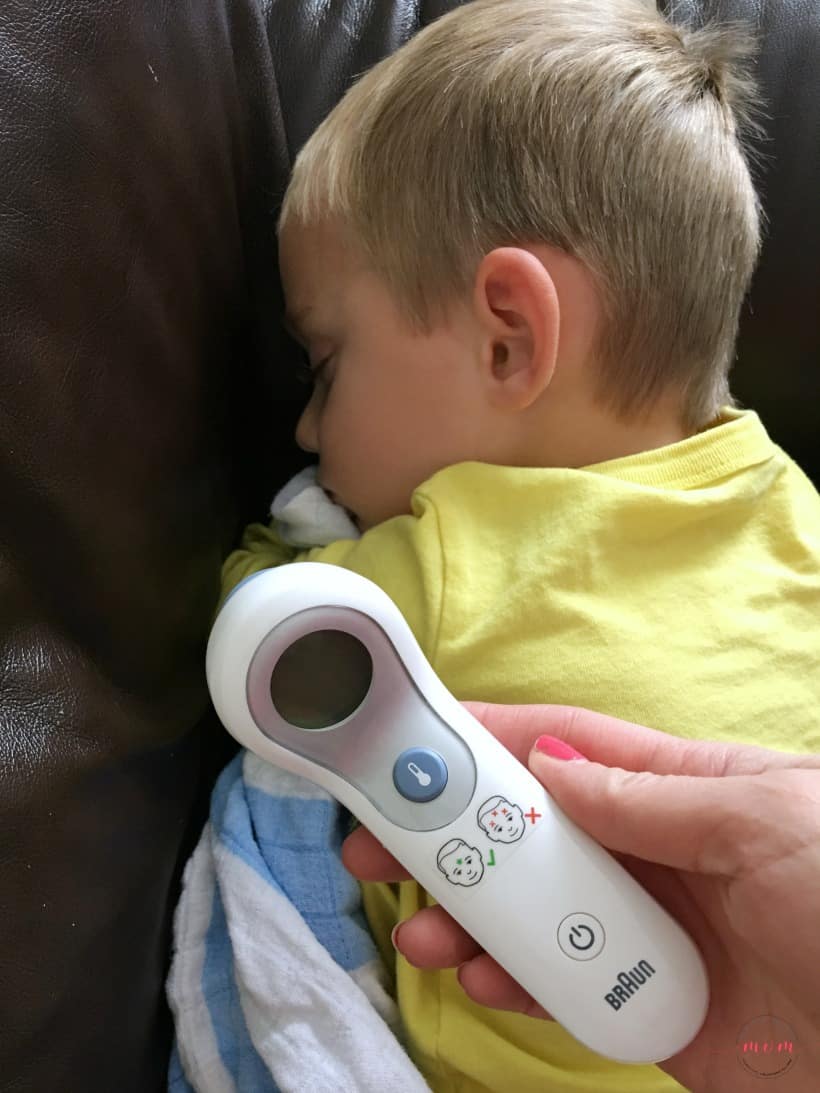 Brady was asleep on the couch and there was no way I was going to risk waking him up to take his temperature, but I really needed to check it. Braun No touch + forehead thermometer to the rescue! I'll show you!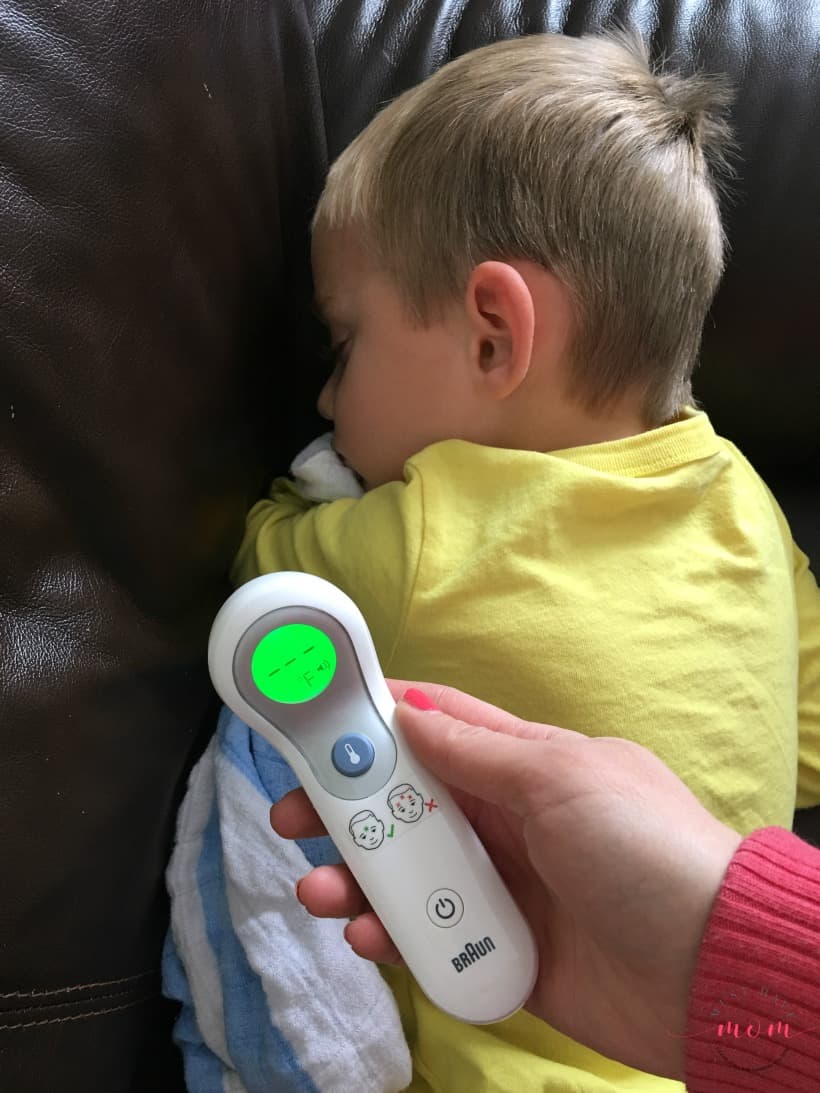 Click the power button to turn it on. Use the silent mode if your kiddo is sleeping. It will light up. Place over the forehead or on the center of the forehead using the points pictured right on the thermometer.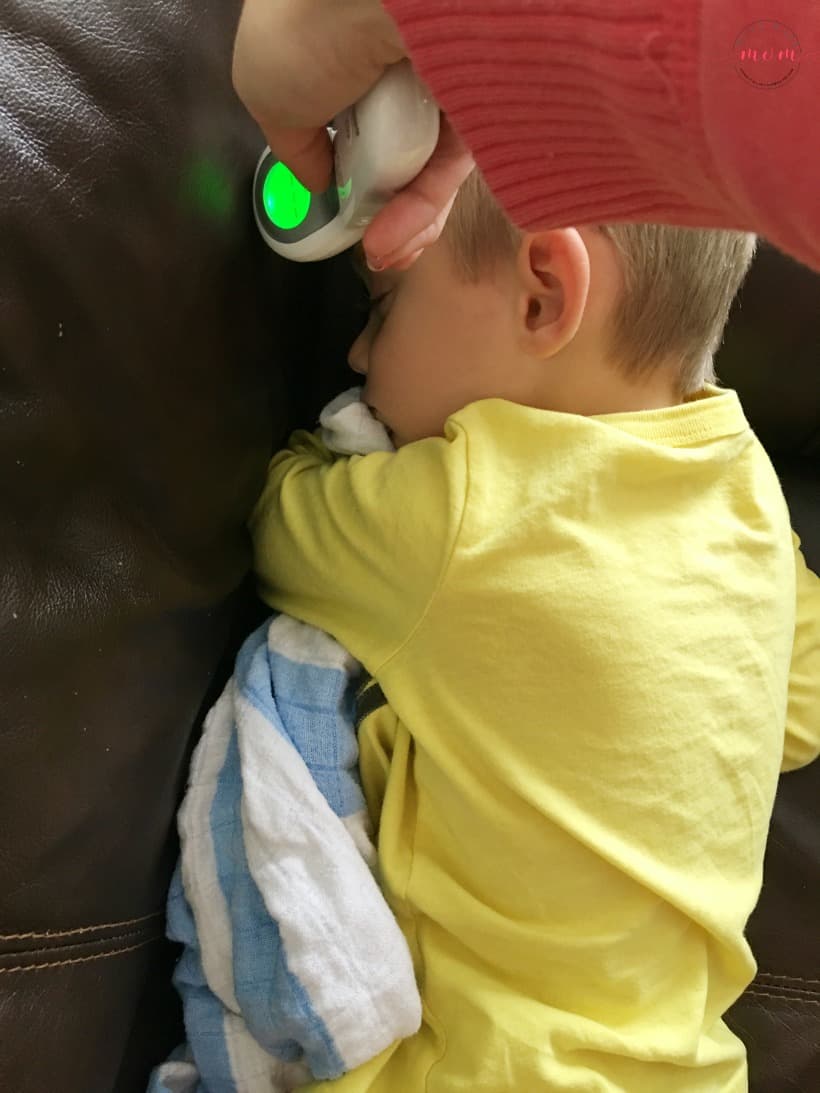 Click the button to take the temperature, no need to swipe it, and it delivers an almost instant two-second reading.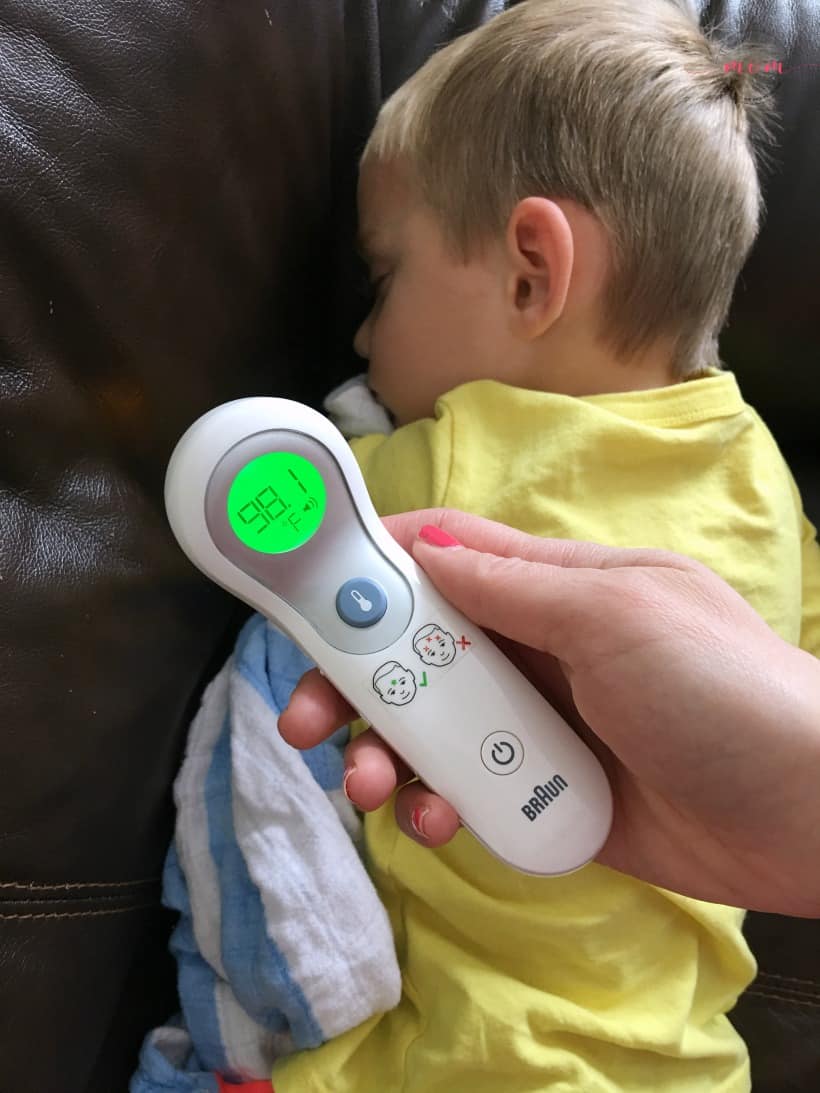 The green back-lit screen indicates Brady's temperature is in the normal range. Yellow would indicate a slightly elevated temperature and red would indicate a fever. Isn't that cool? The Braun No touch + forehead thermometer offers Braun's fastest, most comfortable, clinically accurate temperature reading which is why it is my favorite thermometer.
Don't discount the Braun ThermoScan® 5 Ear thermometer though! It boasts equally impressive features. The ear canal is the best site to measure a fever because of its close proximity to the eardrum, which shares the blood supply of the brain's temperature control center; this site allows for a more accurate reflection of the body's core temperature. Braun's exclusive pre-warmed tip technology is designed to minimize the cooling effect of the tip inside the ear canal, providing accurate measurements time after time.
The positioning system uses a light and a beep to confirm proper positioning and it delivers a reading in seconds.
No matter which thermometer you choose, you can grab this iBotta offer to save $5 when you buy a Braun thermometer at Walgreens! You'll know you are getting the best thermometer for kids no matter which of these two choices you like best!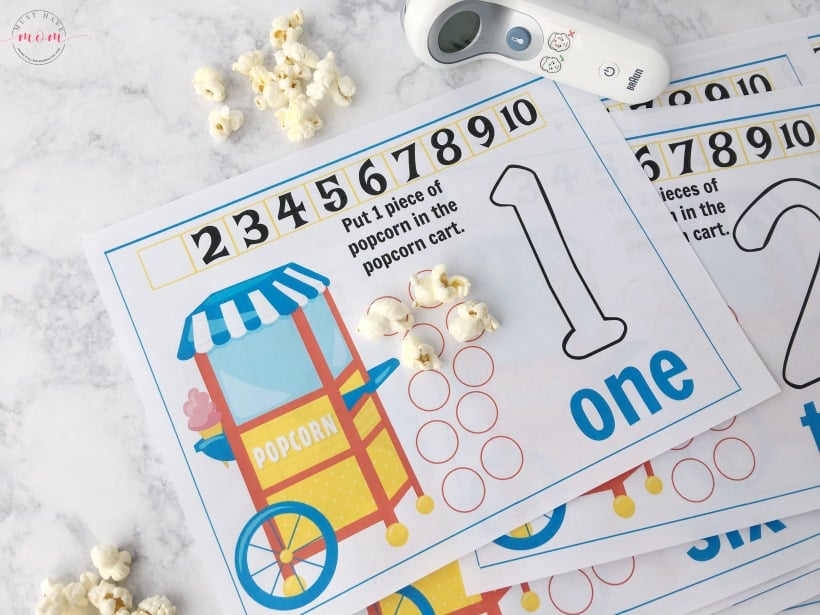 Your kiddo will also need plenty of rest to get better. That can be SO hard for kids so I've designed a fun printable that will keep them quiet, but entertained and it's even educational! This 1-10 counting popcorn stand printable set will have kids learning numbers and counting. You can use it with popcorn, popcorn seeds, play dough or whatever is age-appropriate for your child. I like to laminate them and use them over and over again!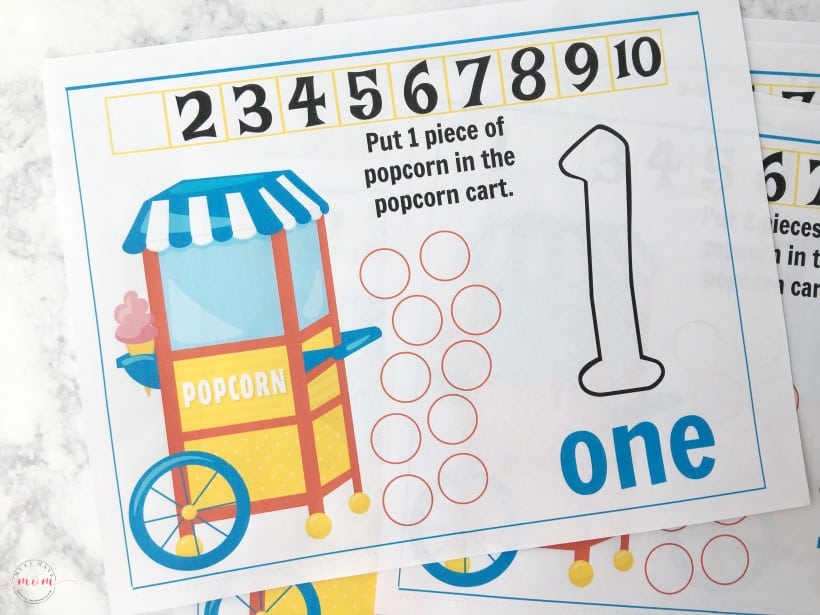 Kids can write in the number "1" in the number line, put popcorn in the cart, fill in the circles with the correct number of popcorn kernels and more. This is a great quiet time activity and it can even be played on the couch when paired with my DIY chalkboard activity trays!
Grab Your Free Printable Popcorn Counting Sheets: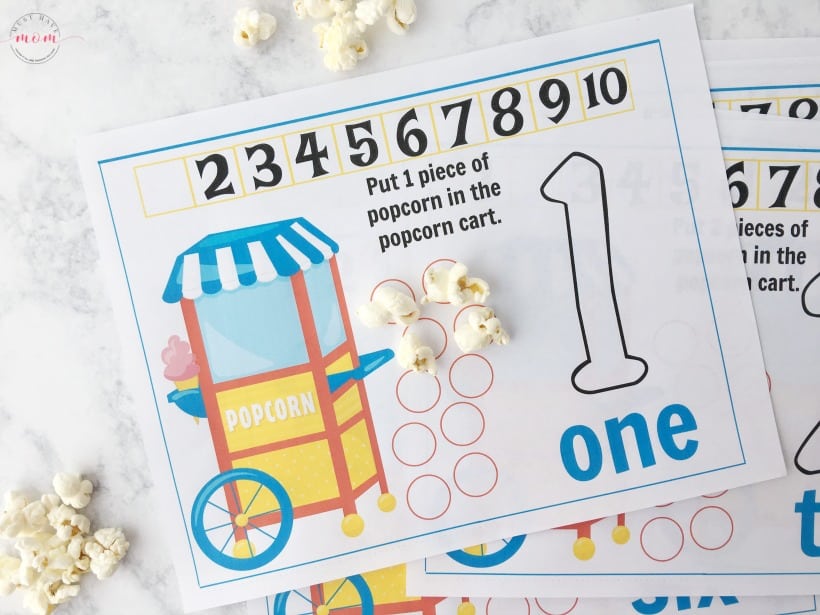 Print off the 1-10 free printable popcorn stand counting sheets by clicking here and you'll get instant access to them and as an added bonus you'll also get access to all of my future free kids printables too!
Don't be caught off-guard when sick days strike! Be prepared and you'll have a much smoother sail through those sick days this year!
Pin the Sick Day Activity & Essentials:

*Based on a survey reporting that of the surveyed pediatricians (1) who recommend a brand of thermometers, Braun is the most recommended; and (2) who use a branded thermometer, Braun is the most frequently used.
**Measurements in detecting temperature changes. Nimah, Marianne M., et al. "Infrared tympanic thermometry in comparison with other temperature measurement techniques in febrile children." Pediatr Crit Care Med 7.1 (2006): 48-55.
This is a sponsored conversation written by me on behalf of Braun Thermometers. The opinions and text are all mine.